Jaina Lee Ortiz
Andy Herrera
Barrett Doss
Victoria Hughes
Miguel Sandoval
Pruitt Herrera
Danielle Savre
Maya Bishop
Jay Hayden
Travis Montgomery
Okieriete Onaodowan
Dean Miller
Boris Kodjoe
Captain Robert Sullivan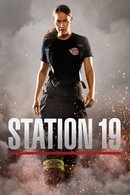 Season 1 2018 | 10 Episodes
Season 1 of Station 19 premiered on Mar 22, 2018.
Cast..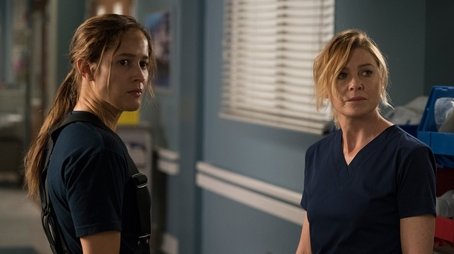 1 - Stuck 3.52018-03-22
When the team responds to an apartment fire, Captain Pruitt takes a hit, the future of the station's leadership is in jeopardy and firefighter Andy Herrera is forced to step up. Meanwhile, new recruit Ben Warren is trading in the scalpel for a fresh start as a firefighter, but it hasn't been easy.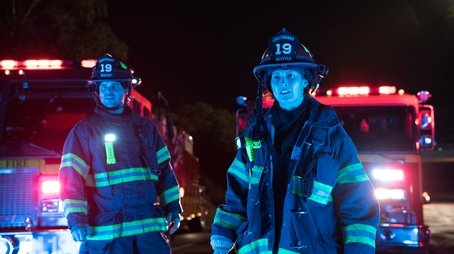 2 - Invisible to Me 3.52018-03-22
With the absence of Captain Pruitt, Andy and Jack try to navigate how to work together, and a car accident on a rural road puts both the victims and the crew's lives at risk.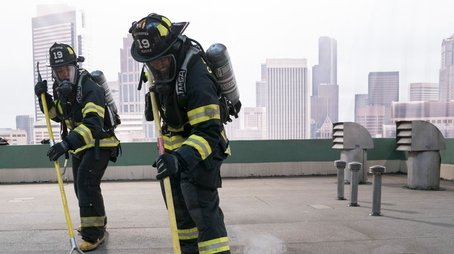 3 - Contain the Flame 42018-03-29
Upon the arrival of Batallion Chief Frankel, Jack begins his first shift as co-captain and continues to butt heads with Andy on leadership styles. Captain Pruitt has a difficult time following doctor's orders and winds up back at the station to take on administrative duties. Meanwhile, the rest of the team at Station 19 responds to an attic fire at JJ's apartment building and a call to a pool house party.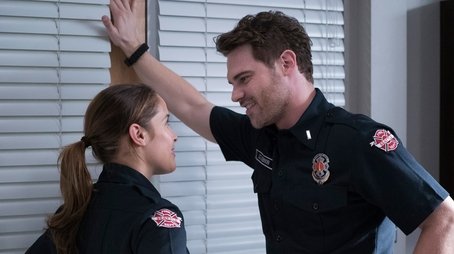 4 - Reignited 4.72018-04-05
As if being co-captains weren't hard enough, Andy and Jack find themselves in disagreement over spending decisions at the station. Meanwhile, the firefighters respond to a structure fire at a brand-new bed-and-breakfast; and Ryan calls Maya when he finds her brother in some trouble.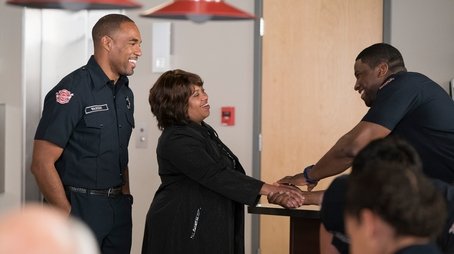 5 - Shock to the System 52018-04-12
Miranda Bailey visits Ben at work, meeting his new co-workers for the first time. While most of the team responds to a motor vehicle accident involving an electrical danger, Andy and Maya are paired up to go on their first stakeout.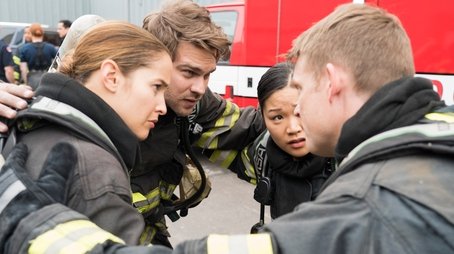 6 - Stronger Together 5.32018-04-19
Andy, Jack and 18 other candidates take the captaincy drill test, gunning for one spot as captain of Station 19. Meanwhile, Travis is serving as acting captain while Andy and Jack are away for the day; and Ben confronts Vic about her fears.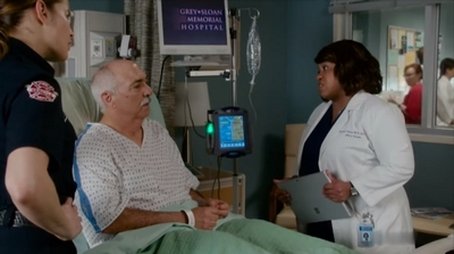 7 - Let It Burn 4.72018-04-26
Ryan tags along to a disaster drill training at Station 19 where he and Jack get competitive. Captain Pruitt's health weakens and Andy is sticking by his side. Meanwhile, both the firehouse crew and police department respond to a strip mall fire, forcing Jack and Ryan to work together.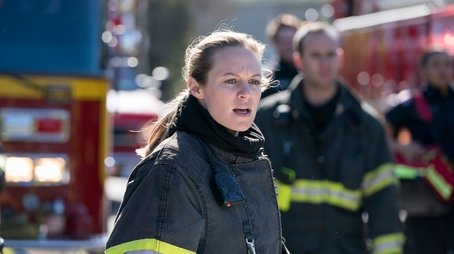 8 - Every Second Counts 5.32018-05-03
Ripley interviews each member of the Station 19 crew to determine whether Andy or Jack should be given the role of captain. Meanwhile, a mom's day out on a party bus takes a turn for the worst; and Captain Pruitt continues his treatment.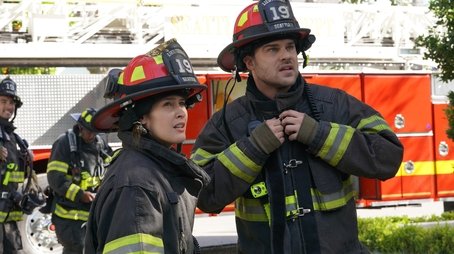 9 - Hot Box 5.72018-05-10
In the final days before the Station 19 captaincy is announced, Pruitt warns Andy not to be disappointed with the outcome. Meanwhile, Ben gets upset with Pruitt for having told Bailey the dangers of firefighting; and the team gets trapped inside the garage of a burning house, putting several lives at risk.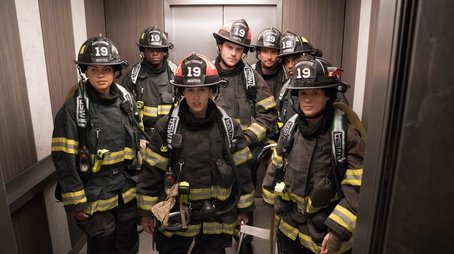 10 - Not Your Hero 5.72018-05-17
Ben reaches a new milestone as a rookie and, as is tradition, receives something from the crew. Chief Ripley holds final interviews for the role of captain but is interrupted when the team is called to a massive skyscraper fire, causing several lives to hang in the balance.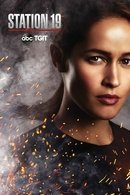 Season 2 2018 | 17 Episodes
Season 2 of Station 19 premiered on Oct 04, 2018.
Cast..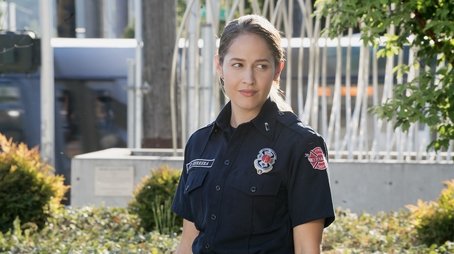 1 - No Recovery 12018-10-04
Lives hang in the balance as the members of Station 19 continue to fight a raging inferno inside a skyscraper. Meanwhile, Pruitt's health is in grave danger at Grey Sloan; and a seasoned firefighter with a mysterious past arrives at Station 19, leaving everyone to wonder what the future holds.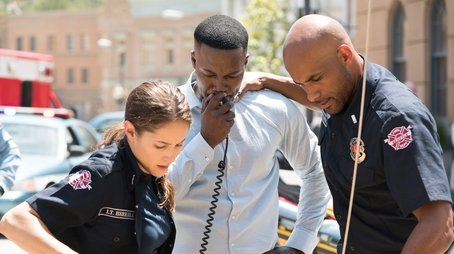 2 - Under the Surface 12018-10-11
It's a life-and-death situation when a young boy falls into water pipes beneath the city of Seattle. With the clock ticking, the firefighters of Station 19 jump into action to save his life.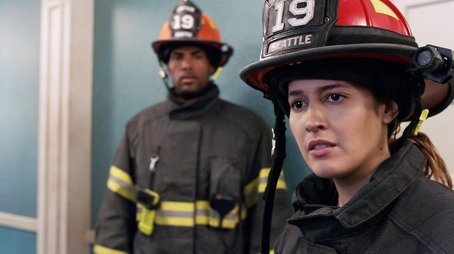 3 - Home to Hold Onto 12018-10-18
When Station 19 receives a call from concerned neighbors regarding a resident in their apartment building, the team heads out to investigate. When they arrive to evaluate the scene, they're shocked by what they find inside. Meanwhile, in an effort to create a solid working relationship between the fire and police departments, Ryan takes an unlikely member of the team on a ride-along.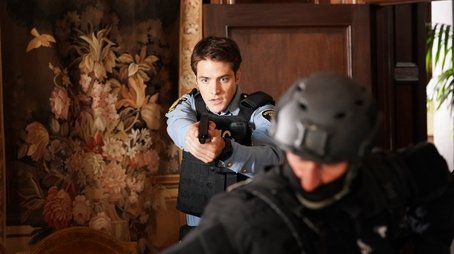 4 - Lost and Found 12018-10-25
Everyone is less than enthusiastic when Sullivan assigns each member of the crew a specialty skill to learn. During a house call, Ryan is caught off guard when he comes face-to-face with someone from his past; and Sullivan, Andy and Maya handle a structure fire in a derelict building.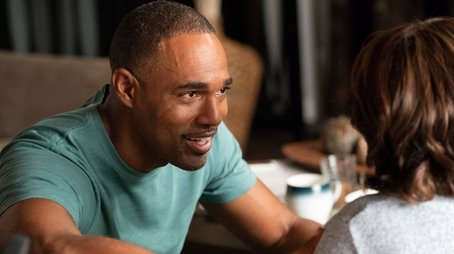 5 - Do a Little Harm … 12018-11-01
Captain Sullivan continues his efforts to bring together the fire and police departments by hosting a training seminar that does not go as planned. Meanwhile, Ben and Miranda have an honest conversation about their marriage, leading Miranda to make a tough decision about their future.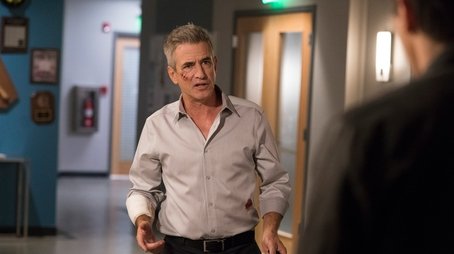 6 - Last Day on Earth 12018-11-08
Just when Ryan agrees to talk it out with his dad, Greg Tanner makes an unexpected visit to Station 19, leaving Ryan and others confused. In an effort to connect with his crew, Captain Sullivan enlists the help of an unlikely source for some bonding tips.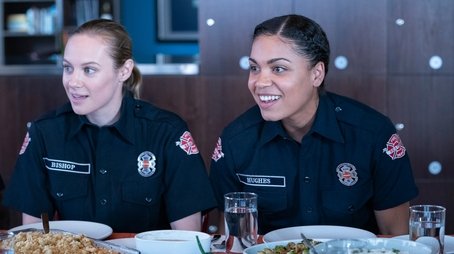 7 - Weather the Storm 12018-11-15
As the team gathers for a Friendsgiving celebration at Dean's, a violent windstorm touches down in Seattle. As the storm picks up speed, creating dangerous fire conditions, the crew must put the festivities on hold and report for duty, leaving some of them in a life-threatening situation.
8 - Crash and Burn 12019-03-07
In the aftermath of the windstorm, Andy and Sullivan's fates remain unknown while trapped in the overturned aid car. Meanwhile, back at the station, the team confronts Jack about his well-being; and when it's safe enough to venture out, they search for their fellow firefighters in a race against time.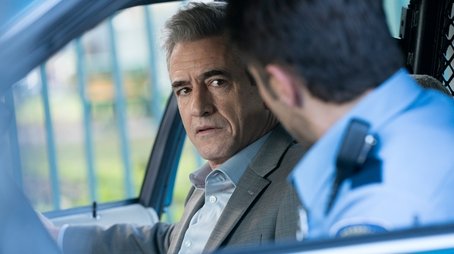 9 - I Fought the Law 12019-03-14
When Andy, Maya and Dean respond to a call, they find an injured woman with amnesia; but soon into the treatment process, they realize there is much more to her story. Meanwhile, Captain Sullivan takes Ben and Jack on a house call that quickly becomes a close call for the patient they're treating, while Ryan may not have seen the last of his father, Greg.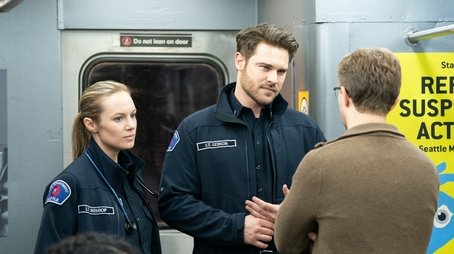 10 - Crazy Train 12019-03-21
Jack and Maya are called to treat people stuck in a subway train and discover a potential threat to the passengers and themselves. Meanwhile, Travis, Ben and Dean get pressured into inviting Sullivan to help repaint walls in Travis' house and come to a surprising conclusion about Sullivan.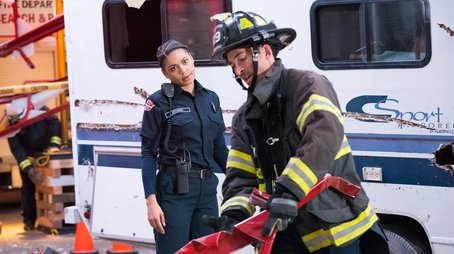 11 - Baby Boom 12019-03-28
When an RV crashes into Station 19, the team races against the clock to save lives and secure the building's compromised structure. Meanwhile, a surprise delivery arrives at reception.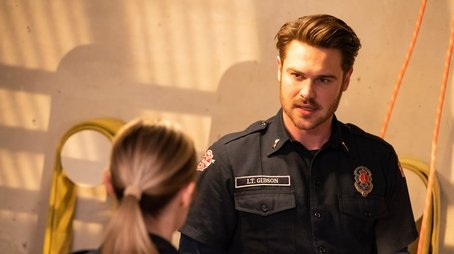 12 - When It Rains, It Pours! 12019-04-04
While struggling to help victims of a crash on a desolate road, Vic finds the courage to confront a difficult situation. Meanwhile, Ben prepares to go out for Medic One, causing some concern over his current Station 19 responsibilities, and Pruitt spends time with a special someone.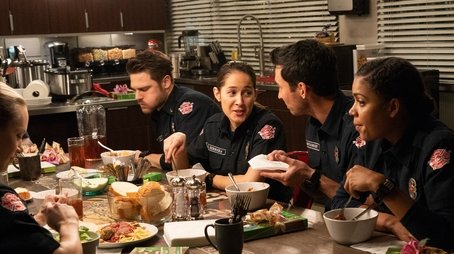 13 - The Dark Night 12019-04-11
A blackout in Seattle creates dangerous situations throughout the city and the members of Station 19 head out on calls, including locating a missing girl and helping a man on life support where every second counts.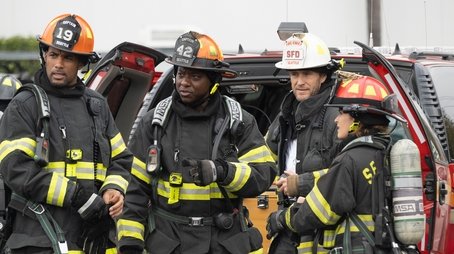 14 - Friendly Fire 12019-04-18
When Station 19 gets called to a structure fire at a coffee processing plant, the team risks their lives to save Station 42's captain. Meanwhile, Ripley and Vic consider a shocking option to save their relationship; Andy gets some surprising news about some of her fellow crew members, and Pruitt takes on a new position.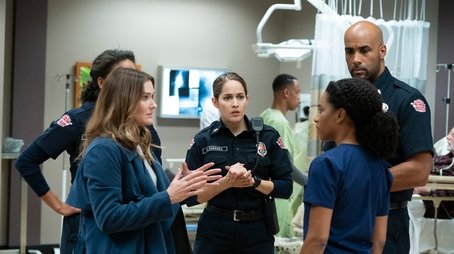 15 - Always Ready (II) 12019-05-02
Following a deadly blaze inside a coffee beanery, the members of Station 19 find themselves on high alert as a beloved member of their team lands at Grey Sloan, leaving the future uncertain in the face of a life-threatening situation. The crossover starts on Grey's Anatomy S15E23 What I Did for Love (I)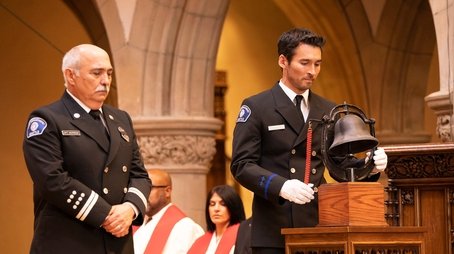 16 - For Whom the Bell Tolls 1.52019-05-09
Following a life-threatening situation that left the future of a member of Station 19 unclear, the crew gathers to face the outcome. Andy and Ben respond to a man impaled by a chandelier. Meanwhile, Station 19 is called upon to organize shipments of supplies and assist with wildfires in Los Angeles.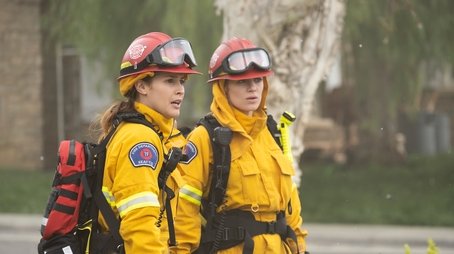 17 - Into the Wildfire 02019-05-16
The members of Station 19 pack their gear and head to Los Angeles, California, to help battle a deadly wildfire raging out of control. While the team works to evacuate residents, they meet Terry, and Ben makes a split-second decision that changes both of their lives.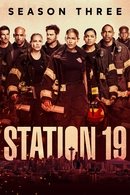 Season 3 2020 | 16 Episodes
Season 3 of Station 19 premiered on Jan 23, 2020.
Cast..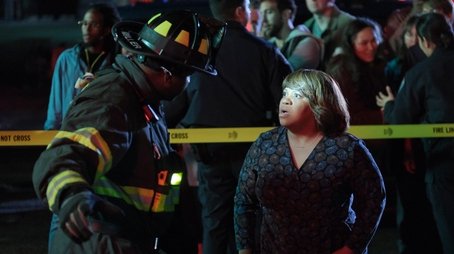 1 - I Know This Bar (I) 02020-01-23
After a car crashes into Joe's Bar, Andy and Sullivan lead the team of firefighters as they work to rescue their fellow crewmates Ben and Pruitt, Grey Sloan doctors and interns, and bar patrons before the building comes crumbling down. The crossover continues on Grey's Anatomy S16E10 Help Me Through the Night (II).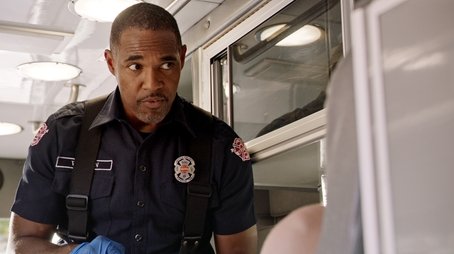 2 - Indoor Fireworks 02020-01-30
The new Seattle fire chief is introduced to Station 19 and leaves the crew skeptical after his visit. Later, the firefighters are called to a department store fire caused by exploding fireworks, which triggers painful memories from Ben's past and inspires him to pursue a new endeavor. Maya advocates for herself and her career, while Jack becomes more intertwined with an acquaintance; and Andy and Ryan have a heart-to-heart.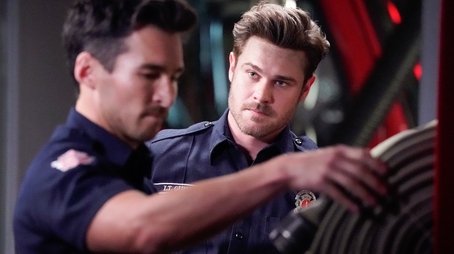 3 - Eulogy 02020-02-06
While Pruitt grieves a monumental loss, Andy refuses to do the same and, instead, throws herself into work. Meanwhile, the crew responds to a widespread carbon monoxide leak, and Sullivan makes a controversial choice for captain.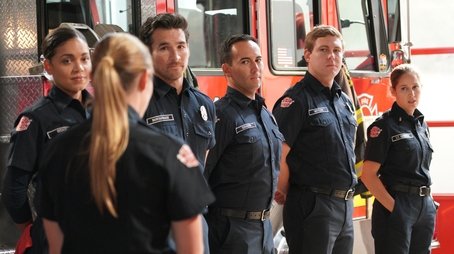 4 - House Where Nobody Lives 02020-02-13
Ben and Jack mollify a group of homeless foster and biological siblings so they can help save a life, triggering memories from Jack's past. Meanwhile, Maya pushes the team too hard and struggles to bring them together; and Pruitt threatens to take drastic action when refused a request.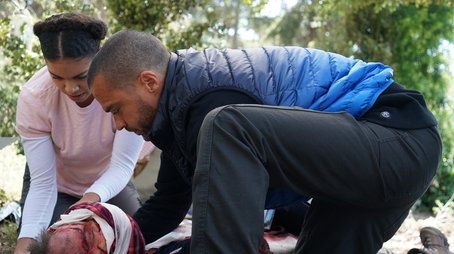 5 - Into the Woods 02020-02-20
In an effort to increase morale, Maya takes the crew on a team-building camping trip that doesn't exactly go according to plan. Their bond is put to the test as they work to save first-time campers after a gruesome bear attack. Meanwhile, Pruitt takes steps to repair his relationship with Andy, and Sullivan goes to extreme lengths to find relief from the pain in his leg.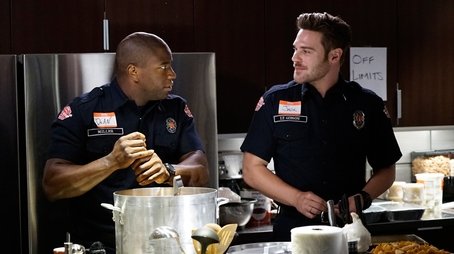 6 - Ice Ice Baby 02020-02-27
When a blizzard hits Seattle, Travis must take a difficult call and members of the crew are forced to face their truths. Meanwhile, Ben has rising suspicions about a colleague.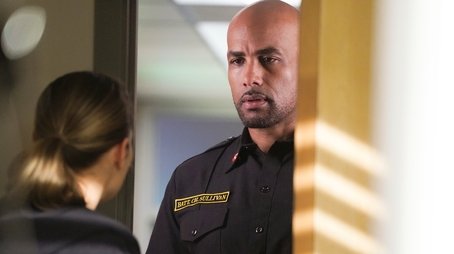 7 - Satellite of Love 02020-03-05
As Ben readies the new Physician Response Team truck for the field, his suspicions about Sullivan and the missing Fentanyl continue to grow. Meanwhile, Jack and Rigo try to look past their differences when they are forced to work together and fight a mysterious gas station fire; Dean and JJ try to work through their differing parenting styles; and Travis meets someone new.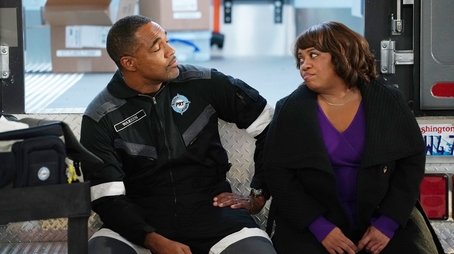 8 - Born to Run 02020-03-12
The Station 19 crew responds to a drunk driver scene. Meanwhile, Dean receives advice from Pruitt on a difficult situation, and Sullivan seeks help from Dr. Amelia Shepherd.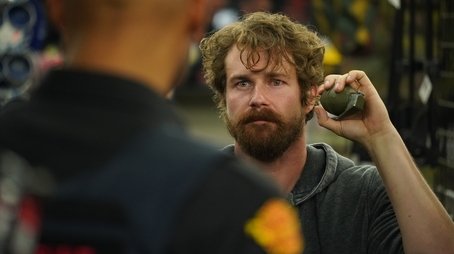 9 - Poor Wandering One 02020-03-19
When an Army veteran threatens to blow up a pawn shop, Sullivan reflects on his time as a Marine to deescalate the situation. Meanwhile, Vic and Dean try to reason with a man battling Alzheimer's disease; and Pruitt takes a stand to honor fallen firefighters.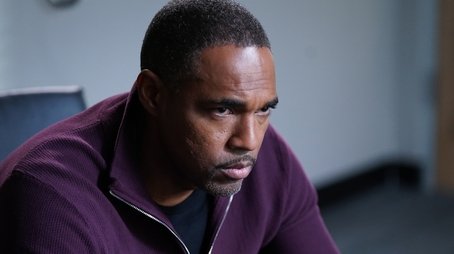 10 - Something About What Happens When We Talk 02020-03-26
After some tense and traumatic experiences, the firefighters get a visit from a psychologist .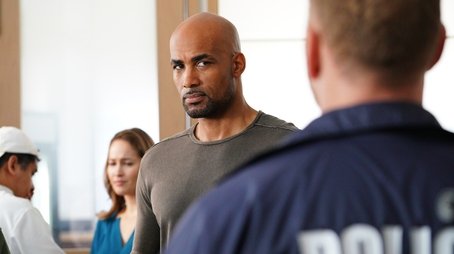 11 - No Days Off 02020-04-02
While at a lunch seeking Pruitt's blessing for their relationship, Andy and Sullivan jump into action when ICE attempts to raid the restaurant. Meanwhile, Travis gets roped into an awkward lunch with Chief Dixon, Emmett and Emmett's girlfriend; and Ben invites Grey-Sloan Memorial surgeons Owen Hunt, Teddy Altman and Jackson Avery to get a sneak peek of the new PRT vehicle.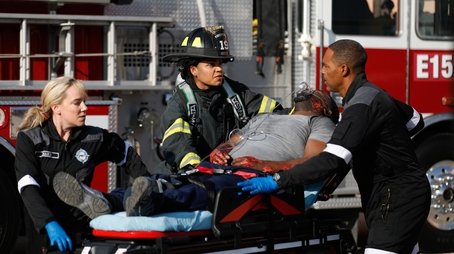 12 - I'll Be Seeing You 02020-04-09
The Station 19 crew battles a storage facility fire with growing complications, and Dr. Jackson Avery pops over from Grey Sloan and ends up collaborating with old pal Ben Warren.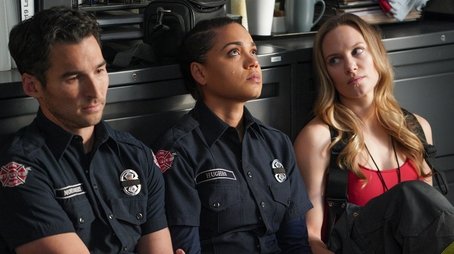 13 - Dream a Little Dream of Me 02020-04-16
Vic rallies the crew to pose for a calendar photo shoot that will support a good cause. Meanwhile, Emmett comes clean to Ben and Sullivan, and shows Andy a softer side.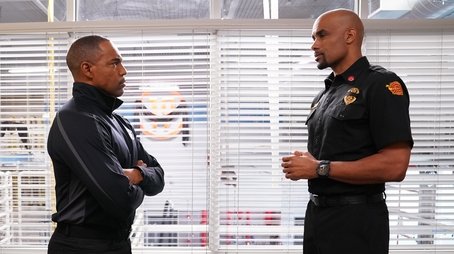 14 - The Ghosts That Haunt Me 02020-04-30
Andy returns to work while she and Jack fight to save people trapped in a collapsing bowling alley. Meanwhile, Ben confronts Sullivan about his drug problem; and Maya's mother, Katherine, pays Maya a visit.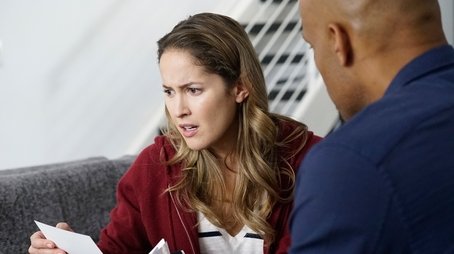 15 - Bad Guy 02020-05-07
Ben, Jackson and Emmett are put in a precarious and dangerous position with a potential victim. Andy's search for more background on her family opens her eyes, and Vic and Travis are caught in the middle of a corruption scheme.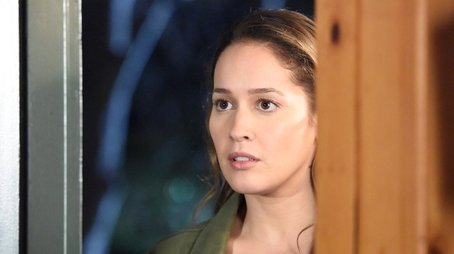 16 - Louder Than a Bomb 02020-05-14
Andy becomes painfully suspicious of the circumstances surrounding her mother's death and goes to her aunt looking for answers. Meanwhile, the members of the crew work to evacuate a doctor from Pac-North hospital and find themselves in a life-threatening situation; and Sullivan undergoes surgery for his chronic leg pain.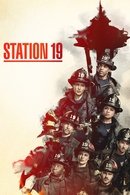 Season 4 2020 | 6 Episodes
Season 4 of Station 19 premiered on Nov 12, 2020.
Cast..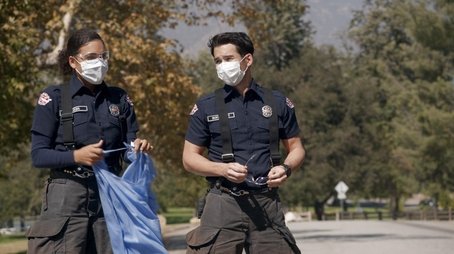 1 - Nothing Seems the Same 02020-11-12
When the COVID-19 pandemic hits Seattle, the Station 19 crew leans on each other for support. Andy tries to make sense of her mother's return, while Sullivan settles into a new routine. And it's all-hands-on-deck when a group of teenagers unintentionally starts a wild fire.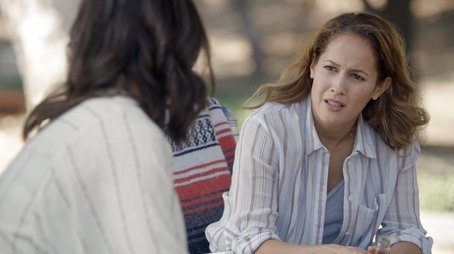 2 - Wild World 02020-11-19
Andy takes the day off to continue to sort out her family life; Maya and Carina do their best to maintain their relationship while unable to physically see each other due to COVID-19 restrictions, and Sullivan strives to work on his sobriety. Meanwhile, the team responds to a call involving a wild animal.
3 - We Are Family 02020-12-03
The future of Sullivan's career hangs in the balance as his disciplinary hearing gets underway, and Ben, Dr. Richard Webber, Emmett Dixon and former Fire Chief Dixon are called to testify. Meanwhile, the crew investigates an electrical fire at a neglected apartment building that serves as the home and performance space for some of Seattle's most prominent drag queens.
4 - Don't Look Back in Anger 02020-12-10
5 - Out of Control 02020-12-17
6 - Episode 6 02021-03-04