Takehito Koyasu
Kage Otoko
Kappei Yamaguchi
Shitai-kun
Takahiro Sakurai
Akechi Kogorou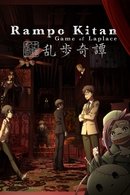 Season 1 2015 | 11 Episodes
Season 1 of Rampo Kitan: Game of Laplace premiered on Jul 03, 2015.
Cast..
1 - The Human Chair (1) 02015-07-03
One morning, a junior-high student, Kobayashi, wakes up and finds himself in his classroom with his homeroom teacher's body. In his hand is a murder weapon. A high-school detective, Akechi, is called in to assist the police to solve the case.
2 - Episode 2 02015-07-10
3 - Episode 3 02015-07-17
4 - Episode 4 02015-07-24
5 - Episode 5 02015-07-31
6 - Episode 6 02015-08-07
7 - Episode 7 02015-08-14
8 - Episode 8 02015-08-21
9 - Episode 9 02015-08-28
10 - Episode 10 02015-09-04
11 - Episode 11 02015-09-11
Facts
Keywords
detectivemurdermultiple murderhomicide detectivemurder in school