Hiroshi Kamiya
Yato (voice)
Maaya Uchida
Hiyori Iki (voice)
Miyuki Sawashiro
Bishamon (voice)
Aki Toyosaki
Kofuku (voice)
Jun Fukuyama
Kazuma (voice)
Daisuke Ono
Daikoku (voice)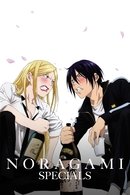 Specials 2014 | 4 Episodes
Specials of Noragami premiered on Feb 17, 2014.
Cast..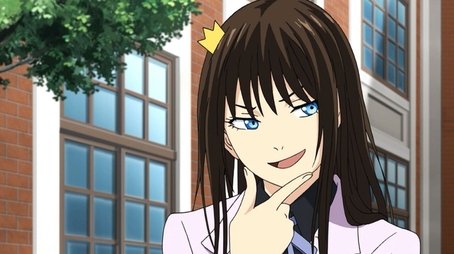 1 - God's Possession, God's Curse 92014-02-17
Hiyori is entering her first year of high school. Unfortunately, her dreams of a high school debut are quickly shattered when she realizes her soul has fallen out of her body and Yato has possessed her.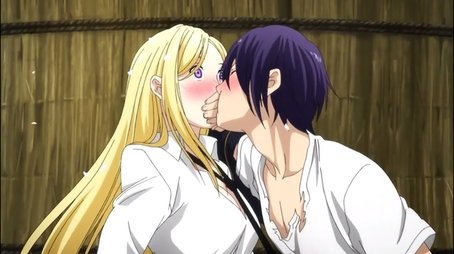 2 - The Promise of That Spring Day 102014-07-17
Yato, Yukine and Hiyori decide to have a picnic at Suzuha's cherry tree.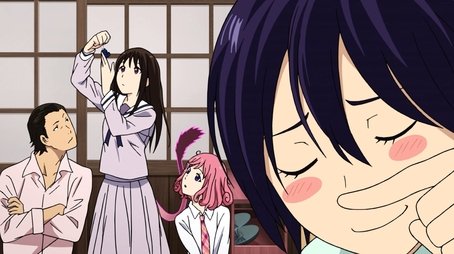 3 - The Yatogami Serial Murder Incident Noragami Suspense Theatre 102015-11-16
Hiyori and her parents go to a ski resort where she unexpectedly meets Yato and Yukine. They meet Kofuku, Daikoku, Tenjin, his company, Kazuma and Bishamon. A mysterious man appears talking of sacrifices and attacks Yato, displaying him on a bloody cult wall and he freaks since he hasn't died. The man tries using poison which Yato purges by drinking from a vase. Infuriated, the man attacks him when with arrows, a gun, fire and cold which just has him assumed as a pervert. Yato tries to figure out who's killing him and successively accuses Kazuma, Bishamon, Tenjin, and many others while simultaneously revealing all his crimes against them. After accusing Hiyori, they spot the man kidnapping Yato and he is thrown off a cliff into water. Yato of course, survives and the man reveals that he was doing this as research for his mystery novels since his weren't realistic. After Yato tells him to fight with his pen, reveals that he's a god, the man becomes his believer to everyone's disbelief.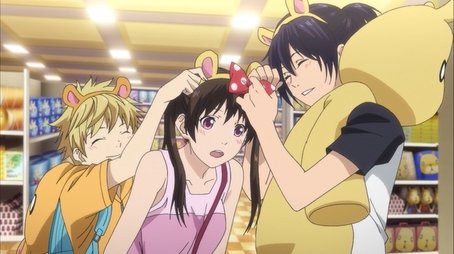 4 - A Picture Together 102016-03-16
16th volume DVD will adapt the manga's 41st chapter where the main characters go to "Capypa Land."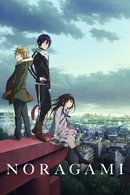 Noragami 2014 | 12 Episodes
Noragami of Noragami premiered on Jan 05, 2014.
Cast..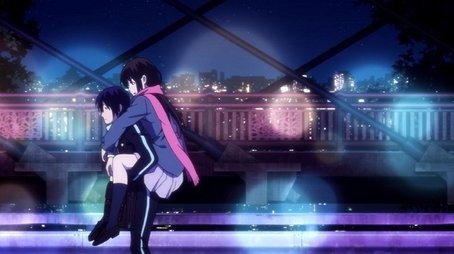 1 - A Housecat, a Stray God, and a Tail 8.52014-01-05
Yato is an unemployed stray god who battles Phantoms and solves humans' problems for only 5 yen. But little does he know that a search for a missing cat is about to lead to a fateful encounter...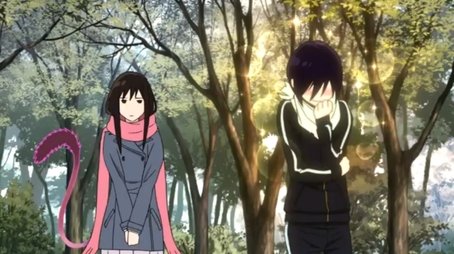 2 - Snow-like 8.72014-01-12
Angry that Yato hasn't found a way to heal her yet, Hiyori takes matters into her own hands. She hurries off to find a new Regalia for Yato, but encounters disaster instead!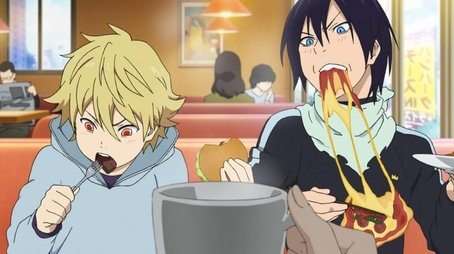 3 - Bidden Calamity 8.72014-01-19
Yukine learns that living with a god isn't all it's cracked up to be, but things start to change when an unexpected client hires Yato for a job!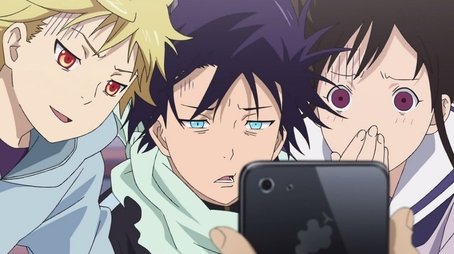 4 - Where Happiness Lies 8.72014-01-26
Yato introduces Yukine and Hiyori to one of the Seven Gods of Fortune... Except this god is nothing like what they imagined!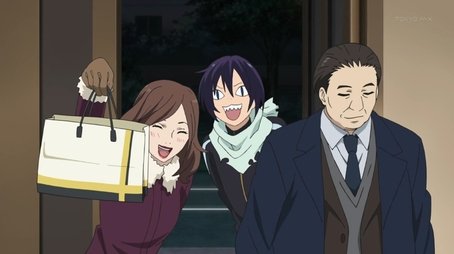 5 - Borderline 8.72014-02-02
Yato teaches Yukine a new technique to ward off Phantoms... and it's not long until this skill is put to the test! To make matters worse, Yukine must also contend with the naughty thoughts and feelings he has for Hiyori...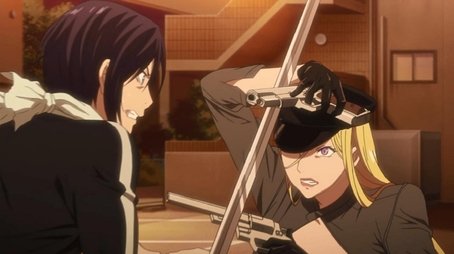 6 - Scary Person 8.72014-02-09
Yato and Yukine are suddenly attacked by Bishamon, a skimpily-dressed goddess of war. While Yato tries to deal with the situation in an injured state, Hiyori seeks help from another god...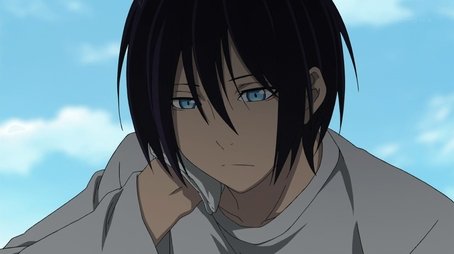 7 - Uncertainty & Destiny 8.72014-02-16
Bishamon and other gods must exterminate the Phantoms that have poured out of the newly-opened Vent. However, Yukine and Yato are still on unfriendly terms - a fact that the mysterious Nora uses to her advantage.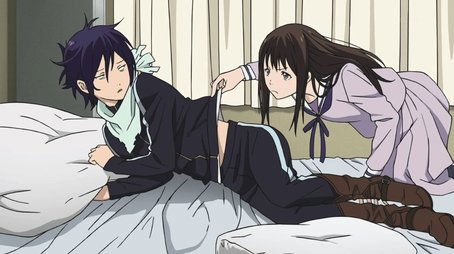 8 - Over the Line 8.72014-02-23
Despite his poor condition, Yato is hired to help a student with a bullying problem. But things take a drastic turn when both the student and Yukine come face-to-face with the reality of their situations.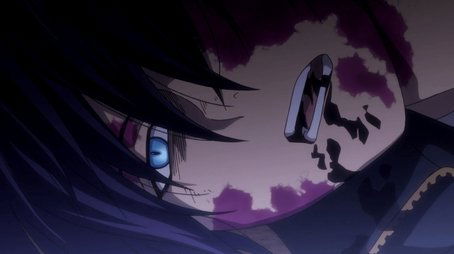 9 - Name 8.72014-03-02
With Yato on the verge of death, Hiyori and friends decide to hold a dangerous purification ritual that requires outside help. But who would willingly risk their life for this unknown god?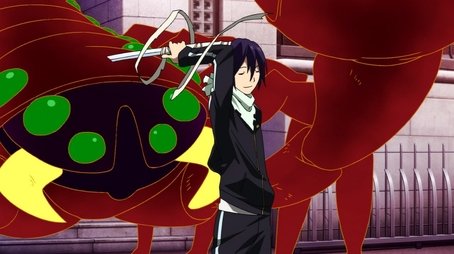 10 - Regarded with Hate 8.72014-03-09
Hiyori rings in the new year by visiting a nearby shrine. Nora and a sinister god of calamity named Rabo have other plans for her, though…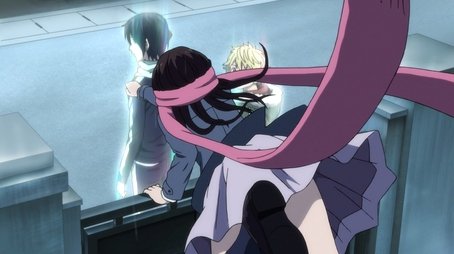 11 - Abandoned God 8.72014-03-16
Hiyori mysteriously loses all memory of Yato but no one else. While Yato struggles to help her remember, Nora and Rabo continue with their scheme.
12 - A Scrap of a Memory 8.72014-03-23
Yato and Yukine face Rabo and Nora in a final battle.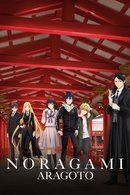 Noragami Aragoto 2015 | 13 Episodes
Noragami Aragoto of Noragami premiered on Oct 03, 2015.
In the second season of Noragami the main focus is on Bishamon, god of war. She has many shinki due to her being unable to abandon spirits attacked by Ayakashi. She has a large group of shinki with her as leader, causing her trouble as she sometimes cannot tend to all of them properly, especially when one of them gets sick or is in pain. She has a strong hate for Yato, as a dark past binds the two of them. How will the horrifying events dated hundreds of years ago in combination with current evil happenings affect Yato and Yukine?
Cast..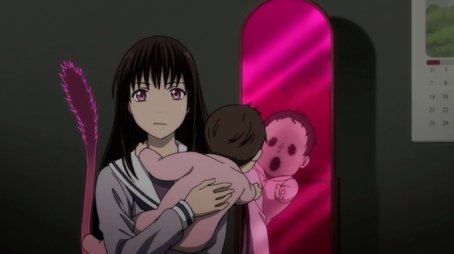 1 - Bearing a Posthumous Name 8.72015-10-03
Yato continues his daily routine as a delivery god who also slays Phantoms when the need arises. Elsewhere, Bishamon is plagued by nightmares from times long past…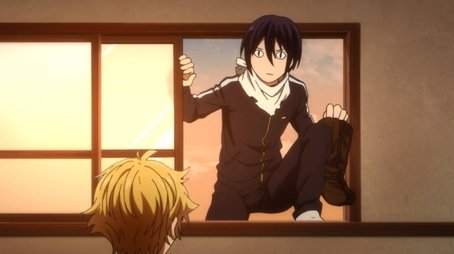 2 - One of Her Memories 8.72015-10-10
Yukine makes a new friend, but soon learns what it means to be a Regalia. Kazuma remains confused by Bishamon's declining health… until he makes a shocking discovery!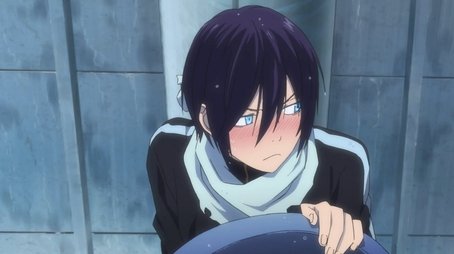 3 - False Bond 8.72015-10-17
Kugaha finally sets his plot into motion and has Kazuma banished. The ensuing chaos causes more pain for Bishamon… and pulls Yukine and Yato into the turmoil too!
4 - Wish 8.72014-10-24
Kazuma and Hiyori find themselve captured. They watch helplessly as Kugaha tricks Yato and Bishamon into battling each other to the death!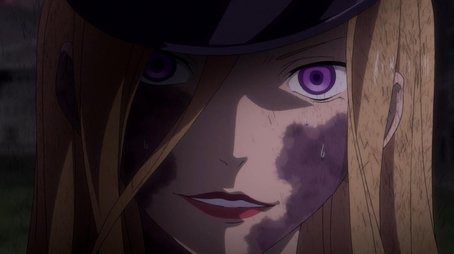 5 - Divine Acclamation, Imprecation 8.72015-10-31
Yukine shatters in half while Yato and Bishamon battle each other! Elsewhere, Kugaha enacts the second part of his plan by slaughtering Bishamon's Regalias!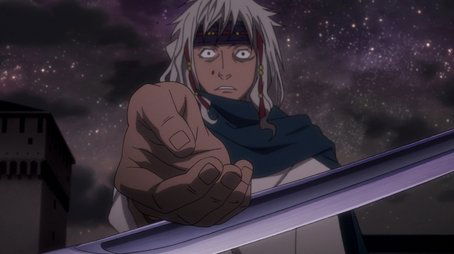 6 - What Must Be Done 8.72015-11-07
Bishamon and Yato learn of Kugaha's betrayal, but most of the damage has already been done. Meanwhile, the giant, masked Phantom continues to hunt down the last remaining Regalias…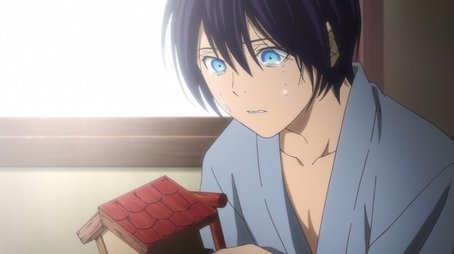 7 - How to Worship a God 8.72015-11-14
Bishamon is forced to confer with the other gods about her recent failings. Elsewhere, Ebisu offers to buy Yukine from Yato for a large sum of money - enough for Yato to build his own shrine.
8 - God of Calamity 8.72015-11-21
After Kugaha's defeat, Ebisu decides to conduct certain, secret tests. Meanwhile, Yato reaches new highs and new lows after Hiyori gives him his own shrine…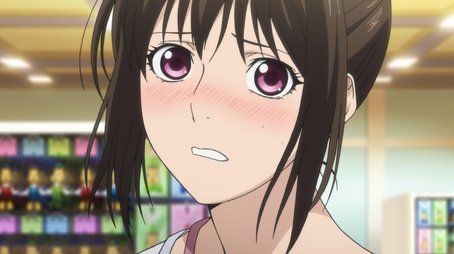 9 - The Sound of a Thread Snapping 8.72015-11-28
Yato and Nora head into the underworld to complete one last job together: find and rescue a certain conjurer. But with each passing moment, Hiyori begins to forget Yato…
10 - A Certain Desire 8.72015-12-05
The heavens are thrown into chaos when the gods learn that Ebisu has been experimenting with Phantoms. Meanwhile, Yato and Ebisu struggle to escape Izanami and leave the underworld behind.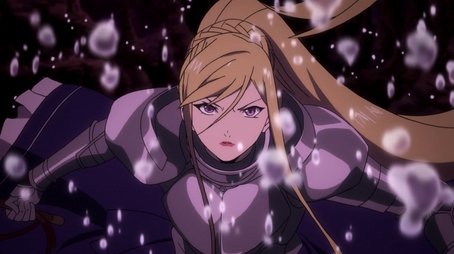 11 - Revival 8.72015-12-12
Bishamon and Hiyori manage to track down Yato, but they have no way of getting into the underworld. Meanwhile, Izanami continues to pursue Yato… And if he gets caught, he'll be stuck in the underworld forever!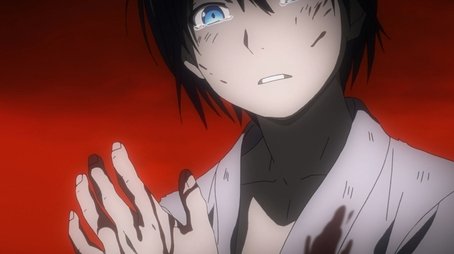 12 - Your Voice Calls Out 8.72015-12-19
Bishamon faces Izanami in battle in order to save Yato. Yato's only hope for escape lies in his true name, but he's never revealed it to anyone. Meanwhile, the heavenly executioners have caught up with Ebisu and are prepared to kill him!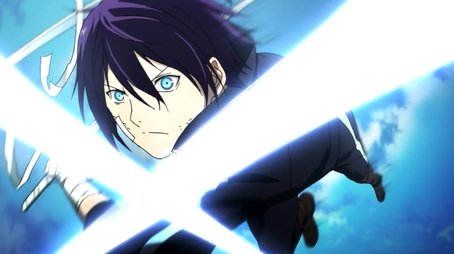 13 - The God of Fortune's Message 8.72015-12-25
The heavens deliver their divine punishment, and Ebisu is forced to start anew. Despite this, Yato is filled with a new sense of purpose and upholds his promise to Ebisu.
Facts
Keywords
friendshipamnesiamonsterswordplayblackmailshapeshiftingsupernaturalbullyingrevengetragedybetrayalgoddessconspiracyreligionpovertybased on mangaspiritviolencesuper powerexorcistgodsghostangstcontemporaryshounenshintoanimedrastic change of lifedeityurban fantasyfollowing dream