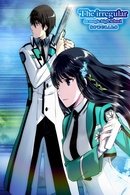 Specials 2014 | 7 Episodes
Specials of The Irregular at Magic High School premiered on Feb 22, 2014.
Get to Know Magic Studies!: Special introduction videos posted on the official website.
Cast..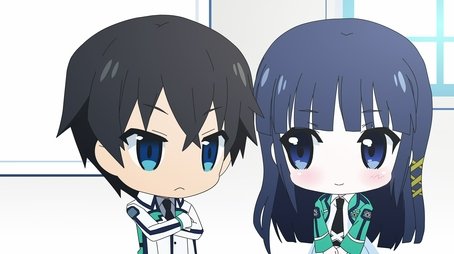 1 - Get to Know Magic Studies! - Lesson One: What Is the Magic High School? 02014-02-22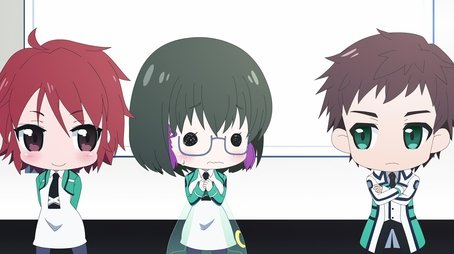 2 - Get to Know Magic Studies! - Lesson Two: What is Magic? 02014-03-08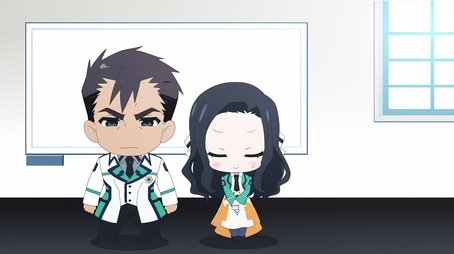 3 - Get to Know Magic Studies! - Lesson Three: What are Magicians? 02014-03-22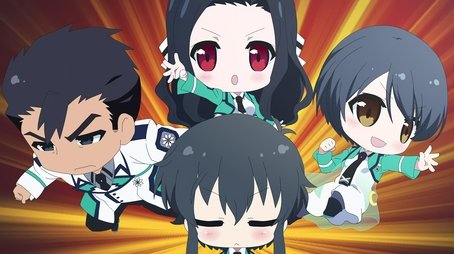 4 - Get to Know Magic Studies! - Lesson Four: What is the Nine School Competition? 02014-07-12
Short where Honoka and Shizuku explain the Nine Schools Competition.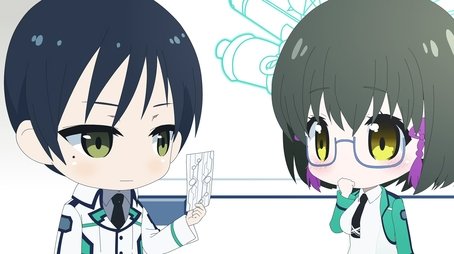 5 - Get to Know Magic Studies! - Lesson Five: What is Spirit Magic? 02014-08-25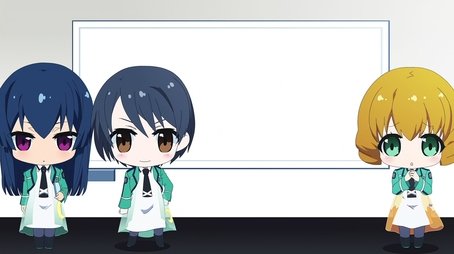 6 - Get to Know Magic Studies! - Lesson Six: What Is the Thesis Competition? 02014-09-13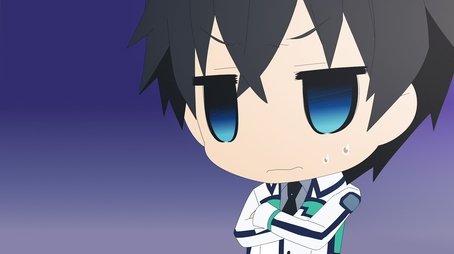 7 - Get to Know Magic Studies! - Lesson Seven: What is Regrowth? 02015-02-25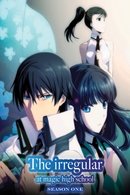 Season 1 2014 | 26 Episodes
Season 1 of The Irregular at Magic High School premiered on Apr 06, 2014.
In the dawn of the 21st century, magic, long thought to be folklore and fairy tales, has become a systematized technology and is taught as a technical skill. In First High School, the institution for magicians, students are segregated into two groups based on their entrance exam scores: "Blooms," those who receive high scores, are assigned to the First Course, while "Weeds" are reserve students assigned to the Second Course. In 2095, two siblings enroll in First High School. Upon taking the exam, the prodigious Miyuki is placed in the First Course, while Tatsuya is relegated to the Second Course. Though his practical test scores and status as a "Weed" show him to be magically inept, he possesses extraordinary technical knowledge, physical combat skills, and unique magic—making Tatsuya the irregular at a magical high school. Still, He's only interested in just leading a reasonably normal high school life but, because of his abilities trouble appears to go out of its way to find him...
Cast..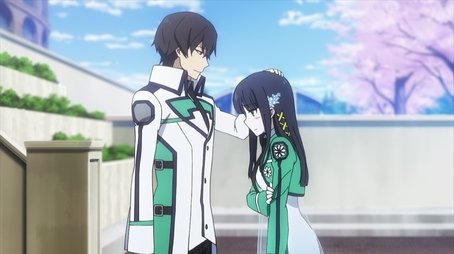 1 - Enrollment Part I 72014-04-06
A brother and a sister enroll at the Magic High School. In this school, the students are divided into two distinct groups as "Weeds" and "Blooms." Tatsuya, the brother, has a secret…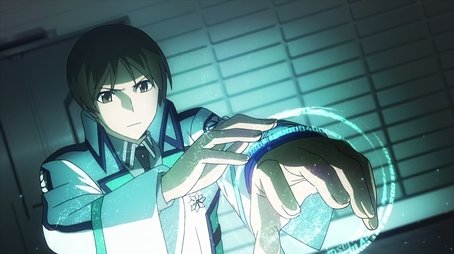 2 - Enrollment Part II 82014-04-13
The President of the Student Council invites Miyuki and Tatsuya to lunch. During lunch, she asks Miyuki to join the Student Council. Miyuki says that her brother should also join them. Will he have to prove himself?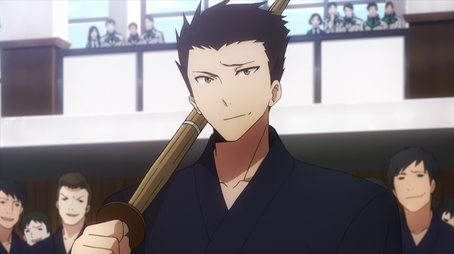 3 - Enrollment Part III 82014-04-20
Everyone is surprised at how quick Tatsuya defeated Hattori in the duel. Tatsuya begins his work as part of the Disciplinary Commitee. Meanwhile, Miyuki starts showing more mixed emotions towards her big brother.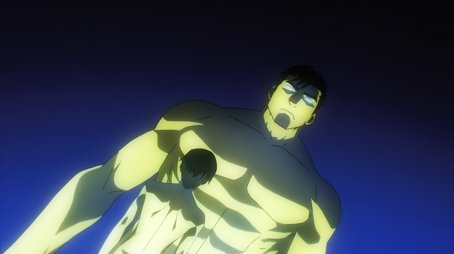 4 - Enrollment Part IV 72014-04-27
Mibu meets with Tatsuya at a cafe. She thanks him for defusing the brawl between her and Kirihara peacefully. She asks Tatsuya to join their kendo team. He suspects that she has an ulterior motive…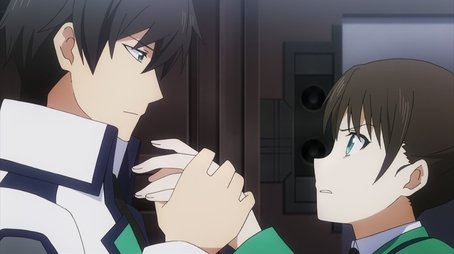 5 - Enrollment Part V 82014-05-04
Mibu tells Tatsuya that they are planning to let the school know of their thoughts about the discrimination among the students. An open forum is held at the school regarding the treatment of Course 1 and Course 2 students. However, there is an intrusion…
6 - Enrollment Part VI 82014-05-11
Tatsuya and the others go after the intruders. They are informed that the intruders are in the library, and Mibu is with them. Will they be able to stop them and find out what is going on?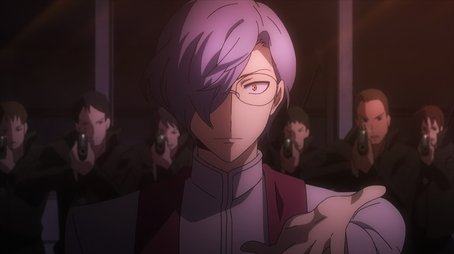 7 - Enrollment Part VII 82014-05-18
Tatsuya has a plan to go after the people from Blance and take them on in battle. He leads the team to an abandoned factory where the people from Blance are. Will they be able to defeat them?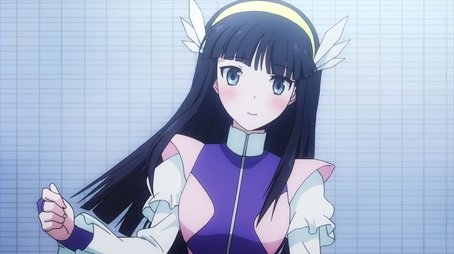 8 - Nine Schools Competition Part I 82014-05-25
Nine Magic University Affiliated High Schools around the country are preparing for the upcoming Nine Schools Competition. The Student Council needs to select engineers. Since Tatsuya knows how to fine-tune CADs, will he take on the role of an engineer?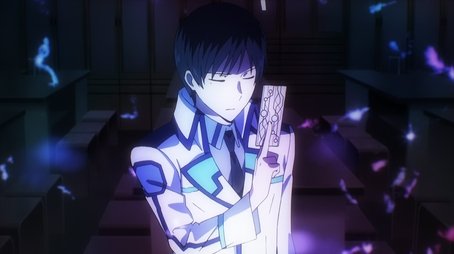 9 - Nine Schools Competition Part II 82014-06-01
Tatsuya and Miyuki visit FLT where a Flying Spell experiment is taking place. They run into members of the Yotsuba family there. Tatsuya sees Mikihiko practicing Spirit Magic. Since Tatsuya seems to be interested, Mikihiko tells him about Crystal Eyes.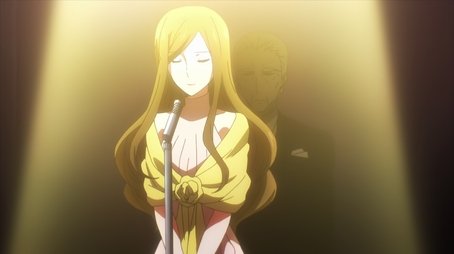 10 - Nine Schools Competition Part III 82014-06-08
The bus that is carrying the students to the Nine Schools Competition is attacked by unknown forces. Tatsuya suspects that it is the work of an insider. At the banquet before the competition, students meet Kudou, the chairman of the Magic Association.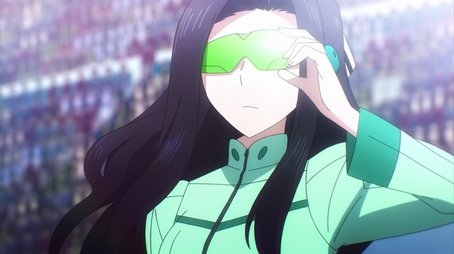 11 - Nine Schools Competition Part IV 82014-06-15
Nine Schools Competition has finally started, and all eyes are on First High School. Tatsuya learns that the intruders from previous night are with the No-Head Dragons. Will the competition continue without any more interruption?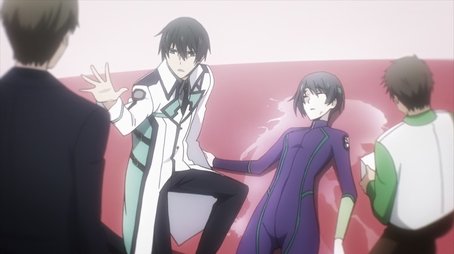 12 - Nine Schools Competition Part V 82014-06-22
During Women's Battle Board, Mari Watanabe has an accident and is taken to the Susono Base Hospital. Tatsuya helps her recover with magic. Still, she has to withdraw from Mirage Bat. Tatsuya suspects that the accident wasn't just an accident at all!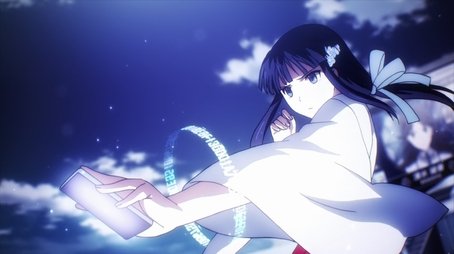 13 - Nine Schools Competition Part VI 82014-06-29
Thanks to Tatsuya's engineering skills, First High School players finish on the podium. Third High School students know that the success of First High is due to Tatsuya's skills. What will they do to beat First High School?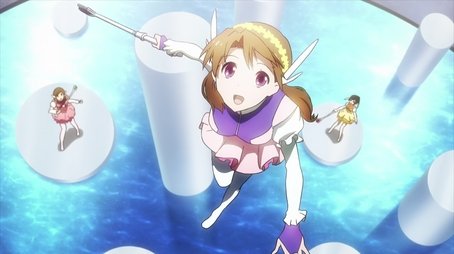 14 - Nine Schools Competition Part VII 82014-07-06
Tatsuya meets Masaki Ichijo and Shinkuro Kichijoji. It takes them by surprise that Tatsuya already knows about their background. Another accident happens at the Nine Schools Competition. First High students think that it was another act of sabotage.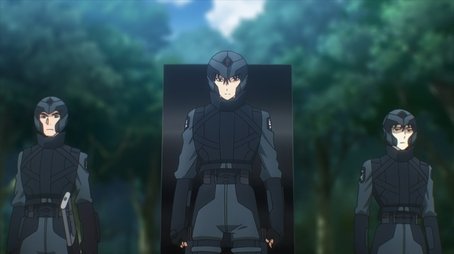 15 - Nine Schools Competition Part VIII 82014-07-13
Tatsuya is asked to compete in Monolith Code. He picks Leonhard and Mikihiko to be his team members. Kichijoji advises Ichijo to figure out a way to force Tatsuya into head-to-head combat to win Monolith Code. Will Tatsuya take the bait as expected?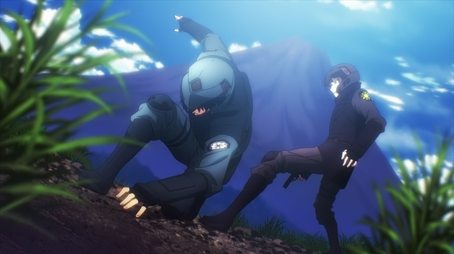 16 - Nine Schools Competition Part IX 82014-07-20
Finally, the day has arrived for Monolith Code. Tatsuya and his teammates have a strategy against Cardinal George and the Crimson Prince. Miyuki is confident that her brother will be the winner. However, is there a bad surprise in store for First High?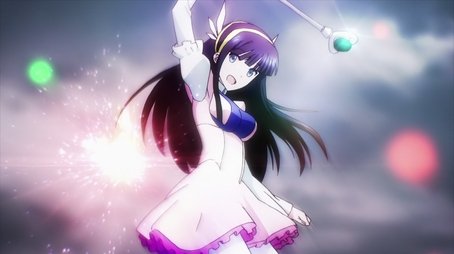 17 - Nine Schools Competition Part X 82014-07-27
Tatsuya has a feeling that an incident might occur during Mirage Bat. He assures Miyuki that he'll protect her no matter what. Meanwhile, the No-Head Dragons decide to take even harsher actions to make sure that the Nine Schools Competition is called off.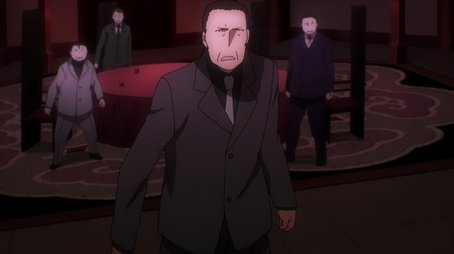 18 - Nine Schools Competition Part XI 82014-08-03
First High School students celebrate their victories in the Nine Schools Competition. Enraged by the actions of No-Head Dragon, Tatsuya pays them a visit. Since Tatsuya is not a member of the Ten Master Clans, Jumonji has a very interesting offer for him.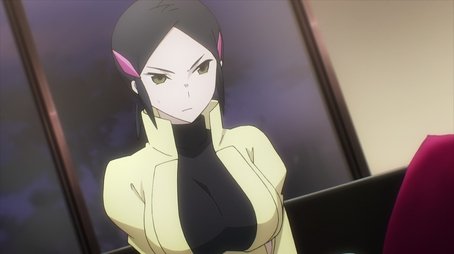 19 - Yokohama Disturbance Part I 82014-08-10
Lately, Tatsuya has been reading about creating the Philosopher's Stone, thinking that it might have the capability to store Magic Sequences. Surprisingly, he is asked to participate in the Thesis Competition as a member of the First High School team.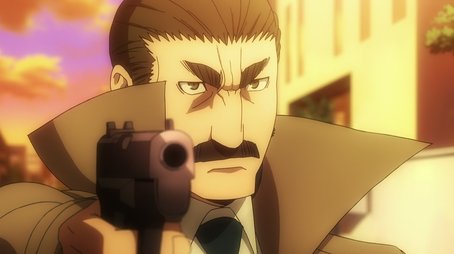 20 - Yokohama Disturbance Part II 82014-08-17
Tatsuya's computer is hacked. He starts investigating the identity of the attackers and suspects that it has to do with the upcoming Thesis Competition. First High students sense that they are being watched. Will they be able to find out what is going on?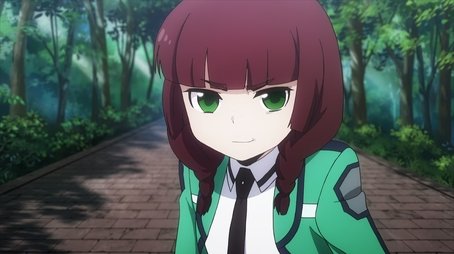 21 - Yokohama Disturbance Part III 82014-08-24
During the preparations for the Thesis Competition, a girl is seen carrying a wireless password breaker. Erika offers to teach Leo a move that would be lethal against his enemies. Since they are taking the day off together, rumors start flying about them!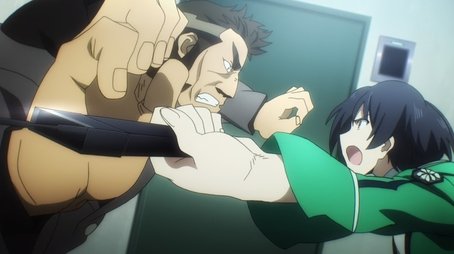 22 - Yokohama Disturbance Part IV 82014-08-31
Tatsuya has brought the Relic to FLT. The lab is hacked by the Great Asian Alliance. An insider attempts to go through the personal belongings of Tatsuya at the Robot Research Club. Will the Relic be safe?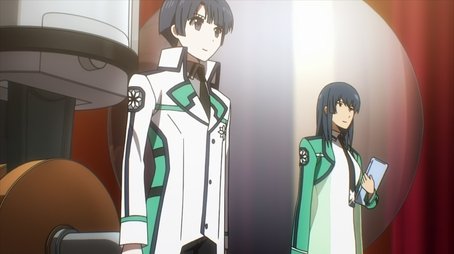 23 - Yokohama Disturbance Part V 82014-09-07
The Thesis Competition is underway and everyone is worried about the security for the event.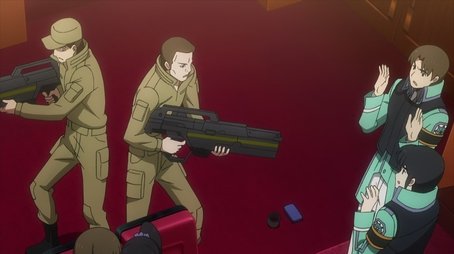 24 - Yokohama Disturbance Part VI 82014-09-14
After terrorists attack the Thesis Competition, the students have to fight to survive.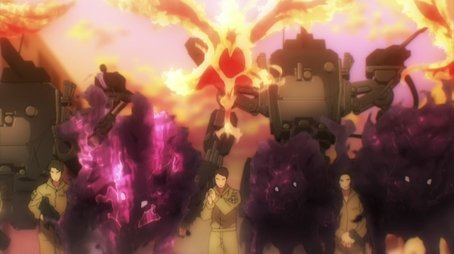 25 - Yokohama Disturbance Part VII 82014-09-21
The battle rages on after the attack on the Yokohama Convention Center. Students fight to make it safely to the shelter while forces duke it on the streets.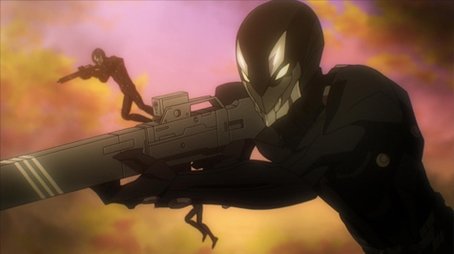 26 - Yokohama Disturbance Part VIII 82014-09-28
Miyuki reveals the price her brother has to pay in order to use his extraordinary power. Tatsuya, meanwhile, makes use of a destructive weapon. All battles come to a head.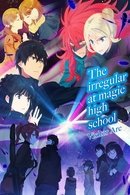 Visitor Arc 2020 | 13 Episodes
Visitor Arc of The Irregular at Magic High School premiered on Oct 04, 2020.
Shiba Miyuki's classmate Kitayama Shizuku is on her way to study abroad. For magicians, this is normally impossible, since allowing the genes of someone who can use magic outside their home country's borders is tantamount to giving up national secrets. But it's allowed to happen in one case-exchange programs. And that's how Angelina Kudou Shields has arrived in Japan from the USNA to study at First High. Around the time Lina arrived in Japan magicians began getting attacked by a mysterious being who leaves his victims drained of blood. Will Tatsuya be able to discover the identity of the "Vampire"?
Cast..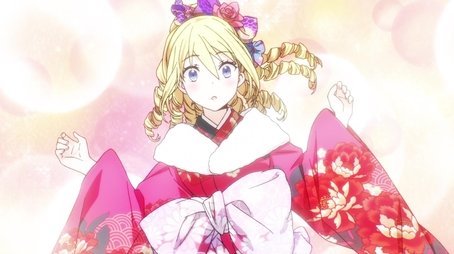 1 - Visitor Arc I 92020-10-04
Two months after the Scorched Halloween incident, Tatsuya and his friends hold a going-away party for Shizuku who will be studying abroad in America. With the start of the new semester, an exchange student from America arrives at First High School.
2 - Visitor Arc II 92020-10-11
A string of bizarre murders occurred where the victims were found to have most of the blood drawn from their bodies. Due to the methods used by the killer, they were called "vampire incidents," and similar incidents were also occurring in America.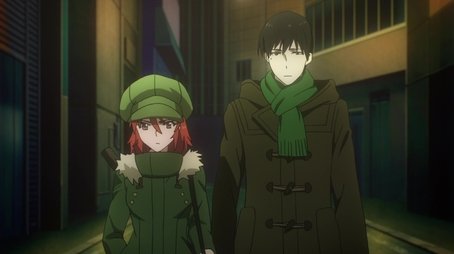 3 - Visitor Arc III 102020-10-18
The vampire that attacked Leo was a demon called a "parasite." The Saegusa and Jumonji families decide to join forces to solve this case. Mikihiko and Erika search for the parasite to get revenge for Leo, and they confront a mysterious masked magician.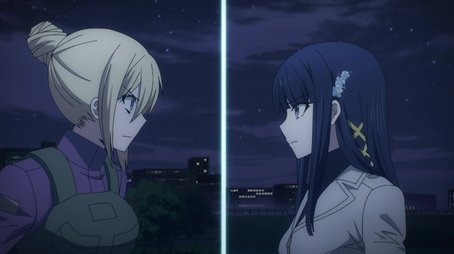 4 - Visitor Arc IV 102020-10-25
It turns out that the masked magician that engaged in a sword fight with Erika was Lina. With her identity blown, Lina uses the Parade spell to attack Tatsuya. Tatsuya attempts to disable the Parade spell by dismantling it but fails.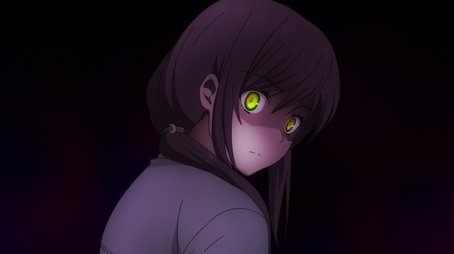 5 - Visitor Arc V 102020-11-01
A parasite is an information body that was generated from the spirit dimension. How could an entity from another dimension appear in the physical world? An evil visitor of unknown origin infiltrates its way into First High School.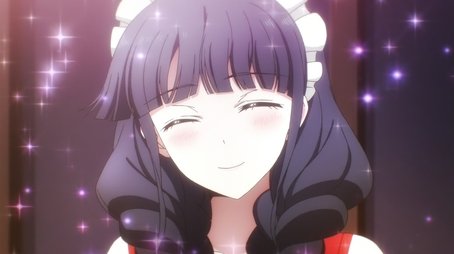 6 - Visitor Arc VI 92020-11-08
Valentine's Day is a day to gift chocolate to the one you love and confess your feelings. This tradition is a source of joy and grief for many even at a distinguished institution like Magic High School. What will happen this year on Valentine's Day?
7 - Visitor Arc VII 102020-11-15
Colonel Balance orders Lina to capture the caster who was behind Scorched Halloween. Balance gives Lina a custom-made device called "the Brionac" which converts Strategic-Class magic into a beam of high-energy plasma.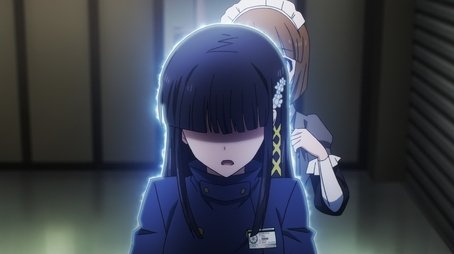 8 - Visitor Arc VIII 102020-11-22
The Yotsuba Family intervenes to eliminate all threats to Tatsuya from the USNA military forces. The only threat that remains are the parasites. After questioning Pixie about the remaining parasites, Tatsuya heads to Aoyama Cemetery with Miyuki and Honoka to lure them out.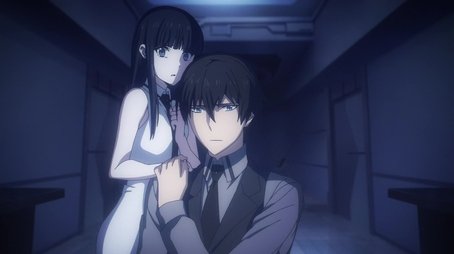 9 - Visitor Arc IX 92020-11-29
Thanks to Pixie's psychic powers, Tatsuya and his friends are finally able to capture the parasites. They leave the scene after Erika and her team arrive, but a third faction disguised as the police appear before them and get in their way.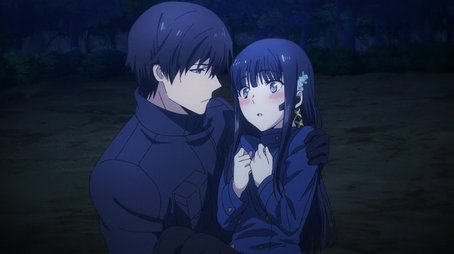 10 - Visitor Arc X 102020-12-06
As instructed by Raymond, one of the Seven Sages, Tatsuya and his friends head to the outdoor training area behind First High School on the night of February 19th. Just as Raymond said, they detect the presence of all active parasites and Lina gathering at the scene. At this rate, clashing with Lina, who is hell-bent on completing her mission as Sirius, will be inevitable. With complex emotions at play, the final battle with the parasites begins.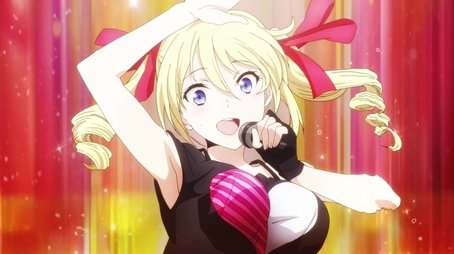 11 - Visitor Arc XI 102020-12-13
About a month after the parasite incident, Tatsuya and his friends reluctantly bid farewell to Mayumi, Mari, Katsuto and the other seniors at the 29th graduation ceremony at First High School. The time also comes for them to give a send-off to another friend who came from America.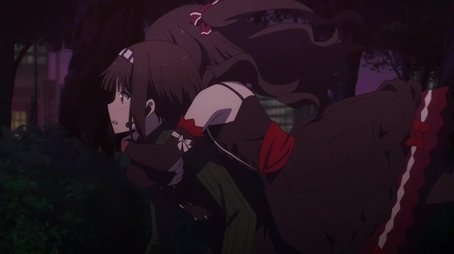 12 - Visitor Arc XII 92020-12-20
Tatsuya and Miyuki are invited to a party to commemorate the completion of Japan's first hyper-building offshore tower, there Hayama introduces a young girl called Sakurai Minami. The two are shaken upon seeing her face which is that of a woman who died in an incident three years earlier. At such a time, there is intelligence that the party is being targeted by extremist magic advocates — The Advancement of Humanity Front.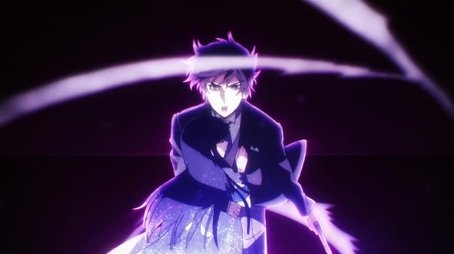 13 - Visitor Arc XIII 102020-12-27
The Advancement of Humanity Front have declared they will 'blow up the offshore tower in one hour'. But there is no guarantee they will keep to their one-hour time limit. For the sake of preventing the Advancement of Humanity Front's scheme, Tatsuya takes Miyuki and Minami towards the control centre on the first underground floor.