Aya Suzaki
Tamako Kitashirakawa (voice)
Rina Hidaka
Kitashirakawa Anko (voice)
Juri Nagatsuma
Kanna Makino (voice)
Atsushi Tamaru
Mochizō Ōji (voice)
Yuri Yamaoka
Choi Mochimazzwi (voice)
Yuki Kaneko
Midori Tokiwa (voice)
Tomomichi Nishimura
Kitashirakawa Fuku (voice)
Keiji Fujiwara
Kitashirakawa Mamedai (voice)
Takumi Yamazaki
Dera Mochimazzi (voice)
Yurie Yamashita
Shiori Asagiri (voice)
Specials 2013 | 14 Episodes
Specials of Tamako Market premiered on Mar 20, 2013.
Cast..
1 - Dera's Bar 1 02013-03-20
Dera has trouble teaching Tamako and her friends about how to behave in a bar.
2 - Dera's Bar 2 02013-04-17
3 - Dera's Bar 3 02013-05-15
4 - Dera's Bar 4 02013-06-19
5 - Dera's Bar 5 02013-07-17
6 - Dera's Bar 6 02013-08-21
7 - Episode 7 02014-04-26
8 - Episode 8 02014-05-07
9 - Episode 9 02014-05-14
10 - Episode 10 02014-05-21
11 - Episode 11 02014-05-28
12 - Episode 12 02014-06-04
13 - Episode 13 02014-06-11
14 - Episode 14 02014-06-18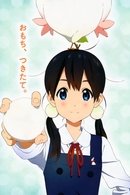 Season 1 2013 | 12 Episodes
Season 1 of Tamako Market premiered on Jan 10, 2013.
Cast..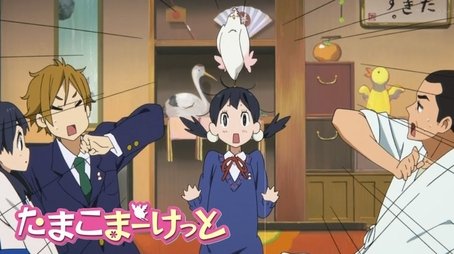 1 - That Girl is the Cute Daughter of a Mochi Shop Owner 02013-01-10
Whilst shopping for some flowers in her local market, Tamako Kitashirakawa, the daughter of a mochi shop owner, encounters a peculiar talking bird named Dela Mochimazzi that decides to follow her home. As Tamako and her younger sister Anko go to the public baths later that evening, Dela has Tamako's childhood friend, Mochizō Ōji, take him to the baths as well. As New Year's Eve arrives, with Dela having put on weight after gaining an affection for mochi, Dela almost chokes on a mochi, prompting the neighbourhood to help him out, overlooking Tamako's birthday.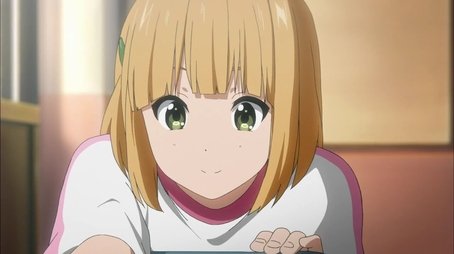 2 - A Valentine's Day Blooming with Love 02013-01-17
As Valentine's Day approaches, Tamako suggests the shopping district should hold a Valentine campaign. However, Tamako's father, Mamedai, is against the campaign, believing it to be too modernised. As Tamako and Mochizō start shooting a commercial for the shopping district, Tamako's friend, Midori Tokiwa, feels conflicted by feelings she starts having around Tamako. At the screening of the commercial, Dela manages to stand in for the projector by projecting the image through his eyes. When the commercial finishes, Dela shows another video, this time a video message from his home country. As Valentine's Day arrives, Midori comes to terms a little with her feelings.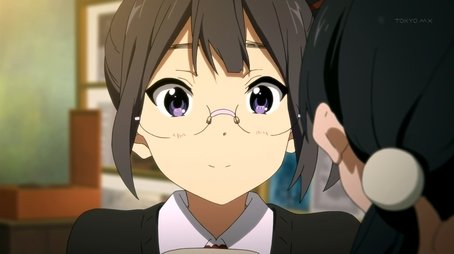 3 - Hot for a Cool Girl 02013-01-24
As a new school year starts, Tamako and her friend Kanna Makino ends up in the same class as badminton club member Shiori Asagiri. That morning, Dela has a run in with Shiori and falls in love with her. After Dela ends up getting lost, Shiori escorts her back to Tamako's house, where Tamako attempts to become friends with her. Due to coincidental situations with her family, Shiori soon ends up staying for dinner and joining Tamako to the baths. The next day, Shiori tries to work up the courage to thank Tamako for the other day, but has difficulties overcoming her shyness. As Shiori ends up helping her homeroom teacher to Tamako's house for a home visit, Tamako takes her to a coffee shop, where she is finally able to convey her feelings of gratitude. As the two become proper friends, Shiori gives her thanks to Dela for helping her out, though rejects his proposal of love. Afterwards, Tamako hears from Midori about how much courage it took for her to convey her feelings properly.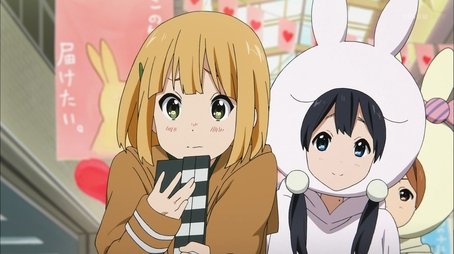 4 - A Small Love Blooms 02013-01-31
Anko becomes disappointed that she can't go a museum with her friends, including a boy from her class she likes, because the market is preparing for a festival. Luckily, her grandfather says she'll be able to go if she wakes up early and finishes up all her jobs. Meanwhile, Dela is cast as an ornament for the festival's shrine. As Anko prepares to go to the museum, the florist asks for her help in dressing up some children, foregoing the museum in favor of giving one of the girls her support. When the boys from her class arrives, Anko becomes embarrassed and shuts herself in the closet, although she eventually comes out when one of the boys brings her a souvenir from the museum.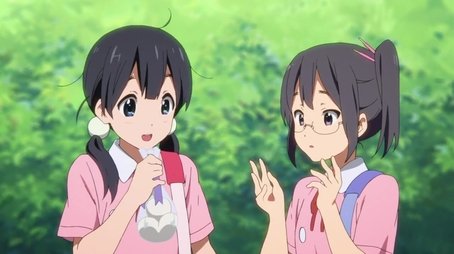 5 - We Spent the Night Together 02013-02-07
As summer arrives, the girls go to the swimming pool to teach Tamako how to swim while Dela learns of Mochizou's crush on Tamako. Dela decides to accompany Mochizou as he and the others go on a school trip to the beach and help him with his love troubles. When Midori learns of this, she chooses to stand against him, although the heat between them soon calms down by the next day as the gang watch some fireworks.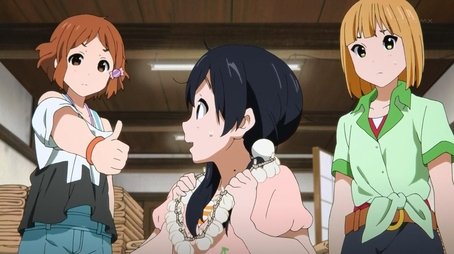 6 - I Felt Chills Down My Spine Too 02013-02-14
Noting that not too many people come by the market during hot days, Tamako suggests they put on a haunted house to help cool people down. As Tamako, Midori and Kanna work on preparing the haunted house, Mamedai claims he saw some ghosts floating about at night, leading the shopkeepers to become paranoid, believing the market to be cursed. After a test run by Shirori and Dera, the haunted house starts gaining some attention whilst Shiori helps clear up some of the 'hauntings' the shopkeepers have been experiencing. The haunted house proves to be a huge success, drawing lots of customers to the market. At the wrap-up party, Kanna reveals she and Dera were behind the ghost sightings from before. As Dera falls over in shock, his eyes once again project a video from the foreign prince, informing everyone that someone named Choi is coming to the market.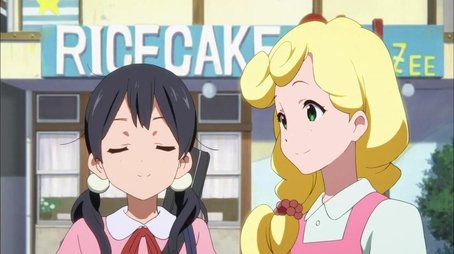 7 - She Went To Be a Bride 02013-02-21
Choi Mochimazzi, a fortune teller from Dera's homeland, comes to stay at Tamako's house, revealing that both she and Dera come from the island's royal family. When Choi becomes annoyed by Dera gaining weight and forgetting his mission to find a bride for the island's prince, he claims he is being held against his will, leading her to be distrustful of the good will Tamako and the shopkeepers show towards her. As Choi tells fortunes as a mean's of paying back everyone's kindness, shopkeeper Sayuri Yumoto reveals she is getting married, much to the dismay of tofu shop owner Tomio Shimizu, who had a crush on her. This leads Choi to think about her own unrequited feelings for the prince, leading to her getting a fever after passing out in the bath. After Tamako helps her overcome some of her homesickness, she becomes a bit more accepting of everyone's kindness.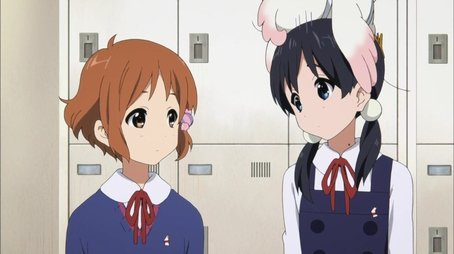 8 - Don't Call Me a Chicken 02013-02-28
Deciding his obesity needs to be addressed, Tamako, Choi and the others decide to put Dera on a mochi-free diet until he loses enough weight to fit into a birdhouse Kanna made. In order to keep watch over Dera to make sure noone feeds him, Choi goes to school with Tamako and the others, where she joins in on classes and helps Dera get some much needed exercise, before going to a used clothes store. As Dera shows up the next day with a curiously slim body, Kanna and Midori give Choi a sweater they made for her.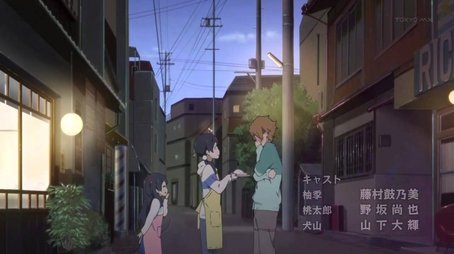 9 - Singing a Love Song 02013-03-07
As the Tamaya shop decides to put on a mochi pounding event for October 10, Mochi Day, Anko asks Tamako to set some daifuku aside for Yuzuki, the boy she has a crush on, but can't bring herself to face him in person. Asked by Tamako to help, Mochizō learns that Anko is depressed because Yuzuki is transferring to another school on Mochi Day. As Mochi Day arrives, Tamako gives Anko the encouragement to see Yuzuki off before he leaves. Receiving some fresh mochi Tamako gave Anko, Yuzuki tells her that they'll see each other again when his family next comes to Tamaya for some mochi. Meanwhile, Tamako comes across Mamedai playing a familiar song from her childhood. The record store owner, Kunio Yaobi, tells Tamako and the others that the song was written by Mamedai for her late mother, Hinako.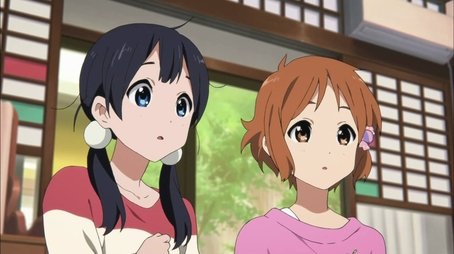 10 - A Flower Blooms on Her Baton 02013-03-14
With the school cultural festival approaching, the Baton Club manage to get a key timeslot for the main stage. However, Midori struggles to come up with some choreography for their performance, finding herself unable to admit it to Tamako and the others. As Midori becomes more stressed, leading to her catching a fever, Shiori mentions to Tamako and Kanna about Midori's worries. The next day, Tamako and the others visit Midori after hearing about her fever, she admits that she had been unable to come up with any choreography and is overcome with guilt. After Dera cheers her up by performing an amusing dance, Tamako, Kanna and Shiori help Midori come up with choreography, managing to come up with something come the day of the festival. As Choi comes to the school to give the club her support, she notices a particular mark on Tamako's neck, later announcing to Tamako that she is destined to become her prince's bride.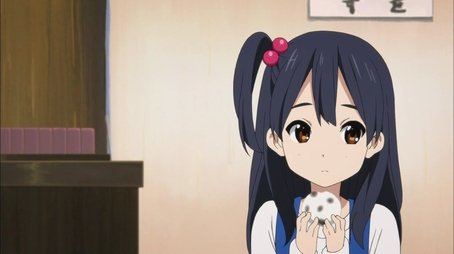 11 - Who Knew She'd Be a Princess? 02013-03-21
As word spreads about Tamako allegedly being a princess, Tamako herself is more focused on collecting enough loyalty points to receive a medal from the shopping district. After Tamako earns her medal, Choi manages to fix Dera's communication features and get in contact with the prince, Mechya, who exchanges some words with Tamako before Dera breaks down again. Whilst Tamako herself feels she's not really a princess, the neighbourhood have a meeting concerning Tamako, feeling she should probably go, although Tamako herself feels otherwise. The next morning, Tamako panics when she can't find her medal, only to be given it by Mechya himself.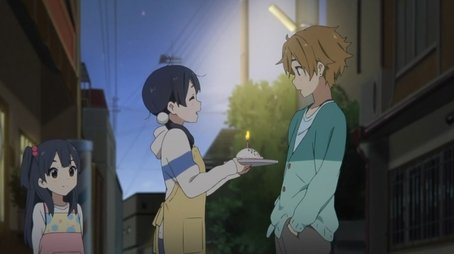 12 - Another Year Ends 02013-03-28
As the whole shopping district takes an interest in Mechya, Tamako feels a little confused by everything, the empty shopping district begins to remind her of when her mother died. When asked by Dera about what she thinks of the whole bride business, Tamako talks about how much the district has meant to her over the years. Tamako rushes to turn down Mechya's proposal, only to learn that she isn't actually a candidate, as Choi has misunderstood things. After the girls see them off, Choi and Mechya head back to their home country, only to realise they've left Dera behind. Come New Year's, Dera attempts to head back home by hiding himself in a bouquet, only to wind up in a box Mochizō has ordered for Tamako's birthday and end up right back on Tamako's doorstep.