Yoshitsugu Matsuoka
Kirito / Kazuto Kirigaya (voice)
Haruka Tomatsu
Asuna / Asuna Yuuki (voice)
Ai Kayano
Alice Synthesis Thirty
Maaya Sakamoto
Administrator
Junichi Suwabe
Bercouli Synthesis One
Hikaru Hanada
Deusolbert Synthesis Seven
Takeaki Masuyama
Eldrie Synthesis Thirty-One
Hitomi Nabatame
Fanatio Synthesis Two
Konomi Kohara
Fizel Synthesis Twenty-Nine
Ryuichi Kijima
Humbert Zizek
Toshiyuki Morikawa
Kikuoka Seijirou
Sanae Kobayashi
Koujiro Rinko
Hina Kino
Linel Synthesis Twenty-Eight
Shuuhei Iwase
Raios Antinous
Megumi Han
Sortiliena Serlut
Kaori Ishihara
Tiese Schtrinen
Taishi Murata
Volo Levantein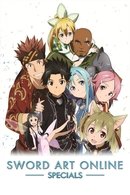 Specials 2012 | 25 Episodes
Specials of Sword Art Online premiered on Oct 24, 2012.
Cast..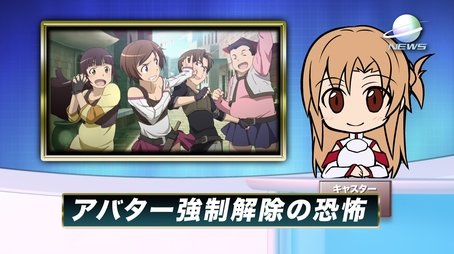 1 - Sword Art Offline 1 02012-10-24
A mock talk show anchored by Kirito and Asuna featuring some highlights of episodes 1 and 2 and having Klein as a special guest, with life counsel section held by Kirito and trivia sections held by Yui.
2 - Sword Art Offline 2 02012-12-03
The talk show continues, with Klein replaced Kirito as life counsel host, featuring highlights of episodes 3, 4, and 5 with Silica as the special guest.
3 - Sword Art Offline 3 02012-12-26
This edition feature the highlights of episodes 6, 7, and 8 with Lisbeth as the special guest.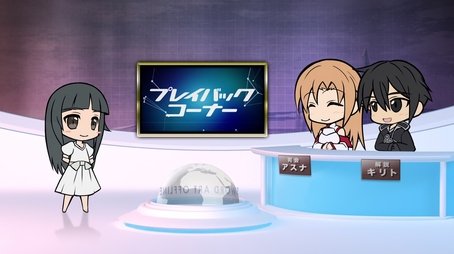 4 - Sword Art Offline 4 02013-01-23
This edition highlights episode 9, 10, and 11 with Yui as the special guest. Heathcliff substitutes Yui as trivia guide in this episode.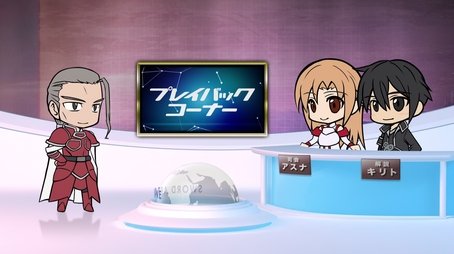 5 - Sword Art Offline 5 02013-02-27
This edition highlights episode 12, 13, and 14 with Heathcliff as the special guest.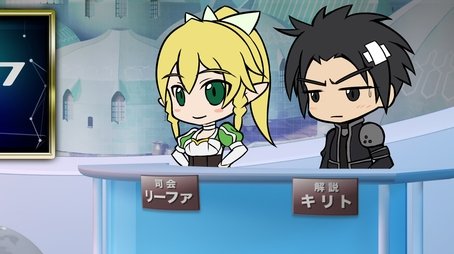 6 - Sword Art Offline 6 02013-03-27
The show received major overhaul due to ALO arc, with Leafa replaced Asuna as main anchor, and a new section "Slot Talk" replacing Klein's Life Counsel. There was no guest for this episode and it highlighted episode 15 and 16.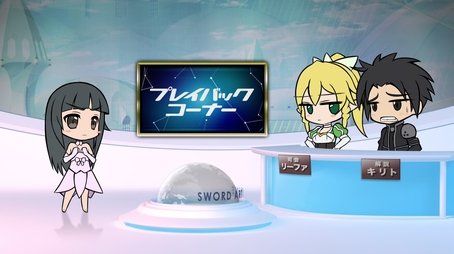 7 - Sword Art Offline 7 02013-04-24
This edition highlights 17, 18, and 19 with Yui once again the special guest. Oberon substituted Yui as trivia guide in this episode.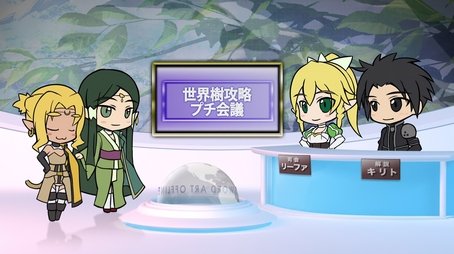 8 - Sword Art Offline 8 02013-05-22
This edition highlights 20, 21, and 22 with Sakuya and Alicia murdering Kirito. In addition, Kirito was locked in a coffin by Alica at the end of this episode.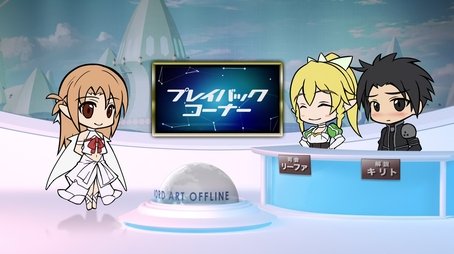 9 - Sword Art Offline 9 02013-06-26
This edition highlights 23, 24, and 25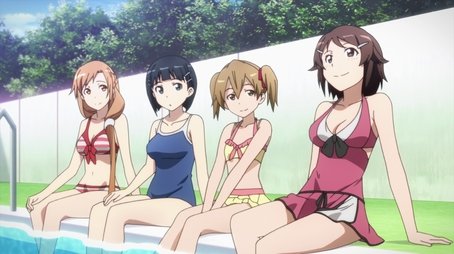 10 - Sword Art Online: Extra Edition 82013-12-31
Yui wants to see a whale so Kirito suggests a quest where she can meet them. However, it turns out that Leafa cannot swim so Asuna and the other female characters decide to train Suguha in a real-world pool in preparation for the aforementioned quest. Meanwhile, Kirito is called for an emergency counseling meeting at his new school. There he meets an elite member of the Virtual Division of the Ministry of Internal Affairs. Kirito then tells him details about what really happened in Aincrad and in Alfheim.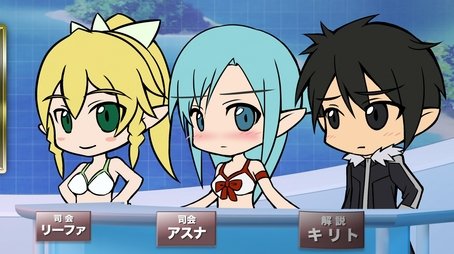 11 - Sword Art Offline: Extra Edition 02014-04-23
DVD extra with Suguha, Asuna and Kirito commenting on Sword Art Online: Extra Edition. Also stars Yui.
12 - Debriefing 02014-10-11
Recap episode of Episodes 1-14 (Phantom Bullet arc) of Season 2, also known as Episode 14.5 Narrated by Sinon.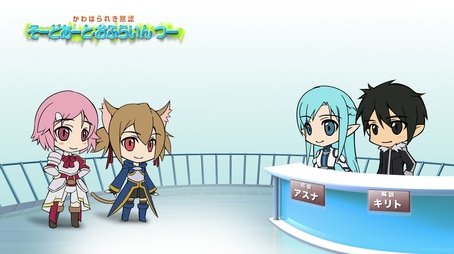 13 - Sword Art Offline II 1 02014-10-22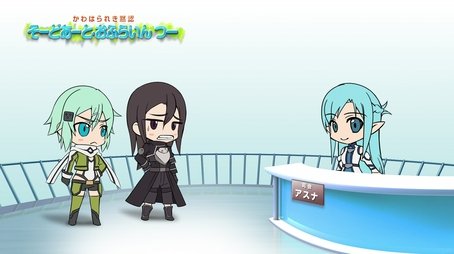 14 - Sword Art Offline II 2 02014-11-26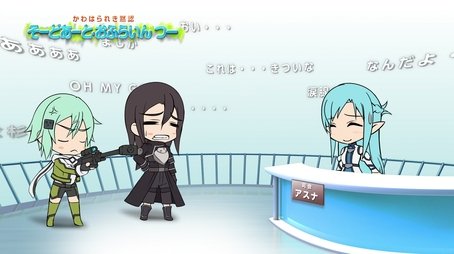 15 - Sword Art Offline II 3 02014-12-24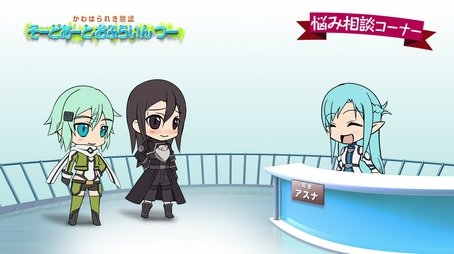 16 - Sword Art Offline II 4 02015-01-28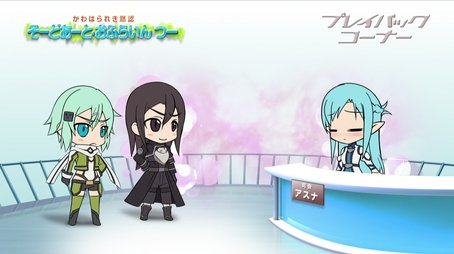 17 - Sword Art Offline II 5 02015-02-25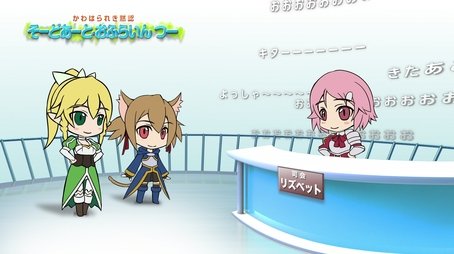 18 - Sword Art Offline II 6 02015-03-25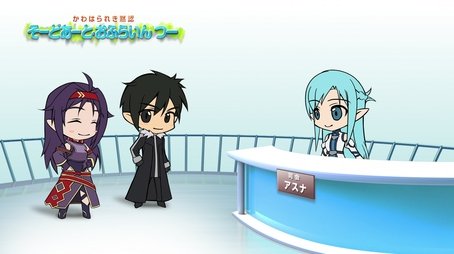 19 - Sword Art Offline II 7 02015-04-22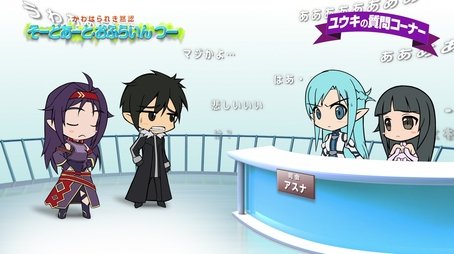 20 - Sword Art Offline II 8 02015-05-27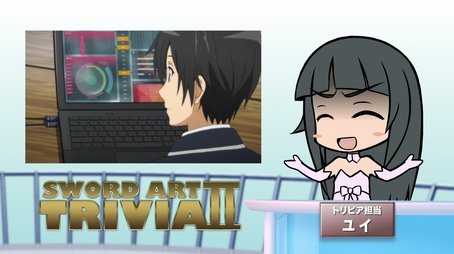 21 - Sword Art Offline II 9 02015-06-24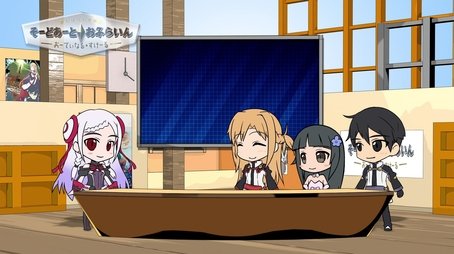 22 - Sword Art Online Movie: Ordinal Scale - Sword Art Offline 02017-09-27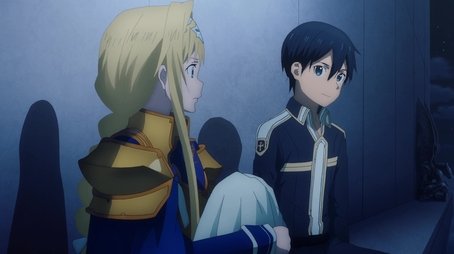 23 - Alicization 18.5: Recollection 02019-02-17
Recap of the first 18 episodes of Alicization.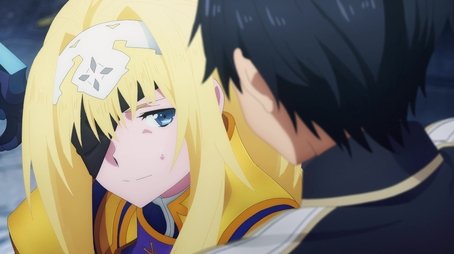 24 - Alicization 24.5: Reflection 02019-10-06
Recap of Sword Art Online: Alicization, aired one week before Sword Art Online: Alicization - War of Underworld.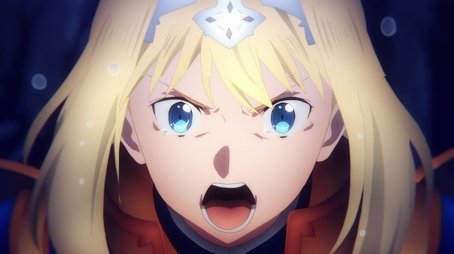 25 - Alicization - War of Underworld 12.5: Reminiscence 02020-04-19
This episode is a recap of Sword Art Online: Alicization - War of Underworld.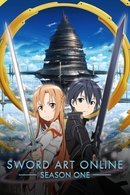 Season 1 2012 | 25 Episodes
Season 1 of Sword Art Online premiered on Jul 08, 2012.
In the year 2022, a massive online role-playing game called Sword Art Online (SAO) is launched. With the aid of "NerveGear" technology, players can control their avatars within the game using nothing but their own thoughts. Kazuto Kirigaya is among the lucky few who get their hands on the first shipment. He logs in to find himself, with ten-thousand others, in the scenic and elaborate world of Aincrad. However, in a cruel turn of events, the players soon realize they cannot log out; the game's creator has trapped them in his new world until they complete all one hundred levels of the game. In order to escape Aincrad, Kirito will now have to interact and cooperate with his fellow players. Some are allies, while others are foes. Sword Art Online is not all fun and games: if they die in Aincrad, they die in real life. Kirito must adapt to his new reality, fight for his survival, and hopefully break free from his virtual hell.
Cast..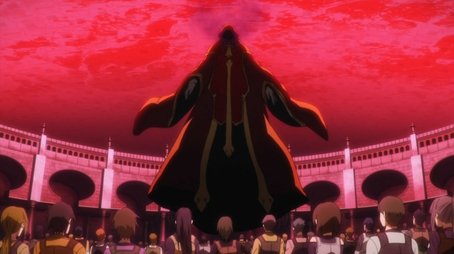 1 - The World of Swords 92012-07-08
On November 6, 2022, the VRMMORPG Sword Art Online is officially released where 10,000 copies have been sold. Kirito, who beta-tested the game, log-ins to the world of Aincrad and meets Klein, a new player who asks him to teach him the basics of the game including the battle system, explaining there is no magic so they mostly use sword combat. However, Kirito and Klein cannot log out of the game for some reason. As most of the players head to the village square, a red-hooded figure suddenly appears in the sky. The figure reveals himself to be Akihiko Kayaba, the game's creator and tells them they cannot log-out was made on purpose. Furthermore, he reveals they cannot log-out by simply removing the NerveGear, the VR helmet they use to log-in the game as it will kill them instantly. The only way to log out is for the players to beat and clear all 100 floors of the game and should they die in the game, their real bodies will die as well. As a parting gift, Akihiko gives them a mirror which reveals their real looks on their avatars. As everyone goes into shock of their new predicament, Kirito ask Klein to follow him to the next village to level up as soon as possible but Klein politely declines as he wishes to remain with his friends but promises to see him again. Kirito heads out, vowing to be free from this game. By the end of the first month, 2,000 players have died and the 1st floor has yet to be cleared.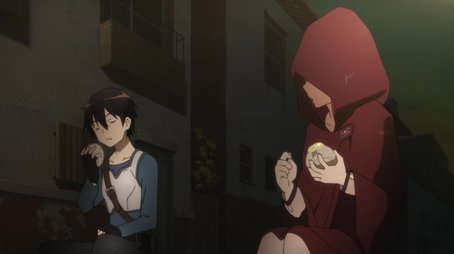 2 - Beater 9.92012-07-15
One month since the start of the fun-turned-deadly game, 2,000 players have already died, and the first floor has yet to be cleared. Kirito attends a meeting organized by fellow beta-tester Diabel, who announces to the attendants that his party, a group of characters adventuring together in a role-playing game, has found Illfang the Kobold Lord, the boss of the first floor. Parties are formed, and Kirito teams up with a young girl named Asuna. The next day, Diabel's raid group arrives at the boss' room and battles Illfang and his minions. When Illfang's health becomes low, Diabel goes for the finishing attack. Kirito attempts to warn him, but Illfang attacks down first and mortally wounds Diabel. As he dies, Diabel begs Kirito to defeat the boss and save the players. Though they destroy the boss, Kirito is accused of being a "beater"—a combination of a "beta-tester" and "cheater"—for Diabel's death.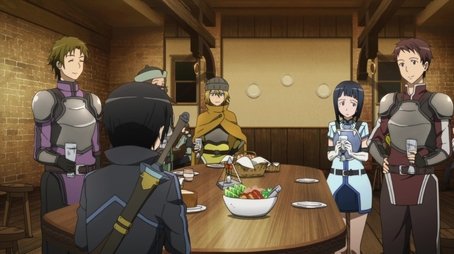 3 - The Red-Nosed Reindeer 102012-07-22
Four months have past with more powerful players and guilds clearing the game's floors. After saving a guild called the "Moonlit Black Cats", a group of friends from the same school club, their leader Keita thanks Kirito and ask him to join their guild and teach the only female in their guild, Sachi, to fight better. Kirito agrees while hiding the fact he is at least Level 40, twice higher than the others as they slowly and safely level up at low-level floors that have been cleared. Kirito bonds with his new friends, especially Sachi, who admits to Kirito she's afraid to die which he assures her he will protect her and they will be free one day. But on June 12, 2023, as Keita goes to buy a house for the guild, against their usual methods and Kirito's advice, the Black Cats decide to earn some money by going to the upper floors where they set off a trap, locking them in a room with higher level Mobs. Kirito desperately tries to save his friends but they are killed one by one until Sachi is the last to fall. Blaming himself over his friends death, including Keita, who committed suicide upon learning what happen, Kirito goes on a suicidal quest upon learning a rumor there is a way to revive the dead. On December 24, 2023, Argo the informant reveals to Kirito the location of a special boss named Nicholas the Renegade who has an item that can revive the dead. As Kirito heads there, he is followed by Klein and his guild, who fears for his safety. They are soon surrounded by the Holy Dragon Alliance guild who are also after the item. As Klein and his guild hold off the Holy Dragons, Kirito faces against Nicholas alone. But much to his distraught, Kirito discovers the item can only revive the dead within ten seconds after their deaths. To Kirito's surprise, he receives a recorded message from Sachi. Sent to him on Christmas Eve in the event of her death, Sachi tells Kirito not to blame himself over her death and that he should continue living to be free from the game. As she ends the message by humming "Rudolph the Red-Nosed Reindeer" before saying goodbye, Kirito sadly cries.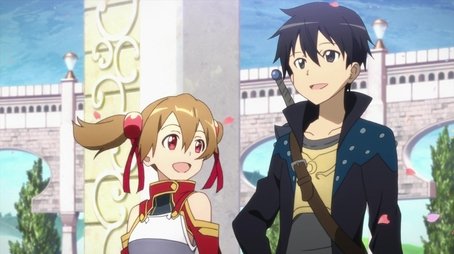 4 - The Black Swordsman 102012-07-29
On February 23, 2024, a beast tamer named Silica, quits a party after arguing with their leader, Rosalia. Silicia is ambushed by monsters whilst making her way alone through the forest and her dragon familiar, Pina, is killed trying to protect her. As Kirito saves her, he tells Silica of an item at the Hill of Memories on the 47th floor that can revive her familiar within three days after it's death, offering to accompany her there. As they spend time together, Kirito warns Silicia of "orange players", players who attack other players and "red players", players who kill other players and someone is eavesdropping on their plans. As they make their way towards the Hill of Memories the next day, Kirito tells Silica about his younger sister who is actually his cousin, who she reminds him of. As they finally retrieve the item, the Pneuma Flower, they are confronted by Rosalia and her men, who are actually part of the Titan's Hand, a notorious orange player guild and are after Silica's flower. However, Kirito reveals part of his reason for escorting Silica was to draw Rosalia out to arrest her. The guild realizes Kirito is the infamous Beater "The Black Swordsman", and due to his higher levels and advanced skills, he outmatches Rosalia and her men, forcing them to surrender and send them to prison. As Kirito prepares to return to the front lines, he makes a promise to Silica that they'll meet again in the real world as she revives Pina.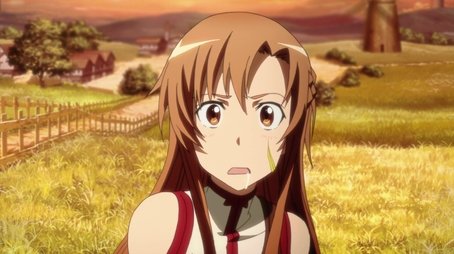 5 - Murder in the Safe Zone 9.62012-08-05
During a meeting between guilds and players on March 6, 2024 on the 56th floor, Asuna, who has now become Vice Commander of the Knights of Blood Oath guild, propose a plan to lure a boss they are fighting into a village but is opposed by Kirito, as the NPC villagers will be killed. A month later on the 59th floor, Kirito is taking a nap until Asuna arrives, criticizing him for being lazy but he convinces her to relax as well. To thank him for guarding her while she was asleep, Asuna decided to buy lunch for him at a town on the 57th floor. However, they discovered a player killed, hanging outside the church, impaled with a spear. As they both investigate, Kirito wonders how the player was killed in a safezone unless he was dueled by another player or someone has found an exploit to kill players. Yoruko, a girl who was a friend of the victim, Kains, saw someone behind Kains before he was hanged. Asuna and Kirito heads towards Egil's shop to help them find clues on the murder weapon, which Egil learns it's a custom made weapon by a player named Grimrock. Explaining what they discovered to Yoruko, she reveals how she and Kains are related to Grimrock. Six months ago, she, Kains and Grimrock were part of a eight-man guild called the Golden Apple lead by Griselda, Grimrock's ingame wife. One day the guild acquired a rare ring and voted whether to use it or sell it, with three members, Yoruko, Kains and Schmit, now a member of the Holy Dragon Alliance, voting to use it. Griselda went out to sell the ring but was killed. Yoruko believes the killer is targeting the three of them as he suspect they were involved in Griselda's death. After getting Schmit and explaining to him everything, Yoruko becomes paranoid, believing Griselda's ghost wants revenge against them. But Yoruko is killed after someone throws a dagger from outside.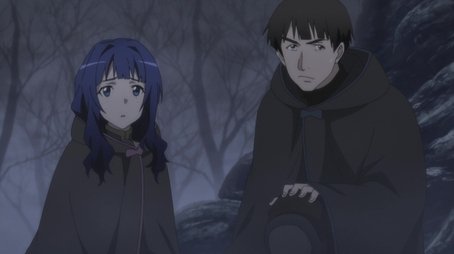 6 - Illusionary Avenger 9.62012-08-12
Kirito chases after the assassin but he manages to teleport away. Kirito is still unsure how it was possible to kill someone in a safezone which a paranoid Schmit thinks Griselda's ghost is really after him. After accidentally seeing a dropped sandwich vanishing and talking with Asuna about the game's marriage system which allows both couples to share each others inventory, Kirito finally figures out how Yoruko and Kains "died" and who is Griselda's killer. It turns out Yoruko and Kains are still alive and tricked people into thinking they were dead by using damaged armor that will eventually disappear along with teleport crystals at the same time to make it look like they died. Yoruko and Kains confront Schmit at Griselda's grave as they are investigating who Griselda's killer is. After Schmit explains he had no part in Griselda's death, the three of them are surrounded by the notorious player-killing guild, the Laughing Coffins, who have come to kill them. They are soon rescued by the timely arrival of Kirito, which the Laughing Coffins retreat and Asuna arrives with the man who hired them and Griselda's killer, Grimrock. Grimrock reveals he killed Griselda, who was also his wife in the real world, because he couldn't accept his kind, dutiful wife he loved now became a fearless, independent leader. Asuna shoots back on Grimrock for killing Griselda, telling him he didn't love his wife but was just obsessed with her. After Yoruko, Kains and Schmit take Grimrock into custody, Kirito and Asuna talks about marriage and how he would still love his partner after seeing a different side of her, they see Griselda's ghost, who thanks them.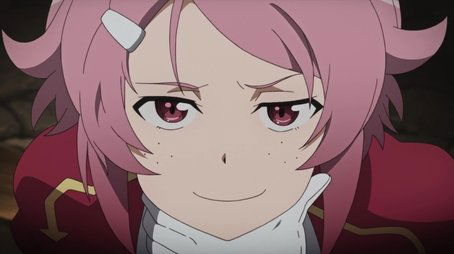 7 - The Temperature of the Heart 9.62012-08-19
On June 24, 2024 at Lindas on 48th floor, Asuna visits her friend the blacksmith Lisbeth or "Liz" at her smith shop before going adventuring, and Liz suspects she's going with a boy she likes. Later, Kirito arrives at Liz's shop as he's looking for a custom-made sword to buy. Much to Liz's shock, Kirito's sword Elucidator easily breaks her strongest sword. Angry and her pride hurt, Liz convinces Kirirto to let her join him to the Western Mountain on the 55th floor to get a rare mineral from a dragon that eats crystals so she can use the mineral to make a stronger sword. As they arrive at the Western Mountain, Kirito advises Liz to hide as he fights the dragon. However, she ignores his advice when she comes out when she thinks the dragon is almost defeated. The dragon blows her into a deep pit and Kirito jumps in to save her. While they both survive, they can't get out of the pit and are forced to sleep there for the night. Liz asks Kirito to hold her hand while they sleep, which brings her to realize that she can feel another person's warmth even though they are just data. She also realizes that she has feelings for him. The next morning, Kirito discovers that the mineral they are seeking, a Crystallite Ingot, is under the snow as the hole is the dragon's nest. The dragon returns and Kirito grabs Liz with him as he stabs the dragon's back, forcing it to carry them out of the hole before jumping out. Now safe with the mineral, Liz manages to create a new sword for Kirito, Dark Repulsor. As she asks Kirito to use her as his exclusive smith and is about to confess to him, a worried Asuna arrives. Realizing Kirito is the boy Asuna likes, Liz excuses herself from them. As Liz cries over her heartbreak, Kirito finds her and tries to comfort her. Accepting her predicament, Liz promises to help Kirito as his smith if he promises to win the game and free them all.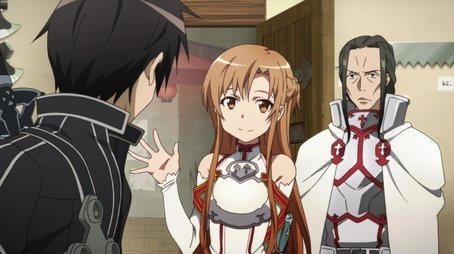 8 - The Sword Dance of Black and White 9.62012-08-26
After adventuring on the 74th floor, Kirito finds a Ragout Rabbit, a rare animal with top grade meat. Since he can't cook well, Kirito decides to sell it to Egil. When Asuna arrives and tells them she has mastered her cooking skills, Kirito decides to give the meat to Asuna in exchange they both eat it together. But Kuradeel, Asuna's escort sent by the Knights of Blood, is against Asuna inviting Kirito to her home as he is a Beater but Asuna ignores him. As they arrive at her home at Selmburg on the 61st floor, Asuna cooks the rabbit meat for dinner. As they talk, Asuna and Kirito discuss how two years have past since they were trapped in the game and many players seems to accept living in Aincard with less then five hundred players clearing the floors. Both agree to party up and explore the dungeons at the 74th floor. However, Kuradeel was following Asuna to prevent her from meeting up with Kirito. To settle things, Kirito has a duel with Kuradeel where if he wins, Kuradeel will leave Asuna alone. Kirito wins the duel by breaking Kuradeel's sword. Kuradeel refuses to give up but Asuna relieves him of his duties and orders him to return to Knights of the Blood Oath headquarters to await punishment. As Kirito and Asuna explores the 74th floor dungeons, they discover the boss room and its boss, The Gleam Eyes.
9 - The Blue-Eyed Demon 102012-09-02
Kirito and Asuna flee from the boss and take a break for a snack when they meet Klein and the Furinkazan guild. The army also appears, visibly exausted from exploring the floor. They demand Kirito to give them the map he made of the floor, and despite Asuna and Klein's protests he willingly complains with their request. Kirito, Asuna and Klein keep exploring the floor, clearing the monsters there, just to learn that the army is confronting the boss by themselves despite Kirito's warnings, and to make matters worse, the teleport crystals do not work in the boss room. As the members of the army are killed one by one, they launch themselves aganst the boss to protect the survivors and Kirito is forced to deploy a special skill of his he used to keep in secret that allows him to fight with two weapons, one in each hand, defeating the boss with a series of quick strikes. After the fight, Kirito collapses with HP almost totally depleted, just to wake up instants later, seeing Asuna in tears, who asks him to form a party with him, to which he agrees. Some time later, Kirito and Asuna are brought before Heathcliff, commander of the Knights of Blood who challenges him to a duel. If Kirito wins, Asuna is allowed to leave the guild and join his side, but he must join the guild instead should he loses. Kirito agrees to the terms and accepts Heathcliff's challenge.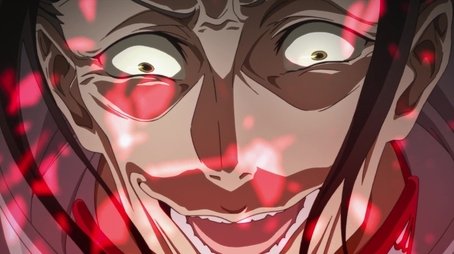 10 - Crimson Killing Intent 8.62012-09-09
The duel between Kirito and Heathcliff is held at an arena where a large crowd has gathered. Asuna warns Kirito to be careful about fighting Heathcliff as he has an unique skill called Divine Blade which gives him maximum strength and defense. Heathcliff at first is able to overpower Kirito but the tides turn when Kirito forces Heathcliff on the defensive. Just as Kirito is about to deal the winning strike, Heathcliff mysteriously manages to dodge it and defeats Kirito. Now a member of the Knights of Blood, Kirito is asked by Asuna why he never join guilds and he reveals what happened to his old guild. Asuna comforts Kirito and tells him she will protect him. Later, Kirito is asked by fellow member Godfrey to follow him and a seemingly remorseful Kuradeel to the 55th floor dungeons for a skill assessment. As they take a lunch break, Kirito notices too late that the water he and Godfrey drank contains a paralysis effect. Kuradeel reveals he is a member of the Laughing Coffins and how he plans to kill both Godfrey and Kirito while making it look like they were killed in an ambush. After he finishes off Godfrey, Kuradeel attempts to kill Kirito but is saved from certain death by the arrival of Asuna who tracked them on her map. Asuna quickly decimates Kuradeel's health until critical stages. Kuradeel begs Asuna for forgiveness which is a ruse. When Kuradeel's is about to attack Asuna, Kirito jumps in between them, blocking the attack with his arm before killing him. Asuna feels guilty for what happened but Kirito calms her by kissing her, telling her how much he cares about her and wants to protect her. They agree to a take break from adventuring and stay at her home for the night. Later, as he sits next to Asuna at her bed, Kirito tells of a place they can be alone together and proposes to her, which she happily accepts.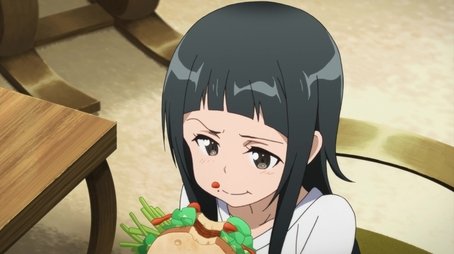 11 - The Girl of Morning Dew 9.62012-09-16
Kirito and Asuna takes a break at their new home in a secluded village in the 22th floor. As the couple spends their time together, they a find a lost girl in the forest. But to their curiosity, the girl doesn't have a cursor above her, suggesting a glitch. After taking the girl to their home, she wakes up and claims not to remember anything but her name Yui. Yui, unable to pronounced Asuna and Kirito's name right, calls them "mama" and "papa" respectively. Believing she got lost from her family, Kirito and Asuna decides to head to the Town of Beginnings on the 1st floor to find Yui's relatives and regain her memories before they go back to the front lines. Instead, they find a young woman named Sasha and the children she's taking care off being harass by the Army for taxes. Asuna attacks their leader which he and the rest of the army run away. As Sasha and the children thanks Asuna, Yui tells Kirito she realizes she has never been to the Town of Beginnings before. A mysterious static sound affects everyone before Yui faints.
12 - Yui's Heart 102012-09-23
Kirito, Asuna and Yui are resting at Sasha's church where she takes care of the younger children until Yulier of the Army arrives. Yulier explains the Army under their leader Thinker had good intentions of helping players but as the Army got bigger, people like Kibaou started abusing power on others. Thinker was going to expel Kibaou over the Gleam Eyes incident but the latter trapped him at a secret dungeon on the 1st floor which is why she has come to Kirito and Asuna for help. With Yui refusing to stay at the church, Kirito, Asuna and Yulier reluctantly bring her alone to rescue Thinker. When they arrive at his location, a boss called "The Fatal Scythe" attacks them. Kirito and Asuna orders Yulier to escape together with Thinker and Yui as they fight the boss but it is too strong. As the boss is about attack Kirito, Yui confronts the boss, who is unable to damage her due to being an "Immortal Object" and defeat the boss. Yui, finally remembering her past, reveals to Kirito and Asuna that she is an AI counselor created by the game's Cardinal system whose purpose was to monitor and counsel the players on their mental state. But on the day of game's launch, Cardinal refuse to allow to her interact with the players which she was forced to watch their mental state deteriorating until she learned about Asuna and Kirito and wanted to meet them. Despite the revelation, Asuna and Kirito still accepts Yui as their daughter but she tells them goodbye as she's going to be deleted for interfering in the game. Refusing to accept it, Kirito uses the GM console Yui left behind to save Yui by turning her into a crystal item. With Yui's data save on his NerveGear local memory, Kirito and Asuna hopes to recreate her in the real world.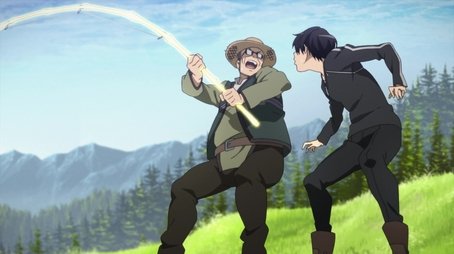 13 - Edge of Hell's Abyss 9.82012-09-30
While fishing near a lake, Kirito encounters Nishida, an old man and a network security manager who oversaw the game's development, who claimed that despite honing his fisherman skill, he is unable to create delicious dishes with it. Kirito then invites him to his home for Asuna to cook the fish he just caught for them. During their meal, Nishida mentions a huge fish he tried to catch many times but failed, thus he asks Kirito to help him. Nishida manages to hook the fish and gives the rod to Kirito to pull it away. The fish is revealed to be a huge monster whom Asuna slays. Soon after, Kirito receives an message from Heathcliff, and upon meeting him, they learn that a scouting party was trapped and killed in the 75th level's boss room, thus a team of players from several guilds is being assembled to confront it. As the time for the battle approaches, Kirito asks Asuna to stay behind fearing for her safety, but Asuna refuses, claiming that she rathers to die than to live without him. She also mentions that all players' real bodies must be currently being treated in hospitals and their condition can not be kept indefinetly, thus fleeing to live by themselves inside the game is out of question. As the players enter the boss room, they are confronted with "The Skull Reaper", a powerful monster capable of killing players with one blow. Kirito, Asuna and Heathcliff confront the creature head on while the other players attack it from the sides.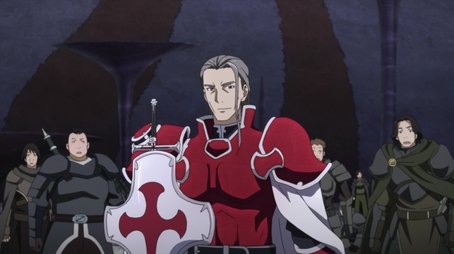 14 - The End of the World 102012-10-07
After the group defeats the Skull Reaper, suffering 14 casualties in the battle, Kirito deduces that Heathcliff is, in fact, Akihiko Kayaba himself. Akihiko paralyses everyone except Kirito, and then offers Kirito the chance to face him in a one-on-one duel where, should Kirito win, Akihiko would log out all the remaining players. After giving his best wishes to the others, Kirito accepts the challenge but is unable to overcome Akihiko's absolute defense and intimate understanding of the game's mechanics. As Akihiko readies the finishing blow, Asuna overcomes her paralysis and takes the hit instead, losing all her HP and disappearing as a result. Distraught by Asuna's death, Kirito loses the will to fight and receives a fatal stab from Akihiko. However, at the point of death, Kirito remembers Asuna's belief in him and manages to regain enough substance to defeat Akihiko using Asuna's sword. They are both killed simultaneously and the game is declared cleared. Kirito then awakens high above the game world where he finds both Asuna and Akihiko. Akihiko informs Kirito and Asuna that he has logged out all the other players as promised and also explains his motives for creating Sword Art Online, before disappearing. Kirito and Asuna then tell one another their true names, Kazuto Kirigaya and Asuna Yūki, and embrace each other as the world falls apart. To his surprise, Kazuto awakens in a hospital in the real world and, despite being physically weak, sets off to search for the real Asuna.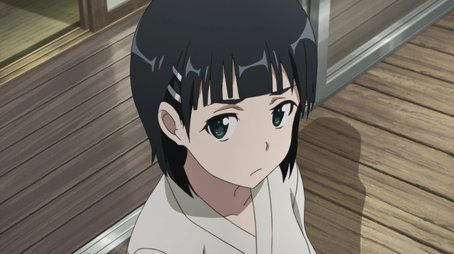 15 - Return 9.82012-10-14
Even two months after he had been logged out of SAO, Kazuto continues to be plagued with nightmares about Asuna. It is also revealed that throughout his two-year coma in the game, his younger cousin, Suguha, has been constantly worrying about him. The pair have a kendo spar, and though Kazuto loses, Suguha is both shocked and curious about his unusual yet proficient sword fighting skills -- a result of his time in SAO. Later, Kazuto goes to the hospital to visit Asuna who, along with 300 other players, has yet to wake up even after the SAO incident. It is there that he meets an associate of Asuna's father, Noboyuki Sugou, who reveals to Kazuto that he intends to be adopted into Asuna's family while she is still comatose as a precursor to marriage, much to Kazuto's fury. Claiming this as his right since that it was his company that had been keeping Asuna alive after SAO's developer went bankrupt, he informs Kazuto that the ceremony will occur in a week and tells him not to see her again. Later at home, Kazuto breaks down before Suguha, who tells him not to give up, despite harboring her own feelings for him. The next morning, Kazuto receives an e-mail from Egil with a screenshot of an avatar resembling Asuna from another game.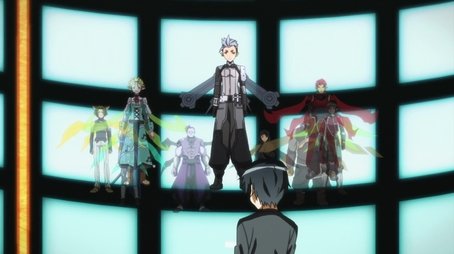 16 - Land of the Fairies 92012-10-21
A new MMO allows users to fly and encourages player killing. Kirito has joined this new game in search of Asuna and is pleasantly surprised with what he finds.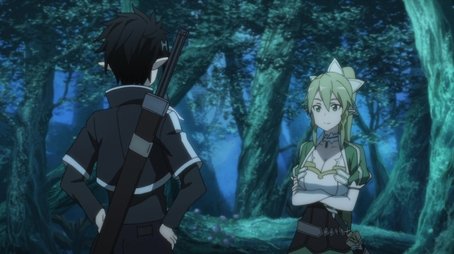 17 - Captive Queen 8.82012-10-28
Lyfa thanks Kirito for saving her and teaches him how to fly properly. They then travel to the Sylph Territory (Sylvein) where they meet one of Lyfa's party members, Recon. Lyfa and Kirito go to an inn and have a conversation about how Kirito can get to the top of the World Tree. Seeing Kirito's determination to reach the top of the tree, Lyfa decides to help him and asks him to meet her at the inn the next day. When Lyfa logs out, it is shown that she is actually Suguha. Meanwhile, Asuna is seen in a gigantic bird cage at the World Tree, held by the game master, Oberon the Fairy King. She recognizes Oberon as Sugou, who insists on calling her "Titania". He reveals to Asuna how he captured the minds of 300 players before they were logged out from SAO including her own, as part of his research on memory control. He threatens to alter Asuna's memories if she does not cooperate with him and then departs, leaving Asuna in despair and quietly begging for Kirito to save her.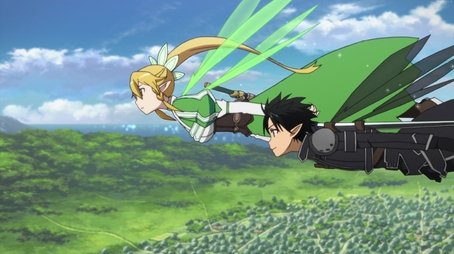 18 - To the World Tree 8.62012-11-04
After recalling how she got into VR gaming, Suguha meets up with Recon's real life persona, Shin'ichi Nagata, informing him that she will be quitting their party to join Kirito. Logging in once more as Lyfa, she accompanies Kirito in shopping for new equipment, having a run in with her old party, led by Sigurd who doesn't take kindly to Lyfa's departure. Before Kirito and Lyfa set off, Recon approaches them, saying he will continue to observe Sigurd's party due to some suspicions he has about them. Meanwhile, as Asuna learns from Sugou that Kirito is still alive, she takes keen observation of the keycode for her cage's lock. As Kirito and Lyfa reach a safe landing point, where they will have to continue on foot through some caves to reach the World Tree, they take turns logging out to refresh themselves, with Lyfa getting a brief chat with Yui. After Kirito returns, they both set off again, unaware that they are being followed by a mysterious group.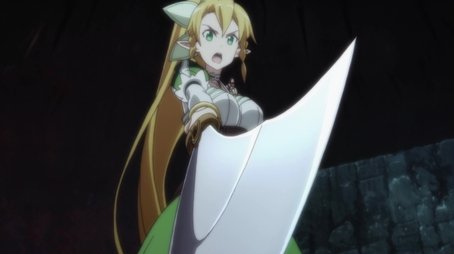 19 - The Lugru Corridor 8.82012-11-11
While passing through a cave, Leafa receives a message from Recon cautioning her to take care. She and Kirito then realize that they are being followed and try to escape, only to be cornered by a large group of Salamander players. Kirito asks Leafa to support him with her magic while he fights the group by himself. However, he is unable to break their formation until Yui comes up with a plan to have Leafa cast some protective magic on Kirito, while he conjures a spell that temporarily transforms him into a giant demon. In his new form, Kirito obliterates his enemies, but spares one whom Kirito bribes in exchange for information. The Salamander player reveals that his party was ordered to attack Kirito and Leafa by the same group which attacked them during their first encounter. After arriving at the next town, Suguha logs out for a while and answers a phone call from Shin'ichi. Shin'ichi tells her that Sigurd is in cahoots with the Salamanders, who plan on attacking the Sylphs and Cait Siths during a meeting to establish an alliance. Upon returning to the game, Leafa explains the situation to Kirito and states that it would be in his best interest to continue without her, as allying with the Salamanders may be the best option for him in order to reach the top of the World Tree. Kirito instead chooses to help her and makes use of his speed to break out of the cave with her.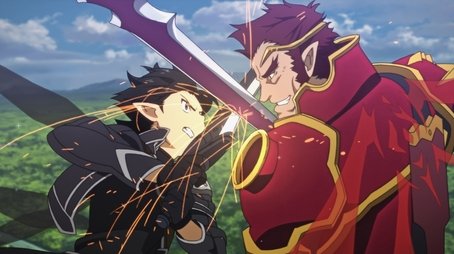 20 - General of the Blazing Flame 8.82012-11-18
Kirito and Leafa reach the place of the meeting just as the Salamanders prepare to attack the Sylphs and Cait Siths. Seeing that they have no chance against them, Leafa thanks Kirito for all he has done for her and asks him to continue to the tree by himself, but he rushes forward and stands before the Salamander General Eugene instead, bluffing that he is a messenger for the Spriggans and Undines and to attack them would lead to the four factions waging war against the Salamanders. Eugene does not believe him and challenges him to a duel claiming that he may trust his word should he manage to hold himself for thirty seconds. Kirito is severely punished by Eugene's sword which can bypass his defenses, until he conjures a huge smokescreen, making use of it to steal Leafa's sword and turn the tides of the battle fighting Eugene with two swords. After Eugene is defeated, he is revived by Sakuya and leaves in peace with his army. Having his treason exposed, Sigurd is contacted by Sakuya who strips him of his title and has him banished from the Sylph territory. After learning that the now allied Sylphs and Cait Siths plan an incursion to the World Tree in a couple of days, Kirito donates a large sum of money to aid in their war effort and departs ahead with Leafa. Meanwhile, Asuna makes use of the code she had previously learned to open the cage and escape.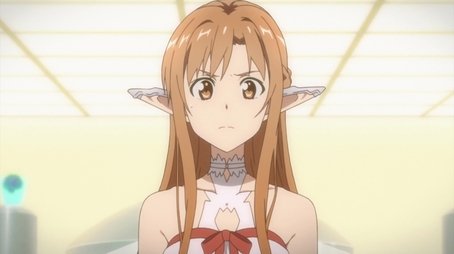 21 - The Truth about Alfheim 8.82012-11-25
Kirito and Leafa reach Arun, the capital of Alfheim, located directly beneath the world tree. However a sudden announcement of an emergency shutdown for server maintenance prompt the two to find a nearby inn and log out. The next day, Suguha accompanies Kirito to visit Asuna at the hospital. Meanwhile, in the World Tree, Asuna stumbles upon a room where experiments are being made with the brains of the other SAO players trapped in ALO. She then attempts to log out of the game by using the GM console inside the room, but is captured by two of Sugou's assistants. However, she manages to snatch a key card before being thrown back to her cell. Back in the real world, Suguha gets heartbroken upon seeing Kazuto tending to Asuna, and is comforted by Kirito after she logs back as Leafa on ALO, still unaware that both him and her brother are the same person. Later as the pair approach the World Tree, Yui suddenly detects Asuna's presence, prompting Kirito to fly ahead leaving Leafa behind.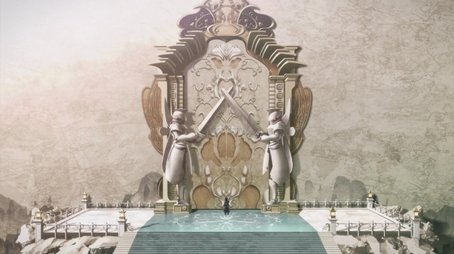 22 - Grand Quest 8.62012-12-02
Leafa tries to stop kirito as he dashes for the lower branches of the world tree only to be stopped by the new barrier that had been "patched" into the game earlier. Kirito then finds a card that is dropped down by Asuna due to hearing Yui calling to her "Momma!". Kirito then has Yui identify the card as a Sys-Admin pass code card for use on a GM console, and makes a mad dash for the opening gate to the world tree quest. Kirito makes a heroic fight to reach the portal at the top of the chamber, but is diced to bits before reaching it. Kirito dies from the hundreds of spawned "Guardians", but is saved by Leafa. Upon being revived by Leafa, Kirito states he can not stop fighting until Asuna is safe, which at that time Leafa learns that Kirito-Kun is actually her brother in real life. Or so it seems, as in the real world after they both logoff that they are not actually blood related brother and sister.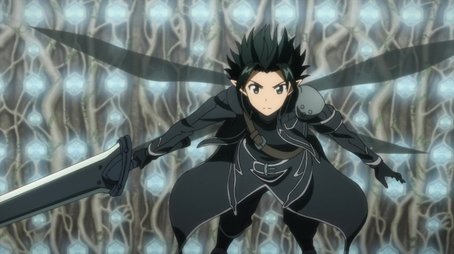 23 - Bonds 92012-12-09
Kazuto recalls when he was ten, he learn he was not related with Suguha, leading him to become detached from his family and become engrossed in online gaming. But due the lessons he learn during his time in SAO, he decides to make amends with his family. Wanting to sort things out, Kazuto asks Suguha to meet him in ALfheim. As Leafa contemplates whether she should stop seeing Kirito in-game anymore, she runs into Recon, whose unsuccessful attempt to confess to her cheers her up. Leafa then challenges Kirito to a one-on-one fight, during which they both end up throwing the duel and apologize to each other. After Kirito explains he won't be able to say what he thinks of Suguha until Asuna is rescued, Leafa agrees to help him in his quest, dragging Recon along with her. Kirito once again takes on the guardians, this time with assistance from Leafa and Recon. As the number of guardians keep increasing, Recon uses a self-destruct spell to create a gap for Kirito to get through, but it is filled up all too soon. Just as things look dire, Sakuya and Alicia arrive with their armies to back them up. Using Leafa's sword, Kirito manages to break through the guardians and reach the top, only to find a moderator-locked door in his way. Using the card Asuna gave them, Yui manages to open the door, teleporting her and Kirito to a new location.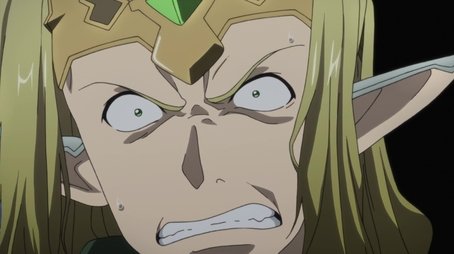 24 - Gilded Hero 92012-12-16
Arriving at the top of the World Tree, Kirito and Yui finally manage to reunite with Asuna. However, they are suddenly hit by high gravity magic, which forces Yui to retreat, and are confronted by Sugou. As Sugou reveals his plans to control the human soul, he chains Asuna up and starts to molest her in front of Kirito, who is stabbed and forced to endure incredible pain. As Kirito falls into despair, he hears the voice of Akihiko, who encourages him to stand up and fight, realising the pain is nothing compared to the pain of SAO. Using Akihiko's administrative abilities, Kirito manages to strip Sugou of his high level and challenges him to a fight with no pain absorption, showing him what true pain is before finishing him off. After logging Asuna out, returning her to the real world, Kirito meets with the remnant of Akahiko's memory, who gives him an item called The Seed before leaving. After returning to the real world and giving his thanks to Suguha, Kazuto makes his way to the hospital to finally meet Asuna for real.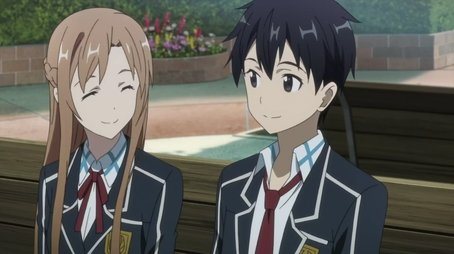 25 - The World Seed 9.22012-12-23
Rushing to the hospital Kazuto is attacked by an injured Sugou with a knife at the parking area. Kazuto manages to disarm him, and after considering everything Sugou has done, Kazuto spares his life. Kazuto finally meets with Asuna where they have a tearful reunion. On May 16, 2025, Kazuto and Asuna have returned to school, attending a special school for students who were trapped in SAO. As they have lunch, Kazuto reveals Sugou was arrested by the police after their fight and the crimes he committed were exposed by one of his employees. The 300 players that were trapped by Sugou were freed but his experiments shocked the public. Due to the scandal, Asuna's father and his higher ups resigned and shut down Alfheim Online with other VRMMORPG following suit. Later, Asuna, Kazuto and Suguha heads to Agil's bar along with Liz, Silica, Yoruko, Kains, Sasha, Yulier, Thinker, Klein and his guild where they have a party to celebrate Kazuto for freeing them from SAO. Kazuto gives Agil "The Seed" to be analyzed which is revealed to be a program that allows anyone with a server to create their own VRMMORPG and transfer players to other VRMMORPG easily. "The Seed" is uploaded to the internet which revives the VRMMORPG genre. Later that night in Alfheim Online, now run by a new company, Kirito meets up with Leafa where they share a dance in the sky. Leafa decides to leave since she feels she cannot keep up with her brother but Kirito reveals his character stats have been reset. As a surprise, the floating castle Aincrad from SAO has been brought into Alfheim Online which Kirito then declares he intends to finish clearing all 100 floors. With their friends from SAO and Alfheim Online flying towards the castle, Leafa, Kirito, Asuna and Yui join them.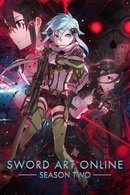 Phantom Bullet 2014 | 24 Episodes
Phantom Bullet of Sword Art Online premiered on Jul 05, 2014.
A year after escaping Sword Art Online, Kazuto Kirigaya has been settling back into the real world. However, his peace is short-lived as a new incident occurs in a game called Gun Gale Online, where a player by the name of Death Gun appears to be killing people in the real world by shooting them in-game. Approached by officials to assist in investigating the murders, Kazuto assumes his persona of Kirito once again and logs into Gun Gale Online, intent on stopping the killer. Once inside, Kirito meets Sinon, a highly skilled sniper afflicted by a traumatic past. She is soon dragged in his chase after Death Gun, and together they enter the Bullet of Bullets, a tournament where their target is sure to appear to stop him before he has the chance to claim another life. Not everything goes smoothly, however, as scars from the past impede their progress. In a high-stakes game where the next victim could easily be one of them, Kirito puts his life on the line in the virtual world once more.
Cast..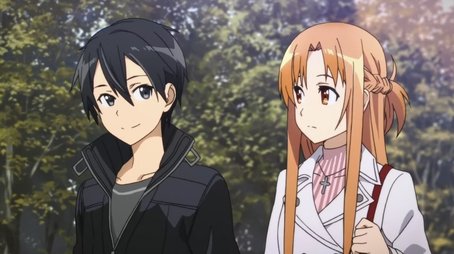 1 - The World of Guns 7.62014-07-05
Nearly a year after the Sword Art Online incident, a new virtual reality MMORPG known as Gun Gale Online has taken Japan by storm. One day, as a top ranked player named Zexceed appears on a streamed broadcast via his avatar, a cloaked man calling himself and his weapon "Death Gun" fires a bullet at Zexceed's avatar through a video screen, causing Zexceed to suddenly convulse and disconnect. A month later, Kazuto Kirigaya is called to meet up with Kikuoka Seijiro of the Ministry of Internal Affairs' Virtual Division, who reveals that Zexceed's user was found dead of acute heart failure a few days after his avatar was shot, also showing evidence of a similar case involving the death of a GGO user. As Kazuto states his doubts that a game could cause someone's heart to fail, Kikuoka, believing Death Gun is specifically targeting professional GGO players, asks Kazuto to once again take up the role of Kirito and investigate what is causing the victims to die. Remembering all the people who died in SAO, Kazuto thinks over his decision whilst spending time with Asuna at the park. Meanwhile, in the world of GGO, a sniper known as Sinon is in top form.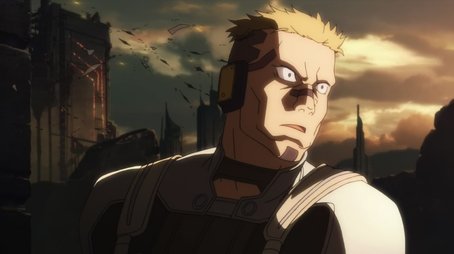 2 - Cold-Hearted Sniper 82014-07-12
In a flashback, on September 14, 2025; Sinon, who had accidentally fallen down a trap chute while navigating a dungeon below SBC Gurokken, discovered a boss-class monster and decided to die while trying to defeat it. To her surprise, the position she chose for her attack was out of the monster's attack range, thus, by conserving her ammo and accurately hitting the boss's weak spot, she was eventually able to defeat it and acquired a new sniper riffle, the PGM Ultima Ratio Hecate II. After Sinon successfully attacked the first target of another squadron for her own's, she attempted to snipe the second target, but that giant man named "Behemoth" manage to dodge the bullet, took out a heavy machine gun, which was hidden under his cloak, and started fighting back with its overwhelming power which cornered Sinon and those in her squadron. But in the aftermath of battle Sinon emerged victorious even if her left leg was cut-off in the process. Meanwhile, in Alfheim, Kirito planned to tell Asuna about something.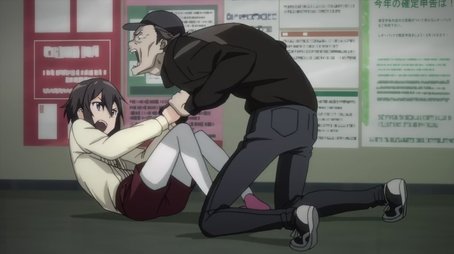 3 - Memories of Blood 8.52014-07-19
While walking home, Asada Shino, Sinon's real-life counterpart, is bullied by three schoolmates, but they are warded away by her friend Kyōji Shinkawa, who introduced her to GGO in the first place, as a form of immersion therapy for her fear of guns. After talking about their personal lives, Shino leaves for home. There, she tries holding a gun replica, but this induces a flashback to when she was eleven years old; while she was at a postal office with her mother, a man carrying a gun tried to rob the office, shooting an employee and threatening to kill other people. When the robber aimed his gun at her mother, Shino attacked him, wrestled the gun out of his hand, and shot him repeatedly, killing him. The flashback triggers a panic attack from Shino. Meanwhile, Kirito informs Asuna that he will be converting his ALO avatar to GGO, which surprises her, but she approves. As Kazuto, he goes to the hospital to log into GGO, while his real-life body will be watched by Aki Natsuki, a nurse who oversaw his condition while he was trapped in SAO. Shino logs into GGO as well. Meanwhile, an unknown figure overhears an online voice-chat discussing Death Gun before looking at a photo of Sinon, grinning hungrily.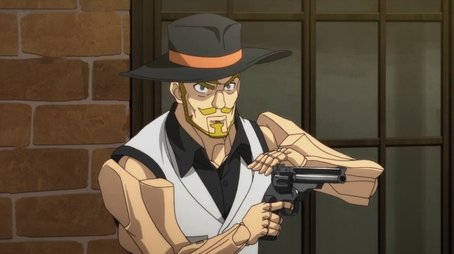 4 - GGO (Gun Gale Online) 8.82014-07-26
Kazuto is now logged into GGO but is baffled as to why his avatar has long hair and feminine qualities. This leads to all the male players mistaking him for a girl. Without much lead on how to reveal himself to Death Gun, Kazuto wanders until he spots a female player with blue hair, Sinon. He explains that he wants to find directions to the Governors Office to sign up for BOB, "Bullets on Bullets" an intense PvP game mode. Sinon is happy to help and directs Kazuto towards a Market to buy weaponry/armor. Being strapped for cash, Sinon offers him money but he declines and asks if there's a fast way to earn it himself. There happened to be one game; "Untouchable" a QuickDraw game where the player must dodge the NPC gun mans bullets and tag him to receive all the credits anybody has ever put in. Sinon tells him it's rigged but Kazuto believes nobody ever had the skills to defeat it, so when witnessing a player fail, Kazuto is determined to win, and his agility and training from SAO allows him to dodge with ease thus winning all the earnings. Back at the weapon shop Sinon is recommending guns but Kazuto is interested in an energy sword which he purchases immediately, although Sinon persists he at least buy a handgun to distract enemies to gain "Sword Range". Back outside Sinon realizes they only have 10 minutes to get to the Governors Office, but Kazuto spots a buggy station and rents one for a quicker get to. Sinon is impressed with Kazutos skills and enjoys the ride thus telling him to go faster!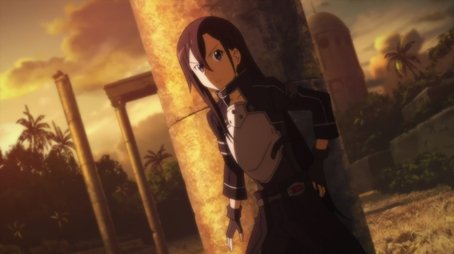 5 - Guns and Swords 8.82014-08-02
Kirito and Sinon arrive at the General Governor's Office and go to the terminals to register. Kirito is surprised that the registration asks for his real-life information, and he leaves the fields blank. He is then registered into the same block as Sinon, and both are able to make it to the finals due to the ladder arrangement. Before they can enter BoB, however, there is a qualifying preliminary. While waiting for the preliminary round to begin, Kirito reveals his gender after an embarrassing incident with Sinon in the changing room, and this creates a rift between them. Sinon demands that he make it to the finals so she can defeat him there, then proclaims her intention of "kill[ing] all the strong ones", which causes Kirito to briefly suspect her of being Death Gun. They then meet up with Kyōji in his GGO avatar, Spiegel. When Kirito is transferred to his first battle, he is initially put off-balance in the gunfight, but is able to defeat his first opponent using his Photon Sword. Upon returning to the preliminary waiting area, he is confronted by Death Gun, who Kirito feels he recognizes. He then catches a glimpse of a tattoo on Death Gun's wrist and recognizes it as the mark of the SAO Red Player guild "Laughing Coffin".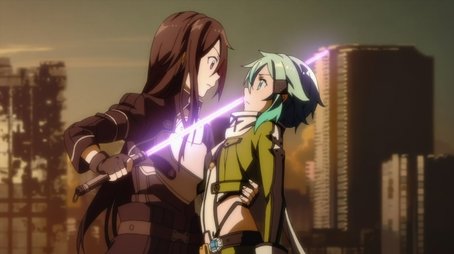 6 - Showdown in the Wilderness 8.82014-08-09
Kirito pretends to not understand Death Gun's answer, and Death Gun states that he will kill him, whether or not he is the real Kirito, before leaving. Kirito then has a flashback to his time in SAO, when he and several others battled Laughing Coffin, and notes that he killed two members during that battle. He then realizes that the player who confronted him was actually Death Gun. Sinon later meets up with him and senses that something is wrong, but before Kirito can confide in her, he is teleported to his next duel, which he wins. Eventually, both Kirito and Sinon have made it into the finals. While waiting for Kirito, Sinon begins to feel he is just like her. She becomes frustrated when Kirito calmly walks straight toward her position, not showing any signs of wanting to dodge her bullet. Sinon fires at him repeatedly, but misses, and she personally confronts him about it. Remembering the promise he made to Sinon, Kirito apologizes and sets the rules for a rematch: he would move away by ten meters, and they would start fighting once he throws a bullet to the ground. Despite Sinon's Hecate's one-hundred percent hit rate at such a range, Kirito shows his confidence in his abilities. When the rematch begins, Kirito is able to slice Sinon's bullet in half and hold her at the tip of his Photon Sword. Realizing that Kirito predicted the bullet path by watching her eyes, Sinon realizes that his strength goes beyond a virtual game and asks him what he is afraid of. He implies to her his experiences in SAO are not strength, but skill. He then asks her to surrender, since he doesn't want to defeat a girl. In anger, she does so, stating that next time would be different.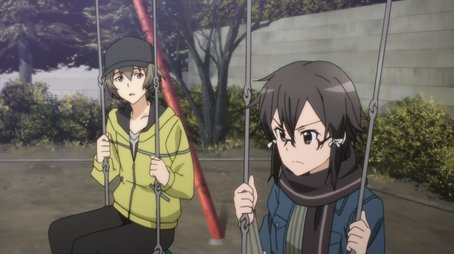 7 - Crimson Memories 92014-08-16
In the Kirigaya residence, Suguha shows Kazuto a news article about the participants of the BoB tournament, among which was Kirito's name. Although Kazuto tries to hide the fact that he converted his avatar to GGO, Suguha told him that she already found out from Asuna. After a flashback of Kazuto's talk with Asuna the previous day, Suguha tells him that she is worried due to Kazuto having a frightening expression when he returned home last night. Kazuto then calmed Suguha down by promising that he would be back. Meanwhile, Shino vents her anger about Kirito to Kyōji, who then tells her that she isn't acting like her normal self and, after a short conversation, tries to hug her, but is rejected by her. At the hospital, after seeing that Kazuto was troubled by something, Aki offers a free counselling session. When Kazuto tells her about how he killed the Laughing Coffin members in SAO, she tells him that she cannot help him with that burden, but reminds him that he killed them in order to protect others. After calming down, Kazuto logs into GGO. Meanwhile, in Alfheim Online, after completing a boss fight, Asuna and the others get ready to watch the broadcast of the BoB tournament. In GGO, Sinon meets Kirito at the General Governor's Office, and they tell each other that they will not lose.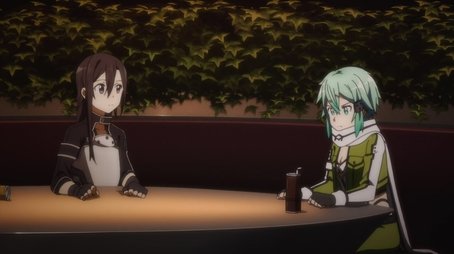 8 - Bullet of Bullets 8.82014-08-23
While waiting for BoB to begin, Kirito assumes that Death Gun will sign into the tournament under a different name, given the perfect stage for him, and vows to find him and face him again. After much persistence, Kirito is able to convince Sinon to explain to him the details of the BoB royale. After she explains the rules and regulations, Kirito stops Sinon from leaving and asks her whether there were BoB participants that she did not know about. He then finds out that, aside from him, there are three other players who had not participated in the previous tournaments. He then explains her his motivation behind that question, and she theorizes from his explanation that he is an SAO survivor. Later on, during the tournament, Sinon decides to target Dyne and Pale Rider. Having found a sniping position on the west side of the bridge that Dyne had crossed, she prepares to take action, but is stopped by Kirito, who instructs her to not shoot and just watch Dyne and Pale Rider's battle. After Pale Rider defeats Dyne, he is suddenly shot with a silenced stun bullet and, after several moments, the shooter, Death Gun, reveals himself from the bridge. As Death Gun prepares to finish off Pale Rider, Kirito yells at a confused Sinon to shoot him before he does.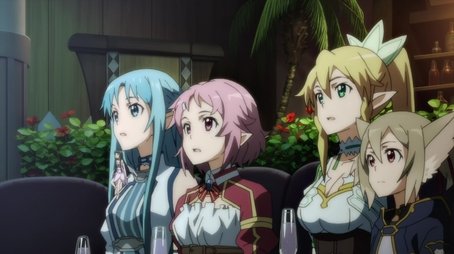 9 - Death Gun 8.82014-08-30
Sinon shoots at Death Gun, but he dodges the bullet and then kills Pale Rider with his pistol. Death Gun then introduces himself and his gun to the spectators, finishing his monologue with a catchphrase used by PoH, the founder of Laughing Coffin. Meanwhile, Sinon attempts to find out Death Gun's name, but he was not shown on the satellite scan, thus Sinon assumes that he traveled through the battlefield underwater. She and Kirito then decide to follow Death Gun, eventually going to the Lost City. However, since they could not find him along the way, they look for him during the next scan. Seeing that two players, Sterben and Juushi X (銃士X, Jūshi X?), were present in the city, they decide to go after Juushi X, as his name sounded like Death Gun (死銃, Shijū?) backwards. During the scan, they find Juushi X at a stadium, while Sterben abruptly vanishes from the city. The two rush to the stadium and, after confirming that there was a sniper, decide to split up. However, as Sinon takes a sniping position, she is suddenly shot with a stun bullet. Death Gun, who is actually Sterben, appears and proclaims that he is going to kill her. Sinon tries to defend herself, but then sees that Sterben is carrying the Type 54 Black Star, the same weapon she used to kill the robber at the post office.
10 - Death Chaser 8.82014-09-06
Before Death Gun could shoot Sinon, he is interrupted by Kirito, who shoots him in the shoulder with a sniper rifle and then throws a smoke grenade, which forces him to retreat. Kirito then grabs the stunned Sinon and flees to a nearby buggy and horse rental point. While commandeering a buggy, he orders Sinon to shoot the only functional mechanical horse to make it unusable. However, Sinon is unable to exert force on the trigger, and Death Gun catches up and takes control of the mechanical horse. During the subsequent chase, Death Gun fires at Kirito and Sinon with his pistol, terrifying the latter. When Sinon tries to shoot at Death Gun, Kirito is forced to help her pull the trigger. Though the shot misses Death Gun, it hits the fuel tank of a truck, which explodes and forces Death Gun to abandon his horse, allowing Kirito and Sinon to escape. The two then drive into the desert, where they find a cave that they hide in to avoid the next satellite scan. Inside, both Sinon and Kirito confide to each other that they have killed someone in the past.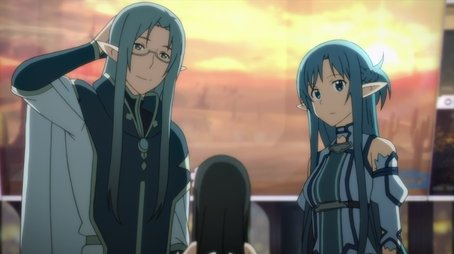 11 - What It Means To Be Strong 8.82014-09-13
After hearing that Kirito had killed people in SAO, Sinon asks him how he was able to overcome the memories of the people he killed, but Kirito reveals that he didn't overcome them, instead accepting the weight of them, since it was all he could do to atone for his actions. Then, while thinking about how Death Gun was able to stop the heart of players by shooting them in the game, Kirito realizes that Death Gun did not shoot him with the pistol, but with the sniper instead. Based on this, Kirito deduces that Death Gun had to make preparations in real life to be able to kill the players with his pistol, and that he could've seen players putting their real-life details in the General Governor's Office since it was an open space and the terminals did not offer much privacy. Kirito then brings up the idea that Death Gun could have used his mantle to spy on other players without being noticed. After some thinking, Kirito realizes that Death Gun was actually two people: one shoots the player in-game, the other kills the player in real life by injecting them with a lethal drug. Meanwhile, Kikuoka Seijiro logs onto ALO as Chrysheight under Asuna's request and, after Yui reveals all the information on the incident that she had gathered, Chrysheight explains the situation to Asuna and the others. Asuna then requests Kazuto's whereabouts and decides to go to him in real life. Back in GGO, Kirito and Sinon decide on a course of action and are surprised to find out that they were being filmed by one of the cameras.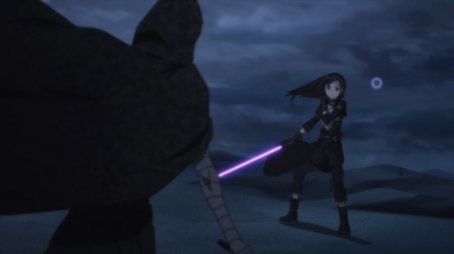 12 - Bullet of a Phantom 8.82014-09-20
After checking the map, Kirito finds that twenty-four players had already been killed, while only Yamikaze and himself are shown on the map. Seeing as, even accounting for Sinon, Death Gun, and Pale Rider, the numbers of those killed and those who are still alive did not match the total, he speculates that Death Gun had more than one accomplice in charge of the killings in the real world. Fearing that Yamikaze might also be a target, Kirito and Sinon decide to set up the former as bait, while Sinon snipes Yamikaze and Death Gun from a distance when they arrive. Sometime later, while Yamikaze is closing in on Kirito, Death Gun attempts to kill Kirito himself. Sensing his intent to kill, Kirito manages to sense where he would be shot from and barely manages to dodge the bullet. Noticing a sniper shot, Yamikaze immediately hides behind an obstacle for cover, but he is then shot by Sinon and killed. Sinon then turns her attention to Death Gun, but, as she had already fired her first shot, which wouldn't be detected, Death Gun is able to see her targeting him. The two of them fire at each other at the same time and, while Death Gun manages to destroy Sinon's scope, she manages to destroy Death Gun's weapon. However, as Kirito is about to strike Death Gun, the latter pulls out an estoc and counters the attack. After having a conversation with Kirito, Death Gun begins assaulting him with overwhelming speed.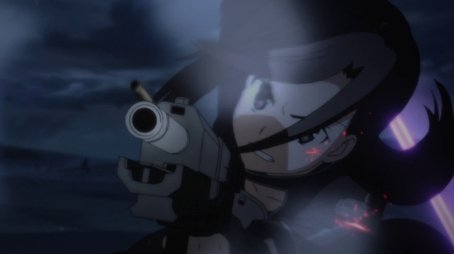 13 - Phantom Bullet 8.82014-09-27
The battle between Death Gun and Kirito begins as the former unleashes a deadly barrage of strikes that greatly weakens Kirito. While they are fighting, Kirito has a flashback to the meeting before the Laughing Coffin raid in Sword Art Online, recalling a strikingly similar player with the same red eyes as Death Gun. Kirito deduces that Death Gun is really the infamous, "Red Eyed," Xaxa, the second in command of Laughing Coffin. As Xaxa goes for the final blow, Sinon creates the illusion of a direction line using her experience in the game alone, causing Xaxa to cloak to avoid it. However, Kirito pulls out his sidearm and fires it at Xaxa, stopping the cloaking process and rendering him vulnerable. Using the willpower and strength he possessed in Sword Art Online, Kirito defeats Xaxa, cutting in clean in half. Before he dies, Xaxa reassures Kirito that their battle is not over. Sinon and Kirito then come to an agreement to end the Bullet of Bullets by committing double in-game suicide using a grenade, crowning them both the winner, but not before they reveal to each other their real names. After logging out, Shino is visited by Shinkawa, who, after making romantic advances on her, pulls out a syringe and reveals himself to be the second person involved in the Death Gun murders, which Kirito and Sinon earlier deduced while in the cave. Shinkawa tries to rape Shino, but she is able to get away, only to have Shinkawa pull her back. As this is happening, Kazuto bursts through Shino's door and attacks Shinkawa, holding him off while telling Shino, who recognizes Kazuto as Kirito, to run.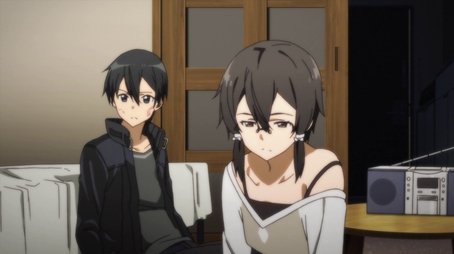 14 - One Little Step 8.82014-10-04
While Kirigaya Kazuto tried to defend himself against Shinkawa Kyouji, he leaves an opening for Kyouji to attempt to inject him with succinylcholine. Instead of running away, Asada Shino returns inside and knocks Kyouji out with a stereo. Shino then checks on Kazuto's condition, but found out that there is an electrode stuck at the part of his chest where Kyouji had attempted to inject him with the drug which protects him against the needless syringe. Several days later, Endou calls out to Shino, who again tried to demand money from her. As Shino refuses the demand, Endou took out a model gun and threatens Shino. However, after Endou unsuccessfully attempts to fire with it, Shino took the gun from Endou, shows her that the safeties needed to be disabled to fire and then shoots a can with it before returning it back to Endou. As Shino was about to leave the school grounds, she saw that Kazuto was waiting for her near the entrance and drawing unwanted attention. Kazuto first drives Shino to a cafe to meet with Kikuoka Seijirou about the Death Gun incident. After that, Kazuto takes Shino to the Dicey Cafe, where he introduces her to Yuuki Asuna and Shinozaki Rika (Lisbeth). Kazuto then reveals that he had told the two girls about Shino's past and explains that he had them help him find a certain person that she should meet. The person is revealed to have been a woman, named Oosawa Sachie, who was the post office worker, threatened by the robber that Shino killed. The woman thanks Shino for saving her life and tells her that she was pregnant at the time, so Shino had also saved the life of her daughter, Mizue. Kazuto then explains that he wants Shino to think about the people that she had saved by killing the robber and thus be able to forgive herself for it.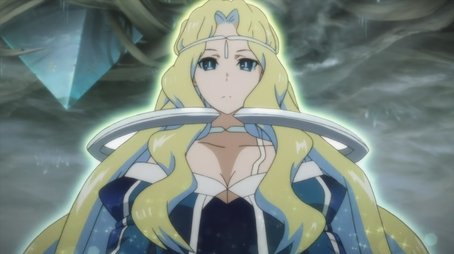 15 - The Queen of the Lake 8.52014-10-18
One day at the end of the year, Kirigaya Suguha showed her cousin, Kirigaya Kazuto, a news article about the legendary item, the «Holy Sword Excaliber», being discovered in ALfheim Online. Without delay, he called Asuna, Klein, Lisbeth, Silica and Sinon to challenge the dungeon in the sky of Jötunheimr, where Excaliber was . After preparing their items at Lisbeth's arms shop and purchasing potions for the adventure, the group entered Jötunheimr via a secret passageway in Alne. At the end of the tunnel, they reached the top of Jötunheimr and Leafa called Tonkii, a flying evil-god-class monster that they had befriended several months ago. The group climbed on Tonkii's back and asked it to ferry them to the ice dungeon. However, along the way, Tonkii suddenly dived and stopped at an altitude where they could see the ground. There they saw that players were cooperating with the humanoid evil-god-class monsters to massacre Tonkii's kin, the beast evil-god-class monsters. As they were watching the scene, a giant NPC, the «Queen of the Lake» Urðr, appeared behind them. The NPC explained that the massacre was ordered by the king of the giants, Þrym, who once threw the Holy Sword Excaliber into Urðr's Spring and caused the world of Jötunheimr to turn into an icy wasteland. She then explained that if all of Tonkii's kin were slaughtered, she would lose her power and this would allow Þrym to invade the land of the fairies, Alfheim. To prevent this, Urðr requested the fairies to retrieve the Holy Sword Excaliber from the bottom of the ice dungeon, called Þrymheimr.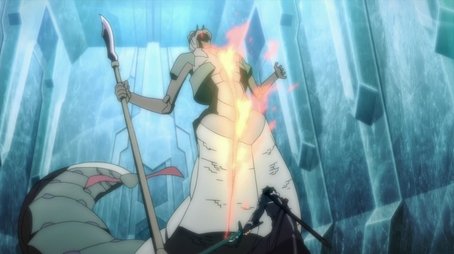 16 - The King of the Giants 82014-10-25
At the entrance to Thrymheim, Yui explains that the quest they were given was created by the Cardinal System's Automatic Quest Generation Function and that if they did not succeed in their quest, a final war event, Ragnarok, would be triggered. Sometime later, at the end of the second floor of Thrymheimr, the group encounters two minotaurs, and they are forced to rely on Sword Skills that could deal elemental damage to them in addition to physical damage, but also leave the player rigid for a few seconds after the skill is used up. With Kirito revealing his new technique of using consecutive Sword Skills with each of his swords to avoid the period of rigidity, they are able to defeat the two minotaurs. Later, after defeating the boss guarding the entrance to the lowest floor of the castle, they encounter an NPC woman trapped in an ice cage along the way. Although the others insist that it is a trap and plan to avoid her, Klein ignores their advice and frees the woman, who was revealed to be Freyja. Instead of running away, Freyja asks to join the group and Kirito reluctantly agrees to the request. After preparing for the final battle by recharging their buffs, the group enters the throne room, where they met the king of the frost giants, Thrym.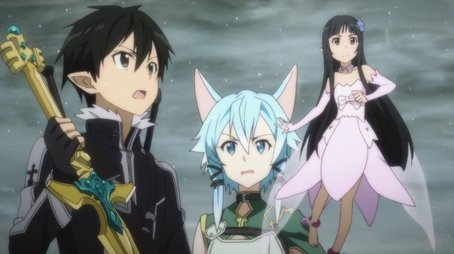 17 - Excalibur 8.82014-11-01
Thrym engages the group in battle, and they are supported by Freyja, who overwhelms Thrym with her own attacks. Thrym retaliates by freezing most of the group with an ice breath, then sending them flying backward with a powerful stomp of his foot. Just as he is about to finish them off, the uninjured Sinon distracts Thrym while the other search for a large golden hammer purported by Freyja to belong to her family, which is essential in defeating him. Kirito finds the hammer and throws it to Freyja, who catches it and then suddenly transforms into Thor, the Norse god of thunder, to everyone's shock. Thor, enraged at Thrym for stealing his hammer, then joins the group in the fight against Thrym. Eventually, they manage to overwhelm him before Thor finishes him off. As a reward for aiding him in Thrym's defeat, Thor grants Klein with Mjölnir, much to his dissatisfaction. A secret staircase then opens up, which leads the group to the bottom of Þrymheimr, and Excaliber. Kirito manages to pull it out of the frozen puddle, but it causes Þrymheimr to fall apart. As the floor they are on plunges down a chasm, they are saved by Tonkii, and Kirito, knowing that Excaliber is too heavy for Tonkii to carry with everyone else throws it down the chasm, but Sinon retrieves it with a magic-assisted arrow. She gives Excaliber back to Kirito under the condition that he remember her every time he uses the sword. The group then observes as the chasm is flooded with water and the World Tree's roots extend to its surface, causing new trees to grow. Urðr and her sisters Verdandi and Skuld appear and thank them for saving Jötunheimr, and Urðr gifts Kirito with Excaliber. Sometime later, in the real world, Kazuto, Suguha, and Shino test out a device that converts real-time footage into pseudo-3D for Yui to interact in before having lunch with the rest of the group, celebrating the conclusion of the quest.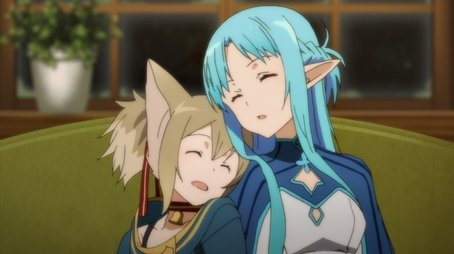 18 - Forest House 8.22014-11-08
In an upcoming update of ALO, Floors 21-30 of New Aincrad will be unlocked. Asuna, Kirito and Yui revisit their dream of once again living together in their log cabin on Floor 22.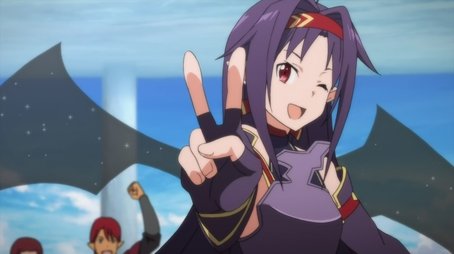 19 - Zekken 8.22014-11-15
Hearing rumors about a brilliant player known as Zekken, Asuna decides to mount a challenge. But when Asuna logs out, she is told by her mother to take an exam to transfer into an academically oriented high school.
20 - The Sleeping Knights 82014-11-22
Yuuki takes Asuna to an inn in Ronbaru and introduces her to the other members of the Sleeping Knights: Jun, Nori, Siune, Talken and Tecchi. Yuuki then reveals that the guild wanted Asuna's help in defeating the next Floor Boss with just one party. Siune explains that the group wanted to defeat the boss in order to etch their names on the Monument of Swordsmen, as they would not be able to adventure together after winter. After some thinking, Asuna agrees to help. Sometime later, while she is walking to the Teleport Gate plaza, Asuna is suddenly disconnected from the game by an unsatisfied Kyouko. After an unpleasant conversation with her mother, Asuna heads to a park in another residential area. There, she considers calling Kazuto, but decides that she did not want to expose her weakness to him. The next day, she meets up with the Sleeping Knights and they easily manage to reach the boss room, but Asuna detects several other players hiding near there. Though the players claim they are waiting for their friends, Asuna realizes they were actually spying on their battle to study the boss without sacrificing their own men. After the Sleeping Knights and Asuna are defeated and re-spawn in Ronbaru, Asuna tells the others what she discovered and they decide to rush to the boss room again before the guild had enough time to gather a raid group. At the boss room, they find a large amount of players gathered at the door. As the guild rejects the request of the Sleeping Knights to let them try again, Yuuki declares that they would fight it out and attacks the raid group's leader. At that point, the rest of the raid party arrives, but Kirito appears, having followed them, and blocks their path.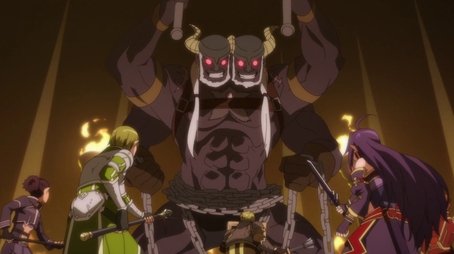 21 - The Monument of Swordsmen 7.52014-11-29
After Kirito blocked the raiding guild's reinforcements, three mages of guild fired multiple magical projectiles at him. However, he used «Deadly Sins» to break all seven projectiles. As the reinforcements got into formation for battle, Kirito told Asuna that he would hold them off for three minutes with the help of Klein. In the meantime, the Sleeping Knights engaged the guild's forces blocking the path to the boss room. But, seeing that their assault was rendered useless by the intervention of the guild's healers, Asuna asked Siune to manage the healing herself and used «Flashing Penetrator» to break through to the healers, while killing the group's leader. After the healers were disposed of, the remained of the players were easily defeated, allowing Asuna and the others to enter the boss room. During the boss battle, Talken's spear was thrown into the air by the boss and it accidentally hit a crystal where the boss's two heads connected. Seeing that this caused the boss to assume a guard stance, Asuna deduced that it might be its weak point and tested it out by firing several ice pillars at the same spot. Confirming her deduction, Asuna left the healing to Siune to tell Yuuki to use a Sword Skill at the weak spot. Following Asuna's suggestion to use Tecchi as a stepping stone, Yuuki defeated the boss with her signature Original Sword Skill. After the battle, the group agreed to celebrate at Asuna's player home. While conversing about various things, Asuna asked whether she could join the Sleeping Knights, but, seeing that it resulted in an unpleasant reaction, she decided to change the topic and reminded everyone about the Monument of Swordsmen. At the monument, everyone took a picture and Yuuki accidentally called Asuna as her elder sister. Since she had also done the same in the boss room, Asuna pointed this out to Yuuki. Unexpectedly, Yuuki started crying and abruptly logged off.
22 - The End of the Journey 8.22014-12-06
Asuna finds out Yuuki is terminally ill with Acquired Immune Deficiency Syndrome aka AIDS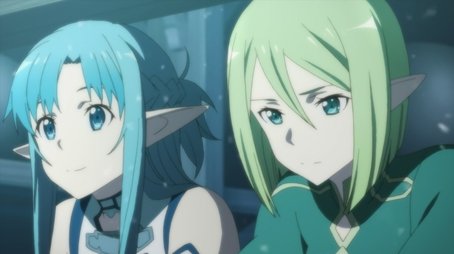 23 - The Dream Begins 8.52014-12-13
On the day after Asuna's reunion with Yuuki, Asuna takes a Bidirectional Communication Probe to guide Yuuki around the school. Yuuki takes part in the lectures and becomes popular with her classmates. Afterwards, Asuna takes Yuuki to the old Konno residence, which Yuuki reveals is about to be torn down soon, so she wished to see it for one last time. She then admits that by seeing her house she realized how her mother had been surrounding her with her feelings. Asuna tells Yuuki about her relationship with her own mother and asks Yuuki how to be as strong as her. However, Yuuki claims that she was not strong, but instead, she did not feel like she had time to waste, so she would always be honest with her feelings. She then recommends Asuna to talk with her mother and share what she felt. Using Yuuki's advice, Asuna asks Kyouko to log into ALO with her so she could show it to her. Kyouko reluctantly agrees and uses Asuna's sub account to log in. At the Forest House, Kyouko is reminded of her parents' home. Asuna then tells her mother about how happy her parents were of her and how they wished to protect their home so Kyouko would have a place to return to. Asuna then says that she realized how life was not about just doing things for oneself and how the happiness of others could make one happy as well, thus she wanted to remain in her current school where she could support the ones she loved. The next morning, Kyouko tells Asuna that if she planned to support someone, she had to be strong herself, thus she would have to work hard on her grades to get into a university and whether Asuna would have to transfer would depend on her progress.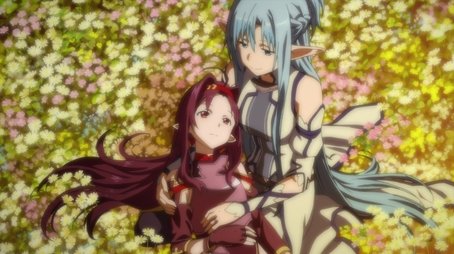 24 - Mother's Rosario 8.52014-12-20
After a guild gathering which lead into a won boss fight and a timeline with background music Asuna comes home and sees that she recieved a message from Yuuki's doctor saying her condition got worse. Asuna immediately runs to her hospital. Arriving there she get's told that Yuuki's heart already stopped once. Yuuki wakes up and Asuna meets her using the Amu Sphere the next room in Alfheim Online at the tree they first met. Yuuki binds her original sword skill which is called "Mother's Rosario" to a scroll and gives it to Asuna as she knows she does not have much time left. Other members of the Sleeping Knights arrive and gather around her. After they spoke their last words hundreds of other players gather around the tree praying for Yuuki. She says to her friends that she may found her meaning in life and is in spite of all the pain in her life now at least happy in her last moments. At Yuuki's death watch Asuna and Siune meet up. Siune tells her she recovered from her disease the day after Yuuki died and got released from hospital. Kirito and Yuuki's doctor arrive and they figure out that the Medicuboid was designed by Kayaba Akihiko. After the outro Kirito and Asuna are sitting in a park meeting their friends in real life.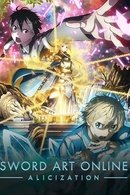 Alicization 2018 | 24 Episodes
Alicization of Sword Art Online premiered on Oct 07, 2018.
The Soul Translator is a interface which interacts with the user's Fluctlight—the technological equivalent of a human soul—and fundamentally differs from the orthodox method of sending signals to the brain. The private institute Rath aims to perfect their creation by enlisting the aid of Kazuto Kirigaya. He works there as a part-time employee to test the system's capabilities in realm generated by the Soul Translator. As per the confidentiality contract, any memories created by the machine in the virtual world are wiped upon returning to the real world. Kazuto can only vaguely recall a single name, Alice, which provokes a sense of unease. When Kazuto escorts Asuna Yuuki home one evening, they chance upon a familiar foe. Kazuto is mortally wounded in the ensuing fight and loses consciousness. When he comes to, he discovers that he has made a full-dive into the Underworld with seemingly no way to escape. He sets off on a quest, seeking a way back to the physical world once again.
Cast..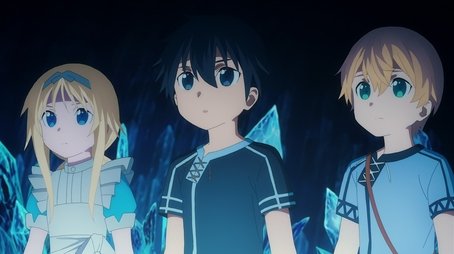 1 - Underworld 6.32018-10-07
Kirito, along with his childhood friend, Eugeo, has been tasked with cutting down a colossal tree called the Gigas Cedar. They're swinging their ax when their friend Alice arrives with lunch. As they eat, the three friends decide to go to a fabled cave.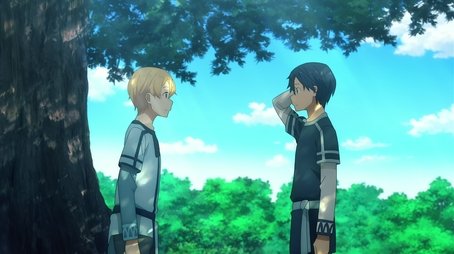 2 - The Demon Tree 7.32018-10-14
Kirito wakes up to find himself inside a mysterious world evoking a fantasy game. His memory fuzzy, he tries to log out, but is unable to return to the real world. After wandering aimlessly, he finds himself underneath a colossal tree.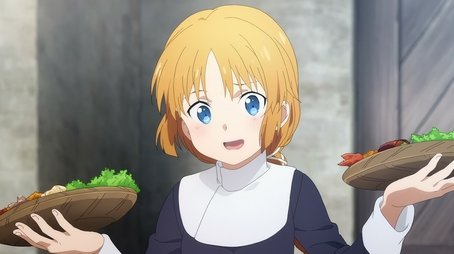 3 - The End Mountains 7.32018-10-21
Kirito makes up his mind to journey to Centoria. Since he'll need Eugeo's help, he also decides to fell the Gigas Cedar. Meanwhile, Alice's little sister, Selka is worried about Eugeo, and opens up to Kirito about her concerns.
4 - Departure 8.32018-10-28
Kirito and Eugeo realize Selka has taken off to the End Mountains alone, and decide to chase after her. As they enter the cave, they encounter goblins, presumably from the Dark Territory, and must engage in a battle.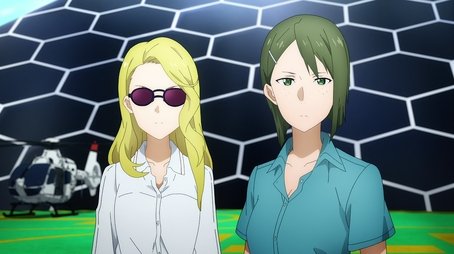 5 - Ocean Turtle 82018-11-04
In the real world, Kazuto Kirigaya lies unconscious. At Kikuoka's request, Kazuto is moved to a well-equipped hospital, but when Asuna and Suguha try to visit, they're turned away. Suspicious, Asuna and the others split up to find out more about Rath.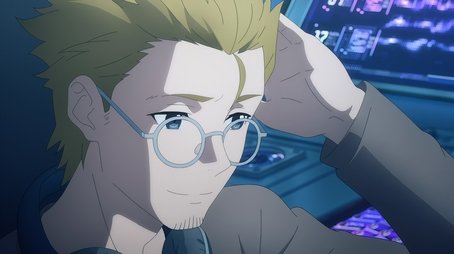 6 - Project Alicization 82018-11-11
Asuna infiltrates Rath, the research lab in the Ocean Turtle, where she relentlessly grills Kikuoka about Kazuto's whereabouts. Kikuoka reveals that behind the development of the Soul Translator is a mind-blowing objective of epic scale.
7 - Swordcraft Academy 82018-11-18
Two years have gone by since Kirito and Eugeo left Rulid Village. In the capital city, Centoria, both boys have attained their goal of being admitted to the North Centoria Imperial Swordcraft Academy.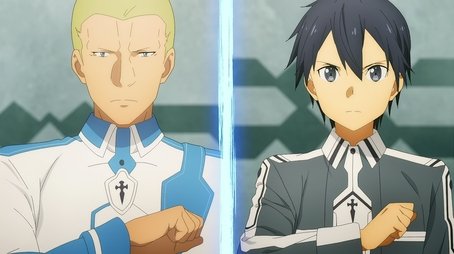 8 - Swordsman's Pride 8.32018-11-25
Kirito finds himself in a duel against the Elite Disciple Volo Levantein, using real swords. As the curious crowd looks on, Kirito is encouraged by Sortiliena, and the duel begins.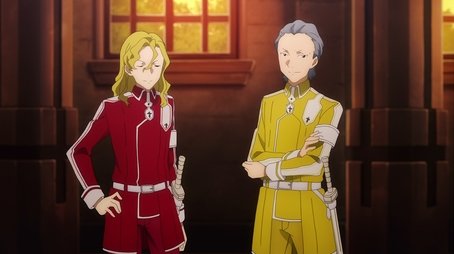 9 - Nobleman's Responsibilities 7.52018-12-02
Now an Elite Disciple along with Kirito, Eugeo struggles with the question of what he should infuse in his sword so he can become stronger. When he's taunted by First-Seat Elite Disciple Raios and Second-Seat Humbert, Eugeo decides to accept Humbert's request for a duel.
10 - Taboo Index 8.52018-12-09
Ronie and Tiese are late getting to the dorm. Kirito rushes out in search of them, but no sooner has he gone than Frenica appears. She tells Eugeo about how she's suffered at Humbert's hands, and that Tiese and Ronie went to confront him about it.
11 - Central Cathedral 82018-12-16
Kirito and Eugeo are now considered criminals for having violated the Taboo Index and are thrown into the underground prison in the Central Cathedral. Meanwhile, on the Ocean Turtle in the real world, Asuna is watching over Kazuto as he's being treated.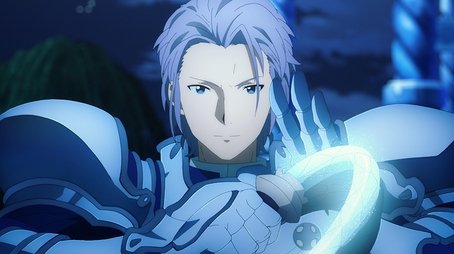 12 - The Sage of the Library 8.82018-12-23
Kirito and Eugeo escape from their cell, only to find their way blocked by Eldrie Synthesis Thirty-One, under orders from Alice to lie in wait for them. Kirito and Eugeo struggle against him until Eugeo realizes that he's seen Eldrie somewhere before.
13 - Ruler and Mediator 8.22019-01-06
Kirito and Eugeo have been rescued by the young girl, Cardinal, who has secluded herself inside the Central Cathedral's Great Library. Cardinal explains to Kirito how the Axiom Church and the Taboo Index came to be, starting with Administrator's past.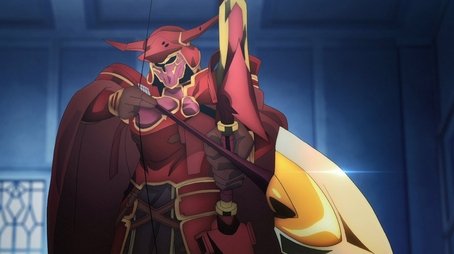 14 - The Crimson Knight 82019-01-13
After being entrusted with the fate of the world by the Cardinal, Kirito and Eugeo head to the top floor of the Central Cathedral. On the way, they find their confiscated swords among a vast pile of weapons in an arsenal, only to be greeted with a hail of arrows by the Integrity Knight, Deusolbert Synthesis Seven.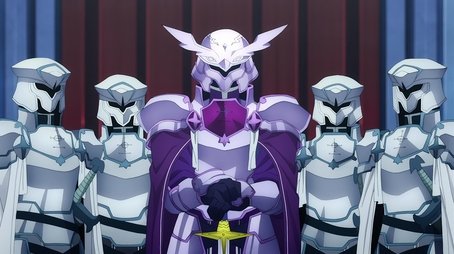 15 - The Relentless Knight 8.72019-01-20
Kirito and Eugeo are on their way up the stairs of the Central Cathedral when they encounter two girls named Linel and Fizel. As they stand, wondering what two children are doing there, they let their guard down and...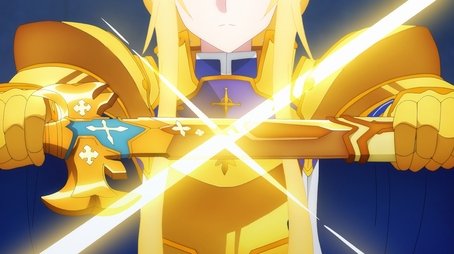 16 - The Osmanthus Knight 8.32019-01-27
Though riddled with wounds, Kirito manages to activate his Perfect Weapon Control art. Continuing on their way to the top floor of the Central Cathedral, Kirito and Eugeo find themselves standing before a strange-looking floating platform.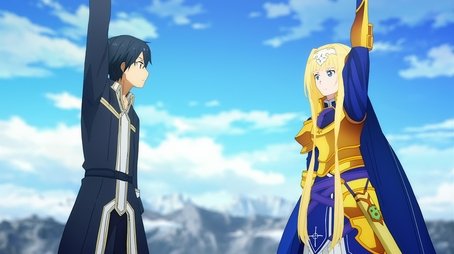 17 - Truce 82019-02-03
When Kirito and Alice both unleash the Perfect Weapon Control art in the Cloudtop Garden, the impact rips a hole into the seemingly impregnable Central Cathedral wall, which sends them both flying outside.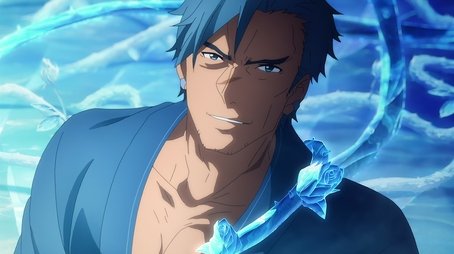 18 - The Legendary Hero 8.32019-02-10
Eugeo reaches the ninetieth floor of the Central Cathedral, which turns out to be a vast bathing area. The perplexed Eugeo encounters Bercouli Synthesis One soaking in the bath. Meanwhile, Kirito and Alice are still climbing the Central Cathedral wall.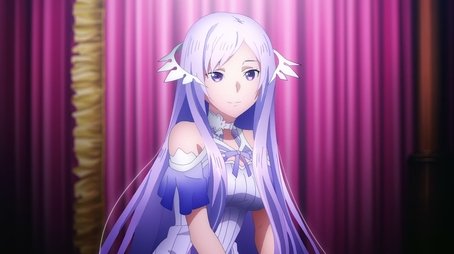 19 - The Seal of the Right Eye 8.72019-02-24
Seeing Alice's reaction when he mentioned the name Selka, Kirito decides to tell her the truth about the Integrity Knights. Meanwhile, after being knocked unconscious during his battle with Bercouli, Eugeo awakes on the top floor of the cathedral.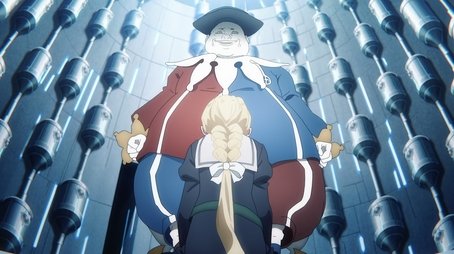 20 - Synthesis 8.72019-03-03
Kirito and Alice reach the communal bath on the nintieth floor. There, they find the Integrity Knight Commander, Bercouli, who's been turned to stone by Chudelkin. Alice breaks down in tears upon seeing her mentor's tragic plight, but then...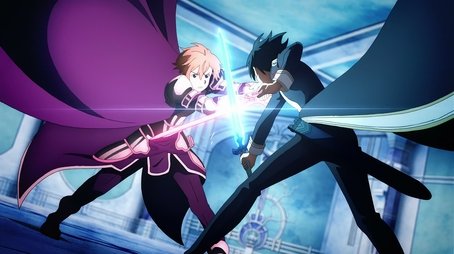 21 - The 32nd Knight 8.72019-03-10
Standing in Kirito and Alice's way is Eugeo, who's undergone the Synthesis Ritual and become an Integrity Knight. Kirito is rattled, until Alice admonishes him into resolving to fight Eugeo with everything he's got.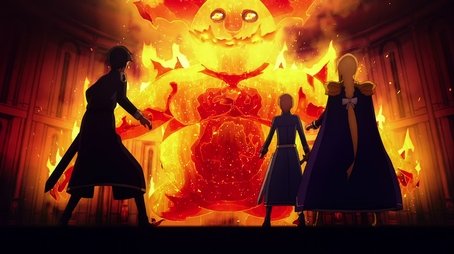 22 - Titan of the Sword 8.72019-03-17
On the top floor of the Central Cathedral, Kirito, Eugeo, and Alice finally face Administrator. But Chudelkin uses the sacred arts to transform himself into a giant clown and attacks.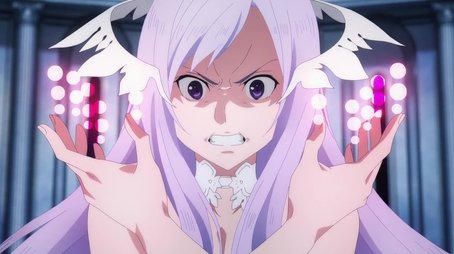 23 - Administrator 8.72019-03-24
Cardinal appears on the top floor of Central Cathedral for a showdown with her bitter foe of the last two hundred years. She moves to achieve her objective of deleting Administrator, only to see the fallen sword golem rise up again.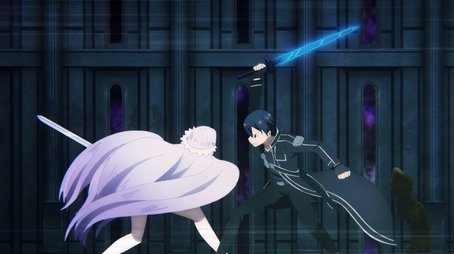 24 - My Hero 8.72019-03-31
Carrying the hopes of Cardinal, Eugeo, and Alice in his heart, Kirito stands yet again and visualizes the Black Swordsman, the top player who cleared SAO. For the sake of everyone he's encountered in this world, Kirito, faces off with Administrator.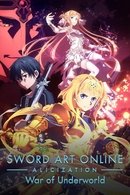 Alicization - War of Underworld 2019 | 23 Episodes
Alicization - War of Underworld of Sword Art Online premiered on Oct 13, 2019.
Despite the defeat of Quinella—the pontifex of the Axiom Church—things have not seemed to calm down yet. Upon contacting the real world, Kazuto "Kirito" Kirigaya finds out that the Ocean Turtle—a mega-float controlled by Rath—was raided. Due to a sudden short-circuit caused by the raiders, Kirito's fluctlight is damaged, leaving him comatose. Feeling insecure about the people at the Axiom Church, Alice brings the unconscious Kirito back to their hometown—Rulid Village, disregarding her banishment due to an unabsolved crime. Now, Alice is living an ordinary and peaceful life close by the village, wishing for Kirito to wake up. However, tragedy strikes when Alice notices that the Dark Territory has already started to invade the Human Empire. Reassuming her previous alias, Alice Synthesis Thirty, she promises to defeat the Dark Territory in order to defend the world that Kirito and Eugeo worked so hard to protect.
Cast..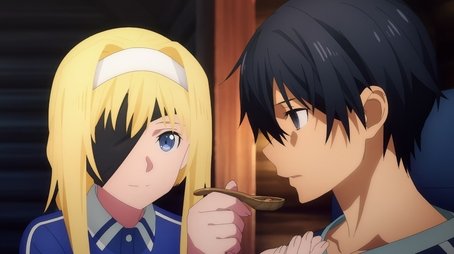 1 - In the Far North 102019-10-13
Six months have passed since the fierce battle against Administrator. Alice has brought Kirito to her childhood home, Rulid Village, where they live peacefully. Gazing out at the world that she saved with Kirito, Alice reflects on all that's happened.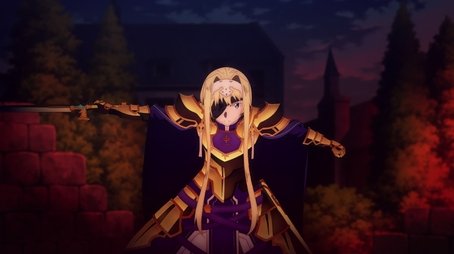 2 - Raids 9.82019-10-20
A force from the Dark Territory is attacking Rulid Village. Though she'd lost her purpose in battle, in order to fight for her family, and for the people that Kirito and Eugeo tried to protect, Alice takes up the Osmanthus Blade once again!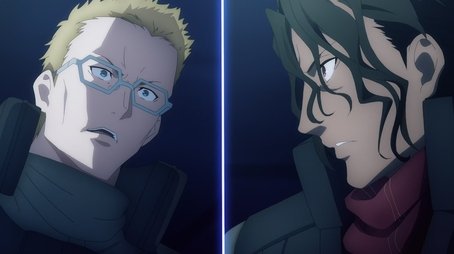 3 - The Final Load Test 9.22019-10-27
The mysterious group that attacked the Ocean Turtle turns out to be a secret unit under orders from the U.S. National Security Agency. And its leader, Gabriel, has battled Kirito and Sinon before.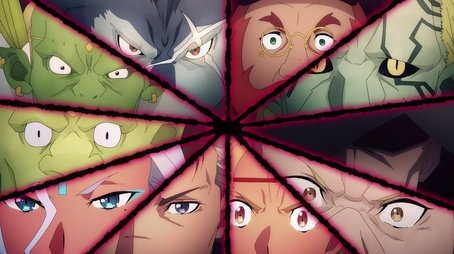 4 - Dark Territory 9.22019-11-03
Shasta, commander of the Dark Territory's dark knights, had intended to use Administrator's death as a chance for peace with the Human Empire. But his plans are thwarted by Emperor Vecta's return to the land of darkness.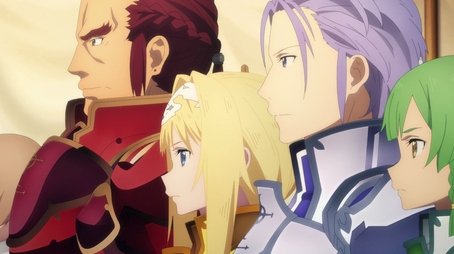 5 - The Night Before Battle 9.22019-11-10
Resolved to fight for humankind, Alice joins the forces of the Human Empire, bringing Kirito with her. But while the forces of darkness boast overwhelming numbers, only thirteen Integrity Knights are available to fight for the Human Empire.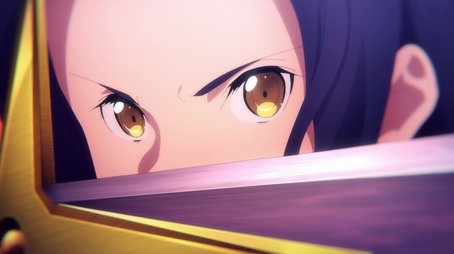 6 - Battle of the Knights 102019-11-17
The Final Load Test has begun, and the Eastern Gate has collapsed. Incited by Gabriel, now Emperor Vecta, the massive army of the land of darkness pushes on towards the Human Empire.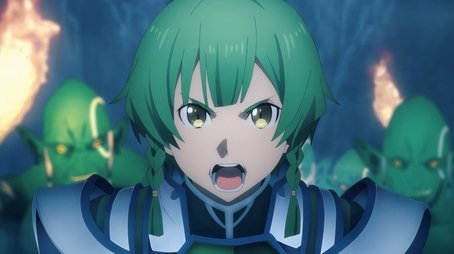 7 - Stigma of the Disqualified 102019-11-24
Integrity Knight Renly Synthesis Twenty-Seven, in battle for the first time, flees his position, allowing goblins from the forces of darkness to infiltrate to the tent where Kirito is.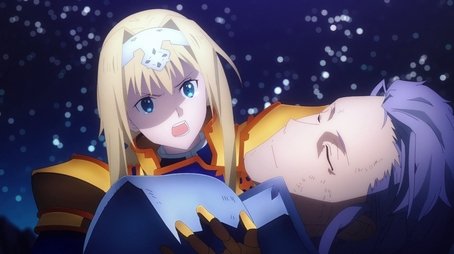 8 - Blood and Life 9.32019-12-01
The powerful formal art unleashed by the Integrity Knight Alice inflicts severe casualties on the forces of darkness. Alice encounters an enemy survivor and learns that Emperor Vecta's objective is to find the "Priestess of Light."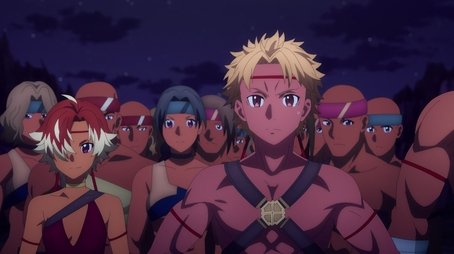 9 - Sword and Fist 102019-12-08
Upon seeing Alice, Gabriel orders his entire army to capture her. The pugilists guild races ahead of the main force. As Alice and Bercouli try to come up with a strategy to counter them, the silent Integrity Knight Sheyta Synthesis Twelve steps forward.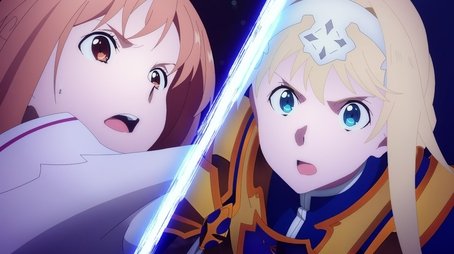 10 - Stacia, the Goddess of Creation 9.72019-12-15
Asuna has logged into the Underworld using the superuser account of Stacia, the Goddess of Creation. After she descends, she is reunited with Kirito, thanks to Ronie and Tiese. But soon Alice arrives, leading to a precarious situation!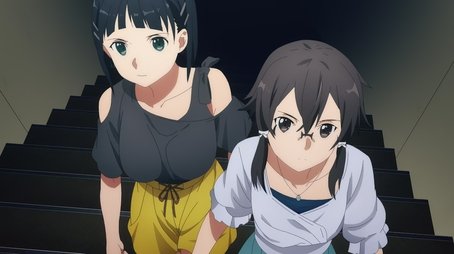 11 - Heartless Choice 92019-12-22
Asuna has created a bottomless chasm. The dark knights and the pugilists attempt to cross over to the other side, where the Human Empire Army waits. Meanwhile, Critter releases an announcement about a limited-time beta test for a bizarre new VRMMO.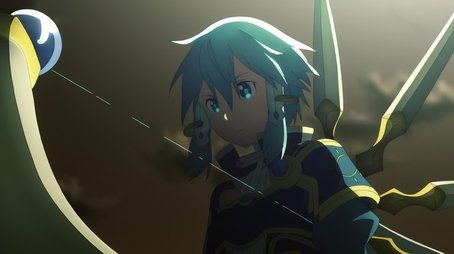 12 - Ray of Light 9.62019-12-29
Due to Gabriel's scheme, U.S. players were given black knight accounts, and are now continuously logging in to the Underworld. They begin mercilessly slaughtering soldiers from both the Human Empire Army and the Dark Territory Army.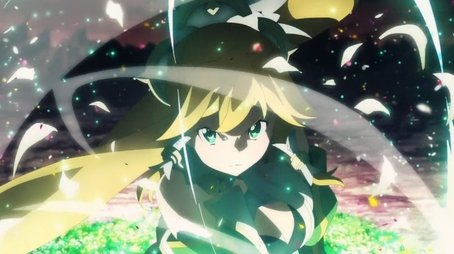 13 - The War of Underworld 9.52020-07-12
Sinon has logged in with the super-account of Solus, the Sun Goddess and rescues Asuna and the others at the last minute. Meanwhile, Leafa logs in with the super-account of Terraria, the Earth Goddess, and descends to the Underworld.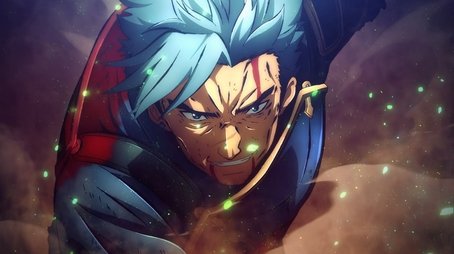 14 - End to Eternity 102020-07-19
Despite its modest size, the Human Empire Army and Asuna valiantly battle the wave of American players surging towards them. But they're hopelessly outnumbered, and the Human Empire soldiers start to fall one after another.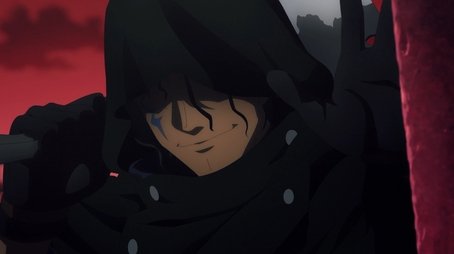 15 - Instigation 82020-07-26
Bercouli pursues Vecta, who's abducted Alice. After a long, vicious battle, Bercouli unleashes his secret sword skill, Uragiri, and finally defeats Vecta, despite having sustained severe injuries himself.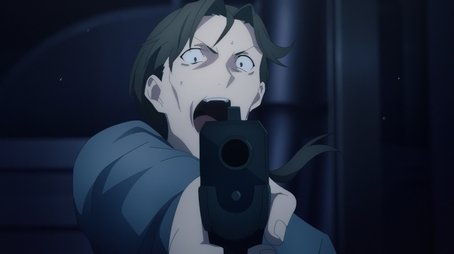 16 - Code 871 92020-08-02
The traitor inside Rath turns out to be a researcher named Yanai. When Higa attempts to restore Kirito, Yanai tries to thwart the operation by holding him at gunpoint. Meanwhile, in the Underworld, Sinon confronts Gabriel, who has logged back in.
17 - Prince of Hell 9.52020-08-09
Asuna and the others succumb to Vassago and the Chinese/Korean players. Discovering the catatonic Kirito, Vassago kicks his wheelchair over. Enraged, Klein lunges at Vassago, only to be pinned down by enemy players. Just then, someone unexpected appears.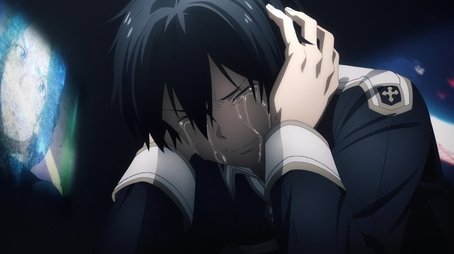 18 - Memories 102020-08-16
Sinon manages to severely damage Gabriel, but her strength has been sapped. Leafa collapses after wiping out the American players. And Asuna, her situation now hopeless, gazes at Kirito. But the Black Swordsman continues to wander through his dreams.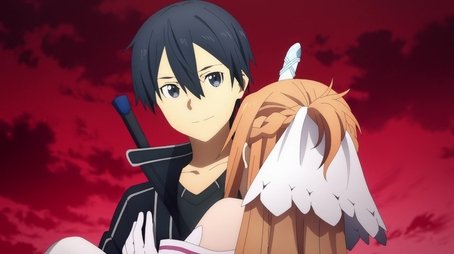 19 - Awakening 9.82020-08-23
Escaping his nightmares, Kirito regains consciousness at last. With the Night-Sky Blade in his right hand and the broken Blue Rose Sword in his left, he faces off against Vassago, armed with the Mate-Chopper, now enormous in size.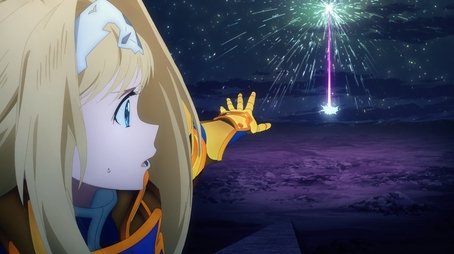 20 - The Night-Sky Blade 9.22020-08-30
Alice and Asuna head to the World's End Altar as Kirito confronts Gabriel. Unless he can defeat Gabriel and return to the real world before the maximum-acceleration phase begins, Kirito will have to spend the next 200 years in the Underworld.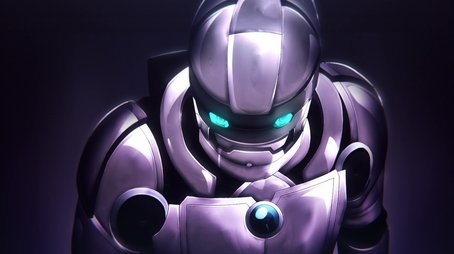 21 - Beyond Time 8.32020-09-06
The maximum-acceleration phase has begun. Alice successfully logs out of the Underworld, but Kirito doesn't make it in time. In the real world, Higa and Kikuoka rush to shut down the STL, in order to disable the maximum-acceleration phase, but…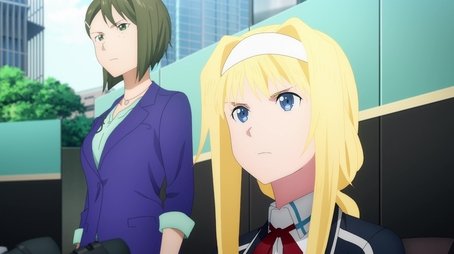 22 - Alice 92020-09-13
The "Rath Attack Incident," masterminded by the American National Security Agency, is over. Now head of the newly formed Oceanic Resource Exploration & Research Institution, Rinko unveils Alice to the world as an authentic artificial general intelligence.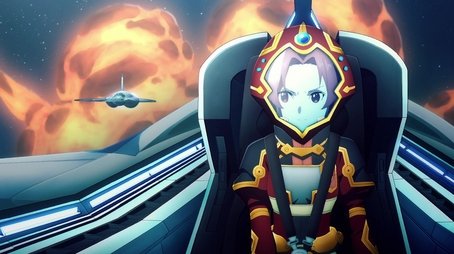 23 - New World 102020-09-20
Rinko informs Kazuto that Alice is missing. He's about to rush to the Rath Roppongi branch when the doorbell rings. In a panic, Kazuto throws open the door, only to find a deliveryman there with a huge cardboard box.