Aki Toyosaki
Yui Hirasawa (voice)
Yōko Hikasa
Mio Akiyama (voice)
Minako Kotobuki
Tsumugi Kotobuki (voice)
Satomi Satou
Ritsu Tainaka (voice)
Ayana Taketatsu
Azusa Nakano (voice)
Chika Fujitou
Nodoka Manabe (voice)
Madoka Yonezawa
Ui Hirasawa (voice)
Asami Sanada
Sawako Yamanaka (voice)
Yoriko Nagata
Jun Suzuki (voice)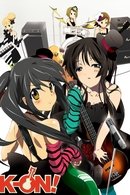 Specials 2009 | 19 Episodes
Specials of K-ON! premiered on Aug 17, 2009.
Cast..
1 - URA-ON! - Yui's Curiosity Series 62009-08-18
A three-minute long special that consists of three short clips of Yui's imagination, one concerning Tsumugi, the second concerning Mio and the third concerning Ritsu.
2 - URA-ON! - Ricchan's Kodak Moments Series 72009-08-19
A three-minute long special that consists of three short clips of Ritsu's sudden camera shots, one taking a shot on Mio's smile, the second Yui, Tsumugi and Mio while on the weighing scale, and a third with Yui taking a smiling shot.
3 - URA-ON! - Mio's Panties 62009-09-16
A two-minute long special that consists of three short clips about Mio's panties.
4 - URA-ON! - Little Yui-chan 62009-10-21
A two-minute long special that consists of three short clips about Yui as a little girl.
5 - URA-ON! - K-ON's Uninhabited Island Series 62009-11-18
A three-minute long special that consists of three short clips about the cast being stuck on an uninhabited island.
6 - URA-ON! - Animal Series 62009-12-16
A three-minute long special that consists of three short clips where, based on Azusa's designation as a cat, Yui wonders what animals she and the other light music club members would be, with Ritsu giving her suggestions.
7 - URA-ON! - Winter's... Chapter 62010-01-20
The band practices their autographs, builds snowmen and attempt to eat.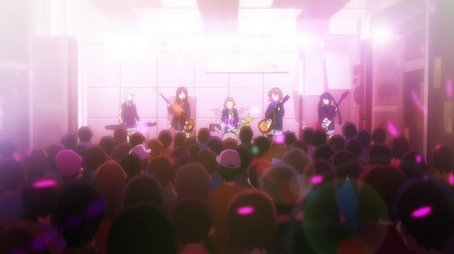 8 - Live House! 02010-01-20
9 - URA-ON!! - Fortune Telling for Everyone 02010-07-30
Azusa becomes a fortune teller, learning everyone's dreams in order to tell them about their former lives, which happen to be various bugs.
10 - URA-ON!! - Souvenir Stories 02010-08-18
The girls talk about the souvenirs they bought during the school trip to Kyoto.
11 - URA-ON!! - We Want Siblings 02010-09-15
Since Yui and Ritsu have siblings, the other girls wonder what kind of siblings they would have.
12 - URA-ON!! - Childhood Memories 02010-10-20
The girls look over the dreams that had when they were younger.
13 - URA-ON!! - MC Contest 02010-11-17
The girls have a contest to see who is the best MC.
14 - URA-ON!! - 3-Minute Cooking 02010-12-15
Tsumugi acts as hostess to a cooking program as Azusa, Ritsu, and Sawako show off their meals.
15 - URA-ON!! - Sakuragaoka Musical Company 02011-01-19
After the school play, Yui comes up with ideas for musical adaptations of their songs.
16 - URA-ON!! - Once upon a Time 02011-02-16
Tsumugi and Ui retell fables with Yui and Azusa acting as some of the characters.
17 - URA-ON!! - Help Us! Yui-chan Man / Light Music Club Rap 02011-03-16
Yui takes the role of a superhero and helps the girls with other tasks. At the end, the other girls wish Azusa luck with running the High School Light Music Club.
18 - K-On! Never Forget Those Days!! 102011-03-16
Graduation draws near for Yui, Ritsu, Mio and Tsumugi, the four 3rd-year students of the Light Music Club. They, together with Azusa, decide to go on a post-graduation trip.
19 - Episode 19 02011-12-03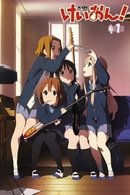 K-ON! 2009 | 14 Episodes
K-ON! of K-ON! premiered on Apr 03, 2009.
It's Yui Hirasawa's first year in high school, and she's eagerly searching for a club to join. At the same time, Ritsu Tainaka, a drummer, and her friend Mio Akiyama, a bassist, are desperately trying to save the school's light music club, which is about to be disbanded due to lack of members. They manage to recruit Tsumugi Kotobuki to play the keyboard, meaning they only need one more member to get the club running again. Yui joins, thinking it will be an easy experience for her to play the castanets, the only instrument she knows. However, the other members think their new addition is actually a guitar prodigy...
Cast..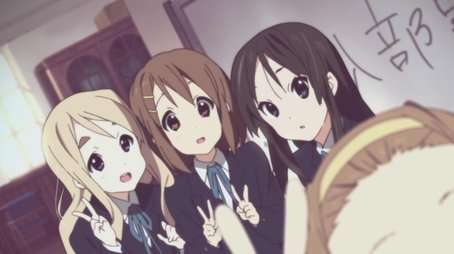 1 - Abolition of the Club! 8.52009-04-03
Just starting high school, Yui is having trouble fitting in and decides to join the light music club. But she first must buy and learn guitar.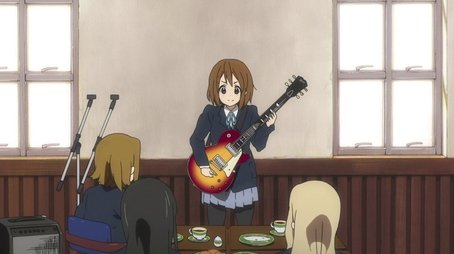 2 - Instrument! 92009-04-09
Yui wants a guitar that is too expensive. All the band girls get part-time jobs to save up for the guitar. Yui might actually get it through a twist of fate.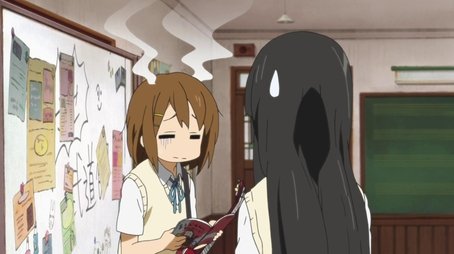 3 - Special Training! 92009-04-16
It's time to take midterm exams, but Yui is too busy practicing guitar that she ends up failing. She must pass the retest or the band must breakup.
4 - Training Camp! 8.52009-04-23
Mio is inspired by finding a tape of the previous club's performance, and gets the band together to practice over the summer for an upcoming school festival.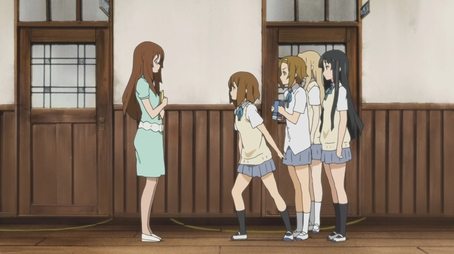 5 - Mentor! 9.52009-05-01
Three days left 'til the music festival, the girls are still not officially recognized as a club. Ritsu blackmails a previous club member to be their advisor.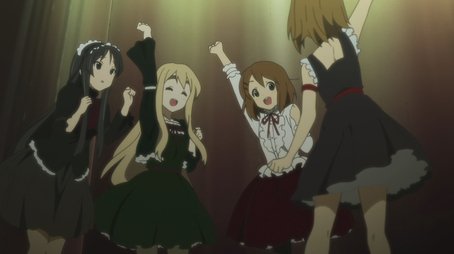 6 - School Festival! 9.52009-05-07
The band plays the school festival. Mio trips and exposes her underwear to the audience. She ends up getting a fan club, but is scarred by the embarrassment.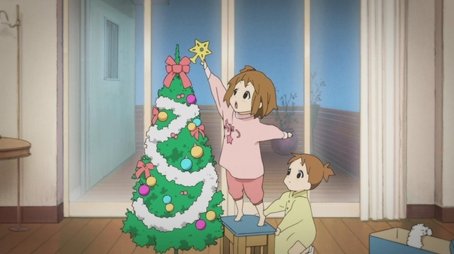 7 - Christmas! 8.52009-05-14
It's Christmas time and Ritsu decides to hold a Christmas party at Yui's house.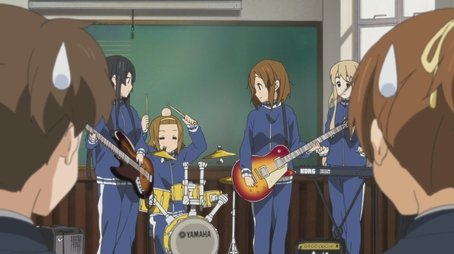 8 - Freshman Reception! 92009-05-22
The second year of school begins! The Light Music Club tries to gather by any means necessary.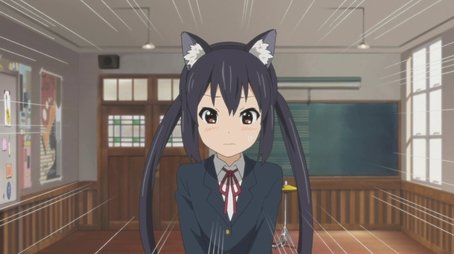 9 - New Club Member! 9.52009-05-29
Azusa Nakano joins the Light Music Club but realizes that the laid-back club might not be for her, and Azusa's membership is at stake.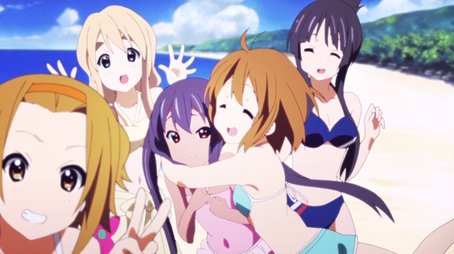 10 - Another Training Camp! 92009-06-05
The girls go on another training camp with their new member. Despite Azusa's nagging, she's the one that plays the most.
11 - Crisis! 9.52009-06-12
The annual school festival is getting closer and the Light Music club will be performing again... however, Mio and Ritsu get into an argument.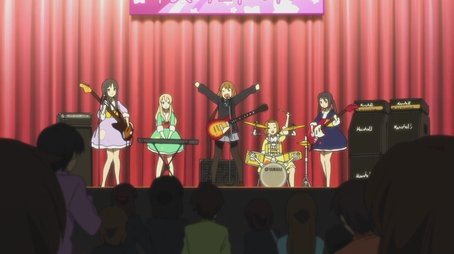 12 - Light Music! 92009-06-18
Yu gets a fever. Will she recover in time for the fesival?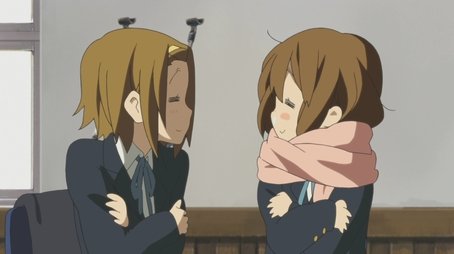 13 - Winter Days! 92009-06-25
Yui wants to enjoy hot soup with the other girls, but they're all busy! Will Yui be forced to spend the cold winter holiday alone?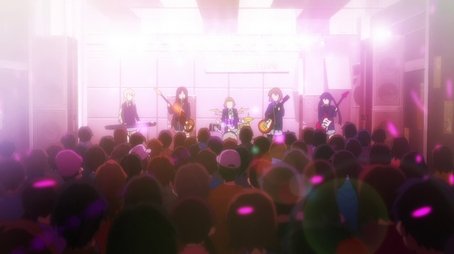 14 - Live House! 92010-01-20
Ritsu's old middle school friend invites the band to perform at a live house on New Year's Eve. How will the evening pan out?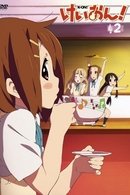 K-ON!! 2010 | 27 Episodes
K-ON!! of K-ON! premiered on Apr 06, 2010.
It's the final year of high school for Yui (guitar), Ritsu (drums), Mio (bass), and Tsumugi Kotobuki (keyboard), the founding members of the Light Music Club. Together with junior member Azusa (guitar), they spend their days in the music room enjoying tea, sweets, and practicing music. Amidst band practice, preparations for the new student orientation performance, scouting for new members, they still have time for "After School Tea Time". It's a delightfully fun time in K-On!
Cast..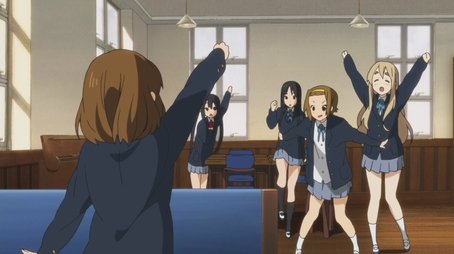 1 - Senior! 92010-04-06
Yui, Mio, Ritsu, and Tsumungi are all in the same class and members of the same music club. They want to bring in more members so their friend Azusa won't be the club's only member once they all graduate.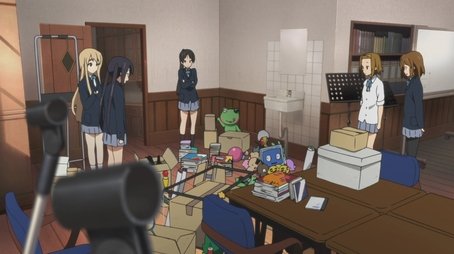 2 - Clean-up! 9.52010-04-13
The girls find an old guitar that ends up being worth a lot of money. The girls purchase a selfless gift for their friend.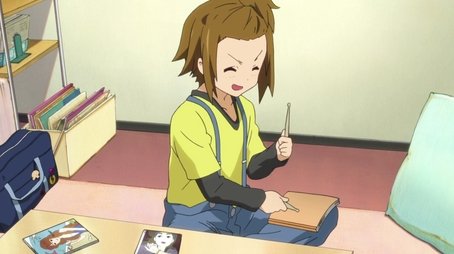 3 - Drummer! 92010-04-20
Ritsu decides she doesn't want to be the drummer anymore. She wants to be in the spotlight.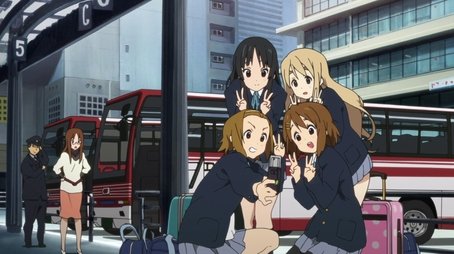 4 - Field Trip! 92010-04-27
The light music club seniors go on a school field trip to Kyoto.
5 - Staying Home! 8.52010-05-04
Azusa and Ui, along with their classmate Jun, spend time together while the third years are on their trip to Kyoto. Noticing that Ui would be lonely without her sister around, Jun and Azusa decide to sleepover at her house.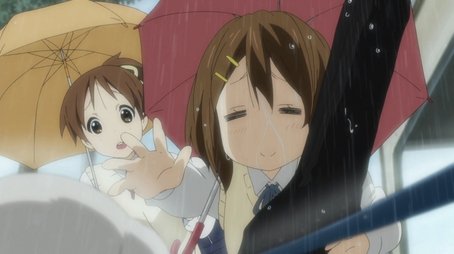 6 - Rainy Season! 92010-05-11
On a very rainy day, Yui gets completely soaked trying to keep her guitar from getting wet. Azusa later helps Yui maintain her guitar
7 - Tea Party! 8.52010-05-18
Mio gets the feeling that someone is watching her. The girls are reminded of the previous year, where Mio felt like she was being stalked by someone and went to the student council for advice.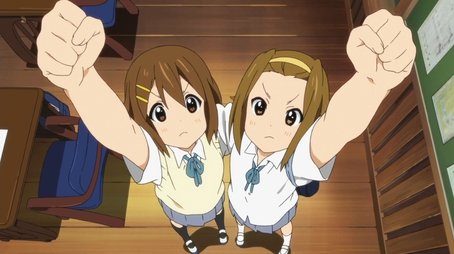 8 - The Future 92010-05-25
While filling in University Choice forms, Yui and Ritsu get in trouble for not being decisive enough about their future. Nodoka tells the others about how Yui became friends with her after they met in kindergarten.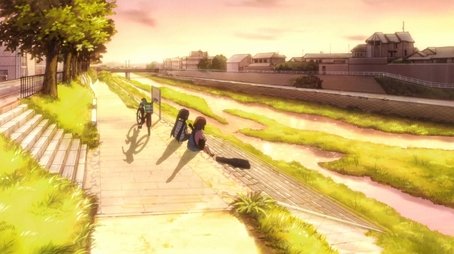 9 - Finals! 8.52010-06-02
Yui struggles with exams as finals approach. To refresh after the exams, she rallies her friends to join a talent show.
10 - Teacher! 102010-06-08
Yui finds herself playing guitar for a band called Death Devil.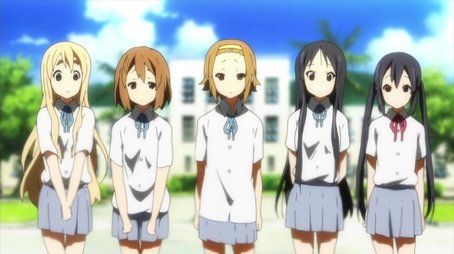 11 - Hot! 92010-06-15
An exceptionally hot day launches a crusade to have air conditioning installed in the club room.
12 - Summer Festival! 102010-06-23
Summer vacation leads the girls to a summer rock festival. The girls go their separate ways and become enthralled with different aspects of the rock music experience.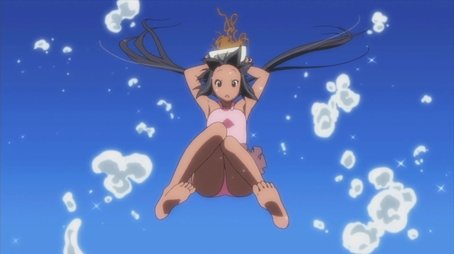 13 - Late Summer Greeting Card! 102010-06-30
Another summer festival comes and the girls attend together. Azusa vows to make the upcoming school show a success.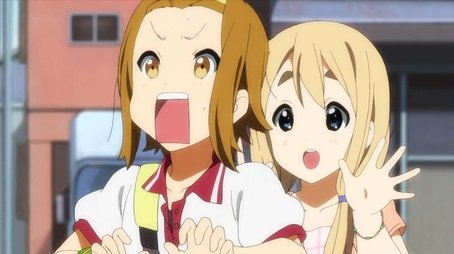 14 - Summer Classes 102010-07-07
Ritsu and Tsumugi get into shenanigans while Nodoka helps Yui with her homework.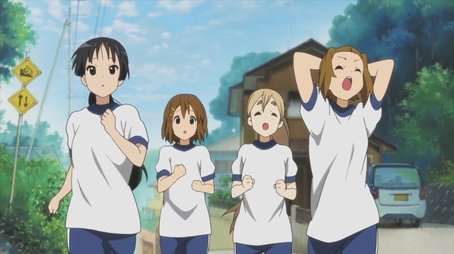 15 - Marathon Tournament! 102010-07-13
Summer vacation ends, and the girls enter a 5K race. Race day begins normally, but Yui goes missing. While everyone enjoys the reward of finishing the race, Sawako continues to search for Yui.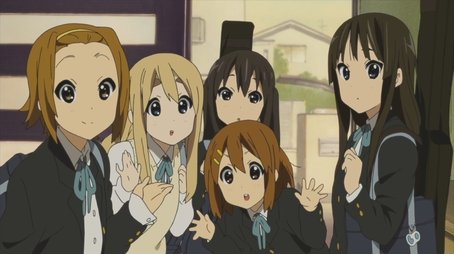 16 - Upperclassmen! 102010-07-21
Azusa realizes the music club has been slacking off lately, and she resolves to practice more.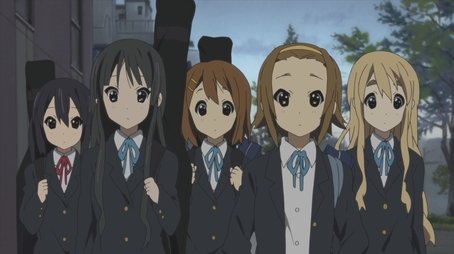 17 - No Music Room! 102010-07-28
While the club room is closed for repairs, the girls have nowhere to practice. All is not lost, though, because the girls finally write lyrics to the music Tsumugi wrote.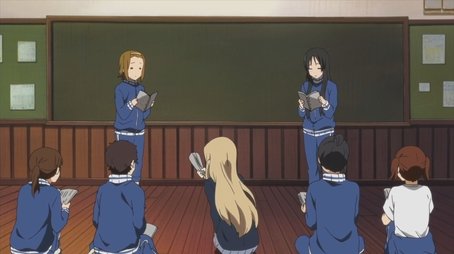 18 - Leading Role! 102010-08-04
Mio and Ritsu are nominated to play the roles of Romeo and Juliet in the class play. Tsumugi helps Mio find confidence, and Azusa worries the the group isn't preparing well enough for the concert.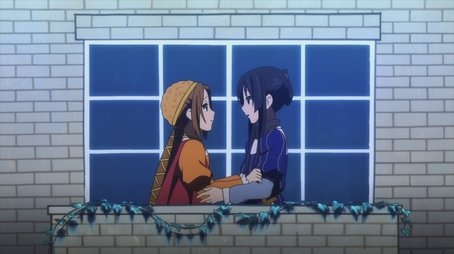 19 - Romeo and Juliet 102010-08-11
The play goes off with only a few hitches. After the play, the group practices overnight to prepare for their live performance in front of the school.
20 - Yet Another School Festival! 102010-08-18
Another school festival arrives, and the girls perform. Realizing their last year together is coming to an end, they reflect on their time together and vow to make the best of the remaining time.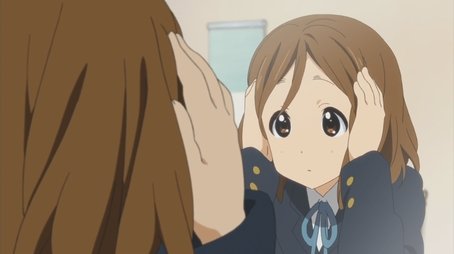 21 - Graduation Yearbook! 102010-08-24
The girls prepare for senior photos and college entrance exams.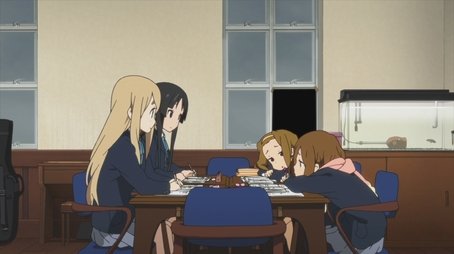 22 - Entrance Exam! 102010-09-01
Azusa makes a cake for her friends and visits the shrine to pray for success and good fortune for them all.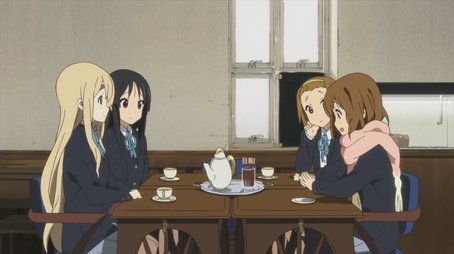 23 - After School! 102010-09-08
The girls decide to record an album as an emblem of their time at the school.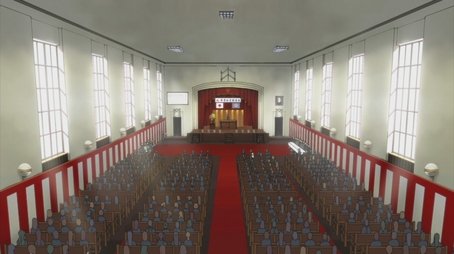 24 - Graduation Ceremony! 102010-09-15
Graduation day comes and goes. Azusa is happy for her friends but is sad to see them go.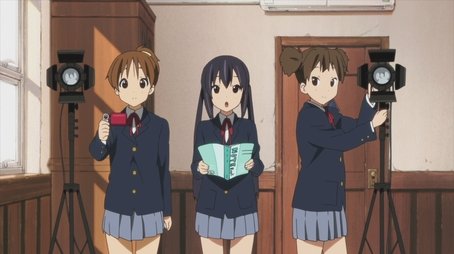 25 - Planning Discussion! 102010-09-21
The girls attempt to make a new recruitment video for the music club.
26 - Visit! 102010-09-28
Nodoka arrives with the sample of the senior yearbook. Azusa rehearses for her freshman reception.
27 - Plan! 102011-03-16
With the stress of final exams looming ahead, the girls decide a vacation abroad will be the perfect reward for all of their hard work.