Keiji Fujiwara
Hanamoto Shuuji
Hiroshi Kamiya
Yuuta Takemoto
Haruka Kudou
Hanamoto Hagumi
Mikako Takahashi
Yamada Ayumi
Tomokazu Sugita
Takumi Mayama
Specials 2005 | 2 Episodes
Specials of Honey and Clover premiered on Dec 23, 2005.
Cast..
1 - Chapter L: Romaiya-senpai 02005-12-23
Takemoto, Morita and Mayama tells Hagumi about Romaiya-senpai, described by them as a great guy who used to live in their apartment building.
2 - Chapter F: Fujiwara Design 02006-02-24
Miwako's repeated attempts to humiliate Yamasaki fail each time.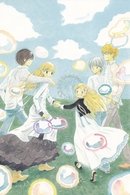 Season 1 2005 | 24 Episodes
Season 1 of Honey and Clover premiered on Apr 14, 2005.
Cast..
1 - "... ... I just saw the moment when a person falls in love for the first time. Oh boy... ..." 02005-04-14
An unusual transfer student arrives at the art school Takemoto attends and attracts the attention of Morita, causing him to go on a photo-taking spree on her. Mayama, Takemoto and Yamada soon discover her artistic talents.
2 - The two affections start to turn 02005-04-21
Morita's motive for his terrible treatment on Hagumi is revealed in his website, and the stressed out Hagumi is enraged by what but he did. However, Morita soon repays her for her troubles.
3 - These were two unrequited loves 02005-04-28
Takemoto, Morita and Mayama are invited over to the Hanamoto's for a dinner party after Hagumi brings back some soba from her summer vacation in Nagano. However, Morita and Mayama fail to attend. Takemoto offers to help Hagumi with something but soon finds that he has taken on more than he can chew. And Mayama's job puts a serious strain on Yamada.
4 - The boy and girl are swayed 02005-05-05
Mayama's love life still remains difficult. Hagumi feels the stress of being different from everyone. And Morita organises a Christmas party for the Christmas Eve.
5 - Thinking of mother back home 02005-05-12
Takemoto reluctantly returns home for the New Year and meets Kazuo, his step-father. In the second part of the episode, the gang takes a road trip to a hot spring using the money won from a lottery ticket.
6 - The past, the tears, the confession 02005-05-19
The group visits a rather eerie zoo. Shuuji reveals to Mayamoto his history with Rika and her husband. In the second half of the episode, the students are hard pressed to complete their final term art work especially Morita.
7 - We look for a miracle 02005-05-26
Shuuji Hanamoto has to be away for a year for a job assignment and he worries about whether he should bring his niece, Hagumi, along with him. Intending to give her uncle a good luck charm for his trip, Hagumi searches for a four-leaf clover.
8 - I couldn't leave you alone 02005-06-02
Hagumi and Ayama hold a dinner party and invite the guys over but it soon turns out that it's a special day for one of them. And in the second part of the episode, Hagumi has to spend a night alone in the apartment when Ayama has to return home to her family.
9 - That brooch was so heavy 02005-06-09
Everyone is working late preparing their exhibits for the school festival including Hagumi, who has trouble with her wax work. She later finds a white broach that someone had made for her. The broach is quite similar to the one she had doodled on her notebook. Hagumi also gets a job to help Yamada sell Christmas goodies at her family store but they have to compete with a new supermarket that has opened nearby.
10 - We cross the sky 02005-06-23
The five friends decide to take a ferry ride over the Sumida river and visit the Kasai Seaside Park.
11 - Love pushes us around 02005-06-30
Shuuji returns unexpectedly from Mongolia. And Hagumi goes on a shopping trip with Morita.
12 - The sudden kiss, the unexpected parting 02005-07-07
It's the sakura season and the gang are absorbed in the array of activities celebrating the sakura festival. Hagumi catches one of her wisdom fevers. And Takemoto meets Morita's brother, Kaoru, and learns of news regarding Morita.
13 - All I wanted to hear was that little thing 02005-07-14
The episode starts with Takamoto feelings about what he wanted Hagu to answer for her wanting Morita to come back or not. But her stern and straight forward answer before was really hurt him. The story mainly talked about Yamada and her feelings later on. To save money, Mayama asked Yamada to help making some cases for his firm's project. This fact connected her to his work and helped the story develop.
14 - I touched her in my dream 02005-07-21
Mayama dreamed of Rika-san. His co-worker said when one dreamed of another, that was because the person in the dream wanted them to meet so much that the soul escaped the body and came to the dream. Mayama was doubt about that but on the way came back from a conference, he and his co-workers passed a park where Rika-san was just behind a fountain watching him passing by. Mayama didn't notice until later on. But when he ran back to the fountain, she was not there anymore.
15 - An unfair me begins to run 02005-07-28
Mayama's work is going well, but he still misses Rika-san. Her current assistant suddenly has health problem and needs to stay in hospital. Mayama meets Rika-san in hospital and asks her if he can come back, but she rejected. Nomiya at the same time wants to meet Yamada and really gets his eyes on her. Mayama tried to protect Yamada from him (much like a mother) as he says he wants her to meet a guy who treasures and don't just hook her up for fun. Takamoto was searching for jobs and doing his final project, which later on was given name by Hanamoto-sensei. This name made the idea become clear and his work masterpiece.
16 - The moon is calling her 02005-08-04
The firm Mayama was about to be apart. For some intentional purpose, his boss put him into the group of people who have to leave Tokyo to another place. At the same time, Rika-san's assistant was is hospital and she hasn't been able to find a replacement. Hence, Mayama decided to leave the firm and came back to work for Rika-san, without much of asking for her permission. Yamada acknowledged about this through Nomiya (Mayama's boss) and she was really depressed after that. After that, she was proposed by four guys from the shopping arcane (they were friends since small) but she ran away. Hanamoto-sensei later on explained for her that the situation of her and Mayama was similar and in that case (loving someone who doesn't love you), people could just choose either "make some effort or give it up" and advised her to tell those guys her true feelings. After Yamada left, Hanamoto-sensei's thinking revealed that there is a third choice, but he would never speak it out.
17 - I don't even know how I feel 02005-08-11
18 - He came back 02005-08-18
19 - Time begins to move again 02005-08-25
20 - I pray to the moon hovering in the night sky 02005-09-01
21 - "... ... It's empty... ..." 02005-09-08
22 - "... ... When I got out of the tunnel, the view was beautiful." 02005-09-15
23 - "... ... And once again, I begin to run." 02005-09-22
24 - "... ... I'm here." 02005-09-26
Season 2 2006 | 12 Episodes
Season 2 of Honey and Clover premiered on Jun 29, 2006.
Cast..
1 - ...And now, I start turning again... 02006-06-29
This episode recaps the events from the first season.
2 - Unable to Say What You Want 02006-07-06
Hagu starts hiccuping and Shūji helps her stop, using a technique, but fails. However, Morita shows up, causing her to repeatedly and rapidly hiccup a lot. Takemoto arrives to help her, using another technique, and Hagu's hiccups stop. Yamada turns in a project to Professor Shōda, which delighted him. Yamada and Rika then celebrate for completing the project. Mayama, showing hospitality, allows Yamada and Rika to spend the night. The next morning, Kaoru meets up with Morita. Kaoru isn't satisfied to see Morita at the art school, even though Morita enjoys being there. Shūji explains to Yamada that Rika talks less to people she like, giving examples of Mayama and himself. As Rika tells Yamada that she should work full-time in pottery, Rika begins to hiccup. She tries using Shūji's technique, but fails. Later on, Mayama shows her another technique, stopping her hiccups. Mayama, Yamada, Rika have dinner together. Yamada tries to take her mind off of her love for Mayama.
3 - I don't want to see your tears 02006-07-13
Hagu views Ayumi's snow globe collection, given to her as souvenirs. Tamazaki discusses about Nomiya's feelings for Ayumi. At the Harada Design Office, Rika receives a fax that she will participate in a design competition in Spain for an art museum, which then agitates Takumi. Rika explains that Takumi will also participate as well. However, it would take a long time to sort out the paperwork needed to participate, so they are not able to go. Later, Takumi explains to Ayumi that Rika checks the weather forecast on her home town, Sapporo, since she hasn't been there in a long time. Nomiya calls Ayumi to ask how she is. At the Fujiwara Design Office, Miwako tells Nomiya that Ayumi went to Tottori to see him. The next day, Yamazaki takes Ayumi around town. Nomiya arrives, only to fall asleep in front of her. Nomiya takes Ayumi to see sand dunes in the morning. Nomiya expresses his love for Ayumi.
4 - I won't let you go anywhere 02006-07-20
The art exhibition has begun again. Shūji thinks back to when Hagu decided not to submit her paintings in the previous art exhibition. Shūji tells Hagu of when he went to an art exhibition and purchased a postcard of a painting of the moonlight reflected on the sea. It reminded him of how Rika's husband died and how Rika got severely injured on the beach under the moonlight. Shūji reminisces about his feelings for Rika. Takumi goes on a train with Rika to Sapporo, surprising her. After they both take a shower, they both go to sleep for the night. Once they have arrived, Takumi and Rika drive north to a barren land. Rika visits her father's gravestone, then she visits her dog's gravestone. She thanks Takumi for coming with her to Sapporo. Rika tries to sneak out of the hotel, making Takumi angry, but then he begins to sob, not wanting to lose sight of her. Takumi goes on an airplane back to Tokyo, while Rika goes on an airplane to Spain. At the Harada Design Office, Takumi noticed that the hotel room in Spain had two bedrooms, one for Takumi and one for Rika.
5 - Suffering even though I'm happy 02006-07-27
Miwako discusses about Ayumi's work in pottery, complimenting on her work. They go to a spa and resort to celebrate her accomplishment. Ayumi later notices that Miwako was trying to cheer her up, causing her to cry. Nomiya becomes worried that she is staying at Miwako's house. The next day Yūta is infuriated that Shinobu out his bread. However, Hagu offers to share some of her bread with him. Yūta declines, and Shinobu eats her bread instead. Soon after, Shinobu receives a call from Kaoru. Kaoru asks Shinobu to do one more job, which he hesitantly accepts. Yūta wants to get driver's license as soon as possible in order to work full-time with the carpenters he had met from his journey. Yūta asks Takumi why he still lives at the apartment, and Takumi says he is saving money for Rika. Ayumi waits in the Fujiwara Design Office for Miwako, but Nomiya unexpectedly visits. Ayumi starts to develop feelings for Nomiya.
6 - We Were Never to Go to the Beach 02006-08-03
Shinobu reminisces about his father when he was younger. Some students are preparing to submit their projects to Shinobu's father, however he decides to leave home early. He shows Shinobu and Kaoru one of his inventions, then they all eat curry for dinner. In the present, both Yūta and Hagu shows appreciation for art, wanting to do more with their art. At the Fujiwara Design Office, Takumi tells Nomiya, Miwako, and Yamazaki that Rika is in Spain participating in the design competition, working with another architect. Rika contacts Takumi to come to Spain. After Ayumi finds out the news, Nomiya catches up with her and consoles her. Shūji tells Shinobu that he needs to talk to Hagu, not to lose her as a friend. However, Shinobu refuses. Kaoru reminisces about his father when he was younger. His father paid more attention to Shinobu than to Kaoru, due to Shinobu's artistic talent. The next day, Ayumi plans everyone to go to the beach. However, since Takumi would be in Spain for a month, the plan didn't work out in the end.
7 - Forward, in the direction of light 02006-08-10
Kaoru thinks about his father again. In a laboratory, his father shows one of his employees an invention, only to be disappointed at his reaction. Kaoru then thinks back to when Shinobu made a remote-controlled airplane, and their father was very proud of Shinobu. It is revealed that their father cares more for Shinobu than for Kaoru. Their uncle, their father's business partner, tells Kaoru than the father is very much like Shinobu, reckless and eccentric. Their uncle was diagnosed with a disease, restricting him from working. The uncle stops working alongside the father. Instead, he joins with another business, Floyd Electric. Floyd Electric comes to the laboratory to see the father. The father knew already that the uncle betrayed him. The uncle tells the father about his disease, and that if he were to die, all the rights to his money goes to Floyd Electric, not the father. Shinobu, Kaoru, and their father leaves the laboratory after all this. Shinobu wakes up from a dream of how Kaoru envied Shinobu and his father. A windstorm whooshes on the campus grounds during the art exhibition, and something unexpected happens.
8 - We didn't know anything 02006-08-17
Yūta tells Hagu that he wants to work with the carpenters, restoring temples and shrines. Hagu mentions that after graduation, everyone will part ways. The windstorm starts to whoosh when the art exhibition will soon start. Takumi meets with the Spanish architect, developing jealousy over him for Rika. Takumi is upset to find out that the hotel bedrooms were two separate rooms, not one room. The unexpected occurrence during the windstorm was that Hagu got severely injured outside the apartment. Everyone becomes very worried. Shinobu and Kaoru buys out Floyd Electric, making them in charge. Yūta says that Hagu was operated on her head and her right hand, having stitches for her injury. Yūta and Ayumi visit Hagu in the hospital, but Shūji asks them to leave. Shūji explains to Hagu that her stitches will come off in ten days, but she will remain in the hospital for two months and undergo physical therapy.
9 - I reflect on my own powerlessness 02006-08-24
Kaoru explains his jealousy of Shinobu, and Shinobu questions Kaoru's jealousy. Shūji tells Yūta and Ayumi that Hagu isn't doing so well. She waiting a very long time to be able to have feeling in her right hand, since it was numb after her surgery. Shūji then tells them that Hagu might suffer sensory impairments in her right hand for the rest of her life, and that she might not be able to paint anymore. Ayumi tells Nomiya that she would want a cell phone in order to contact Hagu during her stay at the hospital. Ayumi sews a sweater for Hagu, and then visits her in the hospital. Shūji meets with the physical therapist, as she gives him instructions to massage Hagu's stiff upper body. Yūta and Ayumi go to a garden to pick flowers for Hagu, and they visit her again. Shūji tells Yūta and Ayumi that Hagu will gain her sense of feeling over time, however he says to them that they should be concentrating on their lives, and not Hagu's. Yūta is worried to leave Hagu after graduation, because he doesn't want to see her in pain and suffering. He wants to be able to help Hagu recover, but he is struggling to decide whether to help her or leave her.
10 - I saw God once when I was little 02006-08-31
Ayumi visits Hagu again, but Shūji took Hagu to do a contrast bath therapy session after her physical therapy session. The physical therapist tells Ayumi that Hagu is strong person, never giving up because of feeling pain. However, it is possible that Hagu may never be able to paint again, due to her condition. In Spain, Takumi goes out of his way to prevent the Spanish architect from seeing Rika. Shinobu, unexpectedly returns to go see Hagu, very worried about her condition. A jealous Yūta accidentally injures himself when he finds out that Ayumi caused Shinobu to return. Borrowing Ayumi's bicycle, he quickly rides to the hospital. Shūji tests Hagu's level of pain in her right hand. She doesn't cry like other children would, however Shūji tells that it is alright to cry. Hagu reminds herself that drawing was a part of her life. Later, Yūta arrives and finds Shūji to ask where Hagu is. After Shūji was uncertain, Yūta determined that Shinobu took her with him. At his place, Shinobu tries to comfort Hagu, kissing her. Meanwhile, Shūji tells Yūta that he will take a break from teaching. Yūta wonders if Hagu will be with Shinobu, but Shūji ignores him, making his way back to the hospital.
11 - Please Give Me Your Life 02006-09-07
After spending the night with Shinobu, Hagu wakes up and sees her right hand swollen, frightening her. Shinobu takes her back to the hospital, meeting up with Shūji. Yūta encounters Shinobu outside the hospital. Yūta takes Shinobu to Hagu place, questioning himself if Hagu will be able to paint again. Shūji visits Hagu again, and Hagu asks if Shūji can give up his life for her, and Shūji reluctantly accepts. Hagu reminisces about the time she was with Shūji when she was younger. Shūji was always with her. Yūta and Shinobu wake up early in the morning. Yūta and Shinobu soon begin to fight over Hagu, but soon reconcile. Shinobu delivers a box to Shūji, but Shūji only takes some money and gives the box back to Shinobu. Shūji admits his love for Hagu.
12 - Honey and Clover 02006-09-14
Ayumi questions Shūji's love for Hagu. Takumi is happy for Shūji for admitting his love for Hagu. Ayumi regrets telling Shinobu about Hagu's accident. Takumi explains to Ayumi that Hagu had art as a part of her life, so her love for Shinobu was uncertain in the past. Shūji prepares to take a break from teaching, and then tells Rika about it. Rika explains to Shūji that Takumi scolded her about Shūji. Kaoru feels guilty for allowing the former boss of Floyd Electric to live with his children and grandchildren. Hagu compares Ayumi to a dove, and Hagu would want to make origami doves for Ayumi. Shinobu tells Kaoru about the fun employees and about the strong Hagu. Everyone celebrates the graduation of Yūta and Hagu. This will be the last night before Yūta leaves. Yūta and Hagu are sent to buy ice cream. Hagu worries about Shūji, but Yūta tells her not to worry. As Yūta leaves on a train, Hagu bids him farewell, giving him some bread. Within each sandwich, a four-leaf clover is seen.