Shane McNamara
Rat-in-a-Hat
Specials 2021 | 4 Episodes
Specials of Bananas in Pyjamas premiered on Mar 04, 2021.
Cast..
1 - Fun Time 0
It's fun time at Cuddles Avenue! Join the Bananas in Pyjamas and their friends, the Teddies and Rat in a Hat, as they organise fun games for everyone to play! There's a cowboy party, a puppet show, tales of great adventures and lots of dress ups!
2 - Singing Time 01996-12-23
Sing and dance with the Bananas in Pyjamas and their friends to well loved rhymes and some favourites. Featuring Head and Shoulders, Humpty Dumpty, I'm a Little Teapot, Hickory Dickory Dock, It's Raining, It's Pouring and many more...
3 - Rock-a-Bye Bananas 0
The Bananas buy a hammock from Rat's shop without really knowing how to use it. After various futile attempts to get in it, they end up giving the hammock to the Teddies to use as a volleyball net.
4 - Surprise Party 01999-10-18
Season 1 1992 | 40 Episodes
Season 1 of Bananas in Pyjamas premiered on Jul 20, 1992.
Cast..
1 - Pink Mug 01992-07-20
The pink mug is Morgan's favourite but it is also Amy's favourite mug... When the mug gets broken the "Fix It" Bananas step in.
2 - Picnic Thieves 01992-07-21
3 - Moon Rocket 01992-07-22
Morgan is building a spaceship so that he can fly to the moon. When he disappears from the park Amy and Lulu think that he has gone to the moon without saying goodbye.
4 - Night Fright 01992-07-23
The Bananas and Teddies decide to camp overnight in the Teddies' backyard. The Bananas scare the Teddies with strange noises.
5 - Lost Shoe 01992-07-24
6 - Hide and Seek 01992-07-27
It's raining outside so the Bananas and Teddies decide to play hide and seek inside. The Teddies hide and the Bananas look for them.
7 - Music Box 01992-07-28
8 - See Saw 01992-07-29
Lulu and the Bananas make a see saw in the park, but they have some problems balancing the saw.
9 - Buried Treasures 01992-07-30
10 - Grumpy Wumpy 01992-07-31
The Teddies have to clear autumn leaves from the park, but Morgan has woken up in a grumpy mood. The Bananas decide to help the Teddies and to cheer up Morgan.
11 - Paper Chase 01992-08-03
It's a windy day and the beach is filled with newspaper. The Bananas start to clean up, wondering who is the litterbug.
12 - The Storm 01992-08-04
One night there is a storm and the Bananas and Teddies are a bit scared. Morgan gets trapped in his room.
13 - Quick Grow 01992-08-05
14 - The Parcel 01992-08-06
A very large box arrives at the Bananas house. It's a present for the Teddies. The Bananas and Teddies struggle to move the very large box through the Teddies door.
15 - Sleeping Teddy 01992-08-07
16 - The Robot 01992-08-10
It is Morgan's turn to clean the Teddies house so he has no time to play outside: The Bananas plan a "trick time" and dress Lulu up as a Robot.
17 - Happy Holiday 01992-08-11
The Teddies and Bananas are going on a holiday. Everyone goes home to pack but Morgan just wants to play for a little longer in the park.
18 - Decorating 01992-08-12
The Bananas in Pyjamas decide to decorate their house with some new wallpaper. The Teddies help too. Sticky, messy fun for everyone!
19 - It's Raining 01992-08-13
The Teddies have run out of munchy honey cakes and so Morgan wants to go out and get some, but it's raining outside.
20 - Doctor Bananas 01992-08-14
Morgan hurts his arm playing on the beach. Luckily the "Doctor Bananas" are nearby and come to the rescue.
21 - Banana's Birthday Monday 01992-08-17
The Bananas buy presents for each other - their birthday is on the same day - Friday. The Teddies plan a surprise party for the Bananas.
22 - Banana's Birthday Tuesday 01992-08-18
The Bananas wrap up their presents for each other. Morgan decides to make a birthday cake for the Bananas. Unfortunately Amy decides to help.
23 - Banana's Birthday Wednesday 01992-08-19
The preparations continue: Lulu fills party bags, Morgan organises games. The Teddies act very strangely when the Bananas visit.
24 - Banana's Birthday Thursday 01992-08-20
The Bananas wrap up their presents for each other. Morgan decides to make a birthday cake for the Bananas. Unfortunately Amy decides to help.
25 - Banana's Birthday Friday 01992-08-21
It's Friday - the Bananas' birthday! The Teddies prepare their surprise party in the park. The Bananas are ready for their party at home...
26 - The Spider 01992-08-24
Amy finds a spider in the park, she tries to introduce the spider to Morgan but Morgan is scared of spiders. The spider gets lost inside the Teddies' house.
27 - Amy's Castle 01992-08-25
Amy is trying to build a big castle out of blocks. Unfortunately she always seems to be in the way and the castle keeps being knocked down.
28 - Show Business 01992-08-26
The Bananas have a cold and are miserable so the Teddies decide to put on a show. The show is a disaster but the Bananas laugh so much they feel better.
29 - Getting Rythym 01992-08-27
The Bananas find a broken guitar and an old fishing rod while cleaning up the beach. They plan a "Fix It" time.
30 - Musical Stairs 01992-08-28
The Bananas' stairs are squeaking. They decide it's "Music Time" and use the stairs to play a simple tune.
31 - Swamp Lake 01992-08-31
Lulu tries unsuccessfully to teach a new dance to Morgan and the Bananas. Amy shows her how much easier it is to dance with a broom in your hand.
32 - Take One 01992-09-01
Amy uses her new tape recorder to record a song the Teddies and Bananas have created together.
33 - Video Clip 01992-09-02
The Teddies dress up in special costumes to make a video clip for their song. They visit the Bananas who have decorated their house just like a disco!
34 - Cuddles Avenue 01992-09-03
We meet the Teddies, Amy, Morgan and Lulu and the Bananas: B.1 and B.2 The Bananas play a trick on the Teddies by knocking on their door and then hiding.
35 - Fancy Dress 01992-09-04
The Bananas and Teddies have been invited to a fancy dress party. The Bananas haven't got any costumes to wear so the Teddies decide to help out...
36 - Chasing Rainbows 01992-09-07
The Bananas see a rainbow on the beach and decide to search for the pot of gold that is at the end of every rainbow - but rainbows are hard to catch!
37 - Something Fishy 01992-09-08
Lulu spends the day fishing but doesn't catch a single fish. The Bananas have caught a whole basket full of fish. They give Lulu a fishing lesson.
38 - Lulu's Magic 01992-09-09
Lulu has a new magic set. She practices all day and then puts on a magic show. Morgan is jealous and keeps trying to spoil the fun.
39 - Obstacle Race 01992-09-10
Lulu organises an obstacle race in the park. The others are not very enthusiastic so Lulu gives them a head start.
40 - Ready, Steady, Go! 01992-09-11
The Teddies and Bananas have lots of fun taking part in three legged, egg and spoon and sack races. And best of all - everyone wins!
Season 2 1993 | 30 Episodes
Season 2 of Bananas in Pyjamas premiered on Mar 22, 1993.
Cast..
1 - Wibbly Wobbly 01993-03-22
3 - Ratmobile 01993-03-24
6 - Fair Game 01993-03-29
7 - Magic Carpet 01993-03-30
8 - Stone Soup 01993-03-31
9 - Housesitter 01993-04-01
10 - Morgan's Cubby 01993-04-02
11 - Monster Bananas 01993-04-05
12 - Strictly Bananas 01993-04-06
13 - Goldilocks Bananas 01993-04-07
14 - Banana Magic 01993-04-08
15 - Slipper Fairy 01993-04-09
16 - Painted Bananas 01993-04-12
17 - Banana Shop 01993-04-13
18 - Sun Hats 01993-04-14
19 - Wash Day 01993-04-15
20 - Banana Hiccups 01993-04-16
21 - Dream Time 01993-04-19
22 - Wishing Pool 01993-04-20
23 - Bananasaurus 01993-04-21
24 - Bed Time 01993-04-22
25 - Forbidden Fruit 01993-04-23
26 - Shadow Painting 01993-04-26
27 - Chasing Tuesdays 01993-04-27
28 - Shop Shut 01993-04-28
29 - Mirror Mirror 01993-04-29
30 - Lost Voice 01993-04-30
Season 3 1994 | 30 Episodes
Season 3 of Bananas in Pyjamas premiered on Sep 26, 1994.
Cast..
1 - Pyjama Party 01994-09-26
2 - Pink Spots 01994-09-27
3 - Snow Storm 01994-09-28
4 - Scarecrow 01994-09-29
5 - Treasure Hunt 01994-09-30
6 - Broken Truck 01994-10-03
7 - Say Cheese 01994-10-04
8 - Car Polish 01994-10-05
10 - Dancing Shoes 01994-10-07
11 - Circus Time 01994-10-10
12 - Shiny Things 01994-10-11
13 - Rat Wash 01994-10-12
14 - Fire! Fire! 01994-10-13
15 - Super Bananas 01994-10-14
16 - Special Delivery 01994-10-17
17 - Model Bananas 01994-10-18
18 - Big Parade 01994-10-19
19 - Rat Post 01994-10-20
20 - Whale Snail 01994-10-21
21 - Spring Clean 01994-10-24
22 - Play Time 01994-10-25
23 - Pony Ride 01994-10-26
24 - Gallery Rat 01994-10-27
25 - Salon Rat 01994-10-28
26 - Sand Palace 01994-10-31
27 - Magic Lamp 01994-11-01
28 - Rat's Hat 01994-11-02
29 - Surf's Up 01994-11-03
30 - Help! Help! 01994-11-04
Season 4 1996 | 100 Episodes
Season 4 of Bananas in Pyjamas premiered on Aug 05, 1996.
Cast..
1 - Banana News 01996-08-05
2 - Tuesday Disguise 01996-08-06
3 - Amy's Trombone 01996-08-07
4 - Holiday Time 01996-08-08
5 - Knitting Bananas 01996-08-09
6 - Topsy Turvey 01996-08-12
7 - Lucky Day 01996-08-13
8 - Weather Rat 01996-08-14
9 - Moving Bananas 01996-08-15
10 - Where's Lulu? 01996-08-16
Lulu can't find her sun hat and umbrella, and is late for the picnic. Then she can't find the picnic. There is much confusion and running around as everyone goes in circles trying to find each other!
11 - Magic Sack 01996-08-19
12 - Rat's Zoo 01996-08-20
13 - New Tent 01996-08-21
14 - Sleeping Teddy 01996-08-22
16 - Busker Bananas 01996-08-26
17 - Special Treasures 01996-08-27
18 - Surprise Disguise 01996-08-28
19 - Rat Clean 01996-08-29
20 - Banana Rescue 01996-08-30
21 - Singing Bananas 01996-09-02
22 - Dirty Rat 01996-09-03
23 - Puppy Love 01996-09-04
24 - Crab Catchers 01996-09-05
25 - Joy Flight 01996-09-06
26 - Seeing Double 01996-09-09
27 - Talking Trees 01996-09-10
28 - Sniffles 01996-09-11
29 - Space Bananas 01996-09-12
30 - Golden Eggs 01996-09-13
31 - Banana Day 01996-09-16
32 - Dinner Party 01996-09-17
33 - Washing Line 01996-09-18
34 - Vanishing Vegetables 01996-09-19
35 - Ship Ahoy! 01996-09-20
36 - Tall Morgan 01996-09-23
37 - Springtime Party 01996-09-24
38 - Goobledy Gook 01996-09-25
39 - Wrong Side 01996-09-26
40 - Pretty Maggie 01996-09-27
41 - Mermaid Teardrops 01996-09-30
42 - Street Fixers 01996-10-01
43 - Tangly Trick 01996-10-02
44 - Walkie Talkie 01996-10-03
46 - Banana Cart 01996-10-07
47 - Lulu's Tutu 01996-10-08
48 - Rain Dance 01996-10-09
49 - Work Shed 01996-10-10
50 - Invisible Bananas 01996-10-11
51 - Teddy Chase 01996-10-14
53 - Magic Pumpkin 01996-10-16
54 - Banana Plumbers 01996-10-17
55 - Home Delivery 01996-10-18
56 - Sea Surprise 01996-10-21
57 - Taxi Rat 01996-10-22
58 - Billy Cart 01996-10-23
59 - Lost Recipe 01996-10-24
60 - Rat Suits 01996-10-25
61 - Odd Jobs 01996-10-28
62 - Self Serve 01996-10-29
63 - Ribbon Hunt 01996-10-30
64 - Lost Tortoise 01996-10-31
65 - Rescue Practice 01996-11-01
66 - Rat Race 01996-11-04
67 - Tall Story 01996-11-05
68 - Purple Pencil 01996-11-06
69 - Strange Signs 01996-11-07
70 - Car Sale 01996-11-08
71 - Sand Festival 01996-11-11
72 - Switcheroo 01996-11-12
73 - Noise Night 01996-11-13
75 - Rat's Tale 01996-11-15
76 - Morgan's Story 01996-11-18
77 - Magic Hat 01996-11-19
78 - Beauty Rat 01996-11-20
79 - Mixed Up Time 01996-11-21
80 - Cinder Rat 01996-11-22
81 - Farmer Rat 01996-11-25
82 - Butterflies 01996-11-26
83 - Do-It-Yourself 01996-11-27
85 - Twinkle Twinkle 01996-11-29
86 - Jingly Jangly 01996-12-02
87 - Adventure Amy 01996-12-03
88 - Paw Prints 01996-12-04
89 - Cuckoo Clock 01996-12-05
90 - Green Paws 01996-12-06
91 - House Guests 01996-12-09
92 - Surprise Birthday 01996-12-10
93 - Juggling Bananas 01996-12-11
94 - Shoe Shine 01996-12-12
95 - Teddy Puppets 01996-12-13
96 - Yee Hah! 01996-12-16
97 - Silly Strawberry 01996-12-17
98 - Odd Socks 01996-12-18
99 - Lollipop Rat 01996-12-19
100 - Imaginary Holiday 01996-12-20
Season 5 1999 | 20 Episodes
Season 5 of Bananas in Pyjamas premiered on Nov 22, 1999.
Cast..
1 - Story Time 01999-11-22
The Bananas are reading a story and stop half way through: planning to finish it the next morning then read it to the Teddies. The book disappears, but they tell the Teddies by acting it out. But they can only tell half of the story.
2 - Rat Hotel 01999-11-23
Rat has gone into the accommodation business turning his shop into a hotel. The problem is, he only has one room: his own, and he only has one staff member... himself!
3 - Rock-A-Bye-Bananas 01999-11-24
The Bananas buy a hammock from Rat's shop without really knowing how to use it. After various futile attempts to get in it, they end up giving the hammock to the Teddies to use as a volleyball net.
4 - Shipwrecked Bananas 01999-11-25
5 - Cock-A-Doodle 01999-11-26
Rat is having trouble with his internal clock, sleeping in when he should be up and in his shop. He decides that he needs to get a rooster and the Bananas decide to help him. It's rooster time!
6 - Radio Bananas 01999-11-29
Rat has set up a radio station in Cuddles Avenue. He invites the Bananas to take over while he has a break and chaos ensues. The Bananas play the wrong music, give the wrong weather report but end up creating a popular song by mistake
7 - Bananas Without Pyjamas 01999-11-30
The Bananas decide to wash every set of pyjamas they own at the one time, leaving them with nothing to wear. They hide from the others while waiting for the pyjamas to dry only to find that they have disappeared from the clothesline.
8 - The Flag 01999-12-01
Rat donates a flagpole to Cuddles Avenue but in the excitement forgets to get a flag. The Bananas decide to surprise rat and run off to make a Banana flag. The problem is that the Teddies and Rat also make flags
9 - Hat Trouble 01999-12-02
It's Silly Hat Day and the Bananas and Teddies are going to a picnic wearing hats that Rat made. The hats all have problems. B1's hat doesn't fit, B2's hat blocks his ears, Morgan's makes him sneeze and Lulu and Amy's cover their eyes.
10 - Home Time Rat 01999-12-03
The Teddies have a dinner party. It's getting late and Rat just won't leave… he has one boring story after another. The Bananas come to the Teddies' rescue by laying a cheese trail in an attempt to lure Rat out and home.
11 - Magic Tolstoy 01999-12-06
The Bananas think Tolstoy has magic powers, as they think they see him in 2 places at the same time. In fact they see 2 different tortoises, the other one being Thomasina, Tolstoys new friend.
12 - Tortoise Wedding 01999-12-07
Tolstoy and Thomasina are getting married, with B1 and B2 as Best Bananas. When the big day arrives, B1 & B2 spend the whole time worrying that something may go wrong. Nothing does until the end when they sit on their top hats.
13 - Banana Breakfast 01999-12-08
The Bananas decide to surprise the Teddies by making them breakfast in bed. Their plans come unstuck when they accidentally spill the breakfast on the Teddies instead of serving it.
14 - Sneezing Time 01999-12-09
Amy buys a new red jumper from Rat's shop, unaware that he has spilt pepper on it. When she shows it to the others, they all start to sneeze. Amy thinks she's the cause but the Bananas find the true reason for all the sneezing.
15 - Stepping On Cracks 01999-12-10
The Bananas and Teddies are avoiding stepping on cracks. Amy steps on one but continues to play. One by one, they all get eliminated except for Amy. When she finds she has won, she admits to her mistake, and gives the prize to Morgan.
16 - Stuck Inside 01999-12-13
The Teddies are stuck inside when both their front and back doors jam. The Bananas' rescue attempt fails and in the process the Bananas end up stuck inside with the Teddies. Rat saves the day and frees the trapped occupants.
17 - Bedtime Bunyip 01999-12-14
The Bananas are reading a story about a bunyip and hear some strange noises. They think a real bunyip has come to visit. They search for the bunyip but in the end find that it was Tolstoy making the noises
18 - Speedy Bananas 01999-12-15
Rat boasts about his prowess on the sporting field so Lulu challenges him to a running race with B1. During the race, Lulu and the Bananas play a trick on Rat by disguising B2 as B1 and substituting him during the race.
19 - Home Video 01999-12-16
Rat decides to make a home video of life in Cuddles Avenue. He enlists the help of the Bananas and the Teddies but has a frustrating time. The Bananas can't even get the tripod to work and the Teddies get starry eyes.
20 - Lulu's Yo-Yo 01999-12-17
Amy and Morgan buy new Yo Yo's from Rat's shop. When LuLu goes to buy one, Rat has run out of them. The Bananas offer to make LuLu a YoYo. It is not as easy as they thought and in the process end up making a diabolo.
Season 6 2021 | 87 Episodes
Season 6 of Bananas in Pyjamas premiered on Mar 04, 2021.
Cast..
1 - Perfect Fit 0
The Bananas want to buy one of Morgan's paintings to hang on their wall. First they have to work out how to measure the space and choose a painting of the right size.
2 - Lost Key 0
The Bananas find a key outside their house. They search unsuccessfully for a lock to match the key, and throw the key away - then realise it was for their front door.
3 - Copycat Bananas 0
The Bananas trick the Teddies by copying everything they do. But Lulu tricks the Bananas back by asking them to copy things they can't do.
4 - Footprints 0
The Bananas find strange footprints in the sand and decide to track them. The Teddies join in. Gradually they come to believe that the tracks were made by a monster.
5 - Star Bananas 0
Rat decides to make a film - Jungle Rat - in which he is to be the hero. But the Banana camera crew end up staging the rescue and starring in the show themselves.
6 - Hide and Sleep 0
The Bananas are trying to complete their first jigsaw puzzle. The Teddies visit for a game of hide and seek. However, the Bananas are distracted by the jigsaw.
7 - Lost and Found 0
Lulu loses her bracelet while playing on the beach. The Bananas look for it, and find all sorts of things that they've lost, but not Lulu's bracelet.
8 - Busy Day 0
Rat has a lot to do this day but he can't do anything until he finds his "To Do" list. The Bananas help Rat look for his list and end up doing all his chores for him.
9 - Fool's Gold 0
Amy's excited because she thinks she's found a gold nugget in the creek. She gives it to Rat in exchange for gold panning equipment, but she can't find any more gold.
10 - Waiter Bananas 0
Cafe Rat is ready for business, but Rat is too busy cooking to serve the customers. The Bananas help out as waiters, mixing up the orders as they go!
11 - Big Cheese 0
Rat advertises a rock concert starring Elton Rat and the Big Cheese Band. When Elton Rat fails to show, Rat and the Bananas have to be the Big Cheese Band themselves.
12 - Teddy Friends 0
When the Bananas come to Rat's shop to buy each other a present, the Teddies play a trick on the Bananas and Lulu and Amy pretend to be Teddy Friend Robots.
13 - Atchoo Birds 0
Morgan and Amy want to find a mysterious and rare bird. Not far away, the Bananas are sneezing, and the Teddies think they've found a genuine atchoo bird!
14 - Three-Legged Bananas 0
The Bananas are learning to tie their shoelaces. They end up tying them to each other so they decide to have a three legged race with the Teddies.
15 - Morgan's Mail 0
Morgan complains that he never gets any mail. He decides to write to the Bananas but their reply gets lost. Tolstoy finds it and delivers it to Morgan, just in time.
16 - Fixit Rat 0
Rat is offering a new 'Fixit' service - good as new, guaranteed! The Bananas and Teddies bring him all their things that need mending. Rat doesn't know where to begin!
17 - Giant Opera 0
Lulu is putting on an opera about two Merry Yellow Giants. The Bananas get ready for the opera and put on their giant costumes but find they can't fit out the door.
18 - Yippy Chippy 0
The Bananas and Teddies buy lots of packets of 'Yippy Chips' to collect the special cards inside. But Rat has left out the vital card needed to complete the set!
19 - Desert Island 0
It's too noisy for Amy at home and she decides she would rather live on a desert island. She builds a hut on the beach, but soon the others come looking for her.
20 - News Flash 0
Rat has set up the Cuddles Avenue Radio station in his shop. Only problem is, there's nothing happening to put on the news. So he decides to make up some stories!
21 - Crowded House 0
Rat has too many things in his bedroom and he can't find anything. The Bananas invite him to stay at their house, but it's not as peaceful as Rat would like!
22 - Super Sale 0
Lulu organises a Super Sale to help Rat get rid of all the excess stock in his shop. When Rat sees all the crazy bargains, he can't resist buying them all himself!
23 - Happy Camper 0
Rat takes a camping holiday at the beach, but he has forgotten to bring half his things and has to keep popping back to get them!
24 - Wonderful Cake 0
Rat has made an cake for Morgan's birthday. Unfortunately it keeps meeting with accidents and gets squashed. The Bananas come up with their own indestructible cake.
25 - Rat World 0
Rat opens his own theme park in which he is the star. But he finds out that giving the Teddy and Bananas customers a cheesy good time is not all fun.
26 - Lulu's Doovers 0
When Rat sees Lulu picking up leaves with a special gadget, he decides to sell them in his shop. The Bananas soon find that they're more trouble than they're worth!
27 - Amy's News 0
Amy is disappointed that her photo isn't in the Cuddles Avenue Newspaper. The Bananas help by following her around with a camera, in case she does anything exciting.
28 - Full Load 0
The Bananas are having a hard time carrying their shopping and groceries back from Rat's shop. It gets harder when Lulu and Amy ask them to carry more things for them.
29 - Garden Gnomes 0
Lulu has bought two garden gnomes from Rat's shop and Rat asks the Bananas to deliver them. The gnomes get broken on the way and the Bananas can't repair them!
30 - Street Stalls 0
The Bananas can't think of anything to sell at the Cuddles Avenue Street Fair. So they pitch in and help everybody else and end up helping Rat sell his Ratburgers.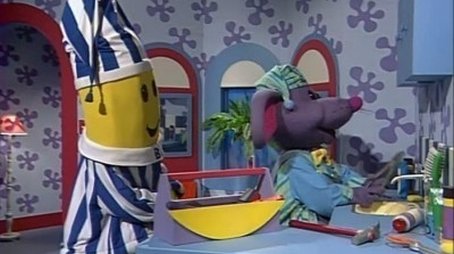 31 - Drip Splosh 0
B1 can't get to sleep because of a loud dripping tap. He calls Plumber Rat to help fix it. Rat calls the Teddies, but no one can work out how to stop the tap dripping.
32 - Perfect Present 0
It's Lulu's birthday. The Bananas want to buy her the perfect present, but everything they want to give her, she's already got, or someone else is already getting!
33 - Ticklish Problem 0
The Bananas promise themselves that they will finish dusting before they can play. They get distracted when the Teddies come over and lose their feather dusters.
34 - Guessing Game 0
Rat in a Hat is running a competition to attract customers to his shop; whoever guesses how many beans are in the jar wins. Everyone wants to win, especially Rat!
35 - Beat Box 0
The Teddies are having a party and Morgan is in charge of the music. He buys a special "Beat Box" from Rat. The problem is it doesn't sound like party music at all!
36 - Horse and Cart 0
Rat devises a very special horse and cart ride for a tour around Cuddles Avenue for Lulu and Amy, in his converted Ratmobile pulled by two very unsusual horses.
37 - Night Visitors 0
Rat wants to throw out some clothes, but his rubbish bin is full, so he hides them instead. The Bananas find them and Rat says they were left by night visitors.
38 - Backstage Bananas 0
The Teddies are putting on a new play, and Lulu gets the Bananas to help backstage. The rehearsal goes well, but on opening night, things don't run so smoothly.
39 - Next, Please 0
Morgan takes Amy to Rat's clinic after she knocks her head on a tree. The Doctor Bananas, assisted by Nurse Rat, are also trying to help Lulu's sore finger.
40 - Princess Lulu 0
Lulu wishes she was a princess, when Amy and Morgan fail to notice her beautiful new dress. The Bananas play along and introduce her to Rat as the Princess Lulu.
41 - Rescue Rumba 0
The Teddies want to surprise the Bananas with their new dance "The Jelly Rumba". They ask them to come over for a "big surprise". The Bananas see the Teddies waving their arms around and shouting and think they're stuck the house.
42 - Flash the Fish 0
The Bananas think it will be easy to look after the new pet Flash the Fish. When they get him home, they realise they've got nowhere to put him!
43 - Walk the Fish 0
The Bananas think their new pet Flash the Fish would like to see Cuddles Avenue, so they take him for a walk. But Flash accidentally ends up in the park pond!
44 - Too Many Tomatoes 0
When Rat has a tomato plant sale, the Bananas decide to buy the lot, because 'you can never have too many tomatoes' - but soon find out that maybe you can!
45 - Quiz Show 0
Rat holds a quiz to find out who is the 'Brains of Cuddles Avenue'. The prize is the world's most delicious icecream cake and everyone is keen to win, especially Rat!
46 - Pump Pumpkin 0
Rat is desperate to win an award in the Cuddles Avenue Show. He secretly pumps up a balloon and paints it to win the award for the biggest pumpkin.
47 - Picnic Friends 0
The Bananas are having a picnic and wish they had some friends to share all their food. It's not long before Maggie, Tolstoy and the farm animals join them!
48 - Morgan's Photo 0
Morgan wants to take a photo for the cover of the Cuddles Avenue Newspaper. He is taking a photo of the Bananas knitting in the park when he spies Kevin the butterfly and runs off after him but he's tangled in the wool!
49 - All Aboard 0
Rat builds a train and train tracks to take everyone for rides around Cuddles Avenue. Unfortunately he forgets that to carry passengers, a train needs carriages.
50 - Ring, Ring 0
Rat asks the Bananas to take some photos for his photo exhibition. The Bananas go to the Teddies house, but whenever a photo opportunity occurs, they get distracted.
51 - Cold Sheep 0
The Bananas are horrified when they find Dolly has been shorn. How will she keep warm? The Bananas solve the problem by knitting her a warm jumper out of her own wool.
52 - Winged Heels 0
Amy and Morgan have lots of jobs to do and wish they could go faster The Wish Fairy Bananas attach wings to Amy's shoes and Morgan's scooter to help them.
53 - Egg Collector 0
Peck has suddenly stopped laying eggs, causing a crisis in Cuddles Avenue. The Bananas investigate and find that Rat is responsible for the mystery.
54 - Scaresheep 0
Lulu and Amy are trying to grow vegetables but Dolly the sheep keeps eating them. The Bananas build a 'scaresheep' to keep Dolly from eating the vegetables.
55 - Farm Fresh 0
When the shop runs out of breakfast things, the Bananas have to go to the farm to collect some fresh supplies. They collect the eggs, get the milk and the oranges!
56 - No Speaking Day 0
The Teddies are making too much noise, so Lulu decides they should make it "No Speaking Day" so they can have a bit of peace and quiet.
57 - Animal Hospital 0
The Vet Bananas look after the sick animals, Maggie, Tolstoy and Dolly. It's a lot of work and the animals keep the Bananas awake most of the night!
58 - Barnyard Choir 0
Everyone is finding it difficult to cope with the noise made by the animals on the farm. The Bananas solve the problem by teaching the animals to sing in tune.
59 - Farm Show 0
The Bananas are getting the animals ready for show day at the Farm. Morgan is arranging his display of cakes, and Amy and Lulu arrange the flowers and vegetables.
60 - Pig's Company 0
Pedro the pig is off his food. The Bananas try many ways to cheer him up, without success. Rat solves the problem by showing that pigs like company when they eat.
61 - Jungle Amy 0
Amy wants to play the game Jungle Amy, but Morgan and Lulu are too busy to play with her. She isn't having much fun playing on her own, so the Bananas join in the game.
62 - Cold Comfort 0
It's a freezing cold day at the Cuddles Avenue Farm. After their jobs, everyone goes home - but the Bananas and Amy worry that the animals will be freezing!
63 - Everybody Welcome 0
The Bananas offer to help Lulu invite everybody to the big barn dance at the farm. They ask the tortoises, Maggie and the farm animals but forget to ask Rat.
64 - Nighty Day 0
The Bananas forget to set their alarm, and sleep the whole day. It's night time when they wake up but the Bananas can't understand why it's dark and everyone is sleepy.
65 - Rat's Farm 0
The Bananas are in a hurry one day when they call into Rat's shop - they want to get all their farm jobs done quickly so they can go sailing with the Teddies!
66 - Cheese Trees 0
The Bananas want to buy some cheese from Rat in a Hat's shop. But he's run out! The Bananas say they'll get him some cheese, and set off looking for a cheese tree.
67 - Farm Adventures 0
The Bananas are cleaning up the farm and getting the animals ready for Rat's Farm Adventure Tour, but they accidentally let the animals escape!
68 - Hungry Harvest 0
The wheat on the Cuddles Avenue farm is finally ready for harvest. Everyone works hard to bring it in, thinking of all the lovely cakes and bread they will have!
69 - Cut-Out Bananas 0
It's a very busy day for the Bananas - they've promised to help Lulu in the park and Morgan and Amy at the farm. So they make some cut-out Bananas to help them!
70 - Mooving Cow 0
Lulu is trying to move Camembert into the barn before it starts to pour with rain, but Camembert won't budge. Everyone tries their own plan to get things moving.
71 - Tortoise Trek 0
The Bananas are helping Tolstoy and Thomasina on their walk to the pond, as there are a number of obstacles to clear. They come up with some ingenious solutions!
72 - Bed Rest 0
The Bananas aren't feeling well so they call on the Doctor Teddies who tell them to stay in bed. When the Bananas get hungry, they call on Rat's home delivery service.
73 - Handy Bananas 0
The Bananas want to make the same table that the Teddies have built using a manual from Rat in a Hat's shop. But Rat drops the manual and the pages get muddled up.
74 - Mayor Rat 0
Rat is reading his favourite book 'Great Rats in History' and comes across Mayor Augustus Rat. Rat is very impressed and decides that Cuddles Avenue needs a mayor.
75 - Sheepdog Bananas 0
The Bananas leave the farm gate open and Dolly the sheep escapes. They decide to become Sheepdog Bananas and chase Dolly all around town.
76 - Sir Knight Rat 0
Rat falls asleep reading a fairy story and dreams that he is Sir Knight Rat on a quest to rescue a fair princess and return her to the king to win the reward!
77 - Dancing Daze 0
Everyone is excited about the Cuddles Avenue Ball - everyone that is, except Rat. Lulu discovers that the reason Rat doesn't like balls is because he can't dance!
78 - Noisy Cow 0
The Bananas trick Rat and the Teddies into believing that Camembert can make all sorts of noises. The Bananas get stuck in the barn and the Teddies have to rescue them.
79 - Big Clean Up 0
Everyone has been so busy that the Cuddles Avenue Farm has become a terrible mess. The Bananas want to surprise the Teddies and Rat by giving the farm a big clean up.
80 - 2-Wheeler Bananas 0
Amy decides it's time to ride her bike without trainer wheels, but she falls off. The Bananas encourage her to keep trying and she soon gets the hang of it.
81 - Where's Lulu? 0
Lulu can't find her sun hat and umbrella, and is late for the picnic. Then she can't find the picnic. There is much confusion and running around as everyone goes in circles trying to find each other!
998 - Bumping and a Jumping 0