Sayaka Senbongi
Haru (voice)
Atsumi Tanezaki
Juno (voice)
Akio Otsuka
Gouhin (voice)
Takeo Otsuka
Collot (voice)
Yoshiyuki Shimozuma
Voss (voice)
Fukushi Ochiai
Sanou (voice)
Yuuma Uchida
Miguno (voice)
Naoto Kobayashi
Durham (voice)
Nobuhiko Okamoto
Kai (voice)
Takaaki Torashima
Bill (voice)
Yuuichi Iguchi
Kibi (voice)
Ikuto Kanemasa
Aoba (voice)
Hibiku Yamamura
Mizuchi (voice)
Mitsuaki Hoshino
Alcalde (voice)
Ken'yuu Horiuchi
Oguma (voice)
Chikahiro Kobayashi
Legoshi (voice)
Season 1 2019 | 12 Episodes
Season 1 of Beastars premiered on Oct 10, 2019.
At Cherryton Academy, this mutual distrust peaks after a predation incident results in the death of Tem, an alpaca in the school's drama club. Tem's friend Legoshi, a grey wolf in the stage crew, has been an object of fear and suspicion for his whole life. In the immediate aftermath of the tragedy, he continues to lay low and hide his menacing traits, much to the disapproval of Louis, a red deer and the domineering star actor of the drama club. One night, Legoshi has a fateful encounter with Haru, a white dwarf rabbit scorned by her peers. His growing feelings for Haru, complicated by his predatory instincts, force him to confront his own true nature, the circumstances surrounding the death of his friend, and the undercurrent of violence plaguing the world around him.
Cast..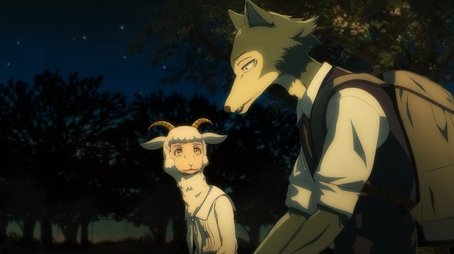 1 - The Moon and the Beast 92019-10-10
An herbivore's murder unsettles Cherryton Academy, with some suspecting grey wolf Legoshi. Dwarf rabbit Haru struggles with her classmates' bullying.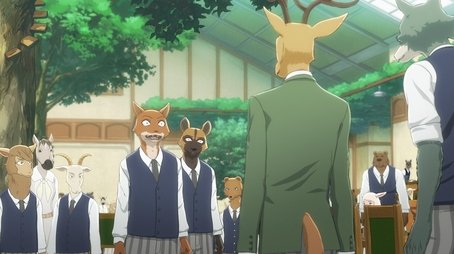 2 - The Academy's Top Dogs 82019-10-17
Legoshi ponders his own ferocious impulses; an altercation at breakfast unsettles him further. The theater students prepare for their play.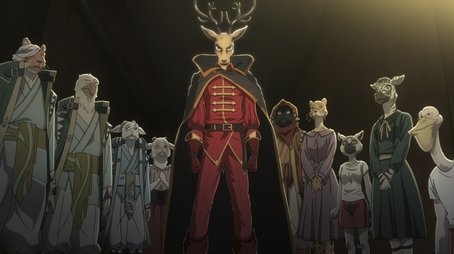 3 - A Wolf іs Born 72019-10-24
Haru and Legoshi's interaction ends extremely awkwardly. With two days to the performance, the school newspaper is sniffing out what Louis is hiding.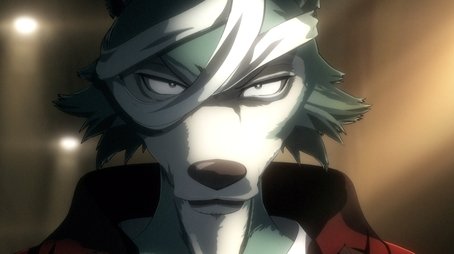 4 - Give It Your All 92019-10-31
The drama club switches up parts after the last performance. Tapped to appear onstage, Legoshi confronts the new lead actor about a dangerous issue.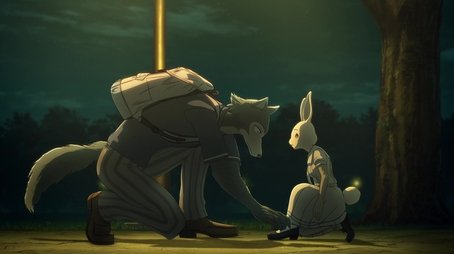 5 - Two Sides to the Story 92019-11-07
Legoshi deals with misplaced notoriety after the chaotic but successful play, with Jack's support. Haru and Louis have a clandestine encounter.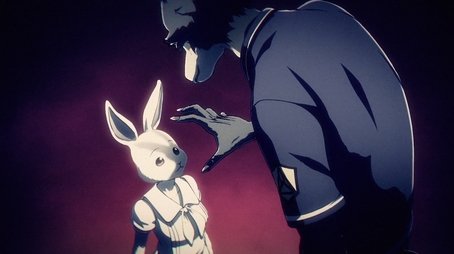 6 - Blurred Vision — Dream or Reality? 82019-11-14
After a predation incident downtown, only the carnivores of the Drama Club are permitted to attend the Festival off school grounds. In doing so, the group gets lost and stumbles upon "The Black Market". Legosi unwillingly crosses paths with someone who claims they can help him beat his instinctual dilemma.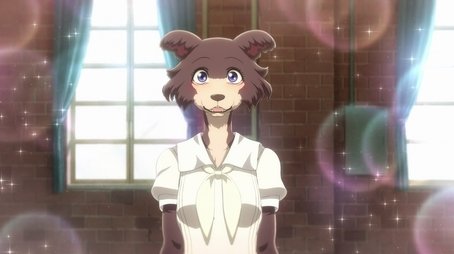 7 - Beneath the Fur Coat 92019-11-21
The mystery of Legoshi's favorite lunch is solved. Haru recalls her first encounter with a vulnerable Louis, who has a fiancee.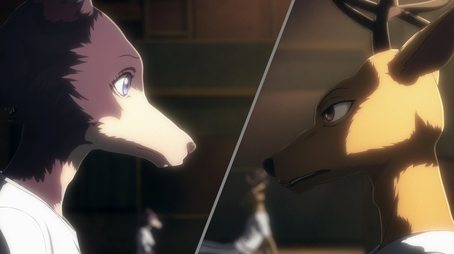 8 - Caught like Floss in a Canine's Teeth 92019-11-28
Legoshi offers to escort Haru home; on the way she attempts to become better friends with him, unaware of his guilt. Juno has a revelation.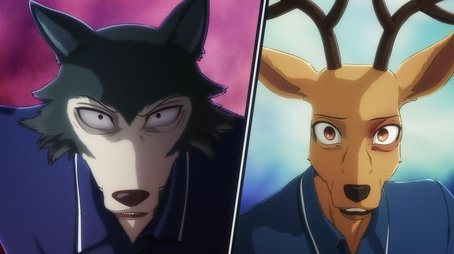 9 - Into the Lion's Den 102019-12-05
Louis recalls his harrowing past, and Legoshi makes a personal vow despite conflicting feelings. Meanwhile, Haru is kidnapped for ransom by carnivores.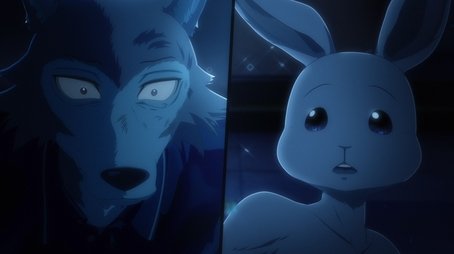 10 - A Wolf in Sheep's Clothing 102019-12-12
Legoshi risks his life to find the Shishi-Gumi. A friend helps him channel and control his inner beast so that he can save Haru.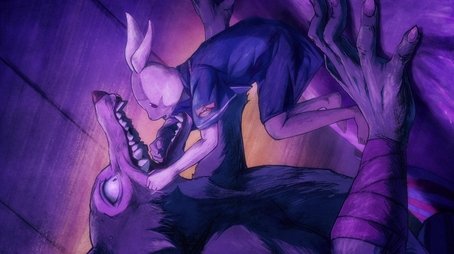 11 - To the Neon District 02019-12-19
A ferocious Legoshi wreaks havoc to save Haru, while an unknown ally assists in their escape. Awkward timing causes some awkward situations afterwards.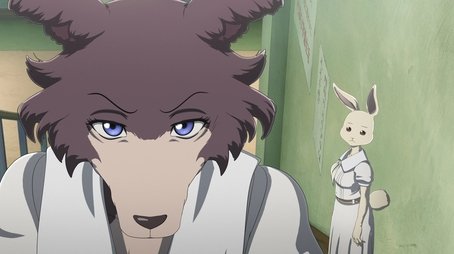 12 - In the Storm's Wake 02019-12-26
Haru and Legoshi return to school after their strange night. As the festival gets underway, Juno challenges Haru for Legoshi's affections.