Phil LaMarr
Bernard / Paintball Mike / Ian (voice)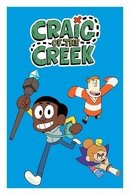 Specials 2017 | 1 Episodes
Specials of Craig of the Creek premiered on Dec 01, 2017.
Cast..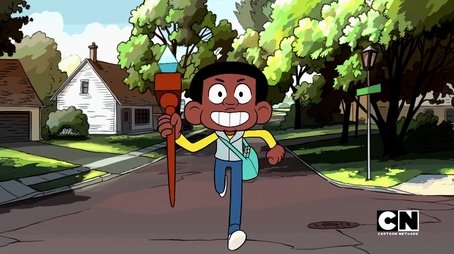 1 - Pilot 02017-12-01
Craig drops his staff into the sewers after getting distracted by his older brother, Bernard, and his girlfriend, Alexis. He teams up with his best friends Kelsey and J.P. and venture to the Creek to look for it, encountering other strange and wild kids along the way.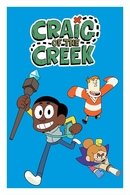 Season 1 2018 | 40 Episodes
Season 1 of Craig of the Creek premiered on Mar 30, 2018.
Cast..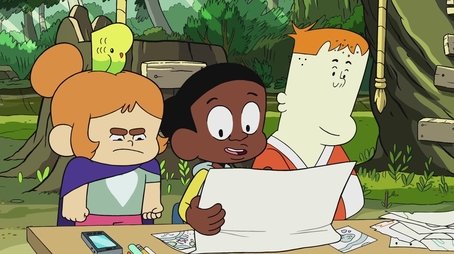 1 - Itch to Explore 02018-03-30
Discovering that there's an unmapped part of the Creek in the center of the Posion Ivy Grove, Craig and his friends set out to discover what waits for them there and become legends among their peers, only to realize something is stalking them through the ivy.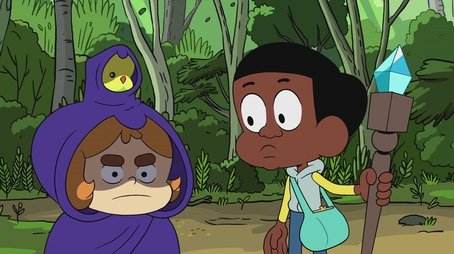 2 - You're It 02018-03-30
An enjoyable day at the soda-bottle races is ruined when a game of tag that has been terrorizing the Creek-Kids for longer than anyone can remember makes Kelsey its latest victim.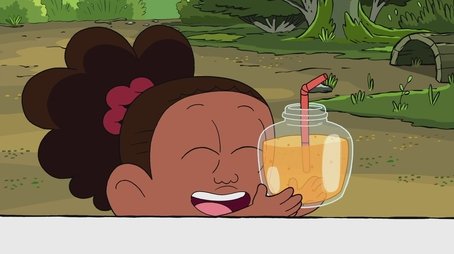 3 - Jessica Goes to the Creek 02018-03-31
When Craig and Jessica are locked out of the house, Craig has no choice but to bring his little sister to the Creek.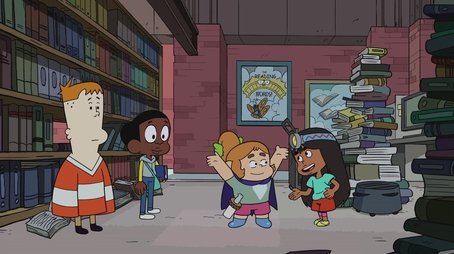 4 - The Final Book 02018-03-31
The last book of Kelsey's favorite fantasy series goes missing from the library, so Craig decides to help her solve the mystery of who took it.
5 - Too Many Treasures 02018-03-31
Hoping to fix their fort, Craig enlists the 10 Speeds to give them a ride to the legendary Junk Pile.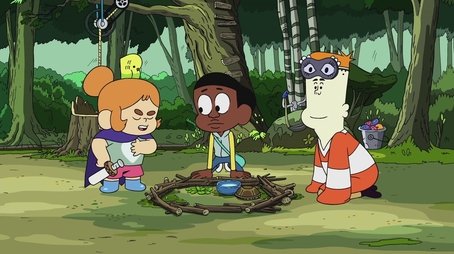 6 - Wildernessa 02018-04-02
An encounter with Wildernessa, guardian of the wilderness, inspires Kelsey to take up a cause.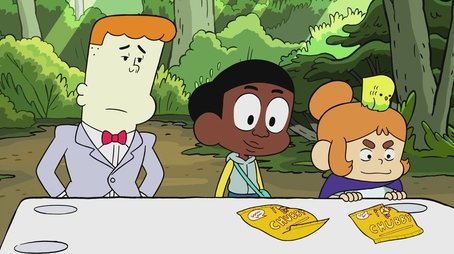 7 - Sunday Clothes 02018-04-06
JP dirties his last clean clothes and he must wear his Sunday best to the creek.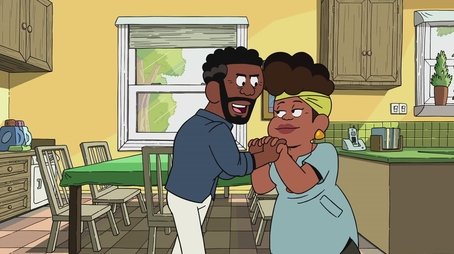 8 - Escape from Family Dinner 02018-04-09
There's a huge water balloon fight at the creek but Craig is stuck at home for a family dinner, unless he can escape.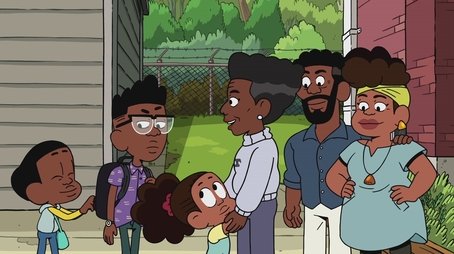 9 - Monster in the Garden 02018-04-13
Craig is determined to catch the monster that has been wreaking havoc in Granddad's garden.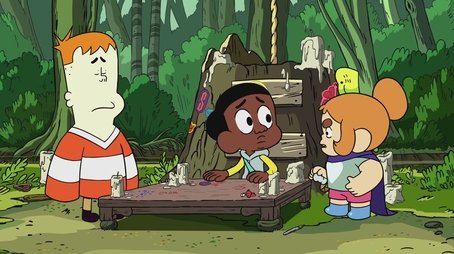 10 - The Curse 02018-04-16
Craig, Kelsey and JP run afoul of some no-good teenage witches and are cursed! Lousy teenagers!
11 - Dog Decider 02018-04-20
Unable to make tough decisions, Craig decides to put his choices in the hands of a dog named Fred.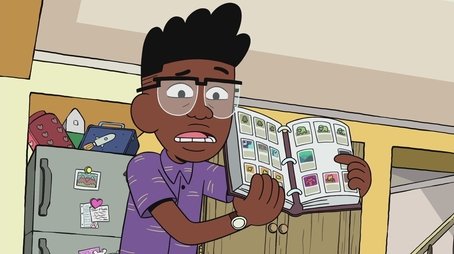 12 - Bring Out Your Beast 02018-04-23
Craig wants to play a popular card game, so he decides to borrow Bernard's vintage and valuable cards.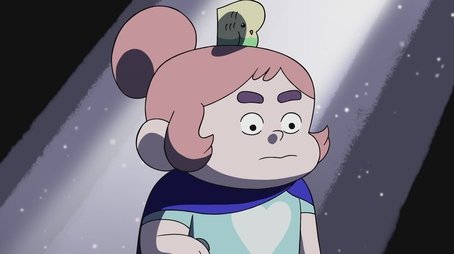 13 - Lost in the Sewers 02018-04-27
Craig agrees to help The Sewer Queen map the sewers, but he quickly finds himself in over his head.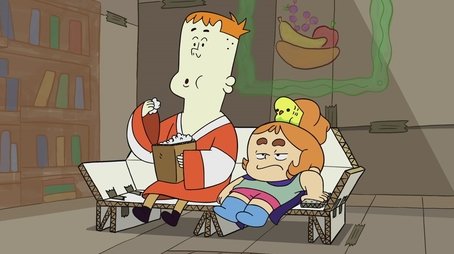 14 - The Future Is Cardboard 02018-04-30
The kids meet an eccentric Cardboard Creator that invites Craig to help finish his masterpiece.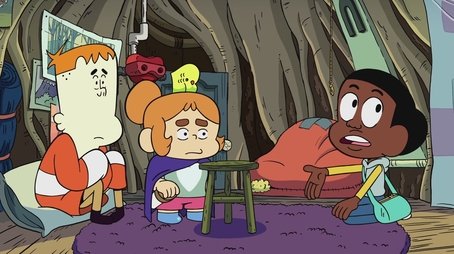 15 - The Brood 02018-05-07
Craig's determination to get his granddad a cicada shell causes him, Kelsey and JP to become trapped in their stump!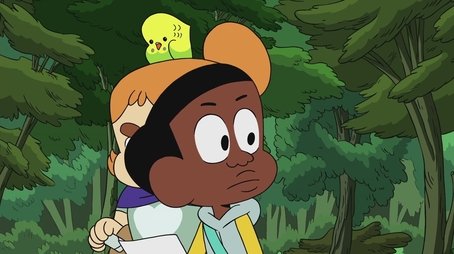 16 - Under the Overpass 02018-07-09
Craig and his friends travel to find honeysuckle in the creek but discover a whole new part of the creek.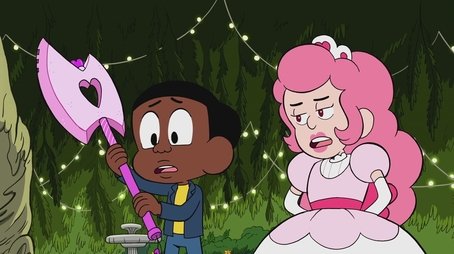 17 - The Invitation 02018-07-09
Craig and his friends are invited to an exclusive tea party with delicious desserts, if they can last to the end of the party…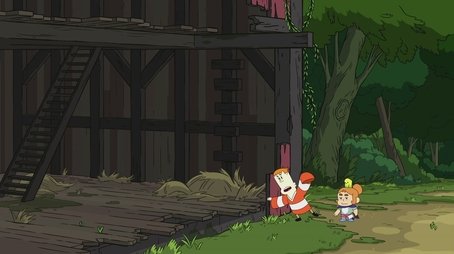 18 - Vulture's Nest 02018-07-09
Craig and his friends start a band, but Craig is haunted by a frightening nightmare.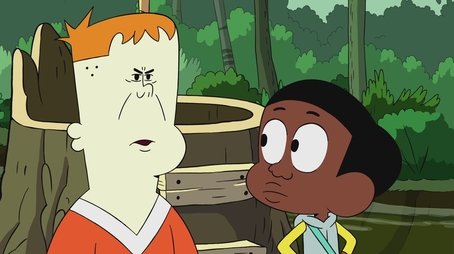 19 - Kelsey Quest 02018-07-09
Kelsey accepts a quest from the Elders of the Creek, but is she ready for her terrifying opponent?
20 - Jpony 02018-07-09
JP decides to follow his heart and tries to join the Horse Girls.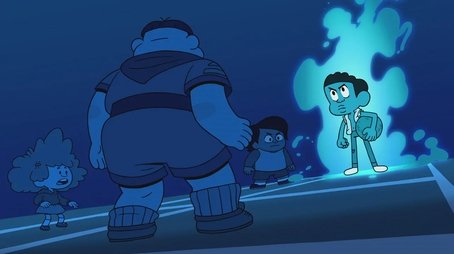 21 - Ace of Squares 02018-08-20
Craig vows to make the game of Four Square fun again by challenging its most dominant player!
22 - Doorway to Helen 02018-08-21
Craig makes a long distance connection with a kid that loves the creek as much as he does.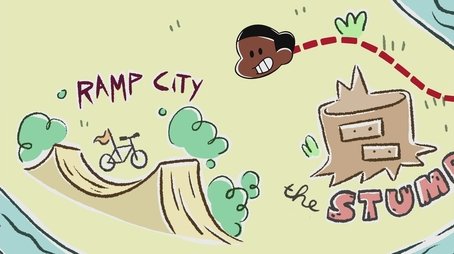 23 - The Last Kid in the Creek 02018-08-22
A terrible curse leaves Craig as the only kid in the creek.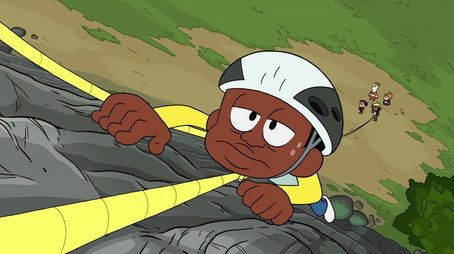 24 - The Climb 02018-08-30
Craig's phone gets stuck in Mt. Sycamore, the tallest tree in the creek!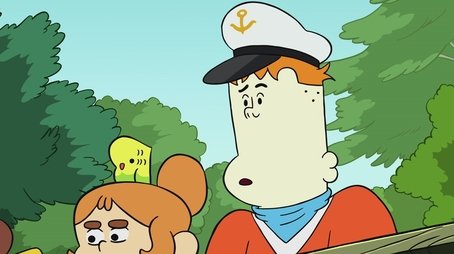 25 - Big Pinchy 02018-08-31
JP leads his friends on a voyage to find the biggest crayfish in the creek.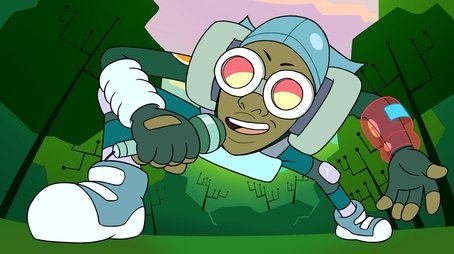 26 - The Kid from 3030 02018-10-01
The gang meets a mysterious kid from the future and tries to help him complete his mission.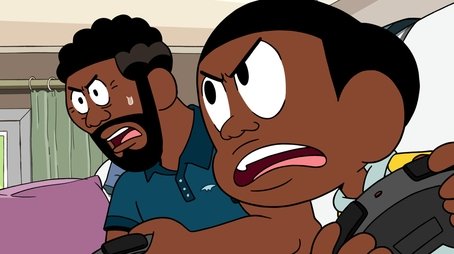 27 - Power Punchers 02018-10-02
Fed up with losing in video games to his father, Craig seeks training in the Creek.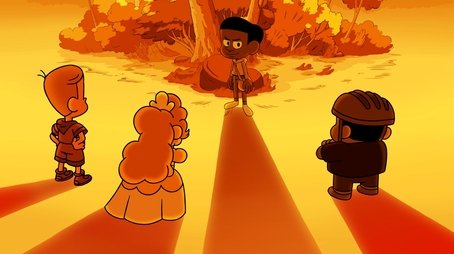 28 - Creek Cart Racers 02018-10-03
A high-speed race with a high-stakes prize may be too much for Craig and his friends.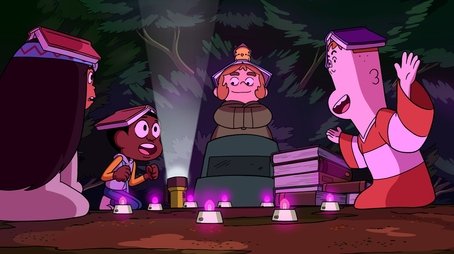 29 - Secret Book Club 02018-10-04
Kelsey starts a super-secret book club to introduce Craig and JP to the joys of reading.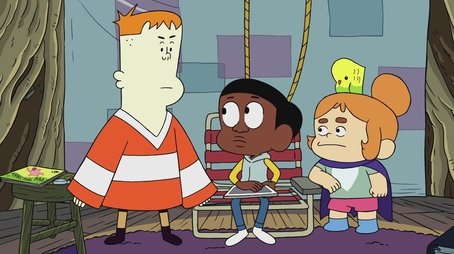 30 - Jextra Perrestrial 02018-11-05
JP believes he may be from another planet, so Craig tries to help him make contact.
31 - The Takeout Mission 02018-11-06
Kelsey leads her friends on the most important quest ever, picking up takeout for dinner.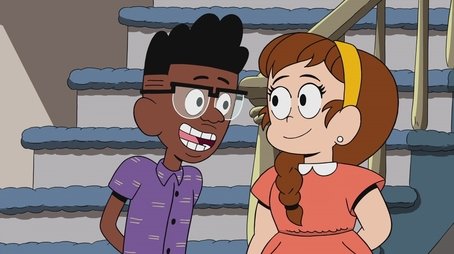 32 - Dinner at the Creek 02018-11-07
Bernard is left in charge for the evening, so Craig sets out to find his own dinner at the creek.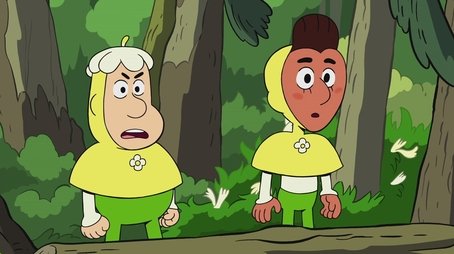 33 - Jessica's Trail 02018-11-08
Jessica wanders into an unfamiliar creek, leaving Craig to find her before his Mom notices!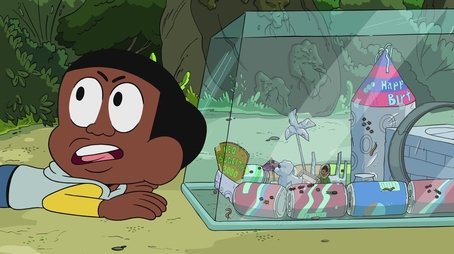 34 - Bug City 02019-01-28
Craig and his friends discover a large quantity of bugs and decide to care for them by creating a Bug City. Craig suddenly begins becoming possessive of them due to outside elements, such as Mortimer, terrorizing them and decides to take extra precaution by "protecting" them.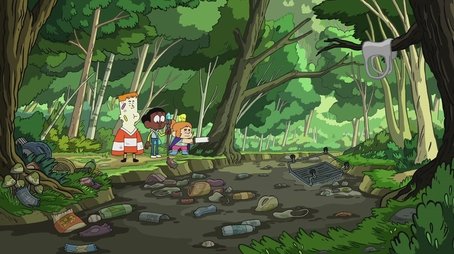 35 - Deep Creek Salvage 02019-02-04
The Trio finds gold in the muddy depths of the Creek so Craig builds a rig to recover it.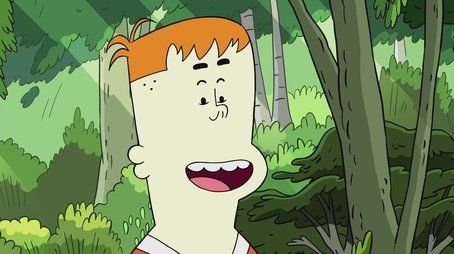 36 - The Shortcut 02019-02-11
An unusually hot day at the Creek melts all of Kit's ice pops, so Craig helps her find a short cut to her frozen snack supplier before everyone else melts.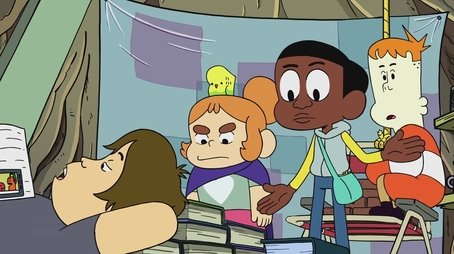 37 - Dibs Court 02019-02-18
When a kid claims dibs on the Stump, Craig has no choice but to take them to court. Dibs Court.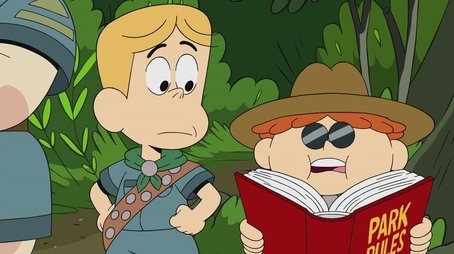 38 - The Great Fossil Rush 02019-02-25
JP finds a fossil in the Creek which quickly causes the landscape to change.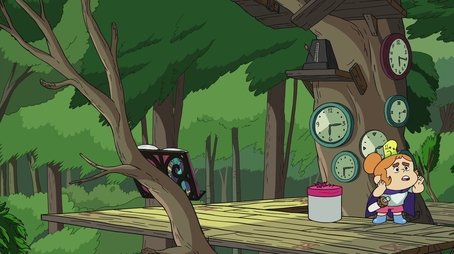 39 - The Mystery of the Timekeeper 02019-03-04
When the Time Keeper goes missing, Craig and his friends take up the task of helping kids get home in time for dinner.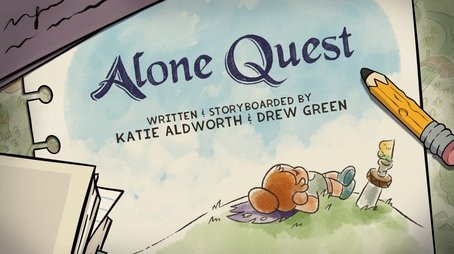 40 - Alone Quest 02019-03-11
Craig has an "emergency" leaving Kelsey alone at the Stump.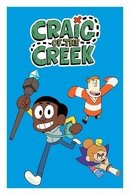 Season 2 2019 | 38 Episodes
Season 2 of Craig of the Creek premiered on Mar 18, 2019.
Cast..
1 - Memories of Bobby 02019-03-18
When a pillar of the Creek community leaves, our trio mourns their loss by remembering the good times.
2 - Jacob of the Creek 02019-03-18
A terrible haircut forces Craig to go undercover at the Creek.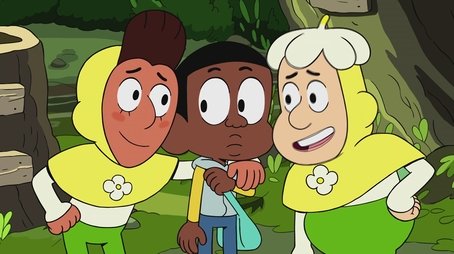 3 - Return of the Honeysuckle Rangers 02019-03-25
Craig discovers that the Honeysuckle Rangers have snuck into his side of the Creek to steal his most prized possession.
4 - Kelsey the Elder 02019-04-01
A spat between the Elders of the Creek leaves an opening in their tabletop role playing game, so Kelsey joins the campaign!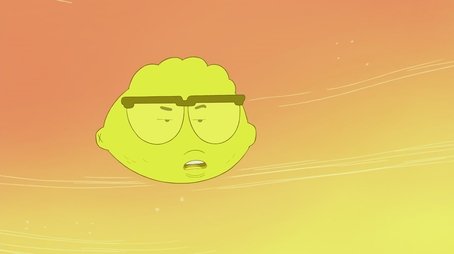 5 - Sour Candy Trials 02019-04-01
Craig goes on a mind-bending journey as he tries to eat the most sour candy in the Creek!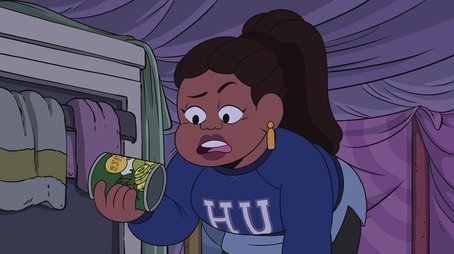 6 - Fort Williams 02019-05-11
When Craig can't go to the Creek, he and his mom decide to build the world's biggest blanket fort.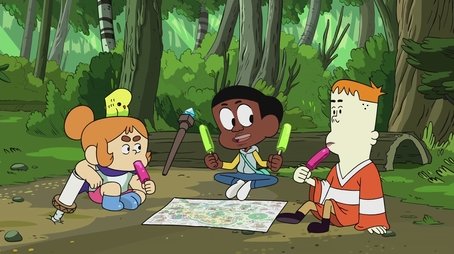 7 - The Other Side 02019-06-22
Craig, Kelsey and JP must journey past the Overpass into uncharted territory: the Other Side of the Creek.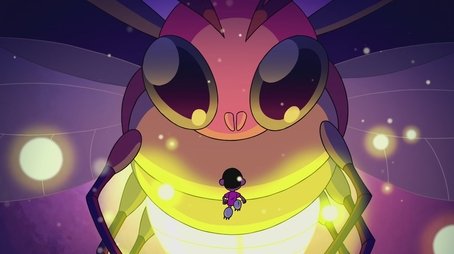 8 - Summer Wish 02019-06-29
When Craig decides to keep a lightning bug in a jar, he disrupts the delicate balance of Summer.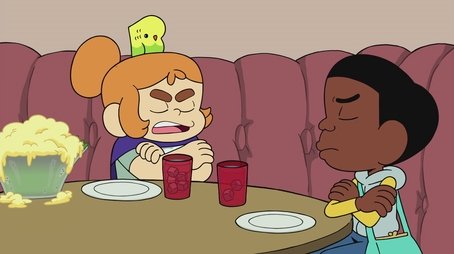 9 - Turning the Tables 02019-07-06
Craig dines at the restaurant where his older brother works and orders up a plate of REVENGE... and lots of breadsticks.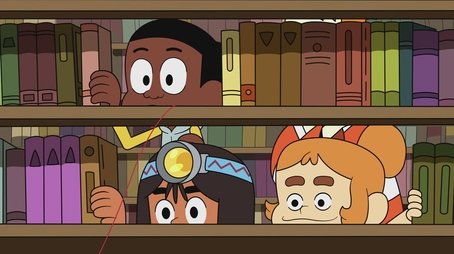 10 - Kelsey the Author 02019-07-13
Craig and Stacks help Kelsey become a real author turning her story into a book!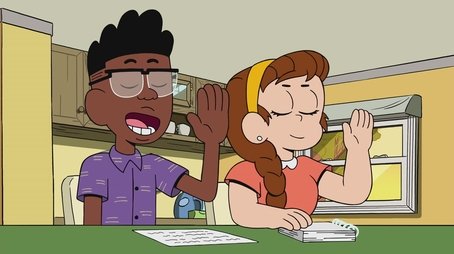 11 - Council of the Creek 02019-07-20
The circle game wreaks havoc on the Creek, so Craig forms a council to restore order.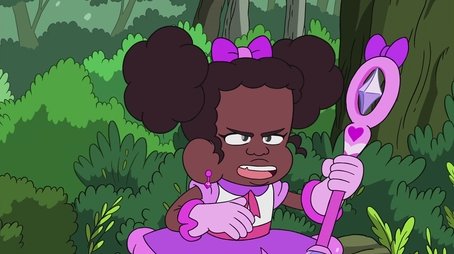 12 - Sparkle Cadet 02019-07-27
Craig, Kelsey and JP team up with an intergalactic hero named Sparkle Cadet, hoping to save the Creek from negativity.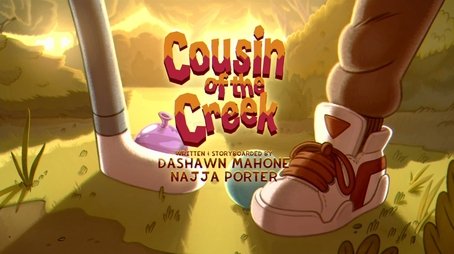 13 - Cousin of the Creek 02019-08-03
Craig takes his cousin, Bryson, to the Creek and accidentally starts a water balloon war.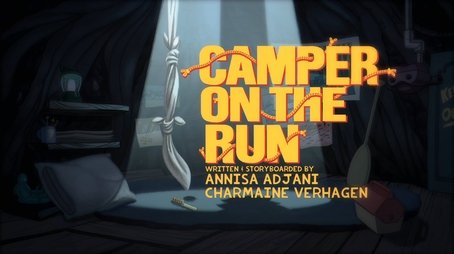 14 - Camper on the Run 02019-08-10
A runaway from a summer camp ends up at the Stump, but Craig suspects her story may not be what it seems.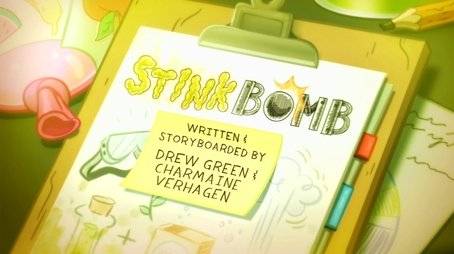 15 - Stink Bomb 02019-08-17
An accidental stink bomb explosion causes the kids to evacuate the Creek, but Craig takes it upon himself to rescue those left behind in the stench.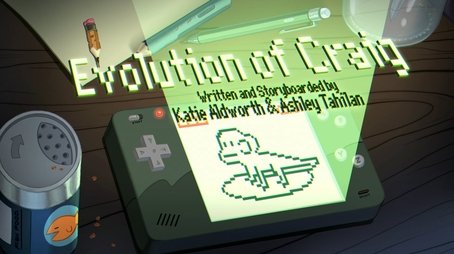 16 - The Evolution of Craig 02019-08-24
Craig rescues a tadpole and decides to raise him into a level 100 frog!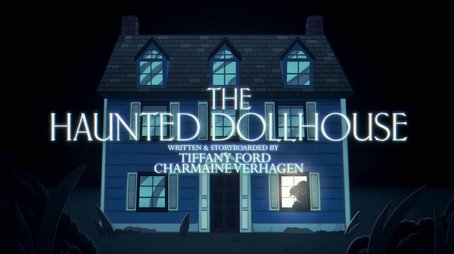 17 - The Haunted Dollhouse 02019-10-26
Craig and his friends find themselves being followed by a creepy doll and its haunted dollhouse.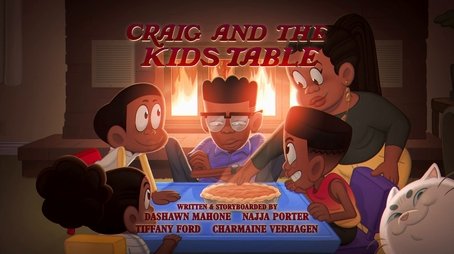 18 - Craig and the Kid's Table 02019-11-23
It's a Williams Family Thanksgiving, which means it's time to reunite The Kid's Table! But when Bernard accidentally destroys dessert, Craig uses the power of the Kids Table to help save his brother from certain grounding.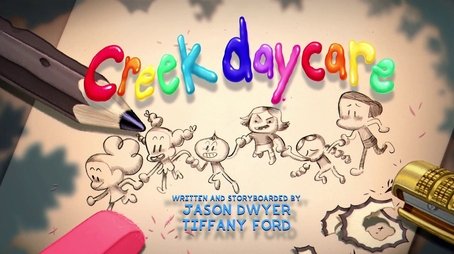 19 - Creek Daycare 02020-04-18
Craig and his sister, Jessica, try their hand at running the daycare at the Creek.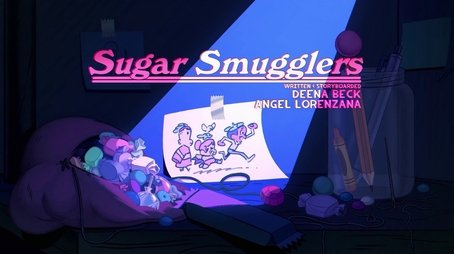 20 - Sugar Smugglers 02020-04-18
Craig, Kelsey and JP become smugglers to sneak candy to kids in need.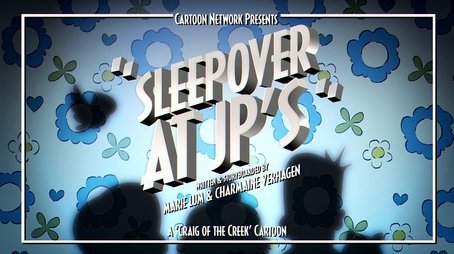 21 - Sleepover at JP's 02020-04-25
JP invites his friends over for a sleepover, but it happens to be on the night of a huge game of Flashlight Tag in the Creek!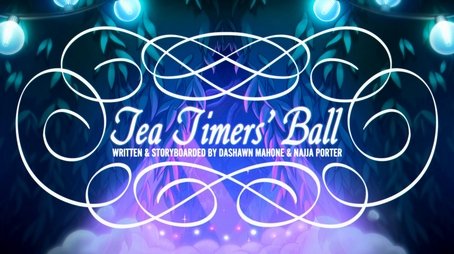 22 - Tea Timer's Ball 02020-04-25
The Tea Timers throw a dance and invite everyone in the Creek. Craig believes it's solely to prank him, while Kelsey deals with an unwanted admirer.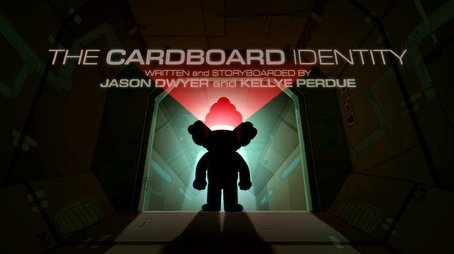 23 - The Cardboard Identity 02020-05-02
Craig and his friends stumble upon a mysterious bunker made of cardboard beneath the Creek.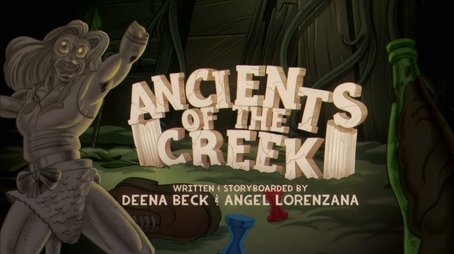 24 - Ancients of the Creek 02020-05-02
Craig, Kelsey and JP discover an ancient fort that belonged to the first kids in the Creek.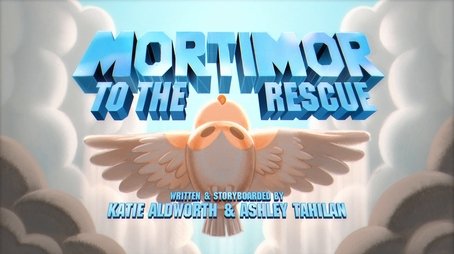 25 - Mortimor to the Rescue 02020-05-09
Mortimor must save the day when Craig, Kelsey and J.P. get stranded in murky water.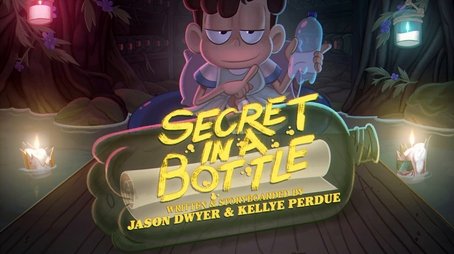 26 - Secret in a Bottle 02020-05-09
Craig pays a visit to the Keeper of Secrets in the Creek to get a secret off his chest.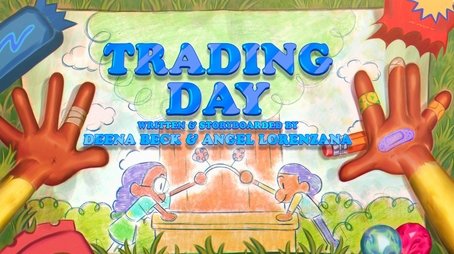 27 - Trading Day 02020-05-16
After Craig accidentally destroys a shipment of rare Chocorolls at the Trading Tree, Kit makes him work off his debt by running her trades throughout the Creek!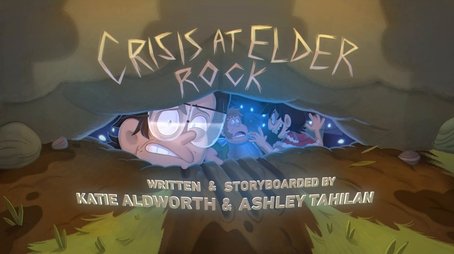 28 - Crisis at Elder Rock 02020-05-16
Tragedy strikes the Creek when the Elders get trapped under Elder Rock, and it's up to Craig, Kelsey and J.P. to rescue them.
29 - Kelsey the Worthy 02020-05-23
When Kelsey demolishes a wall at Craig's house, her father takes away her sword. So she enlists Craig and J.P. to help prove to her father that she's still worthy.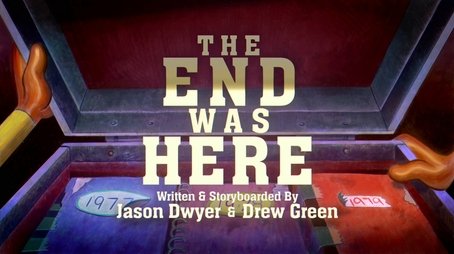 30 - The End Was Here 02020-05-23
Craig tries to figure out how an ancient war that decimated the Creek began in hopes of stopping history from repeating itself.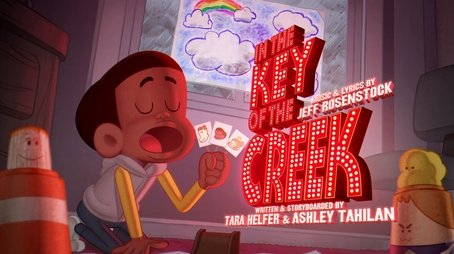 31 - In the Key of the Creek 02020-06-08
When a rainy day keeps Craig inside, he uses his toys and imagination to create his own Creek adventure in Craig of the Creek's first musical episode!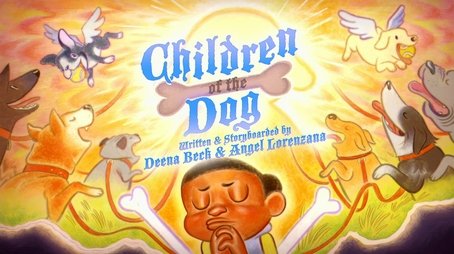 32 - The Children of the Dog 02020-06-08
Craig has tried to convince his family to get a dog for years but has never been successful, but he may have a chance if he follows the guidance of a charismatic creek kid and her three step program.
33 - Jessica Shorts 02020-06-09
Spend some time with Craig's little sister, Jessica, with a series of 5 short stories. Follow along as she trains to be the best video game fighter in "Power Punchers," deals with a loose tooth in "Incisor Trading," puts on her own TV show in "The Jessica & Small Uncle Show," saves Kelsey's sword in "Jessica in Operation" and takes family game night too far in "Jessica in Payup!"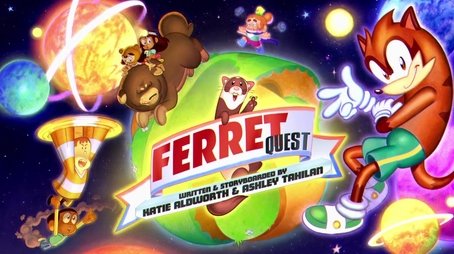 34 - Ferret Quest 02020-06-09
The kids are on the search for an elusive ferret in the Creek. Kelsey unites her friends Stacks and Wildernessa to find it, but worries they'd rather hangout with each other instead of her.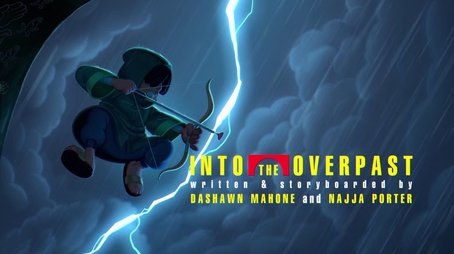 35 - Into the Overpast 02020-06-10
Craig and The Green Poncho travel to the Other Side of the Creek where Craig learns Green Poncho's shocking origin story.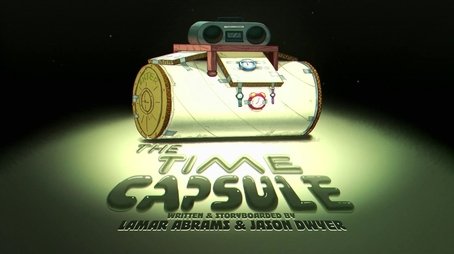 36 - The Time Capsule 02020-06-10
Worried he'll one day forget all his favorite memories, Craig creates a time capsule to remember them all.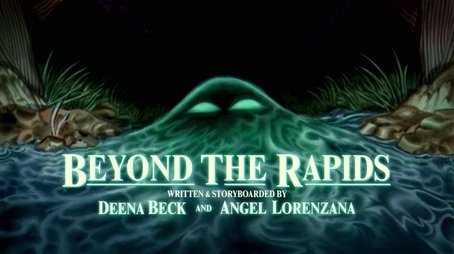 37 - Beyond the Rapids 02020-06-11
Resident creek scientist, Wren, enlists Craig to voyage through dangerous waters in search of a path to the Ocean.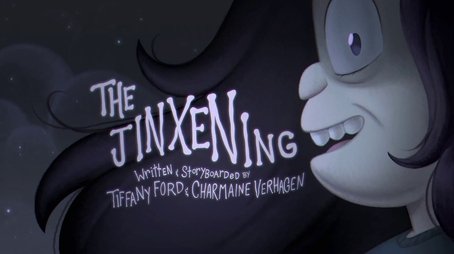 38 - The Jinxening 02020-06-11
Craig, Kelsey and JP help a kid who's been jinxed and can't talk, but they soon come to regret it.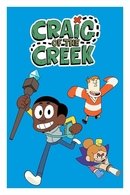 Season 3 2020 | 19 Episodes
Season 3 of Craig of the Creek premiered on Jun 21, 2020.
Cast..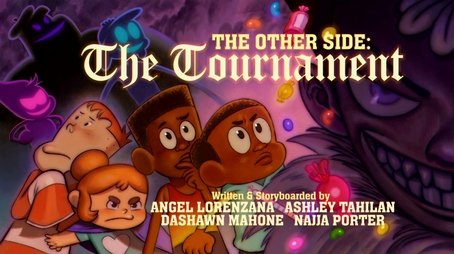 1 - The Other Side: The Tournament 02020-06-21
Hoping to win a special prize for his Dad's birthday, Craig and his friends compete in a tournament on the Other Side of the Creek!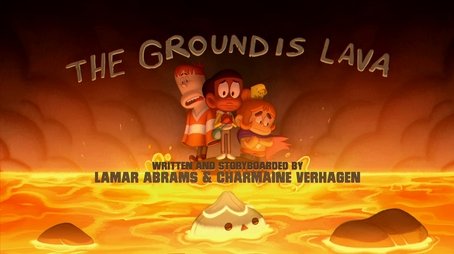 2 - The Ground Is Lava! 02020-06-29
When an intense game of The Ground is Lava breaks out, Craig must carefully traverse the Creek to save his sister.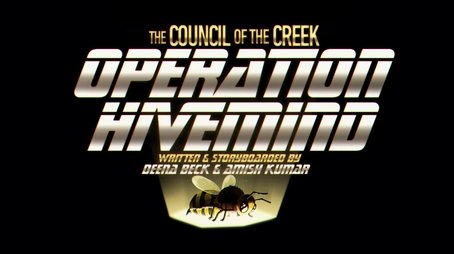 3 - Council of the Creek: Operation Hive-Mind 02020-06-30
When bees take over the Trading Tree, Craig must assemble the Council of the Creek to avert disaster.
4 - The Bike Thief 02020-07-01
Craig investigates the theft of the 10 Speeds' bikes in hopes of finding the culprit.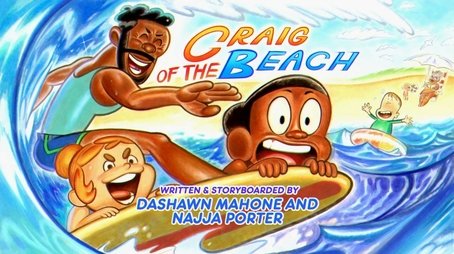 5 - Craig of the Beach 02020-07-02
Craig hits the beach with his friends and family but starts to worry his father is more fun than him.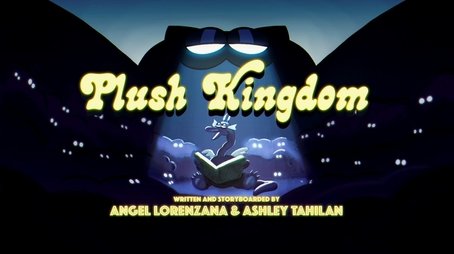 6 - Plush Kingdom 02020-08-24
Craig, Kelsey, JP and Jessica discover a group of plushie obsessed kids, deep within the creek.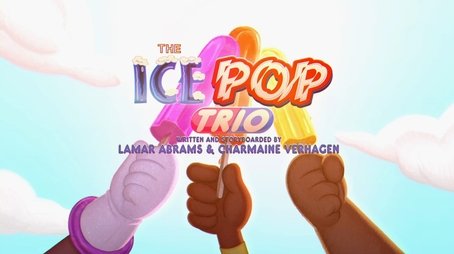 7 - The Ice Pop Trio 02020-08-25
Craig sets out in search of Ice Pops on a hot day with the help of an unlikely duo.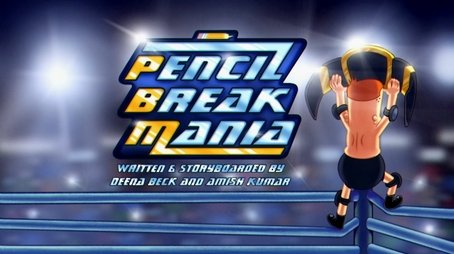 8 - Pencil Break Mania 02020-08-26
When Pencil Break Mania hits the Creek, JP finds himself as an unlikely champion and is forced to defend his title against the very best!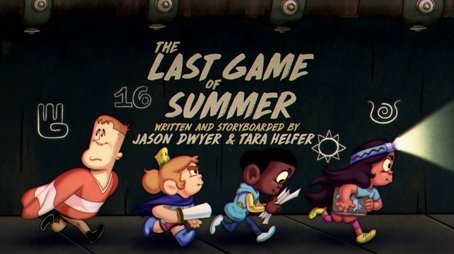 9 - The Last Game of Summer 02020-08-27
It's the last day of summer, and the last chance for Craig to uncover an ancient treasure beneath the Creek.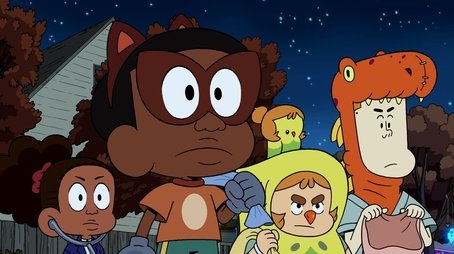 10 - Trick or Creek 02020-08-19
It's Halloween at the Creek, and Craig is on a mission to collect as much candy as humanly possible, but a spooky ghoul from the Creek's past threatens his haul.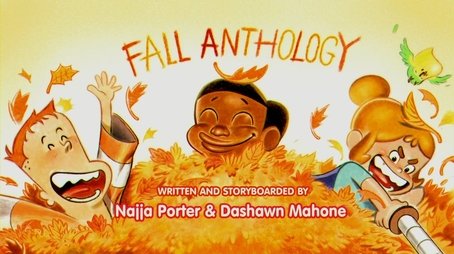 11 - Fall Anthology 02020-08-20
In an attempt to finish a school project, Craig remembers some of his favorite Fall moments.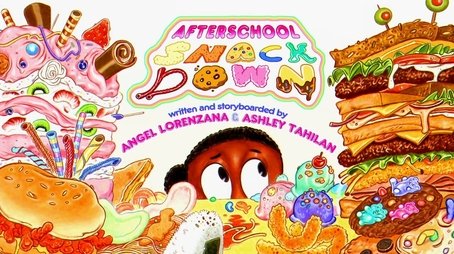 12 - Afterschool Snackdown 02020-08-21
Craig enters a food competition in the Creek, but worries he may be out of his league.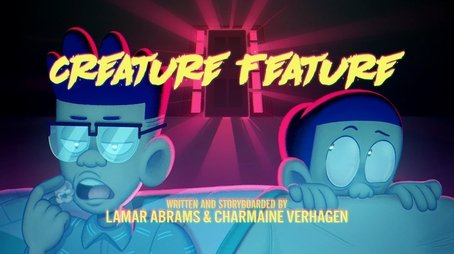 13 - Creature Feature 02020-08-22
Craig finds himself being chased by a monster in the Creek that's straight out of the movies!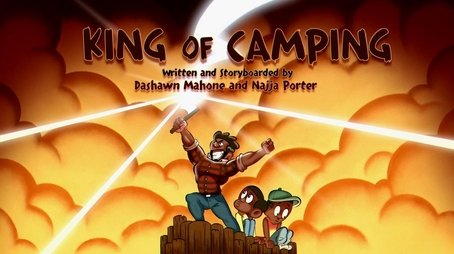 14 - King of Camping 02020-08-23
The Williams family goes camping and Craig helps his dad prove he's the King of Camping.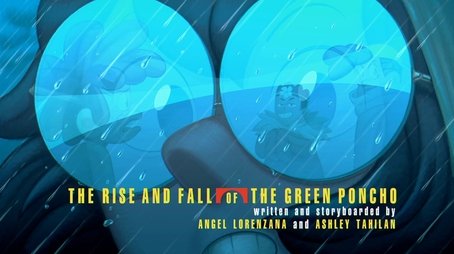 15 - The Rise and Fall of the Green Poncho 02020-12-28
In this sequel to "Into the Overpast", Craig tries to warn his friends about the other side of the creek with a tale from the creek's defender - the Green Poncho.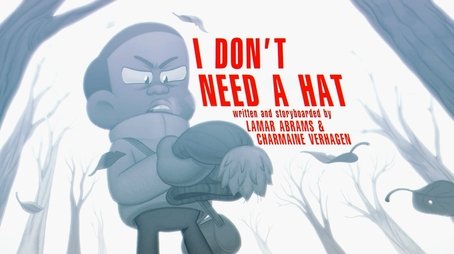 16 - I Don't Need a Hat 02020-12-29
Craig decides to ditch his hat on a chilly day, and it becomes a battle for body heat.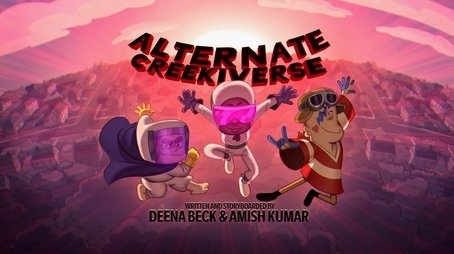 17 - Alternate Creekiverse 02020-12-30
Craig, Kelsey and JP imagine a disturbing alternate reality where they never became friends.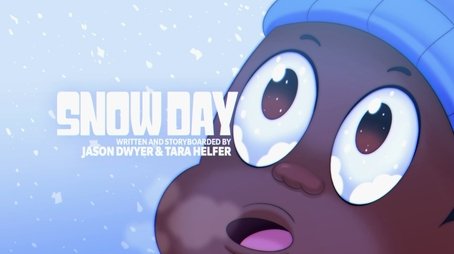 18 - Snow Day 02020-12-31
Craig and his friends desperately want a snow day, so they turn to the most powerful people they know - the Witches of the Creek.
19 - Winter Break 02021-01-18
Craig returns to the Creek after the long Winter Break only to find an empty wasteland and danger lurking in the snow.