Nobunaga Shimazaki
Shinichi Izumi
Kana Hanazawa
Satomi Murano
Miyuki Sawashiro
Kana Kimishima
Atsuko Tanaka
Tamiya Ryoko / Tamura Reiko
Issei Futamata
Kuramori Shirou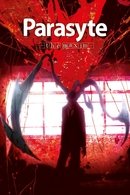 Season 1 2014 | 24 Episodes
Season 1 of Parasyte -the maxim- premiered on Oct 08, 2014.
Cast..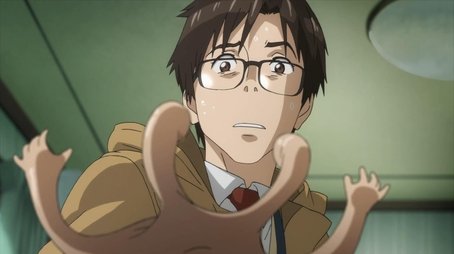 1 - Metamorphosis 72014-10-08
Shinichi Izumi's life takes a turn to the bizarre when a mysterious lifeform attempts to infiltrate his body in order to snatch it, but it ends up stuck on where his right hand used to be and both are forced to cooperate. Meanwhile, similar incidents with gruesome outcomes start occurring in other locations.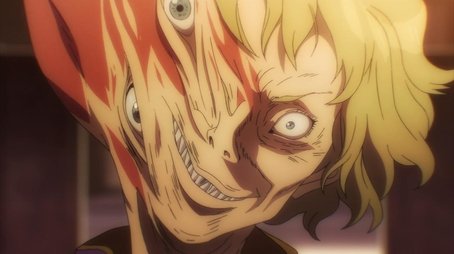 2 - Demon in the Flesh 7.52014-10-15
Calling his new partner "Migi", Shinichi attempts to move on with his normal life despite his new condition, but other members of Migi's race keep coming after them to protect their secret.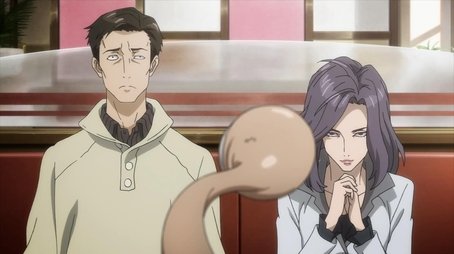 3 - The Feast 82014-10-22
Much to his dismay, Shinichi discovers that Reiko Tamura, a new teacher of his, is another inhuman just like those he faced before and knows his secret. However, Reiko is not interested in fighting him, and asks for his cooperation instead, but her partner, just called "A", has other plans.
4 - Disheveled Hair 82014-10-29
Thanks to their teamwork, Shinichi and Migi defeat A, who ends up killed by Ryōko who quits school once news of her pregnancy reach her colleagues. Back at home, Shinichi's parents are suspicious of his behavior and he must make sure they do not discover the truth to ensure their safety.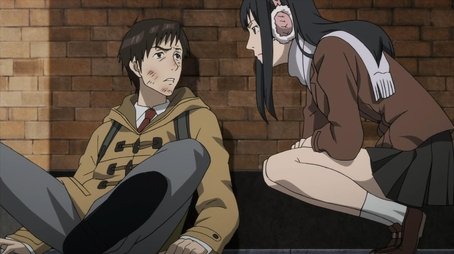 5 - The Stranger 92014-11-05
Shinichi is targeted by a gang of delinquents and Kana, the girl who walks with them becomes suspicious of his nature. After returning home, Shinichi is caught by surprise when he is attacked by an enemy who possessed the body of his own mother.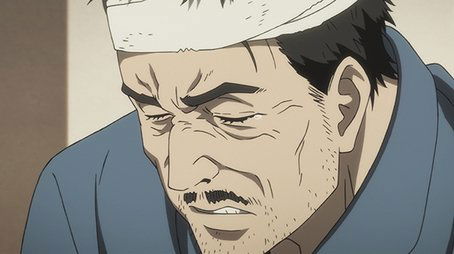 6 - The Sun Rises Again 82014-11-12
After Shinichi is mortally wounded, Migi uses its powers to save his life, but weakening itself in the process. When Shinichi hears that his father is still alive, he rushes to the hospital where he is treated in order to protect him and enact revenge for his mother's death.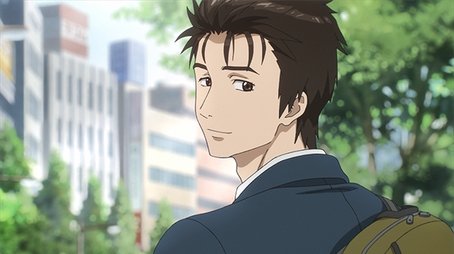 7 - Dark Night's Passing 82014-11-19
Shinichi meets Mamoru Uda, another human who is in a similar situation as him and they decide to join forces to protect his father. However, when the enemy appears, Migi falls asleep and both Shinichi and Mamoru must fight without its help.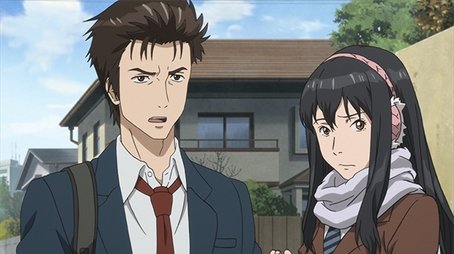 8 - Freezing Point 82014-11-26
Back to Tokyo, Shinichi's sudden change in behavior put his father and friends wary of him, and things get even more tense when Hideo Shimada, another parasite, is sent by Ryōko to keep an eye on him.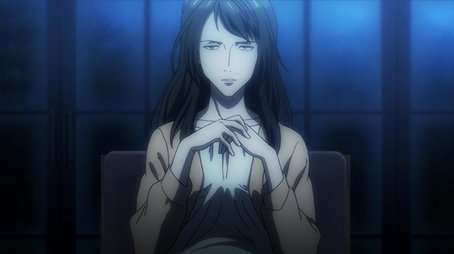 9 - Beyond Good and Evil 82014-11-26
The recent events involving Shinichi draws him even further from his friend and crush Satomi Murano. Meanwhile, another of his friends gets close to danger after discovering Hideo's secret.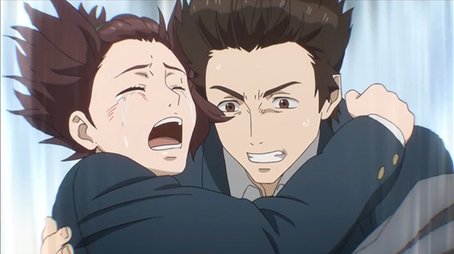 10 - What Mad Universe 82014-12-03
Stunned by a surprise attack from Yuuko, Hideo loses his mind and enters into a killing spree. Worried about Murano, Shinichi decides to confront him head on to protect her.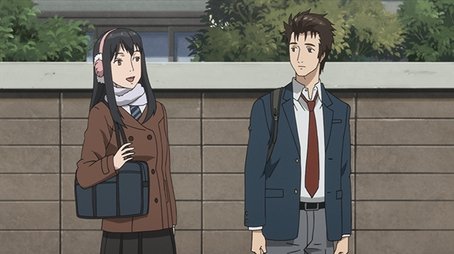 11 - The Blue Bird 82014-12-10
Kana meets Shinichi once more and is determined to get closer to him, despite knowing of his relationship with Murano. Meanwhile, a group of parasites is organizing themselves with unknown intentions.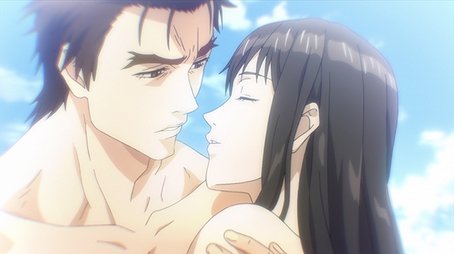 12 - Heart 92014-12-24
Migi says that Kana can emits a rather weak signal to other parasites so they can also seek her out Shinichi tells her the truth while Migi is sleeping but.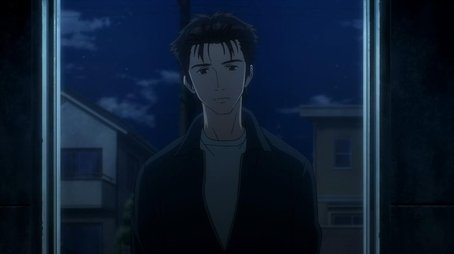 13 - Hello Sadness 02015-01-08
Shinichi returns to the crime scene to try to keep the feeling of mourning for Kana. He is followed by a human private investigator hired by Ryoko Tamiya and Migi is caught on camera.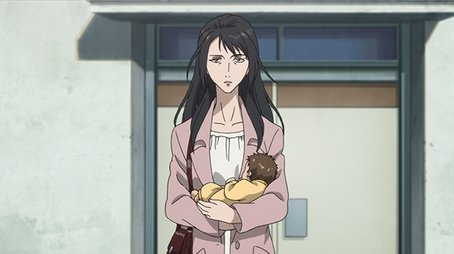 14 - The Selfish Gene 02015-01-15
The private detective, Kuramori, discovers Shinichi's secret and flees from him. Concerned about Kuramori's intentions, Shinichi seeks help from Mamoru in order to track him down.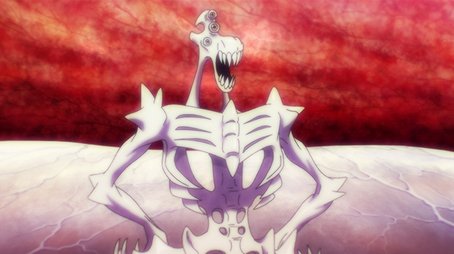 15 - Something Wicked This Way Comes 02015-01-21
Although he still has his doubts, Kuramori reluctantly decides to help Shinichi hunt down Reiko and her group of Parasytes. But when a strange man appears, Shinichi soon goes from the hunter to the hunted.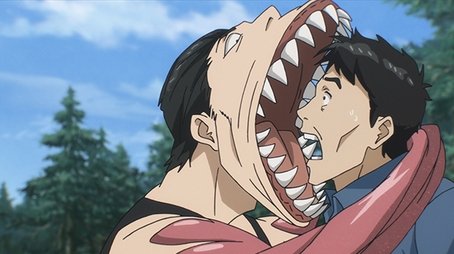 16 - Happy Family 02015-01-29
A powerful Parasyte unlike any Shinichi has ever seen before attacks, and soon Shinichi and Migi are running for their lives. Meanwhile, Kuramori's search for the truth puts his family in harm's way.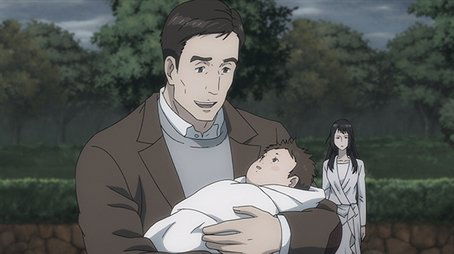 17 - The Adventure of the Dying Detective 02015-02-05
After Reiko's judgment is called into question, three members of her own group seek to eliminate her. With Reiko otherwise occupied, Kuramori takes advantage to seek revenge for his family.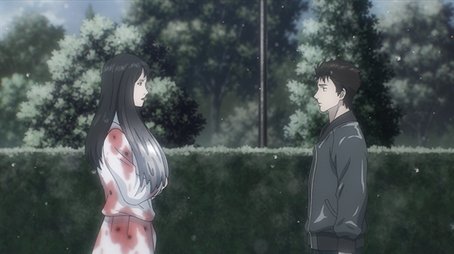 18 - More Than Human 02015-02-12
With her feelings regarding humanity and the purpose of Parasytes now in question, Reiko encounters Shinichi and Migi one final time. When police arrive on the scene, Shinichi soon finds himself at the center of their attention.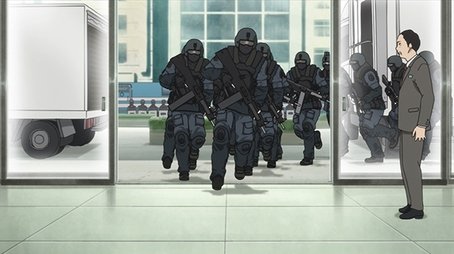 19 - In Cold Blood 02015-02-19
Investigators continue to hold Shinichi, certain that there is something he is hiding. In an effort to uncover his secrets, they soon bring him face-to-face with the serial killer, Uragami, who has a unique ability.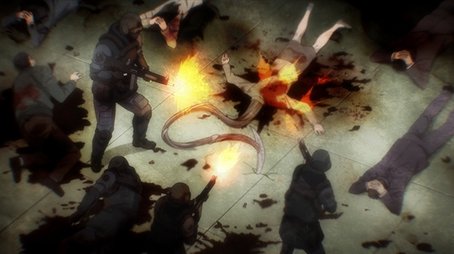 20 - Crime and Punishment 02015-02-26
The police commence their operation to take out Hirokawa and the remaining Parasytes. However, plans go awry when the Parasytes attempt to fight back. Things take an even more gruesome turn when Gotou appears on the scene.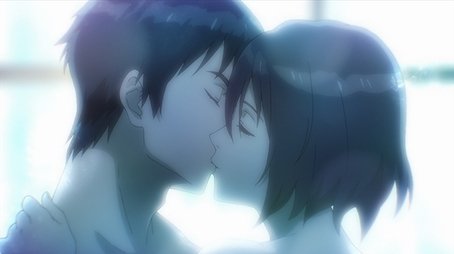 21 - Sex and Spirit 02015-03-05
In the chaos of the raid, Gotou escapes and vows to return to kill Shinichi. Plagued by fear and with nowhere left to run, Shinichi turns to Satomi for comfort.
22 - Quintessence and Awakening 02015-03-12
Shinichi decides to take Gotou head on, and tracks him to a remote area to fight him. When the battle goes awry, Migi makes an unexpected sacrifice.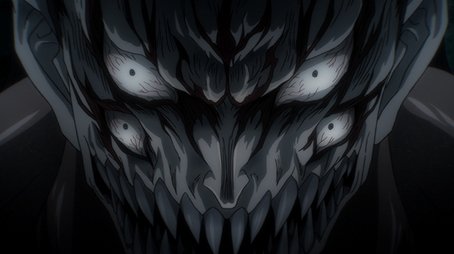 23 - Life and Oath 02015-03-19
With Migi no longer at his side, Shinichi attempts to take on Gotou by himself one final time.
24 - Parasyte 02015-03-26
An unexpected but familiar enemy surfaces and Migi gives a final farewell.