Ayumu Murase
Shouyou Hinata
Kaito Ishikawa
Tobio Kageyama
Daisuke Namikawa
Tooru Oikawa
Nobuhiko Okamoto
Yuu Nishinoya
Koki Uchiyama
Kei Tsukishima
Yuichi Nakamura
Kuroo Tetsurou
Miyu Irino
Koushi Sugawara
Sōma Saitō
Tadashi Yamaguchi
Hiroyuki Yoshino
Hajime Iwaizumi
Yoshimasa Hosoya
Asahi Azumane
Satoshi Hino
Daichi Sawamura
Kaori Nazuka
Kiyoko Shimizu
Ryōta Takeuchi
Wakatoshi Ushijima
Hiroshi Kamiya
Ittetsu Takeda
Kazunari Tanaka
Keishin Ukai
Yū Hayashi
Ryuunosuke Tanaka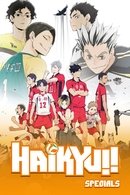 Specials 2014 | 5 Episodes
Specials of Haikyu!! premiered on Nov 09, 2014.
Cast..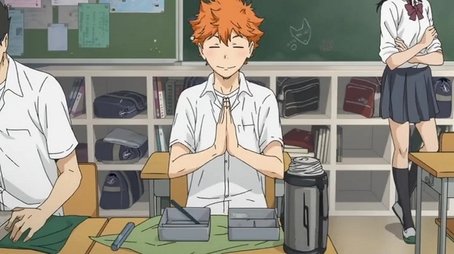 1 - The Arrival of Lev 52014-11-09
Jump Festa 2014 Special. The episode follows the progress of Lev Haiba, a first-year Middle Blocker who aspires to become Nekoma's ace.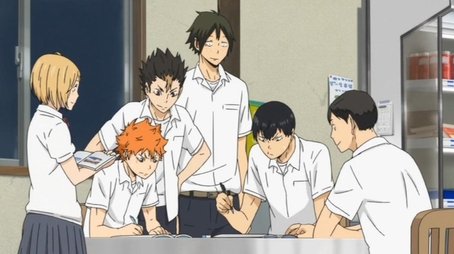 2 - Vs. Failing Grades 02015-11-03
Jump Festa 2015 Special. In the episode, which takes place after the first season, Hinata and Kageyama fail a test and find that the make-up exam conflicts with their training camp.
3 - Haru-kou Volley ni Kaketa Seishun 02017-08-04
The OVA episode revisits the primary matches from the spring tournament and features interviews with players.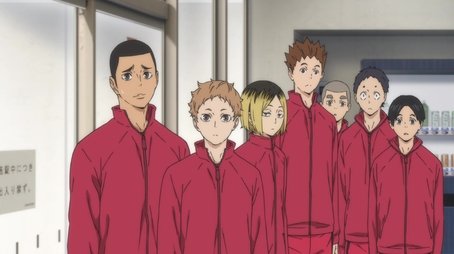 4 - Haikyu!!: Land vs. Air 102020-01-10
In the Miyagi Prefecture qualifiers for the Spring Tournament, Karasuno High School Volleyball Team manages to defeat Shiratorizawa Academy in an intense battle and secures their spot in the national tournament. Meanwhile in the Tokyo qualifiers, Nekoma High School, Fukurodani High School, Nohebi Academy, and Itachiyama Academy fight for the 3 slots to go to nationals. Will Nekoma High School be able to secure their spot in the tournament? Will we see a rematch of Nekoma and Karasuno's Battle of the Garbage Dump on a national level? The Tokyo qualifiers are about to begin!!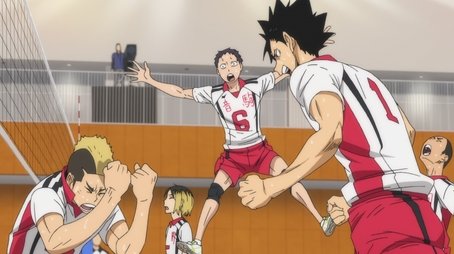 5 - Haikyu!!: The Path of the Ball 102020-01-10
In the Miyagi Prefecture qualifiers for the Spring Tournament, Karasuno High School Volleyball Team manages to defeat Shiratorizawa Academy in an intense battle and secures their spot in the national tournament. Meanwhile in the Tokyo qualifiers, Nekoma High School, Fukurodani High School, Nohebi Academy, and Itachiyama Academy fight for the 3 slots to go to nationals. Will Nekoma High School be able to secure their spot in the tournament? Will we see a rematch of Nekoma and Karasuno's Battle of the Garbage Dump on a national level? The Tokyo qualifiers are about to begin!!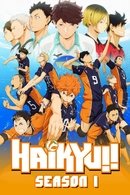 Haikyu!! 2014 | 25 Episodes
Haikyu!! of Haikyu!! premiered on Apr 06, 2014.
A chance event triggered Shouyou Hinata's love for volleyball. His club had no members, but somehow persevered and finally made it into its very first and final regular match of middle school, where it was steamrolled by Tobio Kageyama, a superstar player known as "King of the Court." Vowing revenge, Hinata applied to the Karasuno High School volleyball club... only to come face-to-face with his hated rival, Kageyama!
Cast..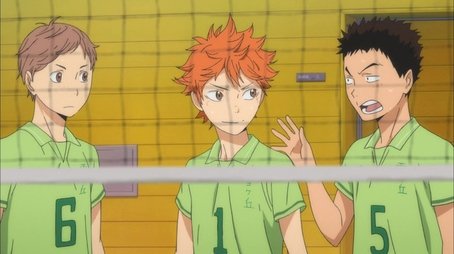 1 - The End & The Beginning 8.52014-04-06
Hinata Shoyo is enamored with volleyball; he is in the 3rd year of middle-school, and will not be discouraged by the fact that he has no teammates to play with. He finally scrapes together a team to enter his first and last official tournament.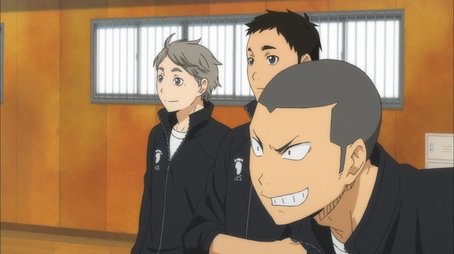 2 - Karasuno High School Volleyball Club 92014-04-13
Before starting high school, Hinata had sworn revenge against Kageyama of Kitagawa Daiichi. But strangely enough he encounters the "king of the court" again, but this time in the gym of Karasuno High School. Their head-butting is unrelenting and they start their own match, but the third-year captain Sawamura disallows them from participating in the volleyball club until they learn to show team spirit. What now?
3 - The Formidable Ally 102014-04-20
Hinata and Kageyama are challenged to a match against fellow first-years, with the aid of second-year Tanaka. While they practice for the match early one morning, Hinata demands Kageyama to give him a toss, to which Kageyama responds: "I don't think you're essential in winning," and refuses to toss him the ball.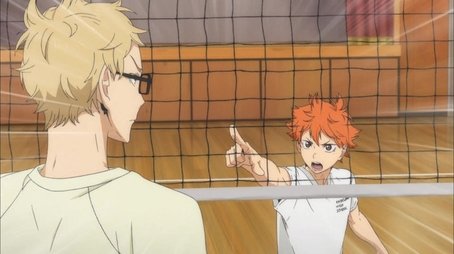 4 - The View from the Summit 102014-04-27
Hinata and Kageyama have second-year Tanaka on their side of the three-on-three match against first-years Tsukishima and Yamaguchi and third-year team-captain Sawamura. Tsukishima keeps razzing Kageyama, but is a high wall of defense to overcome.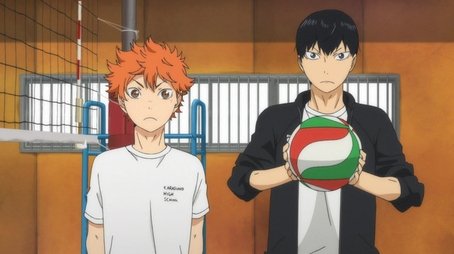 5 - A Coward's Anxiety 102014-05-04
Kageyama is improving his natural skills as setter, and Hinata has natural speed and spring. When the two of them get synched, their combination brings them victory in the three-on-three match. So they are officially accepted as members of the Karasuno High School Volleyball Club.
6 - An Interesting Team 102014-05-11
Karasuno High School Volleyball Club has challenged Aoba Johsai High School to a practice match. But even before the match begins, Hinata's anxiety level reaches maximum. And Kageyama has a "reunion" with his ex-teammate Kindaichi, who now attends Aoba Johsai.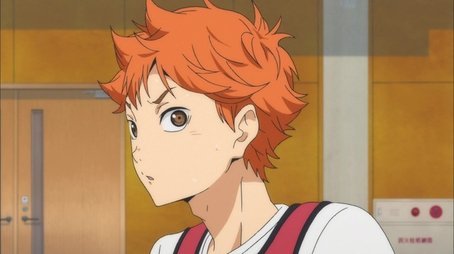 7 - Versus the Great King 102014-05-18
The Hinata-Kageyama combo is back in form again, they won the next set, Karasuno has cornered Seijoh, and they're one step closer to victory. But at that time, Seijoh's captain Oikawa who was out on hiatus visits the court. How does Karasuno respond to super-offensive setter Oikawa's powerful serves?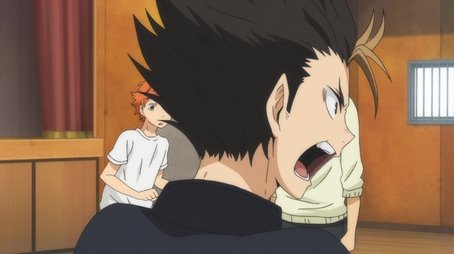 8 - He Who is Called ''Ace'' 102014-05-25
His term of suspension having been served, second-year Nishinoya, the "guardian god" of Karasuno Volleyball Club shows up to among club-members during practice. On the other hand, Takeda is acutely aware of the need of a coach after the Seijoh match. He tenaciously requests Ukai Keishin, grandson of the illustrious coach Ukai, to coach the team. However...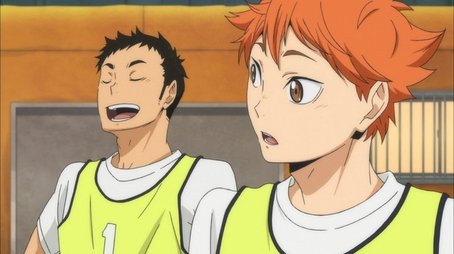 9 - A Toss to the Ace 102014-06-01
On occasion of the practice-match against Nekoma, Sawamura tries to convince Azumane Asahi to return to the volleyball club. But Asahi refuses because he says he's lost face with Sugawara and Nishinoya. Meanwhile, Keishin, who has deep connections to Nekoma, is told by Takeda about the upcoming practice-match.
10 - Yearning 102014-06-08
The practice match between Karasuno and the Neighborhood Association continues with Karasuno down 1-0. Ukai manages to see firsthand how Hinata can be the ultimate decoy and learns how quickly Kageyama and Hinata have grown together as a duo. He also witnesses firsthand how Hinata's speed is difficult to keep up with. However an off-speed serve allows the Neighborhood Association to get four straight aces and take a 24-18 lead. On the final point Ryuunosuke finally gets the chance to spike, but Yu manages to save the spike, and Azumane ends the game with a killer spike. Now Ukai must decide whom the regular starters will be. One thing is for certain, the duo of Kageyama and Hinata seem to have their fates tied together. Will they be in the starting lineup, or will they come off the bench. Ukai also decides practice for the first and second years will focus mainly on receiving serves to address the teams biggest weakness.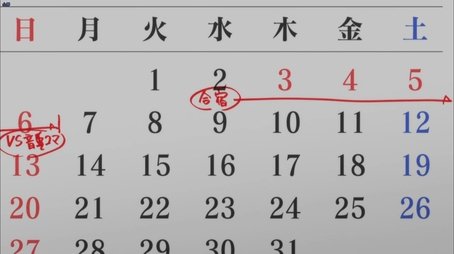 11 - Decision 102014-06-15
Karasuno heads off to training camp. During a jog on one of the days Hinata gets lost and runs into a volleyball player in a red jersey named Kenma. Before Kenma reveals which team he plays for one of his teammates shows up and leads him off to a practice match. After hesitating to decide a starting lineup, Ukai goes with Sawamura, Yu, Azumane, Ryuunosuke, Tsukishima, Kageyama, and Hinata. Ukai reveals in the past Nekoma hasn't had outstanding players, but they have been a team that thrives on receives and kills. Karasuno's players receive their jerseys, and Hinata has the number 10, the same number as his idol the "Little Giant." He learns the Little Giant was on the only Karasuno team that has made nationals and thinks it is fate. Finally it's practice gameday. Nekoma and Karasuno line up outside and meet each other face-to-face.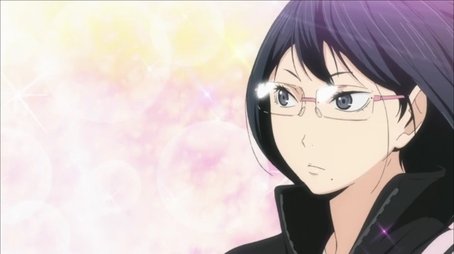 12 - The Neko-Karasu Reunion 02014-06-22
Nekoma and Karasuno begin their match with Kageyama and Hinata connecting on a quick attack that gives Karasuno the 1-0 lead. Nekoma realizes they're up against a genius setter, so they decide to start marking Hinata. Hinata's blocker gets used to his speed and feints and begins to start blocking his shots, allowing Nekoma to win the first set 25-22. However Kageyama uses the opportunity to teach Hinata how to do a straight attack and how to use his eyes to find the holes in the opponents defense. Hinata ends up managing to change his spike path in mid-air during set 2. It ends up going long, but Hinata realizes he has a new dangerous weapon to go along with his quick attack if he can master it.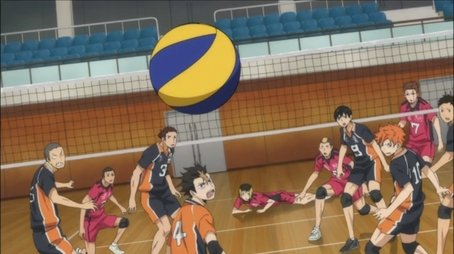 13 - Rival 102014-06-29
Nekoma and Karasuno play the second set to an epic 25-23 showdown, but in the end Karasuno falls just short. However the two schools reform a rivalry that is better than time could imagine. The two come to realize they each have similar personalities on their teams, and they each have first years with goals and ambitions. Best of all they realize they are starting to unite as a team. Despite being thoroughly crushed, Karasuno vows to get revenge on the national stage. In the end Ukai agrees to become the Karasuno regular full-time coach.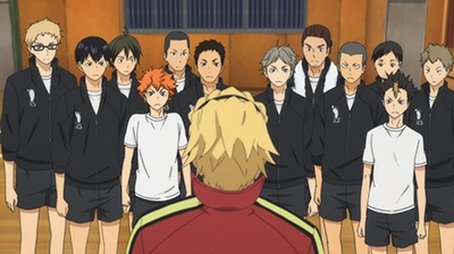 14 - Formidable Opponents 102014-07-06
The bracket for the Inter-High is announced. Karasuno has its final practices and works on back-end spikes and signals. The lost Karasuno flag that says Fly is revealed. Hinata and Kageyama reveal they've had a race every morning to the gym since they've been teammates. Kageyama currently leads 32-30, but Hinata vows to defeat him in every way possible until they can faceoff in a match against each other again. Yamaguchi secretly works on mastering the jump float serve so he won't be the only first year without an ability to contribute to the team. Ukai begins farming in the morning as another source of income for the family store.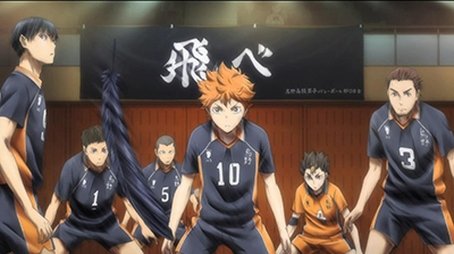 15 - Revival 102014-07-13
Karasuno arrives for their first matches on both the men's and women's sides of the tourney. On the men's side people talk about how Karasuno did well in the past bu they were now crashed ravens. On the women's side they contemplate how they should have practiced more. Aoba Johsai watches from the stands and wonders how the addition of a coach and two new players will change Karasuno's attack. As the match begins Kageyama sets to Ryuunosuke for the quick spike and kill. The second point goes to the ace, Azumane. Finally the quick attack of Kageyama and Hinata is unveiled on the third point. It is only set 1. Karasuno now leads 3-0, but others have just realized that Karasuno is back and possibly better than ever.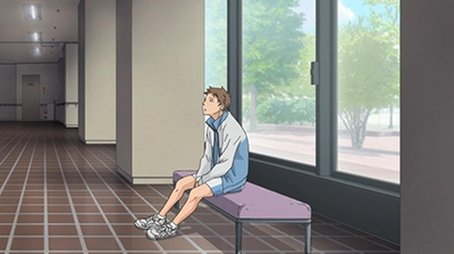 16 - Winners and Losers 102014-07-20
Karasuno's boys team wins set one 25-12, but the Captain's old friend delivers one phrase that makes Karasuno stay serious for set 2. Kageyama gets five quick service aces, and Karasuno's boys team wins set two 25-14. The girls team isn't so lucky as they fall in two sets and wonder what they could've done to be able to keep playing. After some promises are made to those who have lost, Karasuno's freshmen learn how just three months before Karasuno was shutdown by Dateko, their second round opponent. Ukai goes with the same lineup from game 1 and Yu deleivers a speech that boosts the morale of the upperclassmen. It's now time for match 2. Can Karasuno find a way to defeat the Iron Wall of Dateko?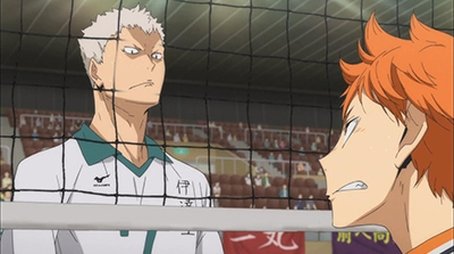 17 - The Iron Wall 102014-07-27
Dateko and Karasuno battle it out in the second round. Dateko's giant reveals he is targeting Hinata, forcing Kageyama to reveal the super quick attack. The super quick attack seems to give Karasuno a slight advantage, allowing them to take an 18-16 lead. When the giant targets Hinata on a super quick attack, Karasuno is able to reveal their last ace. Karasuno perfects their version of Nekoma's "The Pipe" by getting a delayed set to Azumane, who is set up behind Hinata. Karasuno has now played all their trump cards, or so everyone else thinks. Does Karasuno still have one trick left from the bench?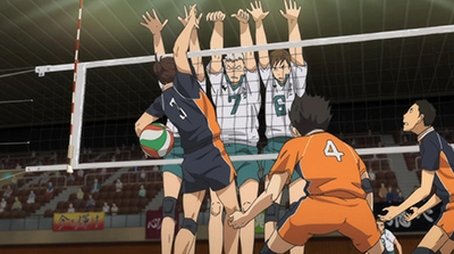 18 - Guarding Your Back 102014-08-03
Karasuno manages to get on a roll in set 1 and steals the game 25-21. For set two they perform a double rotation to get Hinata away from the Giant #7. While this free's up Hinata for more quick attacks, it also means the matches result will rely heavily on Azumane's ability to blast through the Iron Wall as he faces #7. When Hinata becomes the vanguard up front, Karasuno is able to slowly increase their lead. However Hinata rotates to the back with the score 24-22. Should they go to a third game, Karasuno knows they will be at a disadvantage. It all relies on Azumane's skills to get past the wall. As the match ends and Karasuno is leaving the gym, they look over to see Aoba Johsai is up 24-13 in their 1st round match first set.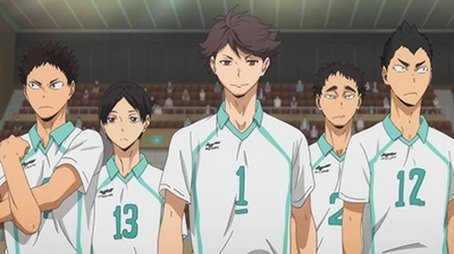 19 - Conductors 102014-08-10
Karasuno observes Aoba Johsai's second match and decide to focus on attacking Noya, especially after a local tv interview focuses solely on Noya's skills. The match takes place the next day, and Karasuno seems to be more motivated than ever. Noya does a quick setter dump to give Aoba Johsai a 1-0 lead, and he follows it up with a fake dump serve giving them a 2-0 lead. However Kageyama reveals he has tricks of his own that haven't been revealed and pulls a server dump off right back cutting the lead down to 2-1.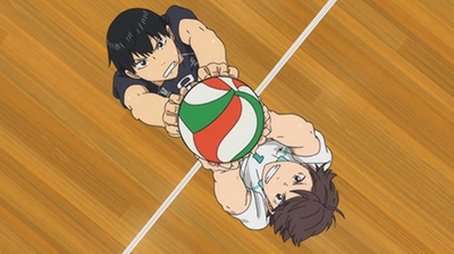 20 - Oikawa Toru Is Not a Genius 02014-08-17
Oikawa and Kageyama continue to match up head-to-head a s they try to prove whose the superior setter. Their junior high days competing against each other are shown, and when Aoba Johsai begins to predict Kageyama's moves a shocking move is made as Sugawara is subbed in for Karasuno. Will this be a blow for Kageyama's ego that he can't overcome?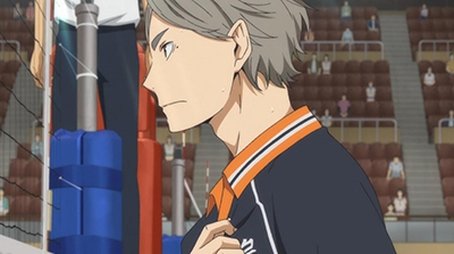 21 - Senpai's True Abilities 02014-08-24
Sugawara subs in for Kageyama, sealing the first set for Aoba Johsai. Kageyama is shocked as he watches the real ability of Sugawara in setting. Sugawara gives his best to set. Aoba Johsai is shocked when Hinata didn't speak or call for the sets that Aoba Johsai knows. Karasuno takes the lead in set 2, but Oikawa's predictions start coming true and allow Aoba Johsai back into the match.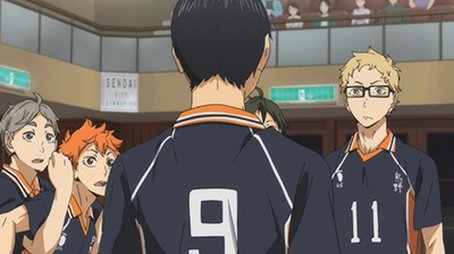 22 - Evolution 02014-08-31
After being subbed back in Kageyama begins to try to communicate with each of his teammates. He begins to learn where the best setting point is for each of them, and Tsukishima comes up with a new attack that proves Karasuno can be a threat from all fronts.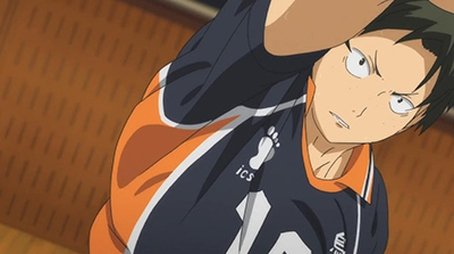 23 - The Point that Changes the Momentum 02014-09-07
Aoba Johsai begins to pull away in set 3, forcing Coach Ukai to make some drastic decisions. Yamaguchi is subbed in as an ace server, but the pressure proves to be too much to overcome. A service error occurs, but the error allows Karasuno to calm down and climb back within two.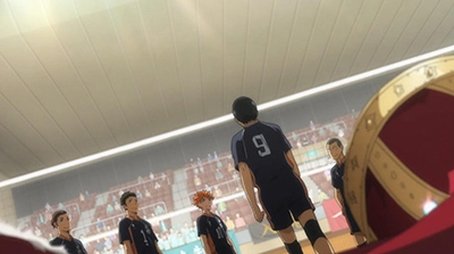 24 - Removing The Solitary King 02014-09-14
Kageyama begins to match Toru point for point. The teams become dead even at 25 a piece. Long sets begin to drain both teams, and Toru acknowledges that Kageyama has realized what teamwork is all about and is no longer the solitary king. The game winning points are shown.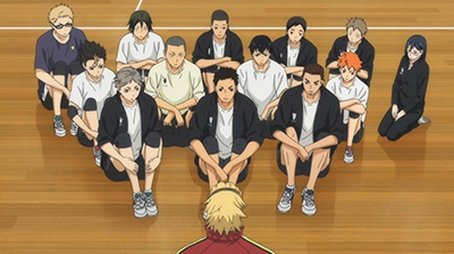 25 - The Third Day 02014-09-21
After suffering a heartbreaking loss to Aoba Johsai, the third years must decide if they will retire or participate in the spring tournament. Kageyama and Hinata vent their frustration on the court after their practice has been cancelled. The winner of the fall tournament is revealed, and Karasuno begins their first real practice to get ready for the spring tournament.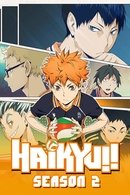 Haikyu!! Second Season 2015 | 25 Episodes
Haikyu!! Second Season of Haikyu!! premiered on Oct 04, 2015.
After losing against Aoba Jousai, the whole Karasuno team feels at a loss. Especially Kageyama and Hinata, who seem to be the most devastated about the defeat. However, the team soon cheers up when a chance for them to go to Tokyo appears. During their training camp there, Karasuno will meet new formidable opponents.
Cast..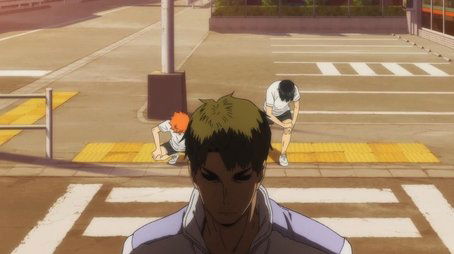 1 - Let's Go To Tokyo!! 02015-10-04
After losing in Interhigh, Karasuno High is busy practicing. As Coach Ukai wishes for more practice matches for the team, Ittetsu Takeda barges in with great news: Karasuno has been invited to take part in Nekoma's training camp! Kageyama and Hinata get lost during a run and ends up meeting with Shiratorizawa Academy's Ushijima. After Ushijima claims that the only good player from Aobajōsai High is Oikawa, Hinata challenges him.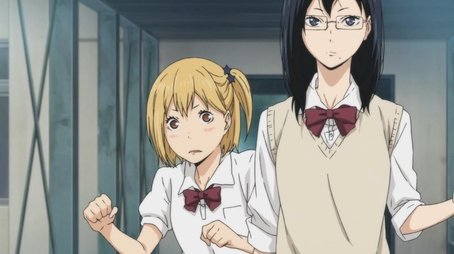 2 - Direct Sunlight 02015-10-11
Hinata, Kageyama, Nishinoya, and Tanaka are devastated by the possibility of not going to Tokyō if they fail any of their exams. When forced to study, the second years go to Tanaka's place, but Kageyama and Hinata are having a harder time with their reluctant tutor, Tsukishima. Luckily, Hitoka Yachi, the new manager Shimizu is trying to draft, proves more helpful at teaching the duo.
3 - Townsperson B 02015-10-18
Yachi feels conflicted about joining the volleyball team, but after watching their practice match against Ōginishi High, she begins to see the charm of the team. However, she is having a difficult time expressing her feelings to her mother, afraid that she might disapprove. Luckily, Hinata helps her overcome it by showing to her that even a small role such as a "Townsperson B" can be great.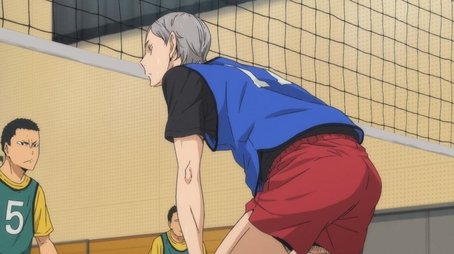 4 - Center Ace 02015-10-25
After Hinata and Kageyama finish their supplementary exam, Saeko Tanaka takes them to join Karasuno team at Tokyo training camp. Now they're on the team, Karasuno wins their first match on the day; however Eikichi from Shinzen High manages to touch on Hinata's quick's. Later on, Hinata meets the half Russian player from Nekoma Lev Haiba; Lev promises him that he will be the first one to stop his quick.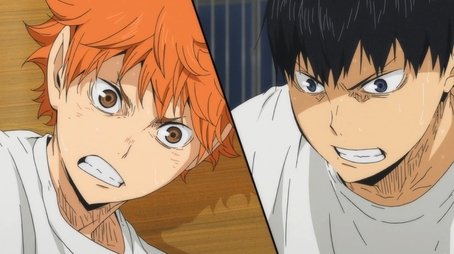 5 - Greed 02015-11-01
The second day of the Tokyo away games. Karasuno isn't able to get a single set against Nekoma, especially with their new player. Hinata and Kageyama's weirdo quick doesn't seem to work on the new Nekoma or the other powerhouse schools for long. Seeing this, Hinata makes a decision...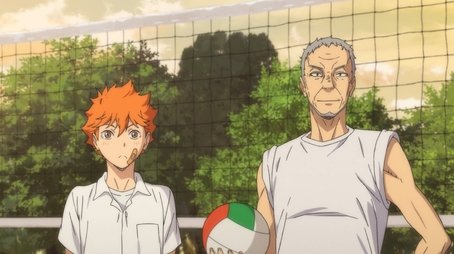 6 - Tempo 02015-11-08
Hinata and Kageyama are at oddds. Keishin decides to take Hinata to his grandfather, who lead Karasuno to the nationals. Meanwhile, Kageyama runs into...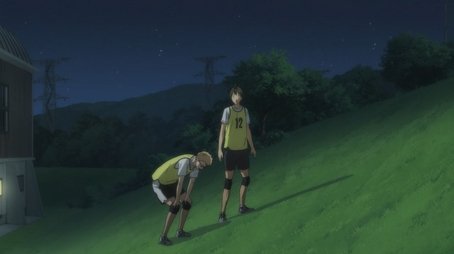 7 - Moonrise 02015-11-15
In order to achieve a new form, Hinata and Kageyama start practicing on their own. The other members of Karasuno have also started practicing on their own to better themselves, and they have shown some evolution. However, Tsukishima seems indifferent about change and one day after practice, he is asked to serve as blocker...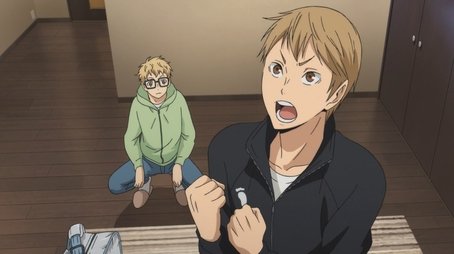 8 - Illusionary Hero 02015-11-22
Tsukishima begins to think that he shouldn't put so much effort in training anymore like his brother did, to avoid being disappointed if he fails. Despite practicing very hard, Akiteru failed to become a regular player for Karasuno due to the number of more talented players on the team, including Hinata's idol, the "Little Giant".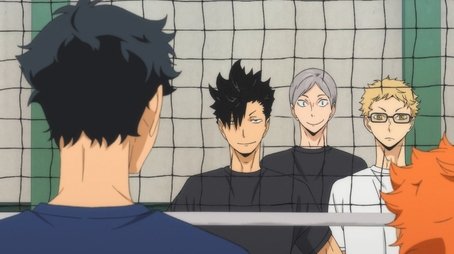 9 - VS "Umbrella" 02015-11-29
The members of Karasuno continue to strengthen the new things they've learned while at the Tokyo training camp. However, Hinata and Kageyama still can't get their quick down. Kageyama is anxious about Hinata losing his spirit and tries to do a normal toss during a practice match, but...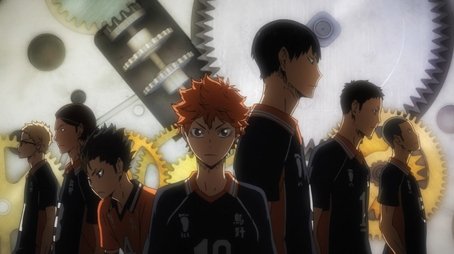 10 - Cogs 02015-12-06
The week-long training camp is finally on its last day. Karasuno's final opponent is Fukurodani High School, and they're determined to win at least one set against the powerhouse school. Are they going to be able to show the fruits of their labor?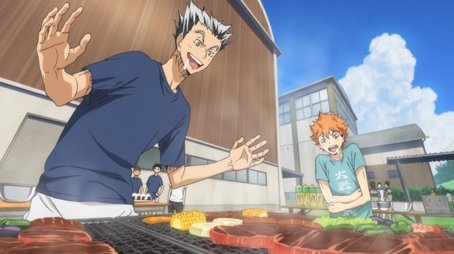 11 - Above 02015-12-13
The training camp comes to a close with a barbeque battle. Bokuto talks about rivals from all over the country and the prepare for the upcoming Spring Miyazaki Prefectural Tournament.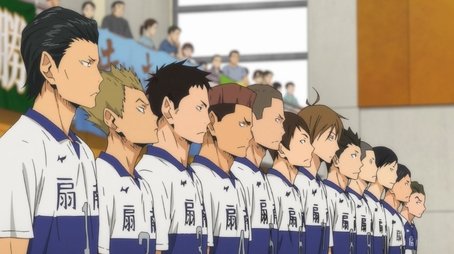 12 - Let the Games Begin! 02015-12-20
The first day of the Spring Tournament Miyagi qualifier is finally here. Hinata tries to trush to the bathroom, but he runs into Ohgi Minami's Towada, who plays on the team they're up against first. With various feelings in their hearts, the battle towards nationals begins.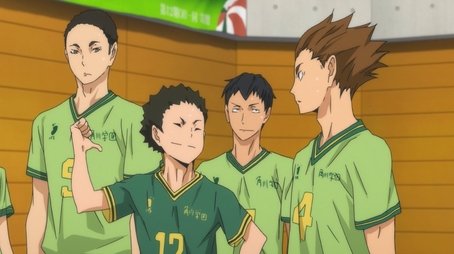 13 - A Simple and Pure Strength 02015-12-27
Their first match to get through to the qualifiers is a match against Kakugawa High School. At the center of Kakugawa's team is a first-year named Hyakuzawa, who is 2 meters tall. At first, Karasuno has trouble dealing with Hyakuzawa's immense power and height, but...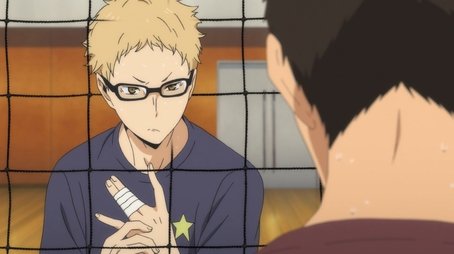 14 - Still Growing 02016-01-10
Just about 2 more months until the qualifiers. Tsukishima's brother invites him to practice with his own team, Kageyama goes to observe a certain team, and Hinata and Kenma promise to have a match that they wouldn't be able to repeat.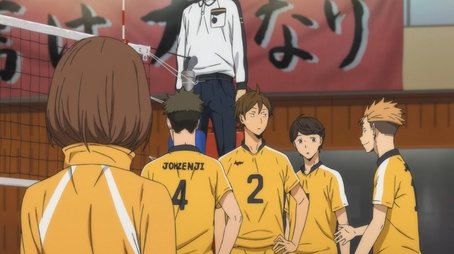 15 - Place to Play 02016-01-17
Karasuno is finally playing in the qualifier prelims. Their first opponent is the 4th best team from the Inter-High prelims, Johzenji High School. Their motto is to play. What will Karasuno do against their rather unconventional playing method?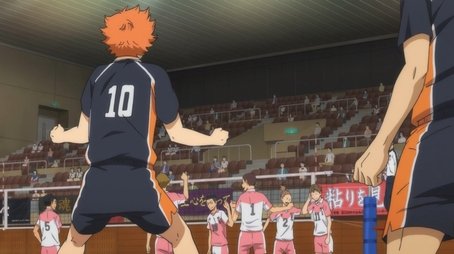 16 - Next 02016-01-24
Johzenji's carefree rhythm almost breaks Hinata and Kageyama, but they manage to regain their cool with Sawamura's help, and continue the match. Meanwhile, Johzenji's manager, Misaki, tells the team how she really feels about them.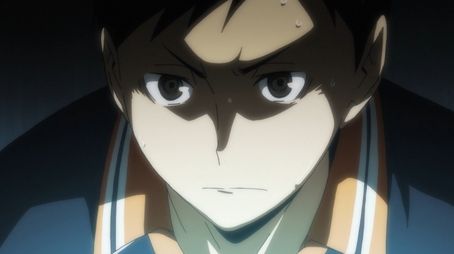 17 - The Battle Without Will Power 02016-01-31
The second ta of the Miyzaki qulifier prelims, and both teams give it their all from the very beginning of the game. Meanwhile, Karasuno's fearless leader, Sawamura, is hit with an accident, putting Karasuno in a pinch. The one who stepped up in the time of trouble was...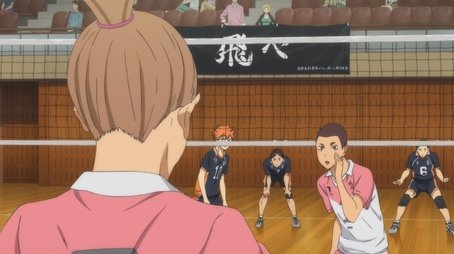 18 - The Losers 02016-02-07
Karasuno can't get back into rhythm without Sawamura, and are having a hard time playing to their full potential. Meanwhile, Hinata battles it out in the air with Wakunan's ace, who has a similar playing style to the Little Giant.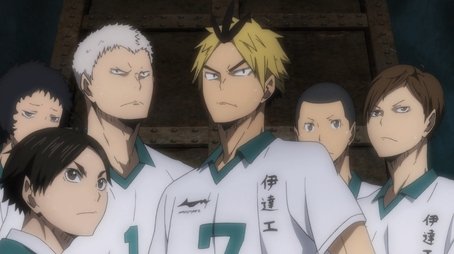 19 - The Iron Wall Can Be Rebuilt Again and Again 02016-02-14
Karasuno manages to make it to the semi-finals. Which ever team wins the match between Aoba Johsai and Date Tech will be their next opponent. Date Tech was considered to be the underdog against Oikawa and Aoba Johsai, but they have a new strength on their side...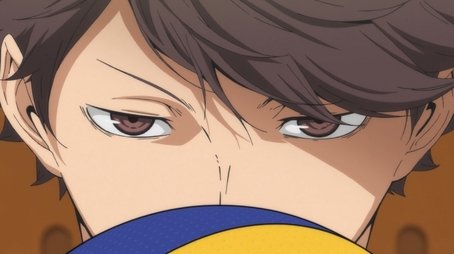 20 - Wiping Out 02016-02-21
The semi-finals of the Spring Tournament. The ones that Karasuno has to face are their bitter rivals at Aoba Johsai High School. Getting over their past loss, they try to reach the finals. A battle with the new Karasuno is about to start.
21 - The Destroyer 02016-02-28
Karasuno is facing a completely different Seijoh now that they've called in Kyotani. Karasuno can't seem to gt their rhythm together, meanwhile, Seijoh seems to pick themselves back up. When the flow of the game seems like it's going to change drastically, Karasuno...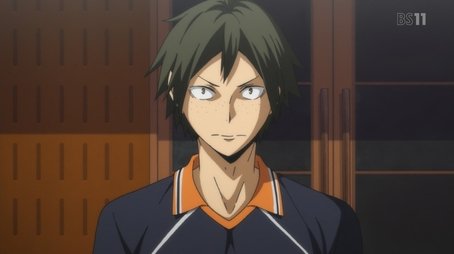 22 - The Former Coward's Fight 02016-03-06
As Seijoh takes the flow of the game, Keishin sends Yamaguchi out as a pinch server. Yamaguchi ran away from the Wakunan match, but now is he able to turn around this match?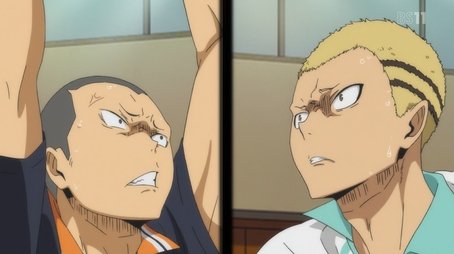 23 - Team 02016-03-13
The final set of the qualifier semi-finals continues with Karasuno and Seijoh. As the teams go neck and neck, both teams put everything they have into this final set.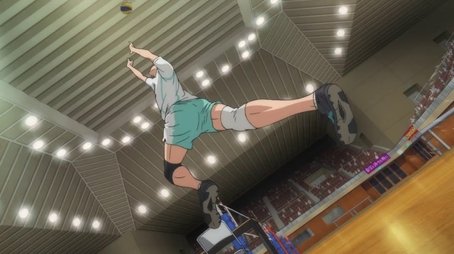 24 - The Absolute Limit Switch 02016-03-20
Neither team is willing to let the other team get ahead. They're both reaching their limit, yet the match continues. They proceed into the final battle to determine who will make it to the finals.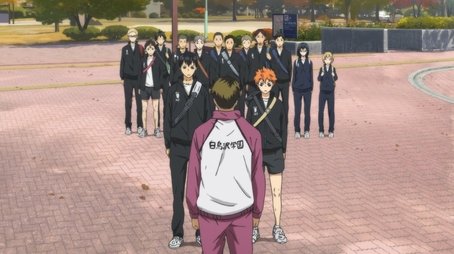 25 - Declaration of War 102016-03-27
After defeating their fated rivals, the Karasuno High School Volleyball Club finally move on to the finals of the Miyazaki Prefecture Qualifiers of the Spring Tournament. They will be facing the strongest school in the prefecture, Shiratorizawa Academy. Their battle for the "absolute king" in order to get the one ticket to nationals beings!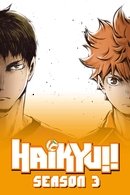 Haikyu!!: Karasuno High School vs Shiratorizawa High School 2016 | 10 Episodes
Haikyu!!: Karasuno High School vs Shiratorizawa High School of Haikyu!! premiered on Oct 07, 2016.
After the victory against Aoba Jousai High, Karasuno High School, once called "a fallen powerhouse, a crow that can't fly," has finally reached the climax of the heated Spring tournament. Now, to advance to nationals, the Karasuno team has to defeat the powerhouse Shiratorizawa Academy. Karasuno's greatest hurdle is their adversary's ace, Wakatoshi Ushijima, the number one player in the Miyagi Prefecture, and one of the country's top three aces. Only the strongest team will make it to the national tournament. Since this match is the third-year players' last chance to qualify for nationals, Karasuno has to use everything they learned during the training camp and prior matches to attain victory. Filled with restlessness and excitement, both teams are determined to come out on top in the third season of Haikyuu!!.
Cast..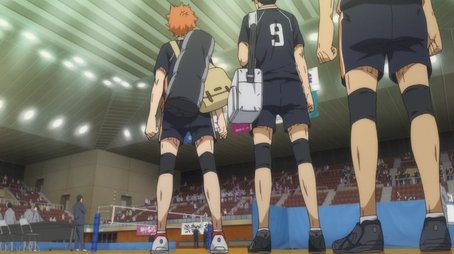 1 - Greetings 02016-10-07
This year's 16th issue of Shueisha's Weekly Shonen Jump magazine is announcing on Saturday that the third television anime season based on Haruichi Furudate's Haikyu!! volleyball manga has been green-lit for this fall.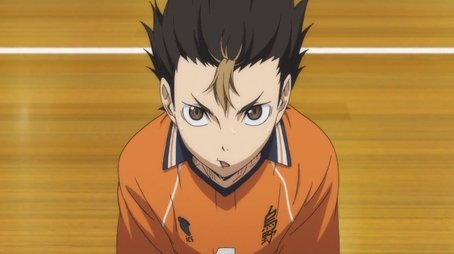 2 - The Threat of the Left 02016-10-14
The Miyagi Prefecture Qualifier finals of the Spring High School Volleyball Tournament. From the very beginning of the match, Ushijima attacks with his powerful spikes. Because he's not used to left-handed attacks, their Guardian Deity, Nishinoya, has a hard time receiving them. What is Karasuno's plan to deal with the mounting point difference?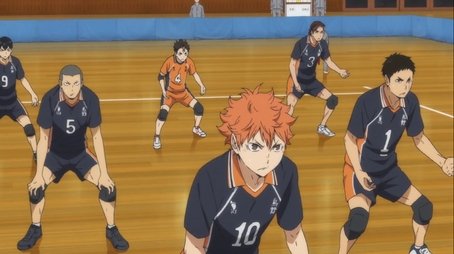 3 - Guess-Monster 02016-10-21
Underway into the second match, Karasuno tries to attack, but Shiratorizawa's middle blocker is a Guess Monster. Using fast intuition, he keeps blocking all of their attempts. As he blocked Karasuno's spikes one after another, Tsukki calmly assesses the situation for a counter-attack.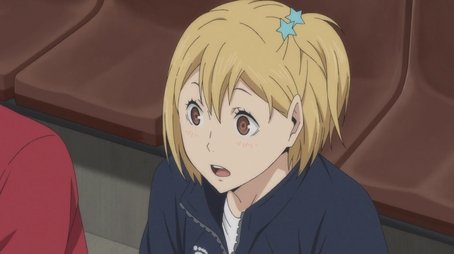 4 - The Halo Around the Moon 02016-10-28
Thanks to Tsukki and Nishinoya's blocking, Karasuno comes back at the end of the second set. It is a heated battle in the end, resulting in multiple deuces... Who will score the final point?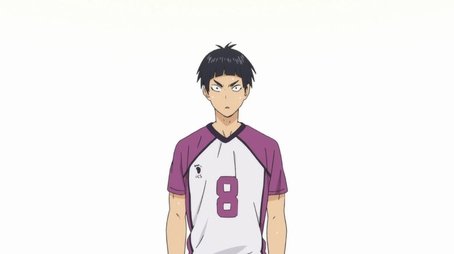 5 - Individual vs. Numbers 02016-11-04
As the third set starts, the bout is tied at 1-1. Attempting to seize momentum after stopping Ushijima, Karasuno tries to stay aggressive. However, Shiratorizawa's setter, Shirabu, seems unfazed by the loss of the second set and swings momentum back to the undefeated champions.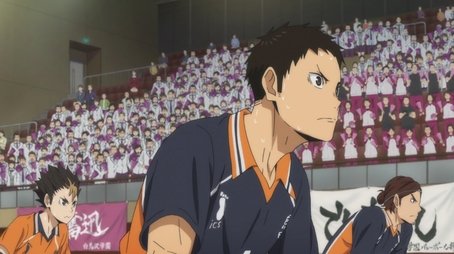 6 - The Chemical Change of Encounters 02016-11-11
Karasuno finds themselves against a wall as Shiratorizawa wins their second set easily. Needing a push, Hinata ups his defense and the two teams battle it out..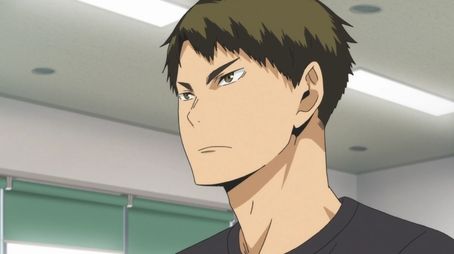 7 - Obsession 02016-11-18
Karasuno manages to win the fourth set. The fifth set begins, but has a different set of rules: whoever gets 15 points first wins. Keishin sees that Kageyama is exhausted, and switches him out with Sugawara. Determined to hold up his end, Sugawara shows how he has improved.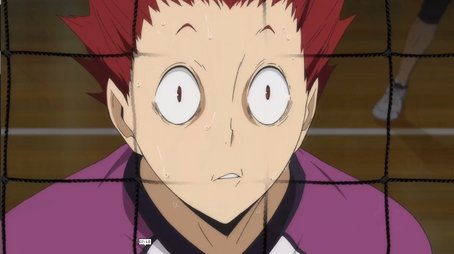 8 - An Annoying Guy 02016-11-26
Tsukki injures his hand and has to leave for medical attention, which causes Karasuno's blocking to weaken. Karasuno steps up their attacks in his absence. Hinata's play finally makes Ushijima feel like he's worth playing against.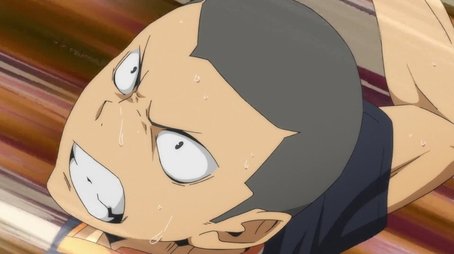 9 - The Volleyball Idiots 02016-12-02
Just as Shiratorizawa gets to match point, Karasuno regains spirit as Tsukki returns to the court.. Players on both teams are at the end of their ropes, but they continue to give their all to the last part of the match!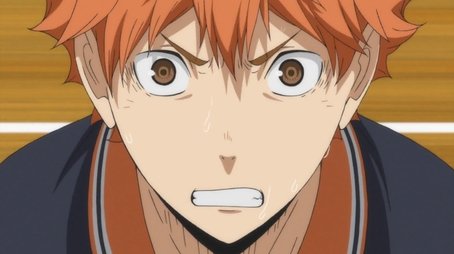 10 - The Battle of Concepts 02016-12-09
The battle goes well beyond 15, as the fifth set for both teams enters the 20's. Shiratorizawa shows off individual strengths, and Karasuno continues to show the strength as a team. In a battle of volleyball philosophy, Karasuno and Shiratorizawa fight for who moves on to Nationals.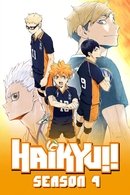 Haikyu!!: To the Top 2020 | 25 Episodes
Haikyu!!: To the Top of Haikyu!! premiered on Jan 11, 2020.
After their triumphant victory over Shiratorizawa Academy, the Karasuno High School volleyball team has earned their long-awaited ticket to nationals. As preparations begin, genius setter Tobio Kageyama is invited to the All-Japan Youth Training Camp to play alongside fellow nationally recognized players. Meanwhile, Kei Tsukishima is invited to a special rookie training camp for first-years within the Miyagi Prefecture. Not receiving any invitations himself, the enthusiastic Shouyou Hinata feels left behind. However, Hinata does not back down. Transforming his frustration into self-motivation, he boldly decides to sneak himself into the same rookie training camp as Tsukishima. Even though Hinata only lands himself a job as the ball boy, he comes to see this as a golden opportunity. He begins to not only reflect on his skills as a volleyball player but also analyze the plethora of information available on the court and how he can apply it.
Cast..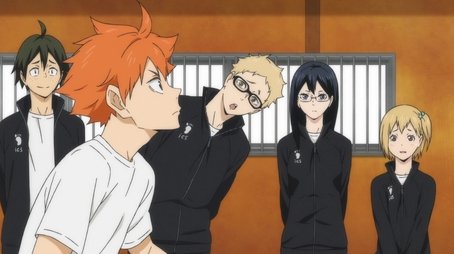 1 - Self Introduction 82020-01-11
In preparation for Spring Nationals, the boys' measurements are taken, invoking friendly competition amongst the team. Kageyama is invited to the All-Japan Youth Training Camp, while Tsukishima is invited to the first-year only prefecture-wide training camp. In a fit of jealousy, Hinata sneaks into Tsukishima's camp. Despite the initial confusion, Shiratorizawa's coach allows Hinata to attend the camp as a ball boy to test his skills independent of Kageyama.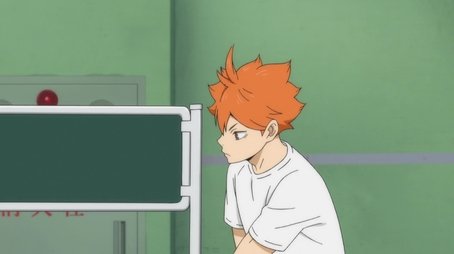 2 - Lost 02020-01-18
Hinata was lectured after causing trouble by Sawamura Daichi, Coach Ukai and his school Teacher Advisor's Takeda, who said "He who climbs the ladder must begin at the bottom". Back at Shiratorizawa, Hinata observes the practice session as a ball boy. A surprise match against Shiratorizawa's third years and alumni was set up for the camp participants. In between sets, Hinata took a moment alone in the equipment room.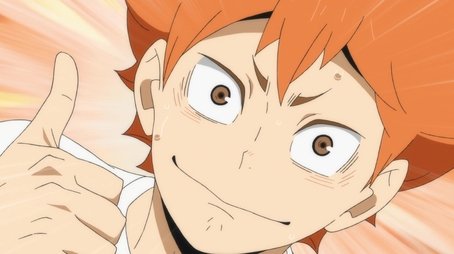 3 - Point Of View 02020-01-25
With Coach Ukai's advice in mind to not go underestimating what it takes to be a ball boy, Hinata comes out with a clearer mind. Hinata works on receiving the ball in different ways by reading the spikers' form, a skill that he learned in middle school. For personal training, Hinata volunteers to be on the receiving side in an effort to practice his split form. Back at Karasuno High, the boys had a practice match with Tokonami High while they practicing on their serves, realizing that they preferred to do the penalty whether they win or lose. Kageyama continues his practice at National Youth Camp and subconsciously set his toss higher than usual.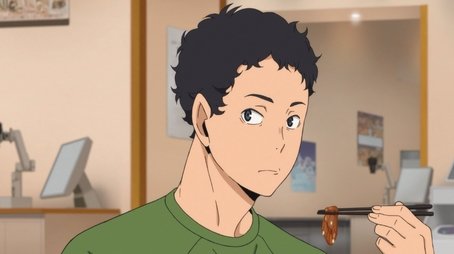 4 - Take it Easy 02020-02-01
Tsukishima surprised Hinata by joining the Blocking Practice session. At the National Youth Camp, Kageyama had been the most reserved attendee. Sakusa is curious about the Karasuno-Shiratorizawa qualifying match. Later, he was challenged by another setter, Miya Atsumu. Back in Shiratorizawa, Tsukishima realised that he isn't the tallest in the group. He tries to find various tactics to block future spikers in the upcoming national tournament. As a ball boy, Hinata has been observing Kunimi's characteristics. Being the newest and the tallest attendee, Hyakuzawa from Kadokawa High couldn't keep up with the training. Hinata is able to encourage him by telling him to take things easy which helps Hyakuzawa on track with his training.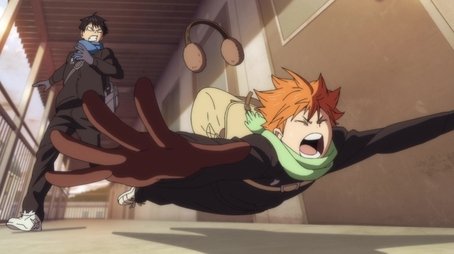 5 - Hunger 02020-02-08
As a ball boy, Hinata has been observing each player, mirroring their playing styles and asking numerous questions about volleyball. In Tokyo, Kageyama has been exposed to various positions aside from being a setter and has made acquaintances who he will see at nationals. Back at Karasuno, the boys have been practicing on their serves. Takeda has been contacting various schools for practice matches before the Spring tournament. The next morning, Kageyama and Hinata reunite. Kageyama is pleasantly surprised that Hinata has been a ball boy at the camp and they both share information about the attendees. The team finds out that Date Tech will be the first school on the list for Karasuno.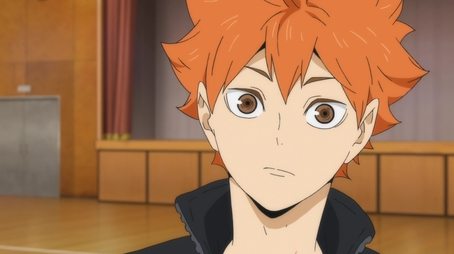 6 - Enhancements 02020-02-15
On their first day back, the boys practiced on their serves. Kinoshita is able to float serve while Yamaguchi has yet to master a jump serve. Hinata surprised everyone by being able to receive Kageyama's powerful serve. For personal training, Kageyama coaches Hinata on his jump technique by using Hoshiumi as his reference. Date Tech comes over to Karasuno for a friendly match. The boys face various new challenges from Date Tech's newly evolved "Iron Wall" defense.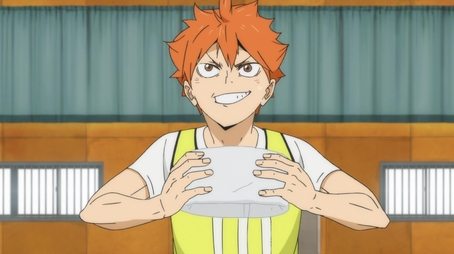 7 - Return 02020-02-22
Kageyama have been on the edge since his return from Tokyo. He refrained his old habits by being silence. Hinata managed to ease the tension by reminding Kageyama of his growth since they met. Coach Ukai used this opportunity to encourage the team to have effective communication. Later, Kageyama experimented his tosses with Tsukishima to break through the "Iron Wall".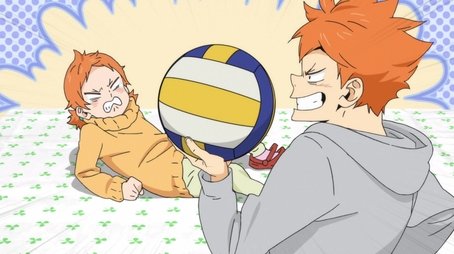 8 - Challenger 02020-02-29
The practice match against Date Tech is now into the fourth set. Coach Ukai decides on Kinoshita after seeing him hiding and avoiding eye contact. Coach Ukai encourages Kinoshita by acknowledging his ability to score but warns him not to pull the vanishing act again. Karasuno continues to employ their newly learned techniques and finds them effective even against the iron wall. Ultimately, Asahi breaks through three blockers to clinch the final set, resulting in both teams having 4 wins and 4 losses.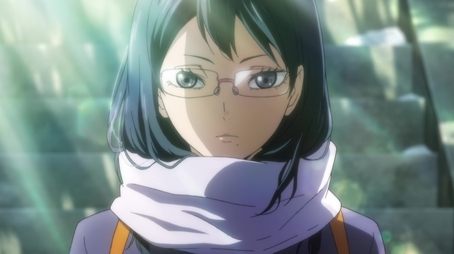 9 - Everyone's Night 02020-03-07
It's New Years Day. Daichi is on edge due to the incoming Spring Inter-high, but a day of spending time with his teammates and friends helps him calm down. The team has arrived in Tokyo for nationals. After getting some practice in at a local gymnasium, the team settles down at their lodging, where each member spends the last night ahead of the big day in his or her own ways. The day after, Karasuno reunites with Nekoma, Fukurōdani, and some other familiar faces at nationals.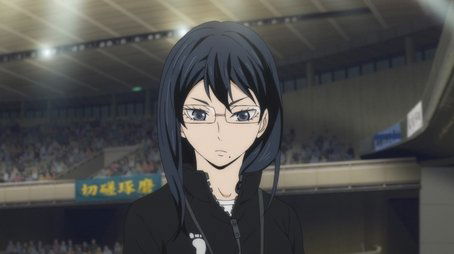 10 - Battle Lines 02020-03-14
A minor crisis strikes when Hinata's shoes suddenly go missing before the team's first game. Kiyoko embarks on the task of retrieving the shoes as she remembers how she first became the manager of the team and the bonds that have been formed. Karasuno faces Tsubakihara Academy in their first game and another crisis takes place when Kageyama seems to be off his game.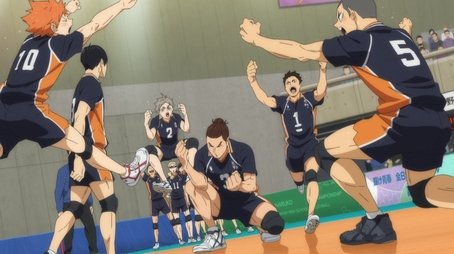 11 - A Chance To Connect 02020-03-21
With Kageyama back on track, Karasuno begins to power through the rest of the set and show they are not to be underestimated. At the same time, the Tsubakihara team starts doing all they can to ensure that they did not come to the Spring Tournament as mere participants.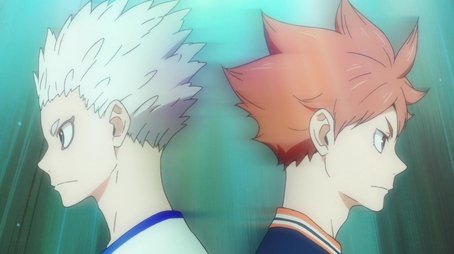 12 - Vivid 02020-03-28
Karasuno has won their match and are advancing to the second round of the Spring Tournament. The Fukurōdani team hit a snag in their game when Bokuto falls into a depressed state and Akaashi does what he can to bring the ace back to top form.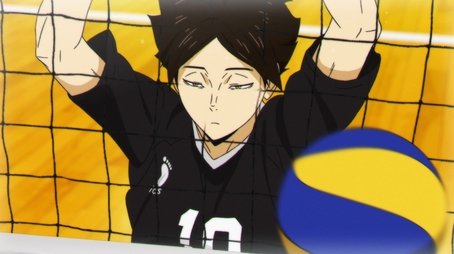 13 - The Second Day 02020-04-04
The night before the second day of nationals, Karasuno prepares to play against their next opponent. It turns out they are facing the runner-up of the Interhigh Tournament, Inarizaki High. Coach Ukai briefs the team about the players to look out for, especially Atsumu Miya who attended the Youth Training Camp with Kageyama. Karasuno quick realizes they are in for an incredibly tough match, but things get worse when they found out that Atsumu Miya has a twin.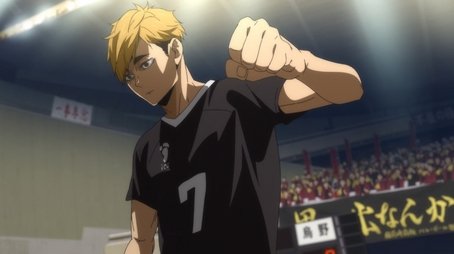 14 - Rhythm 02020-10-03
Inarizaki begins building pressure on Karasuno with the help of the famous Inarizaki cheering squad using music and timing to throw their opponents off balance. Karasuno begins to feel the affects of Inarizaki's methods until help arrives in the form of a familiar face.
15 - Found 02020-10-10
Karasuno is able to regain their rhythm with Saeko's help, but the Miya Twins weirdo quick gives Inarizaki the lead. How will Karasuno deal with this unexpected turn of events?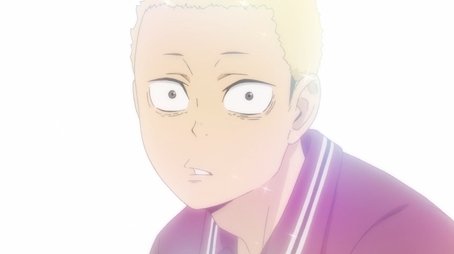 16 - Broken Heart 02020-10-17
Because of Yamaguchi's service ace at the end of the first set, Karasuno is able to get set point first. However, Inarizaki then starts targeting Tanaka, who seems a bit off his game. How will Tanaka deal with this pressure?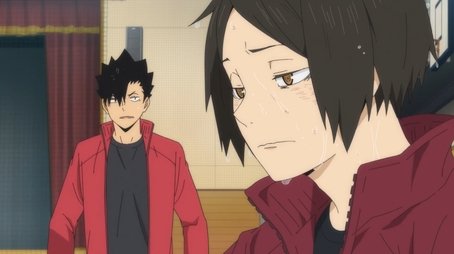 17 - Cats vs. Monkeys 02020-10-24
A chance event triggered Shouyou Hinata's love for volleyball. His club had no members, but somehow persevered and finally made it into its very first and final regular match of middle school, where it was steamrolled by Tobio Kageyama, a superstar player known as "King of the Court." Vowing revenge, Hinata applied to the Karasuno High School volleyball club... only to come face-to-face with his hated rival, Kageyama! A tale of hot-blooded youth and volleyball from the pen of Haruichi Furudate!!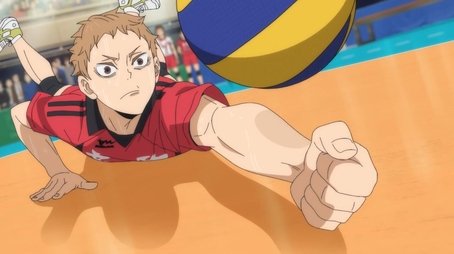 18 - Trap 02020-10-31
Now in the second set, Kenma continues to be made to run about and further tire himself. As Sarukawa Tech continues to build pressure with their tenacious plays and believing they have manipulated the Nekoma team to play how they want, signs begin to show that Sarukawa Tech may not actually be in control of the game.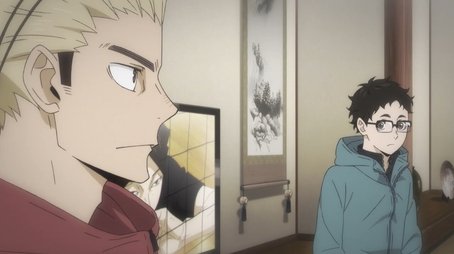 19 - The Ultimate Challengers 02020-11-07
We return to the match between Karasuno and Inarizaki. The Miya twins continue with powerful attacks and Aran performs his best attacks; but they lose points unnecessarily (Even Osamu does a Homerun); While Suna shows why he is a good Central Blocker. When the Inarizaki saw how the Karasuno began a comeback, the captain appears.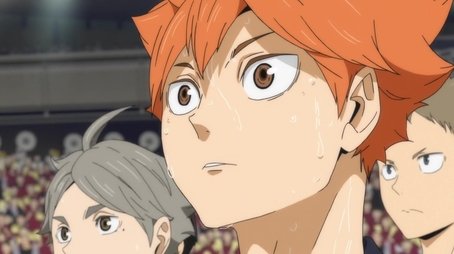 20 - Leader 02020-11-14
Inarizaki's captain Shinsuke Kita makes his star appearance.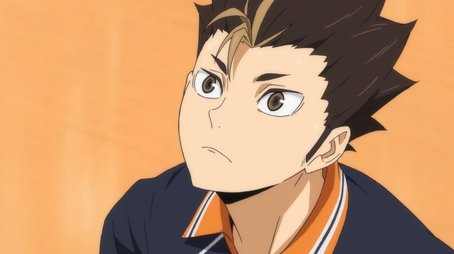 21 - Hero 02020-11-21
Karasuno continues to hold the lead in the score as Suna and Tsukishima begin to form a rivalry. Nishinoya finally admits to the team that he is scared of Atsumu's serves and Aran's history with the Miya twins is revealed.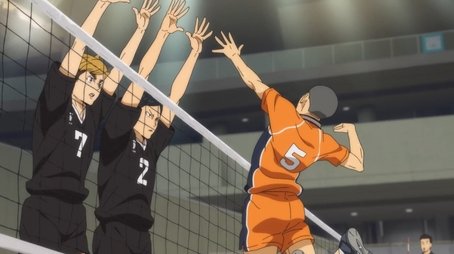 23 - The Birth of the Serene King 02020-12-05
24 - Episode 24 02020-12-12
25 - Episode 25 02020-12-19