Junko Takeuchi
Gon Freecss
Hozumi Gouda
Leorio Paradinight
Hiroki Takahashi
Hisoka Morow
Kanako Mitsuhashi
Killua Zaoldyeck
Hiroomi Sugino
Dalzollene (voice)
Hiroomi Sugino
Bendot (voice)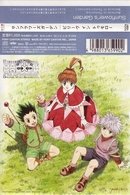 Specials 2002 | 31 Episodes
Specials of Hunter x Hunter premiered on Jan 17, 2002.
Cast..
1 - Spider x Corpses x Fake 02002-01-17
Kurapika, Gon, Killua and Leorio find out that the spiders are still alive and that the bodies were fake. The mafia has given up on chasing the Spiders, but Gon and Killua decide to continue to help Kurapika.
2 - Friends x Costumes x Hell's Ear 02002-01-17
Kuraptika explains his abilities to Gon, Killua and Leorio. Then they set out to find the Genei Ryodan. The brigade decides to stay and find the chain-user after sensing the location of the nen-copied scarlet eyes.
3 - Pursuit x Escape x Spiders on the Run 02002-02-20
A double chase ensues when the Brigade notice Gon and Kuraptika following from behind while they chase after the nen-copy of the scarlet eyes. Three of the Spiders confront Gon and Kurapika who are hiding in the shadows.
4 - Hostage x Insignificant Bugs x Communicated Emotions 02002-02-20
Killua swaps with Kuraptika just in time - he and Gon are captured by the Phantom Brigade. The Spiders kill Squala and take his memories of Kuraptika. Meanwhile, Gon's group ends up at the hotel where Leorio and Senritsu have set up a plan.
5 - Report x Darkness x Released Chain 02002-03-20
The plan is put into action: The boss of the Ryodan, Chrollo Lucilfer is captured by Kuraptika. Gon and Killua however, are unable to escape.
6 - Dispute x Break-Up x Swinging Fist 02002-03-20
Negotiations between Kuraptikas team and the Genei Ryodan are initiated to exchange Kuroro for Killua and Gon.
7 - Exchange x Revenge x Discipline Chain 02002-04-17
The conditions for the exchange are negotiated and Hisoka sees his chance to fullfil his prophecy.
8 - Thoughtfulness x Hopelessness x The Spider's Downfall 02002-04-17
Since Chrollo's Nen ability was sealed, Hisoka looses interest in the battle with him and revealed that the tattoo of his spider status was fake. Pakunoda transfers her memories to six Ryondan members and as a result dies for not obeying the chain's rules.
9 - Auction x Plan x 80 Percent 02003-02-05
Kurapica contracts a fever while Killua and Gon go to the auction but they do not buy the Greed Island game instead asking but asking the one bought it if they can play it.
10 - Electricity x Aura x Special Attack 02003-02-05
Killua and Gon go to train individually for their ultimate technique so they can enter the Greed Island game. Killua manages to use his transformation ability to turn his aura into electricity while Gon develops power combining all of his Nen powers. Kurapica leaves on an airplane.
11 - Ren x Trial x Everyone's Step 02003-03-05
Gon and Killua have trained and go to do the "Greed Island player's exam" passing with flying colors. Then they say goodbye to Leorio and go to the castle from where they are able to enter the game. Gon goes first.
12 - Start x Spell x Reward Street 02003-03-05
Gon finally finds out during the introduction what the save data on the disk Jin left is. Together Killua and Gon take their first steps into Greed Island. They meet a player who sets a "trace-card" on Killua so he can find him later to steal a card from him. Killua and Gon go to a town and get their first cards. During the game they see a man they saw during the "Greed Island player's exam" die from a mysterious bomb.
13 - Invitation x List x Rock, Paper, Scissors! 02003-03-19
Gon and Killua are invited to join an alliance but decide not to and go on their own. The mistyrious girl follows them. They win their first card in a "Rock, Paper, Scissors" competition. It is card #83, "The Sword of Truth".
14 - Take x Taken x Card Hell 02003-03-19
Gon and Killua continue playing, but the card they won gets stolen by some more experienced players. Members of the Genei Ryodan start to play the game with their stolen copy.
15 - Bandit x Monster x Biscuit 02003-04-16
Gon and Killua continue to the city where you can get spell-cards. They meet monsters, bandits and more discovering that in a game like Greed Island they're not very skilled. Biscuit Krueger follows them and watches them getting frustrated with their lack of skill.
16 - Training x Raw Ore x Scissor Hands 02003-04-16
Gon, Killua and Biscuit (their female trainer) are attacked by Binolt, a bounty hunter. They subdue him and Biscui gives him a chance to live, using him to train the boys during a two week period.
17 - Masadra x Big Stories x Mad Bomber 02004-03-03
Gon and Killua learn many abilities from their new teacher Biscuit Krueger. They have to dig through rocks and more.
18 - Nen Removal x New Year x Hunter Exam 02004-03-03
Killua goes to re-take the hunter exam because it is New Year's Eve. He already becomes a hunter in the first test because he takes the plates of all the candidates. Gon still trains his abilities with Biske while the bomber continues to blow up people.
19 - An Encounter x Kuroro x The Gold Dust Girl 02004-03-17
Gon and Killua start using their abilities get obtain cards, which they discover is easier due to Biscuit's training program.
20 - Contact x Razor x A United Front 02004-03-17
Gon and Killua continue playing and have more than 50 cards (out of the 100 required to finish the game). The Bomber and his team have 96 card while a united front rises to monopolize one of the cards they still need.
21 - Meeting Again x Hisoka x Sporting Event 02004-04-07
Gon, Killua and Biscuit go with the united team to find information about a card no player has been able to obtain. They find the location of the card, but fail to defeat the game master Razor and his fifteen Devils in a series of sports related one-on-one contests. Gon, Killua, and Biscuit organize a stronger team to tackle the challenges, which includes Hisoka and Tsezuguera.
22 - Lighthouse x Eigth People x Game Master 02004-04-07
After the team is gathered, they easily pass the sport contests, but still must defeat Razor in an 8v8 game of deadly nen-charged dodgeball.
23 - Jan x Ken x Guu! 02004-05-19
Gon uses his new abilities in the dodgeball game. Killua's hands are heavily injured. On Razor's team only he remains, facing Gon, Killua and Hisoka.
24 - Unite x Impact x Bungee Gum 02004-05-19
Gon's team wins and they get card #2. Razor tells Gon about Ging and how he became one of the game masters.
25 - Joint Struggle x Crisis x Battle Announcement 02004-06-16
The fight against the Bombers is imminent. Gon trains his timing, while Killua and Biscuit formulate a battle plan.
26 - Stakeout x Preparation x Battle Start 02004-06-16
Gon has trained a lot and is prepared to fight. Meanwhile, Battera's secret lover has died and the reward for completing the game is canceled. The battle between Gon, Killua, and Biscuit against Gensuru and his comrades begins.
27 - Bisque x Killua x New Ultimate Attack 02004-07-14
Killua and Biscuit win their fights and Biscuits true form is revelead. Gon however faces a much tougher opponent: Gensuru.
28 - Fighting Spirit x Gyo x Little Flower 02004-07-14
Gon continues his fight against Gensuru and looses one of his hands.
29 - Cruelty x Determination x Climax 02004-08-18
Gon wins against Genthru and takes all his cards. They heal everyone, including Gon's severed hand, and reach a total of 99 cards. An island wide quiz event for the last card is announced. They only need card #00 to win the Greed Island game.
30 - Game x Everything Cleared x Finale 02004-08-18
Everybody in Greed Island participates in a quiz. Gon scores the highest with 87 correct out of 99 questions, wins card #00, and gets instructions to go to Greed Island Castle. There he meets 2 other game masters who give him his reward, a small binder which can be used to take three Greed Island cards out into the "real" world. With Killua and Biscuit they finish the game and leave Greed Island. Once outside Gon and Killua uses the card Accompany to fly to the player with the codename "Nigg", which Gon believes is an alias of his father, Ging. This episode ends exactly at Chapter 185, page 10-11 of the manga.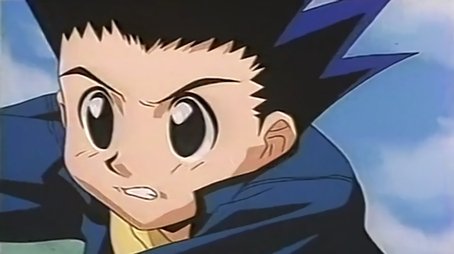 31 - Pilot 01998-07-26
Serving as a pilot to the Hunter x Hunter 1999 TV series. Note: Originally screened at the Jump Super Anime Tour '98 together with One Piece: Taose! Kaizoku Ganzack and Seikimatsu Leader Gaiden Takeshi!.
Hunter x Hunter 1999 | 62 Episodes
Hunter x Hunter of Hunter x Hunter premiered on Oct 16, 1999.
Cast..
1 - A Boy Setting Out for a Journey × Leaving Behind the Sound of the Wind 81999-10-16
Gon Freecss runs into a Foxbear in the forest. A mysterious stranger named Kite saves Gon by killing the beast. This man tells him that his father Ging is alive. Gon decides to take the Hunter Exam and become a professional Hunter, but can only do this after catching the Master of the Swamp to convince his Aunt Mito to let him do it. Despite her feelings, after Gon catches it, Mito allows him to begin his adventure.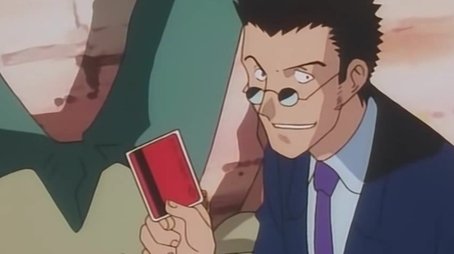 2 - Episode 2 81999-10-23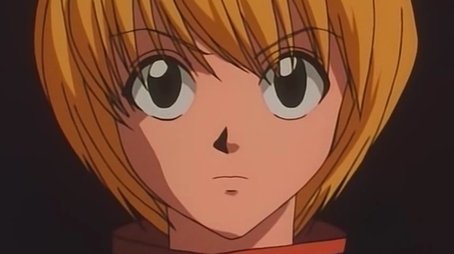 3 - Episode 3 81999-10-30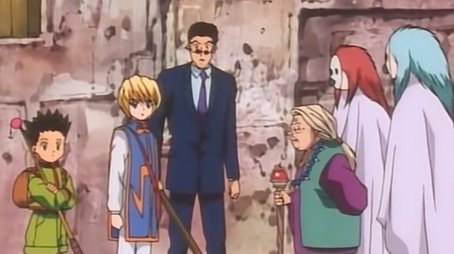 4 - Episode 4 81999-11-06
5 - Episode 5 81999-11-13
6 - Episode 6 81999-11-20
7 - Episode 7 81999-11-27
8 - Episode 8 81999-12-04
9 - Episode 9 81999-12-11
10 - Episode 10 81999-12-18
11 - Episode 11 82000-01-08
12 - Episode 12 92000-01-15
13 - Episode 13 82000-01-22
14 - Episode 14 82000-01-29
15 - Episode 15 82000-02-05
16 - Episode 16 82000-02-12
17 - Episode 17 82000-02-19
18 - Episode 18 82000-02-26
19 - Episode 19 82000-03-04
20 - Episode 20 92000-03-11
21 - Episode 21 82000-03-18
22 - Episode 22 92000-03-25
23 - Episode 23 92000-04-01
24 - Episode 24 92000-04-15
25 - Episode 25 92000-04-22
26 - Episode 26 92000-05-06
27 - Episode 27 92000-05-13
28 - Chat x Excuses x Comparing Guts 92000-05-20
The next fight is between Hanzo and Gon. Although Gon tries his hardest to combat Hanzo, it is obvious he is no match for the ninja. Hanzo severely injures Gon and breaks his arm, but Gon will not admit defeat. Gon feels that if he is ever to find his father, he must pass the Hunter Exam now.
29 - Episode 29 92000-05-27
30 - Episode 30 92000-06-03
31 - Episode 31 92000-06-10
32 - Episode 32 92000-06-17
33 - Episode 33 92000-07-01
34 - Episode 34 92000-07-15
35 - Episode 35 92000-07-22
36 - Episode 36 92000-08-08
37 - Episode 37 92000-08-19
38 - Episode 38 92000-09-09
39 - Episode 39 92000-09-16
40 - Episode 40 92000-09-23
41 - Episode 41 92000-09-30
42 - Episode 42 92000-10-21
43 - Episode 43 92000-10-28
44 - Episode 44 92000-11-04
45 - Episode 45 92000-11-11
46 - Episode 46 92000-11-18
47 - Episode 47 92000-11-25
48 - Episode 48 92000-12-02
49 - Episode 49 92000-12-09
50 - Episode 50 92000-12-16
51 - Episode 51 92000-12-23
52 - Episode 52 92001-01-13
53 - Episode 53 92001-01-20
54 - Episode 54 92001-01-27
55 - Episode 55 92001-02-03
56 - Episode 56 92001-02-10
57 - Episode 57 92001-02-17
58 - Episode 58 92001-02-24
59 - Spiders Web x Captured x Assassin Technique 92001-03-03
Gon and Killua are questioned about the "chain dude" but cannot give any answer, being unaware that he is Kurapika. Gon and Nobunaga are armwrestling, and the latter cries, mourning the loss of Uvogin. Finally Nobunaga asks Gon to join Phantom Troupe. He promptly refuses, but Nobunaga insists on keeping him until Chrollo arrives.
60 - Kurapica x Secret Assassins x Zoaldyeck 92001-03-10
Gon and Killua escape from Nobunaga. Killua tells Gon about Kurapika being the "chain user", they try to call him but get no answer. Neon runs away and is found by Chrollo Lucilfer who pretends to be friendly to get her prophecy. He helps her to sneak into the auction, then hits her unexpectedly and tells the security to call the emergency.
61 - Spider Reunion x Zoaldyeck Family x Final Battle 92001-03-17
Some assassins battle Kururo but in vain. Mafia dons become impatient, and the Zoldycks calm them down. Zeno extends his En to 100 m radius, searching the building to find Kururo. Other Genei Ryodan members advance, easily slauthering the entire mafia force. Kuraptika notices Neon's pictures on Internet (on hunters-only website) and reports this to Nostrado, who also arrives at the auction.
62 - Kurapica x Friends x Spider's Doom 92001-03-31
Zeno and Silva injure Kuroro, but do not finish him off because of the call from Illumi who manages to kill the mafia dons. Having no client, the professional assassins have no reason to fight and just leave. Fake bodies of Kuroro and all other Genei Ryodan members are found, calming the mafia community, and the auction takes place as planned. Kuraptika calms down a bit and meets with Gon, Killua and Leorio. In the last seconds of the episode Hisoka sends a text message to Kuraptika telling him the corpses are fake.